The six prettiest hotels of Sicily
Many people say: if you want to see the Italy for real, you have to journey to Sicily. The only problem was, that most of the hotels in southernmost Italy were – to be honest – a little difficult. We did discover five magical summer houses, which should be immediately noted on your holiday check list. 
---
1. Tenuta Camarana, Ragusa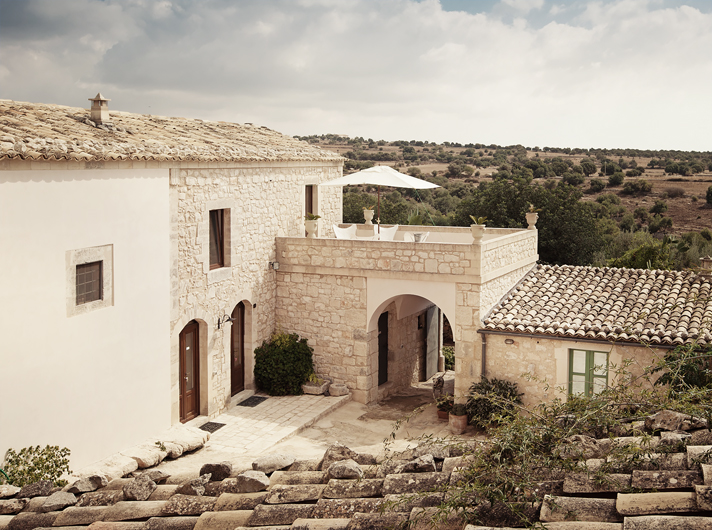 The stone villa dates back to the 17th century and lies in unspoiled nature, only about 20 minutes away from the beaches in Marina di Ragusa. The property reminds you of the times when the aristocrats owned large estates, with large gardens and high walls. Apropos garden: In summer, enormous roses blossom here, there are also Indian fig tress growing here and two cute cats protect the whole place. 
The agriculture surrounding the property is also run by the owners family. They grow crops, produce olive oil, cheese (Provola and Ricotta from Ragusa) and various types of honey – very delicious!
There is only a total of seven rooms and suites, all of which are individually furnished and decorated very authentically. In addition there is a fitting wellness area with a sauna and a Turkish bath, both of which are open all day.
Location
Journey
The nearest airport is in Comiso (20 Km), but most of the flight connections are to and from the international airport of Catania (110 Km).
Prices
Double room from 220 euros for two including breakfast. 
Booking & contact
Tenuta Cammarana
C. da Cammarana
97100 – Ragusa
Italy
+39 0932 616158
info@tenutacammarana.it
www.tenutacammarana.it
---
2. Monaci delle Terre Nere / Zafferana Etnea
Monaci delle Terre Nere is a very personal project of Guido Alessandro Coffa, who grew up at the foot of Mount Etna. He then journeyed around the world, only to find happiness when he returned to his beloved homeland, Sicily. It was here that he bought his dream home and converted it into a wonderful bed & breakfast. Coffa is very particular about the smallest details and the rooms are great works of art in their own right. Even the location is spectacular, because Mount Etna is, as the saying goes, just around the corner.
Ideal for
Romantic visitors to Sicily, who are looking for a special place with an individual host.
Location
Prices
Doubles from about 130 Euros
Contact
Monaci delle Terre Nere 
Via Monaci sn 
95019 Zafferana Etnea 
Catania, Italy
+39 331 136 5016
www.monacidelleterrenere.it 
---
3. Rocca delle Tre Contrade / Santa Venerina
The holiday home, Rocca delle Tre Contrade stands majestically on a hill on the east of the island, with a view to the Ionian Sea and Mount Etna. However, Rocca delle Tre Contrade is not a hotel, but rather a house that can only be rented completely. There is room for 22 people, with 11 bedrooms including 11 bathrooms and a 25 metre pool on its beautiful terrace. In order to avoid arguments about who is going to do the cooking that evening, the villa can be rented along with a cook and sommelier. Local experts also provide tips about discovering the region.
Ideal for
Large families or smaller ones who are good friends, who don't want to spend their holidays with strangers, but who also don't want to do without their home comforts.
Location
Santa Venerina, Catania, Sicily – https://goo.gl/maps/gN9a6
Prices
The villa can be rented from 12.440 euros per week, but the price is about double in the main season.
Booking & Contact
Rocca delle Tre Contrade is exclusively brokered by The Thinking Traveller / Think Sicily. 
Adress:
The Old Truman Brewery
91-95 Brick Lane
London E1 6QL
United Kingdom
www.thethinkingtraveller.com
info@thethinkingtraveller.com

---
4. Zash Designhotel / Riposto
Zash is a very ambitious project. The ancient walls of an old Sicilian vineyard were transformed into a very modern hotel by the architect Antonio Iraci. The building now has a total of nine very modest, outright rooms, a large outdoor pool in the garden and a slow- food restaurant. It lies in the island's south east in the coastal town of Riposto. It's only 10 minutes to the sea.
Ideal for
Designers and architects. 
Location
https://goo.gl/maps/YhJZk (not very far from Monaci delle Terre Nere) 
Prices
Double room from 123 euros per night.
Booking
Zash Country Boutique Hotel
Strada provinciale,
Archi – Riposto (Catania)
Tel. +39 070 513489
www.zash.it 
---
5. Casa Talia / Modica – Ragusa
A real jewel can be found in the old town section of Modica in the south of the island. Casa Talia is a genuine "Pretty Hotel", because it creates an oasis of tranquility in the middle of the historic downtown, which mainly consists of stone. Casa Talia is the invention of Marco and Viviana, two designers who used to use the house as a showroom to display their creations. In the meantime they rent out seven pretty rooms and run the casa as a small, intimate bed & breakfast.
Ideal for
All Pretty Hotels fans! And: The World Cultural Heritage town of Modica is definitely worth a visit!
Location
Prices
Double room from about 140 euros including breakfast.
Contact
Casa Talia
Via Exaudinos
97015 Modica Ragusa
Tel: +39 0932 752075
www.casatalia.it
---
6. Butera 28, Palermo
The estate in Palermo belonged to the family of the author, Giuseppe Tomasi di Lampedusa as early as the eighteenth century. His descendants, especially Nicoletta Polo, who is permitted to call herself The Duchess of Palma (but who has remained very down to earth), have now made a guesthouse out of it. The family rents out wonderful apartments, some of which have a beautiful view directly to the sea. Most people book the cooking class run by Nicoletta along with the apartment. The course has the title "Cooking with the Duchess" and mostly ends at the dining table in the family's house.
Ideal for
Visitors of Palermo, who want to reside in the best location and, who at the end of their stay, know more about the town than the local tourist guide.
Prices
Apartment from 60 to 160 euros per night.
Location
Contact
Butera28
Via Butera 28,
90133 Palermo
Tel: +39 333 3165432
www.butera28.it 
info@butera28.it