Salt House Inn, Provincetown / USA
This "Jewel in the Crown" on the American east coast is located in Provincetown, near Boston and whoever visits the little B&B will fall in love with its rooms. This much we can promise you!
Provincetown is situated on the Cape Cod peninsula between Boston and New York, on the east coast of America. For those who are not familiar with Cape Cod: The island got its name from "Cape of the Cod" and apparently came from the explorer, Bartholomew Gosnold, who was impressed by the numbers of cod abound in this region. Above all Cape Cod became famous through the little town of Hyannis, especially the harbour area where the Kennedy family own a summer residence and where many photos of John F., Jacky and the kids were taken. The little town of Provincetown is located on the other side of the peninsula and is, just like Hyannis and the neighboring islands, Nantucket and Martha's Vineyard, a little weekend getaway for many well off New Yorkers, Bostoners, and also much loved by the gay community. The owners of the really extremely beautiful Salt House Inn, which is in the middle of the town, are also originally from New York. Kevin O`Shea and David Bowd are two young creative people, who gathered experience with big hotel chains over the last few years and have now fulfilled their dream of owning their own hotel.  The 15 rooms are absolutely awesome. Every detail is spot on, just like in the perfect living room. In the evening the boys gladly give you tips for the best places to have a romantic dinner and in the morning they serve you a breakfast that would be a perfect setting to make a marriage proposal. Therefore: just go there, for your next summer break!
Prices
Doubles from 150 dollars per night and room, including breakfast. 
Journey
The nearest international airports are Boston and (a little further) New York City (JFK)
---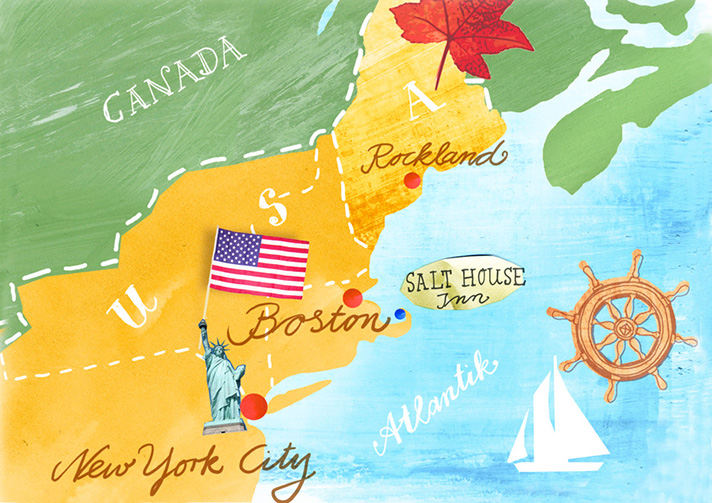 ---
Booking & Contact
Salt House Inn
6 Conwell Street
Provincetown, Massachusetts, USA 
info@salthouseinn.com 
www.salthouseinn.com