Bellevue des Alpes, Berner Oberland / Switzerland

The Bellevue des Alpes is an extraordinary place with a grandiose history in an even more grandiose location: You reside at 2,000 metres, directly facing the famous Eiger Nordwand!
There are people worldwide who dream of staying at the hotel Bellevue des Alpes just once in their lives, they want to slice off the top of their breakfast egg at the foot of the famous Eiger north face and gaze at the 4,000 metre peaks of the mountains Mönch (monk) and Jungfrau (virgin) in the evening. All this works wonderfully in this hotel, which is being run very stylishly by the current owners, the married couple von Allmen. The rooms are pretty and do without, despite the great reputation of the hotel, the usual mixture of the same old luxurious kitsch. The bathrooms have historical taps, the floor creaks and the colourful wallpaper is a witty twist to the otherwise more conservative ambiance.
______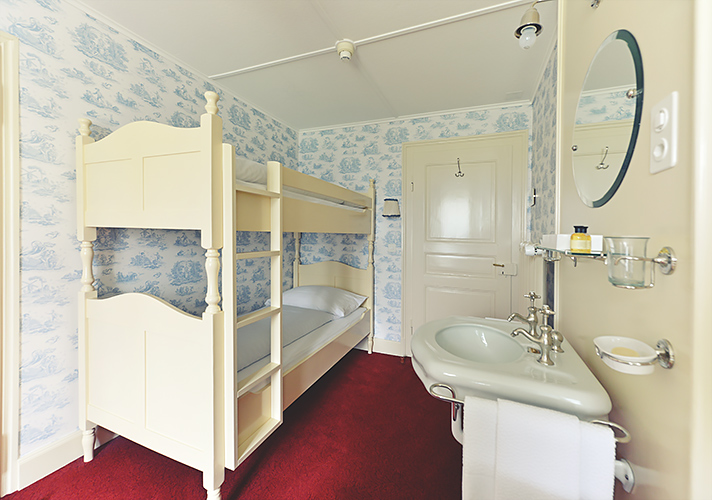 _____
However, the hotel's highlight is its very unusual location and history. Both of the buildings were built in 1893 and were a genuine party oasis for the rich aristocrats. When you enter the glamourous dining room today, you can still discover the wonderful corner containing the grand concert piano, which was primarily used to play Charleston and Jazz for the well-dressed guests. Even the mountain legend, Luis Trenker and the actor Clint Eastwood have stayed at the Bellevue des Alpes. Eastwood enjoyed the view here during the filming of "The Eiger Sanction" – which by the way, is counted as being one of the most unsuccessful films he has ever made.
______
______
Currently the Bellevue des Alpes is still being run by the founding family. Andreas von Allmen and his wife Silvia breathed new life into the hotel, which had become a little run down over the years and gave it a new lease of life.
Ideal for
A weekend in the mountains, with a perfect view to three of the tallest mountains in the Swiss Alps: Eiger, Mönch and Jungfrau. In winter, there is easy access to the skiing areas of Wengen and Grindelwald from Bellevue des Alpes. You can start skiing from in front of the hotel.
Prices
Doubles from 380 Swiss Francs for two, including breakfast and a great dinner menu.
Location
Getting there
you have to take the train from Grindelwald to Kleine Scheidegg. See also www.jungfrau.ch
Contact
Hotel Bellevue des Alpes
Kleine Scheidegg
CH-Switzerland
www.scheidegg-hotels.ch
welcome@scheidegg-hotels.ch