The Best Wellness Hotels in Germany, Austria & South Tyrol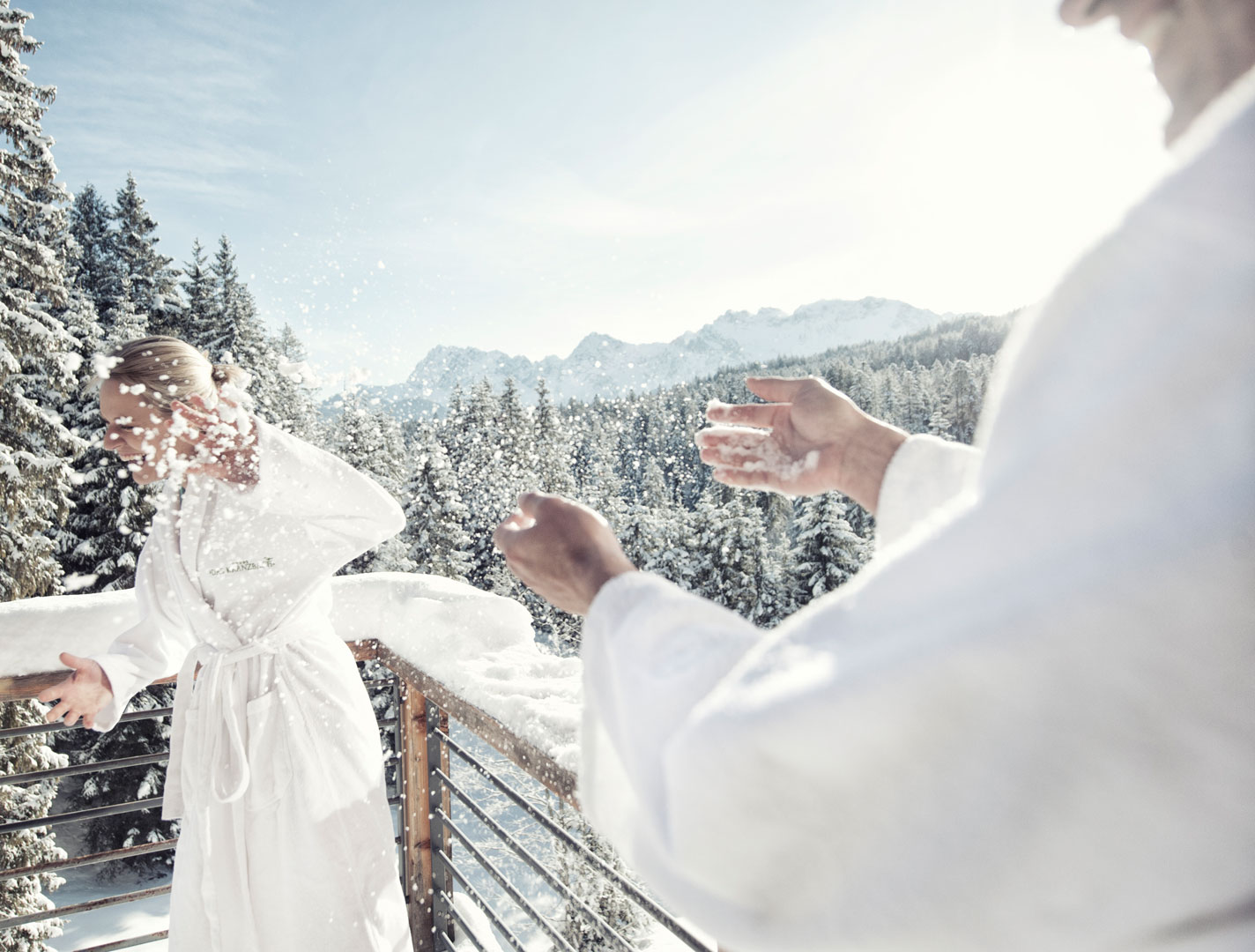 More and more readers keep asking us about the loveliest wellness-hotels in the mountains. That's why we decided to present an exclusive selection of our favorite places with spa and swimming pool. And we really have to admit: You actually get the urge to check into all of them. 
Just a brief introduction: There are wellness hotels and there are Pretty Hotels with wellness areas. We believe there is a big difference, because the hotels we recommend here do have a large (and well-configured) wellness area, but they have nothing to do with these cheesy wellness temples, where you`d find people only hanging around all day in white bathrobes. Even for people who don't really want to visit a sauna, we could actually recommend all the following places, because they are pretty in their own way. However, it`s always nice to jump into a heated swimming pool after the last turns on the slopes. Et voilà:
Das Kranzbach, Bavaria / Germany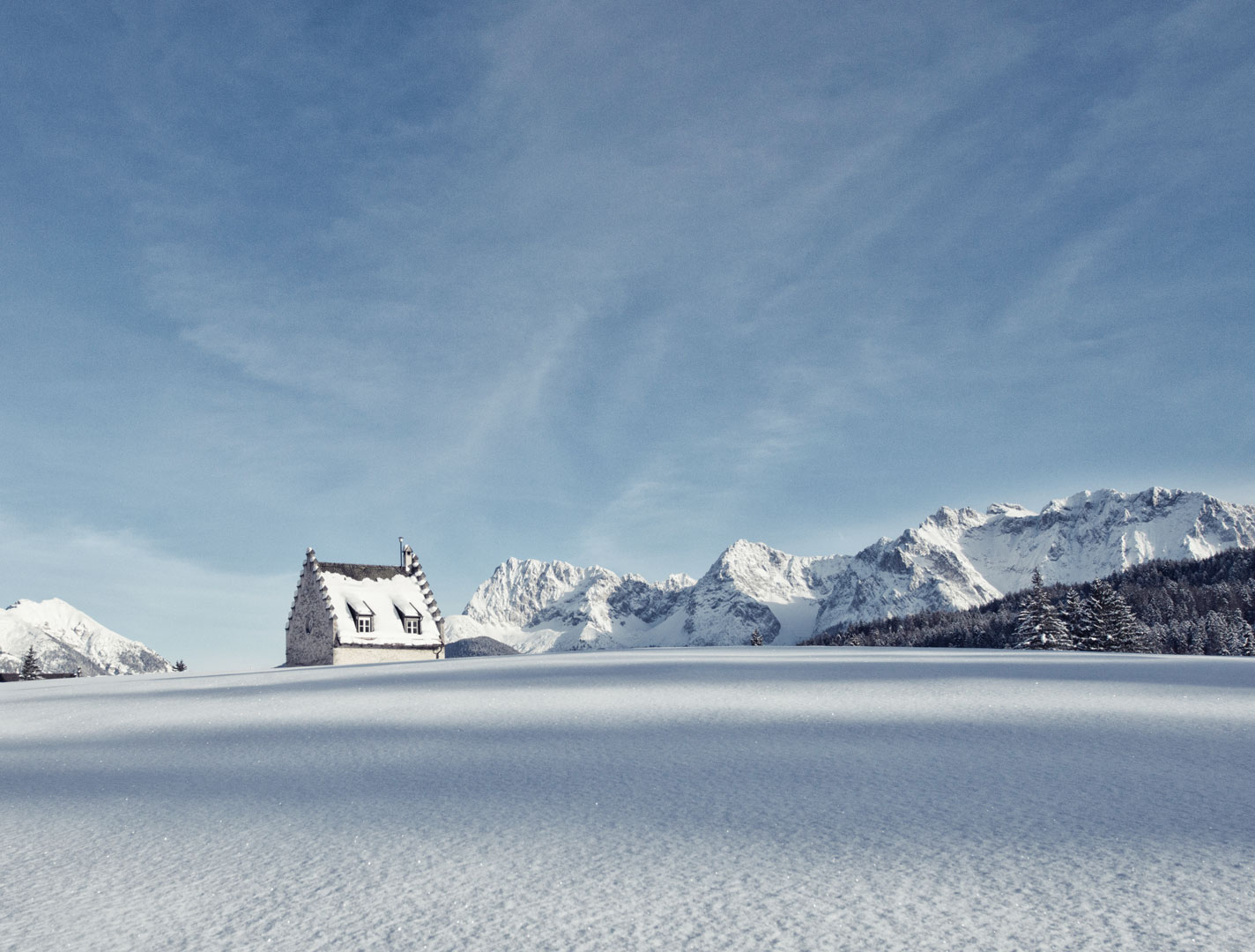 One of the best-equipped wellness refuges in the world! Apart from the standard stuff like sauna, steam bath, indoor-and outdoor pools, you also have a yoga program, one floor for various treatments and now there is even a Japanese outdoor Onsen pool. After the renovation of the restaurant and the main building, the Kranzbach is even more beautiful, prettier, more relaxed and because of this more recommendable than before. We also like – apart from the huge wellness offer – the breath-taking landscape on the high plateau of Kranzberg between Mittenwald and Garmisch-Partenkirchen, perfect for a whole week's time out!
Location
Price
From € 165,- per person with meals. 
Contacts
Das Kranzbach
Hotel & Wellness-Refugium**** Superior
Kranzbach/Klais
+49 8823-928000
www.daskranzbach.de
Miramonti Boutique Hotel, Hafling above Merano / South Tyrol
Since its renovation, the Miramonti Boutique Hotel is one of the coolest hotels in the world, boasting one of the most spectacular outdoor-sole-pools with a view to the Meraner mountain range. The wellness area here has been chipped into the rock face and some people even believe they already get health benefits from the high-altitude mountain air. Brand new is the Q-Suite (The "Q" refers to the legendary engineer from the James Bond movies, who loved to make watches for 007 with built in rocket-defence programs for instance). So, at Miramonti hotel, there`s always something going on. 
Location
Price
From 118 Euros per person at the new Owner`s House. Also look for promotion deals here.
Contacts
MIRAMONTI Boutique Hotel
St. Kathreinstraße 14
39010 Hafling bei Meran
Bozen, Italien
www.hotel-miramonti.com
Weisses Kreuz, Burgeis / Vinschgau, South Tyrol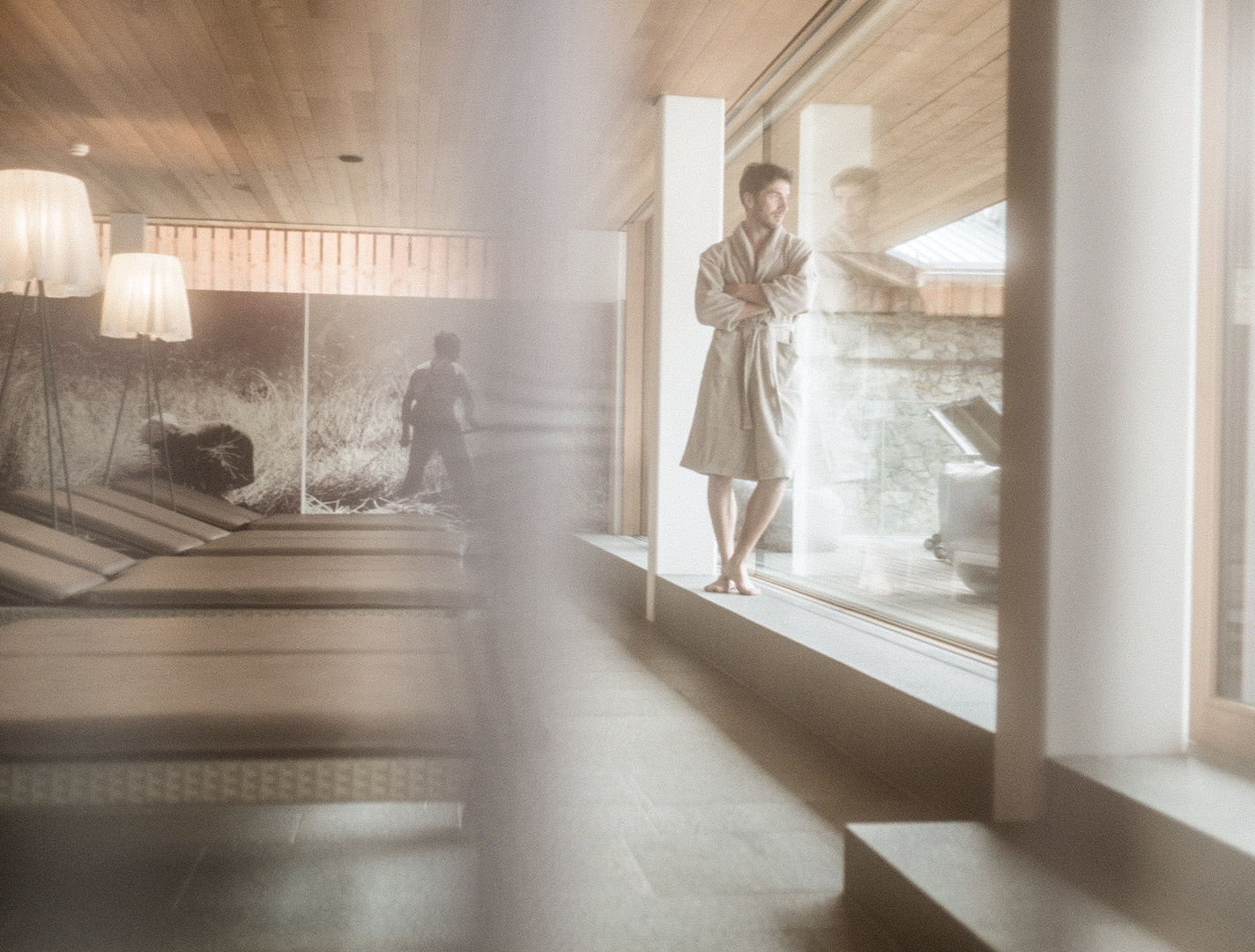 Another easy-going and relaxed place is the "Weisses Kreuz" hotel: The place resembles a small village with its new modern extension and the historical residence in the building next door. The wellness area leaves nothing to the imagination – indoor-pool, heated outdoor-pool, sauna, steam bath and spa with its massage rooms. Be careful: Children are welcomed when twelve years and older. 
Location
Price
Doubles from 87 Euro per person including meals.
Contacts
Hotel Weisses Kreuz
Familie Theiner
Burgeis 82
I-39024 Burgeis/Mals
Tel. +39 0473 831307
Adler Mountain Lodge, Seiser Alm / Südtirol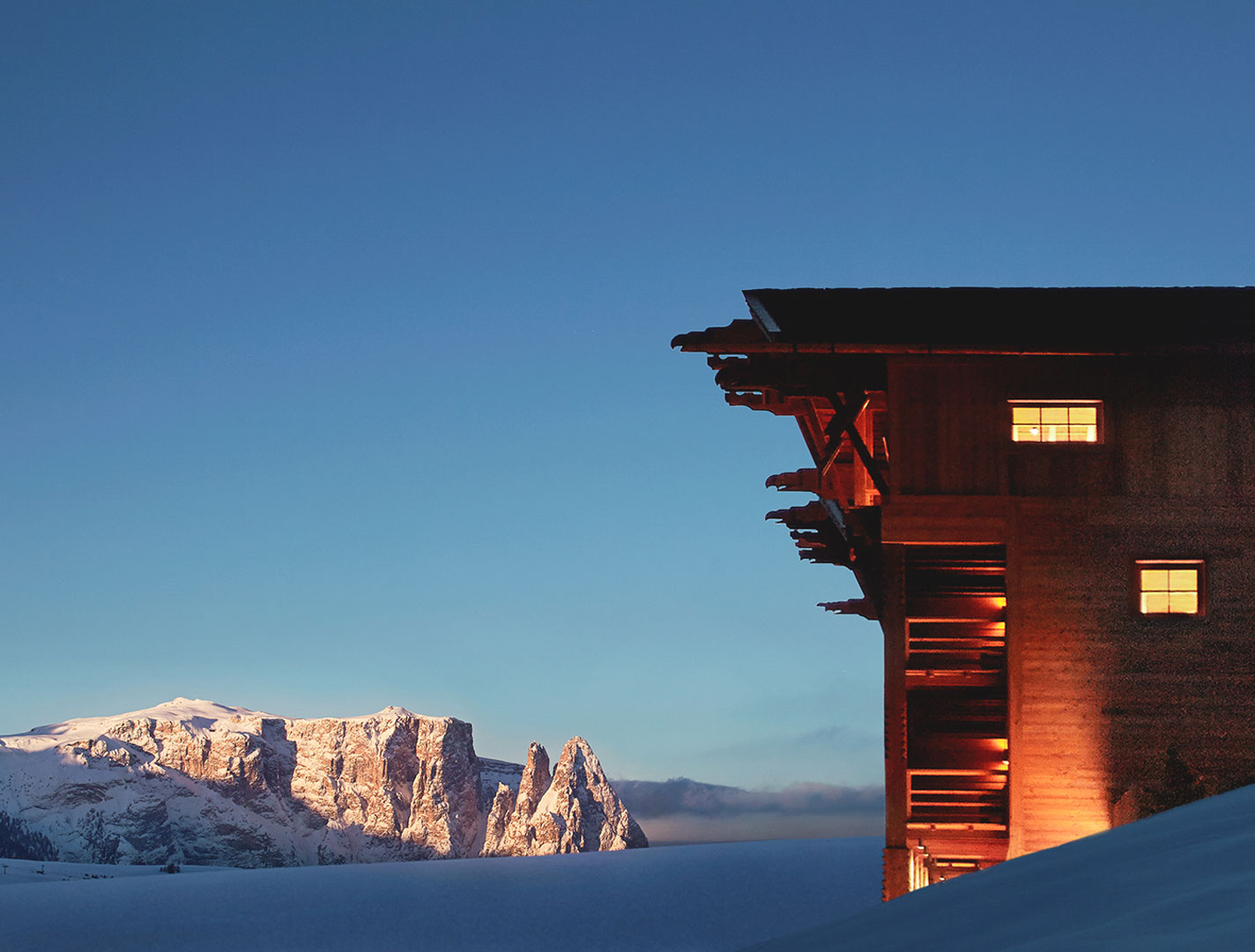 You cannot beat the location of the Adler Mountain Lodge – it lies on the high plateau of the Seiser Alm in South Tyrol, one of the most beautiful spots in the world, with an unbelievable view of the Dolomites. Apart from its cuddlesome rooms, the Adler Mountain Lodge possesses a huge wellness appeal, especially the outdoor pool with its legendary view really got us going. In addition there's a hay-sauna, all kinds of massage and applications treatment rooms (body-styling, anti-aging among others) and the relaxation room "Under the Stars" – a room with a glass ceiling, through which you can admire the stars in the evening. The Adler Lodge is really something quite special, which you should definitely treat yourself to. Caution: Kids are allowed from the age of eight years. 
Location
Price
"Almsuite" from 234 Euros per person including all meals and drinks (even wine and minibar).
Contacts
Adler Mountain Lodge
Seiser Alm / Südtirol
www.adler-lodge.com
Nidum Casual Luxury Resort, Seefeld (Austria)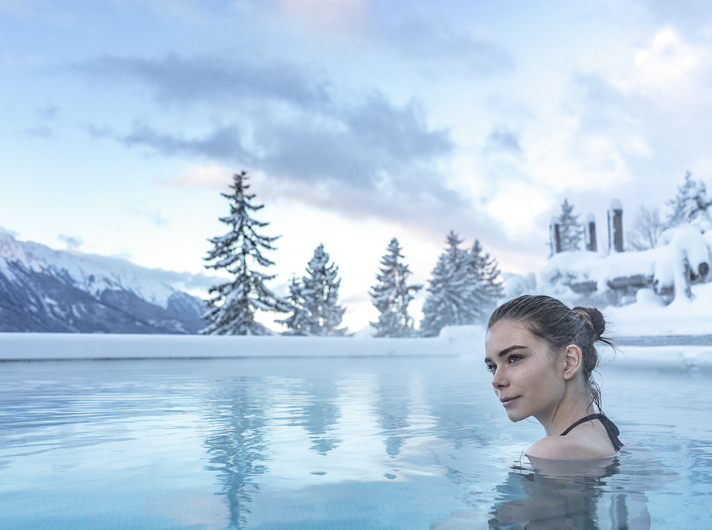 Wonderful and very congenial hotel located directly on a hillside next to the Olympic village of Seefeld in Tyrol. The young owners place value on the fact that everything doesn't have to be as snobbish as in other 5 – star hotels. Those who take a morning swim in the heated outdoor pool in the middle of this alpine world will be happy all day. Afterwards there's a divine breakfast buffet, ski resorts nearby and yoga, massages, sauna, steam bath – all in one building so there`s no big distances. 
Location
Price
Doubles from 130 Euros per person.
Contacts
NIDUM Casual Luxury
Am Wiesenhang 1
6100 Mösern – Tirol
Austria
info@nidum-hotel.com
Tel: 0043 5212 20300
www.nidum-hotel.com
Der Stanglwirt, Going am Wilden Kaiser / Austria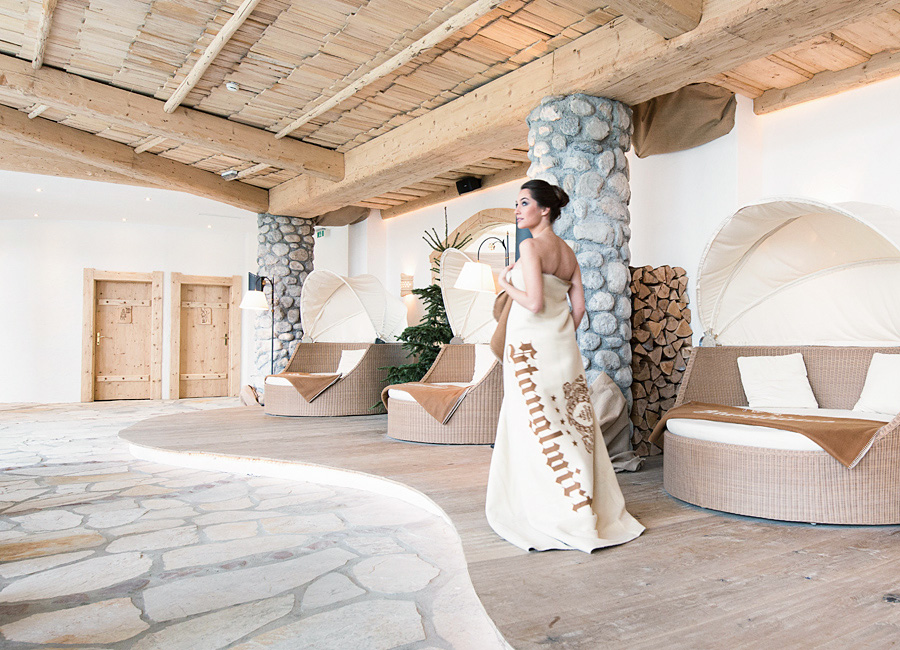 The famous Stanglwirt is almost considered a classic, a brand name in itself, a village of vanity at the foot of the Wilder Kaiser mountain. However, the Stanglwirt is an exceptionally well-organized hotel, which runs 24/7. This applies especially to the wellness area, which in Stanglwirt can be seen more as a landscape. Indoor- and outdoor pools, waterfalls, relaxation rooms, saunas, steam baths and of course, applications of all kinds. Actresses love to come here to regenerate, boxers as part of their preparations and in the middle of all this procession of important guests, everyone falls in love with the "Tiroler Gemütlichkeit", which still remains the most important part. 
Location
Price
Doubles from 270 Euros including breakfast.

Contacts
Biohotel Stanglwirt 
Going am Wilden Kaiser
Tel: +43-5358-2000
www.stanglwirt.com
daheim@stanglwirt.com 
Cyprianerhof, Tiers am Rosengarten / South Tyrol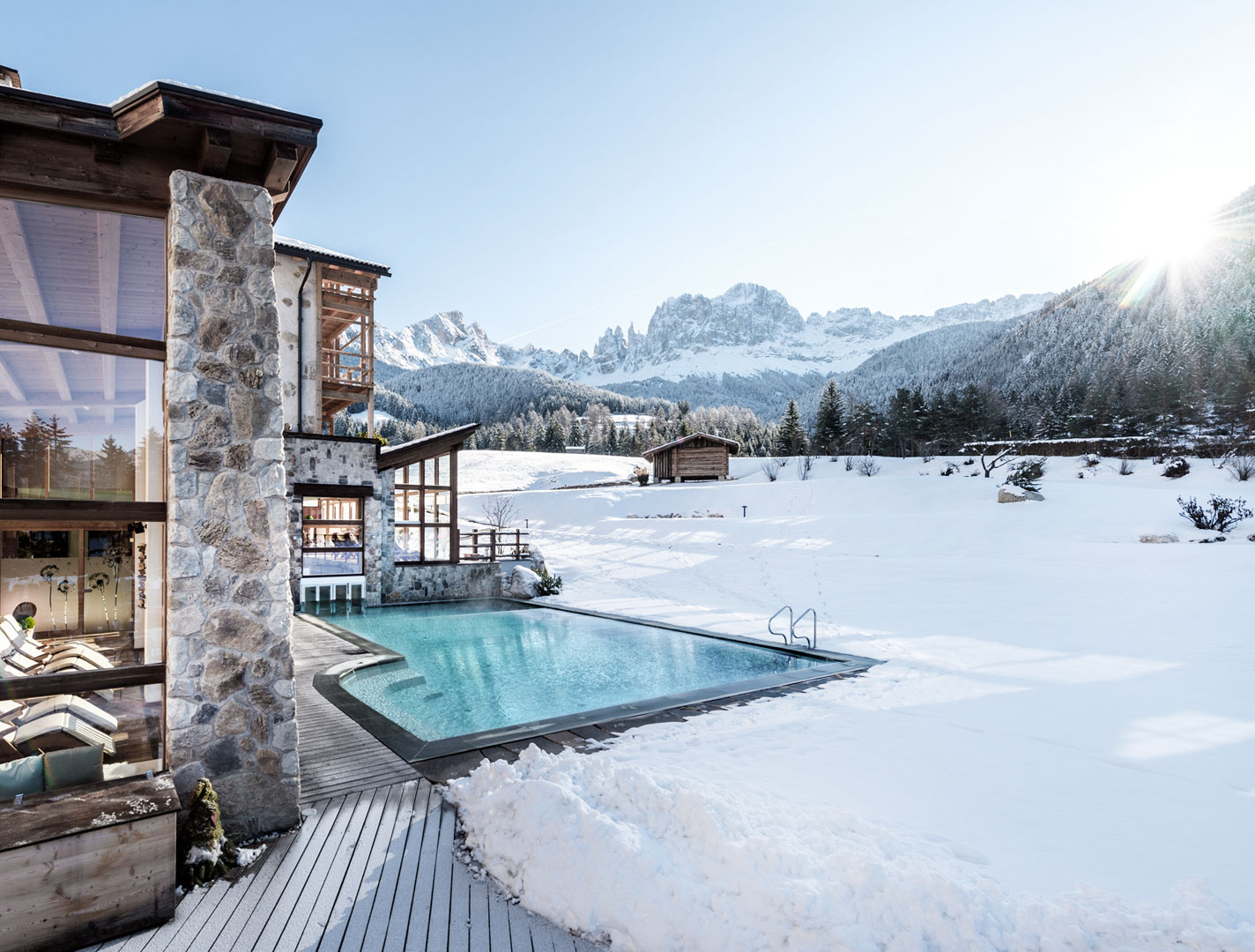 Another place with an absolutely perfect location: The Cyprianerhof lies directly below the Rose Garden, an ensemble made up of spectacular cliffs. The wellness-offers are manifold, there is an extra wing for applications, sauna- and steam bath of course, as well as indoor- and outdoor pool. However, wellness at the at Cyprianerhof also means: Get yourself into nature. Every day there are guided hiking trips and excursions with experts.
Location
Price
Doubles from 132 Euros per person including meals and an afternoon snack.
Contacts
Cyprianerhof Dolomit Resort
Familie Damian
39050 Tiers am Rosengarten
Südtirol / Italien
Naturhotel Forsthofgut, Leogang / Austria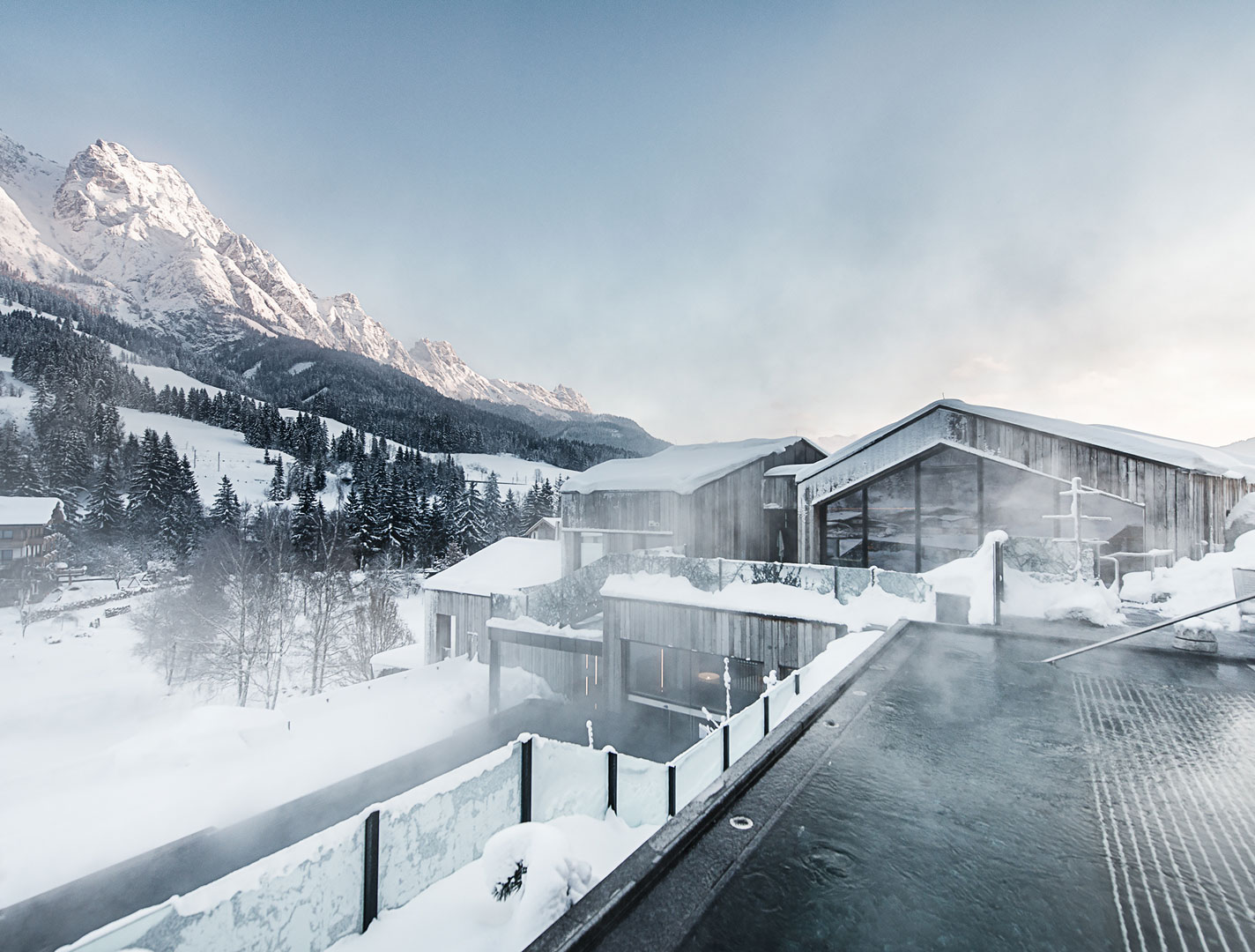 This is definitely the all-round hotel amongst the wellness temples: on the one hand guests can dedicate themselves to the topic of wellness by visiting the new forest-spa with its new outdoor pool, perfectly equipped gymnasium, sauna landscape and designer relaxation rooms. On the other hand the hotel is located directly on the ski piste, which makes it perfect for spending a delightful winter-sport holiday. There is also a Kids Club, which makes it even more perfect for a family holiday.
Location
Price
Doubles from 175 Euros per person including breakfast and dinner.
Contacts
Naturhotel Forsthofgut
Leogang, Hütten
Österreich
www.forsthofgut.at
Alpine Spa Hotel Haus Hirt, Bad Gastein / Austria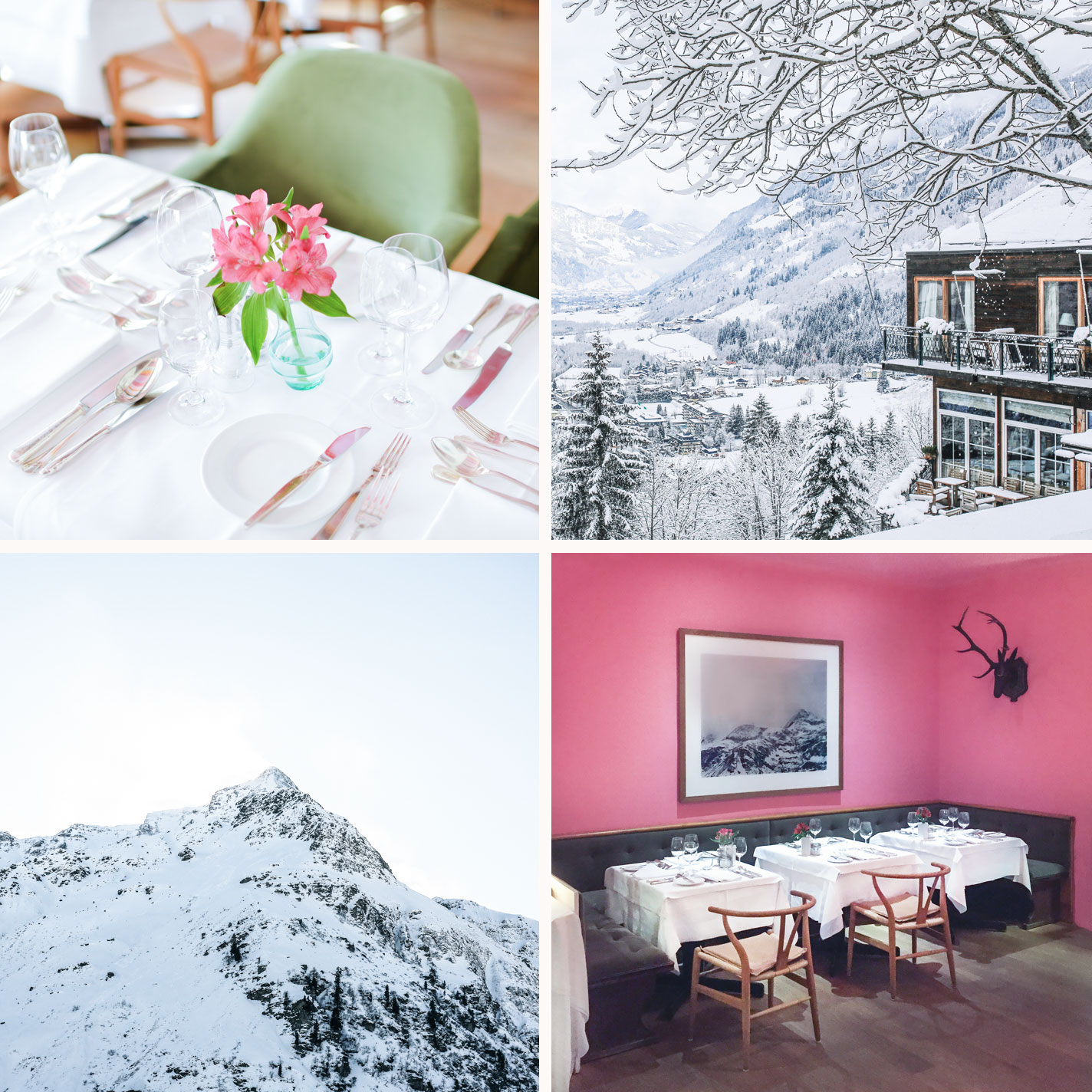 Haus Hirt is a multi-colored villa and the exact opposite of the big wellness temples. It has a prime location on the hills of Bad Gastein, the place that is currently reinventing itself with a lot of creativity. Haus Hirt boss Evelyn places a lot of emphasis on the fact that, everyone one of her guests are happy. It offers, apart from indoor pool, sauna and applications, also many yoga workshops. Just think of the motto: "Holidays can also be fun".
Location
Price
Doubles from 91 Euros to 181 Euros per person including all meals.
Contacts
Haus Hirt
Kaiserhofstraße 14
Bad Gastein / Österreich
+43 6434 27970
www.haus-hirt.com
Gradonna Mountain Resort, Kals am Großglockner / Austria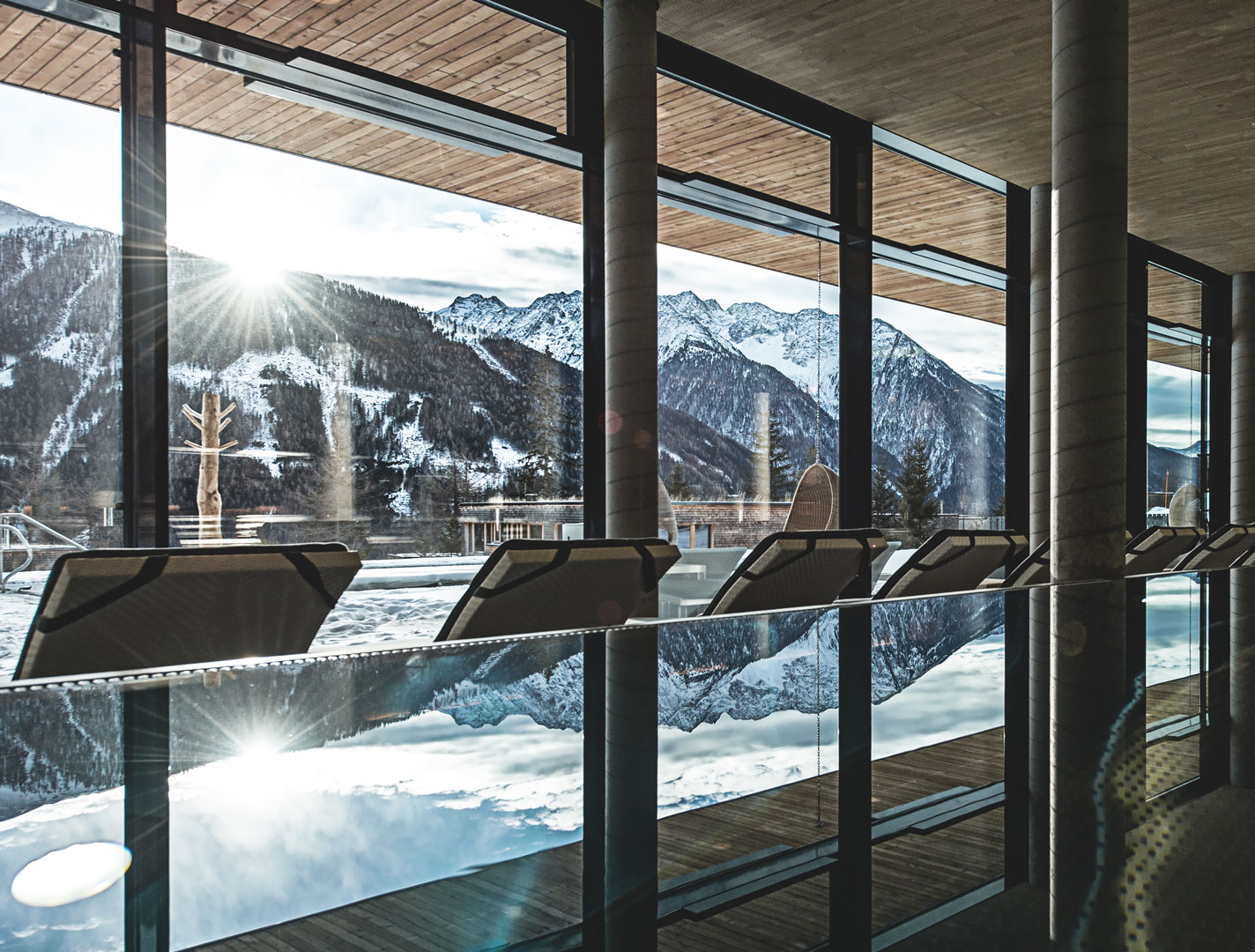 With its more than 100 rooms and chalets, the new Gradonna Mountain Resort is quite a large hotel, but the size also brings some advantages: There are two pools on the ground floor, one for the kids and one for the grown-ups. Of course there is also an outdoor pool (more suitable for sun-bathing and admiring the view to the Großglockner). The wellness area is lovely, but rather modest, everything seems to be connected to everything else, making everything a short trip despite the hotel's size. Our tip: the small surcharge for one of the tower suites is definitely worth it.  
Location
Price
Doubles from 106 Euro per person, tower suite from 155 Euros per person including dinner and lunch snacks.
Contacts
Gradonna Mountain Resort & Chalets
Burg 24
Kals am Großglockner
Osttirol / Österreich