Anything can happen, when you meet a so-called celebrity chef. Usually it gets a bit difficult with people who appear on American late-night shows in front of an audience of millions or prepare the reception dinner for presidents. But Massimo Bottura (60) is a different story. Especially when you meet him in his native Modena. Here he feels completely at home, and because he has opened his own hotel in 2019 (the Casa Maria Luigia – a member of Pretty Hôtels), he first shows us his extensive collection of jazz records. The vinyl records are stacked in the so-called record room in the main house of the Casa Maria Luigia. In the middle you find one chair surrounded by a sound system. If you look closely, we are talking about 12.000 records. This space alone is worth a story and we learn that Bottura is very good in storytelling.
The Parmigiano
We sit down in the shade outside his restaurant, Francescana at Casa Maria Luigia, which is located to the right of the hotel's entrance. It's a satellite of his three-star decorated and twice voted world's best restaurant "Francescana" in central Modena. Guests from all over the world still come here to taste the famous Parmesan creation called "Five different ages of parmigiano".
Speaking of this Parmesan dish, Bottura has an important message right away. "At the beginning, the media was saying I would destroy the image of Parmesan cheese. And 20 years later, it was voted the dish of the year." What he tries to say is: Always fight for what you do. Even if it takes a little longer and everyone criticizes it. A lot of things aren't perfect at first, of course, Bottura says. But he's not one to give up easily.
Drinking coffee with Bottura is the opposite of a vacation in the Maldives. When he talks, he likes to talk himself into a frenzy. He is always full of energy and passion, especially when it comes to cooking, art or music.
Maybe that has something to do with his life's journey. Bottura's résumé is not that of a classic star chef.
Botturas CV
After dropping out of law school, he opened a small trattoria in 1986 in what he calls a "mini-village with ten inhabitants" near his home in Modena. One day, French master chef Alain Ducasse visits a friend who runs a restaurant around the corner. The friend sends Ducasse to Bottura and – after having eaten at his place – offers him an internship in his restaurant at the Hotel de Paris in Monte Carlo. Bottura accepts and learns everything about the French gourmet cuisine. He moves to New York, meets his wife Lara Gilmore, and in 1995 tries his luck with his own Osteria Francescana in Modena. In 2011, the restaurant received three Michelin stars, and in 2016 and 2018 it was voted number one in the World's 50 Best Restaurants list. The Netflix documentary "Chef's Table" dedicated an entire episode to him, and Bottura landed on Time magazine's list of the 100 most influential people.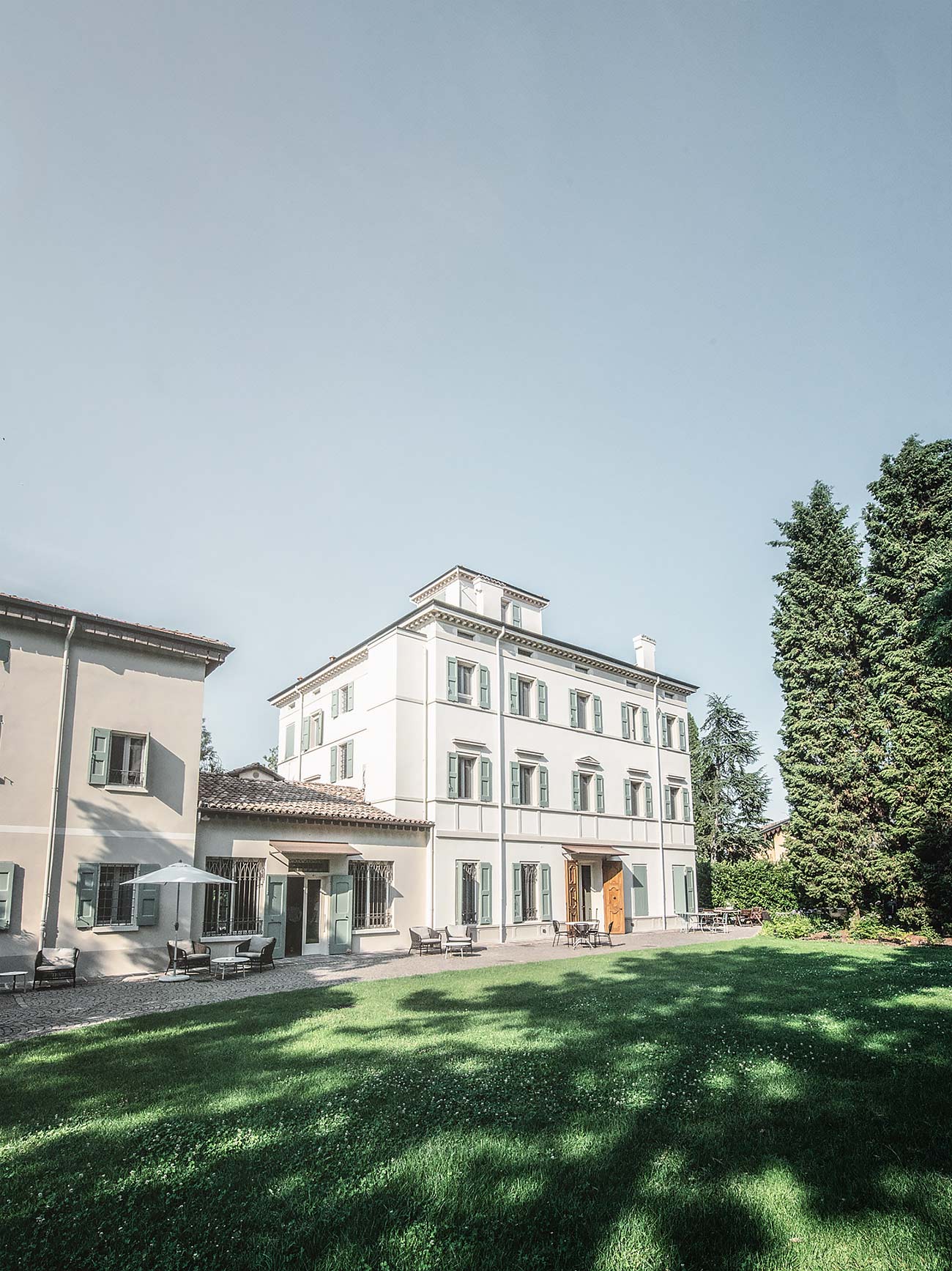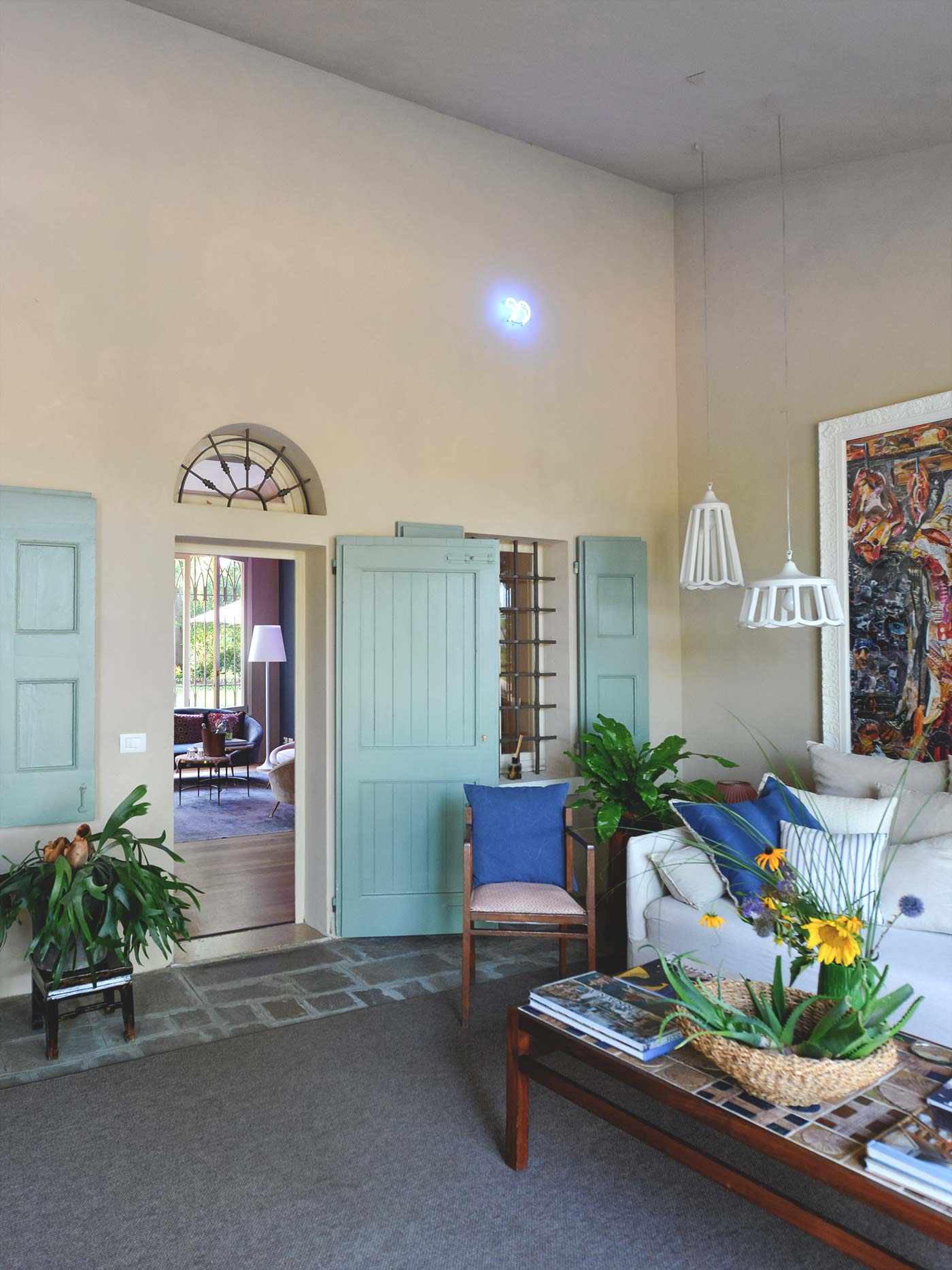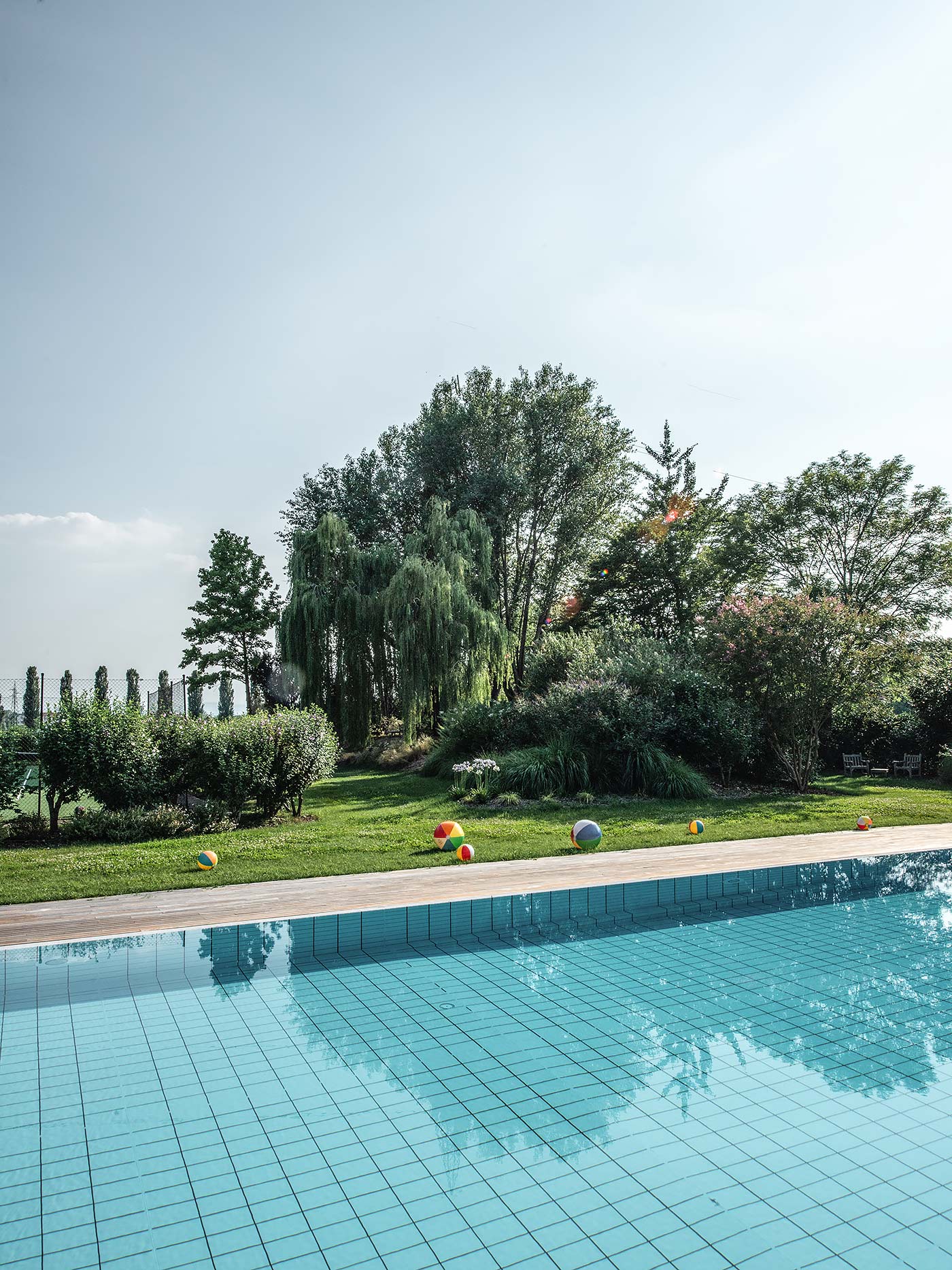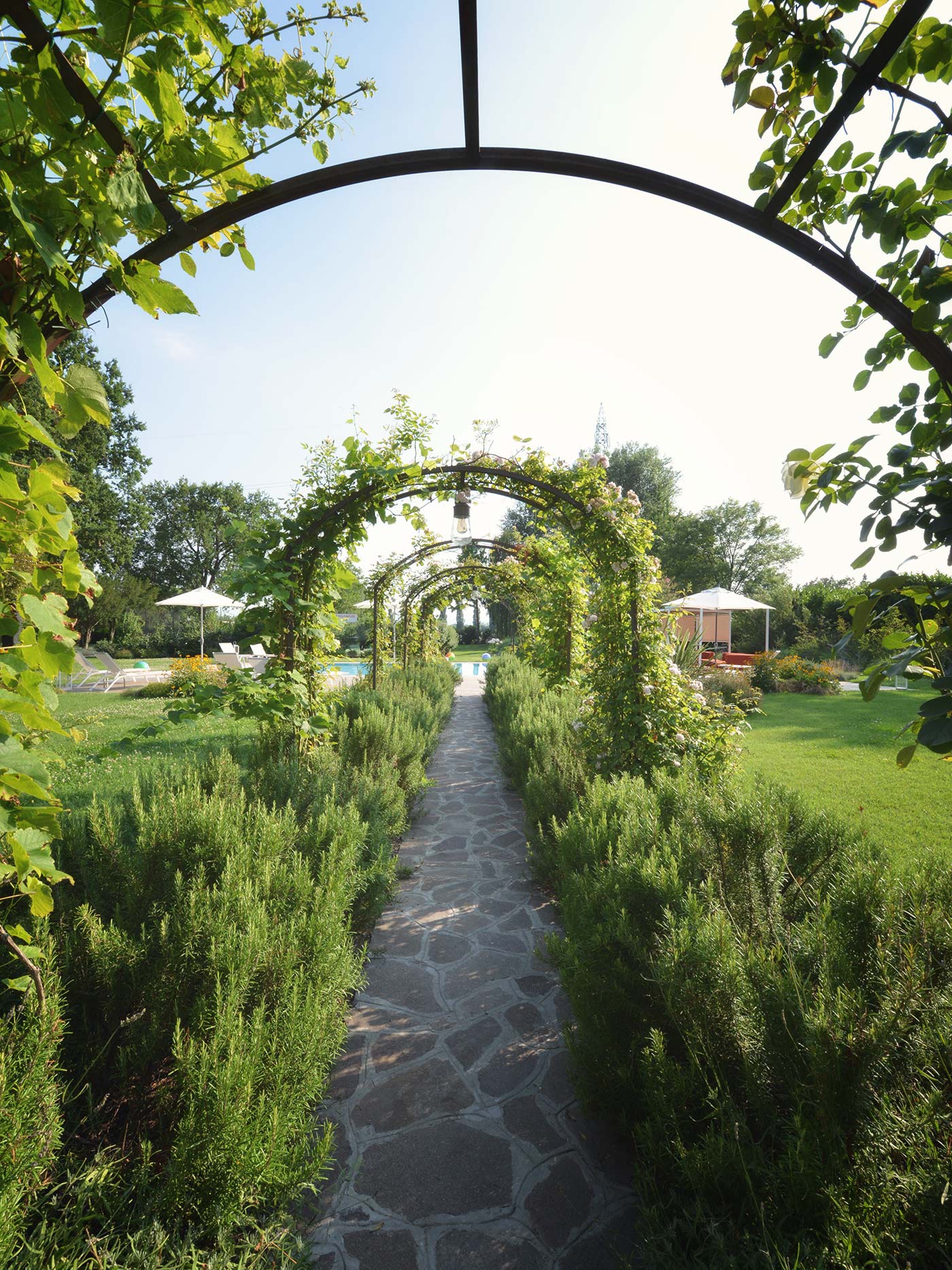 Massimo Bottura's Casa Maria Luigia: an 18th century villa with a huge garden, tennis court, lots of art from his own collection and a swimming pool.
But in the face of all this culinary success: what motivated him to open a hotel? In general, hotels are the result of a lot of work, and an older villa just outside Modena is certainly not a no-brainer.
A hotel? Why?
Bottura grins at this question. Because he finds the term hotel – just like us – a bit strange. A hotel is not just a hotel. And he simply thinks of hospitality completely different than most of the chains who open new hotels every two minutes. "Most of the hotels I know have no energy," Bottura says. In luxury hotels, he says, you're usually sitting alone on a terrace. The waiters are standing next to you and get bored. Very often, nobody dares to speak because you could disturb someone.
His idea was to "create a place where people come together." Hospitality, he says, always has to do with people eating and drinking together – whether with family or friends or even strangers. Then he tells a story. The other day, he says, guests from a wide variety of nations came to dinner at the restaurant. At first, they were very shy and almost hostile towards each other. Then he sat them down at the same table and they became friends. They had a great time and had breakfast together the next morning. That is what makes him happy.
Inside the restaurant, his 9-course tasting menu is just getting started, and Bottura wants to tell a story about each course. When he's there, he always does and the guests love it.
Time to go inside. And try one of the world's highest quality culinary menus.
Casa Maria Luigia
Stradello Bonaghino 56
San Damaso – Modena
Italy
©Pretty Hôtels