Traditionally a little geography up front: Find your way to the north-east of the island, pass the little town of Artà and turn left. A three minute commute up that small alley and a mighty gate awaits. Reservations only. Es Racó is a place of peace and seclusion. Or – in other words: it is a different world. Especially if you compare it to other places on Majorca.
A path of natural gravel leads us to the main house – a 13th century finca made of stone with traces of its past all around. This is by design, the garden is not perfect either, just another reminder that this is anything but your typical hotel.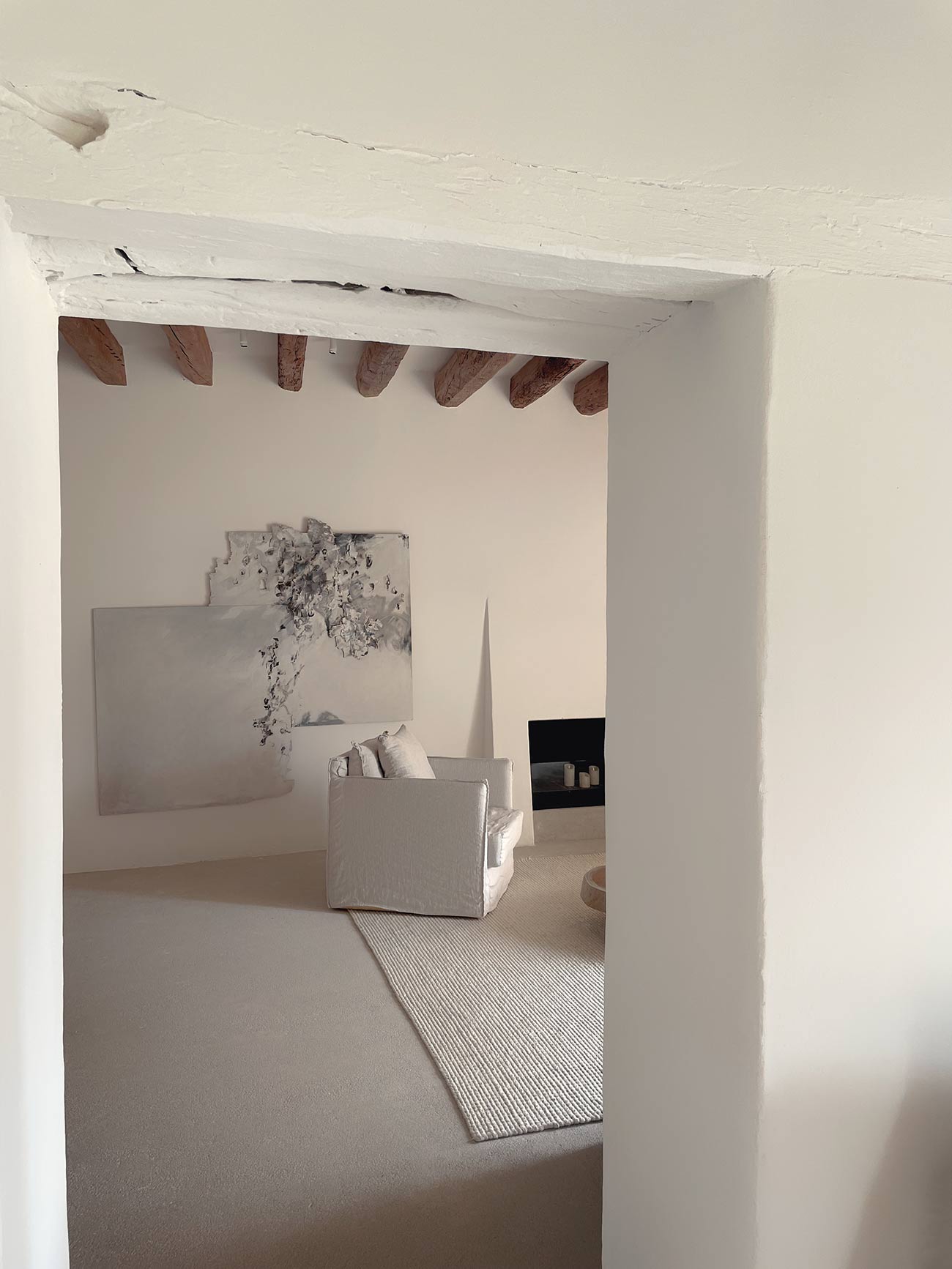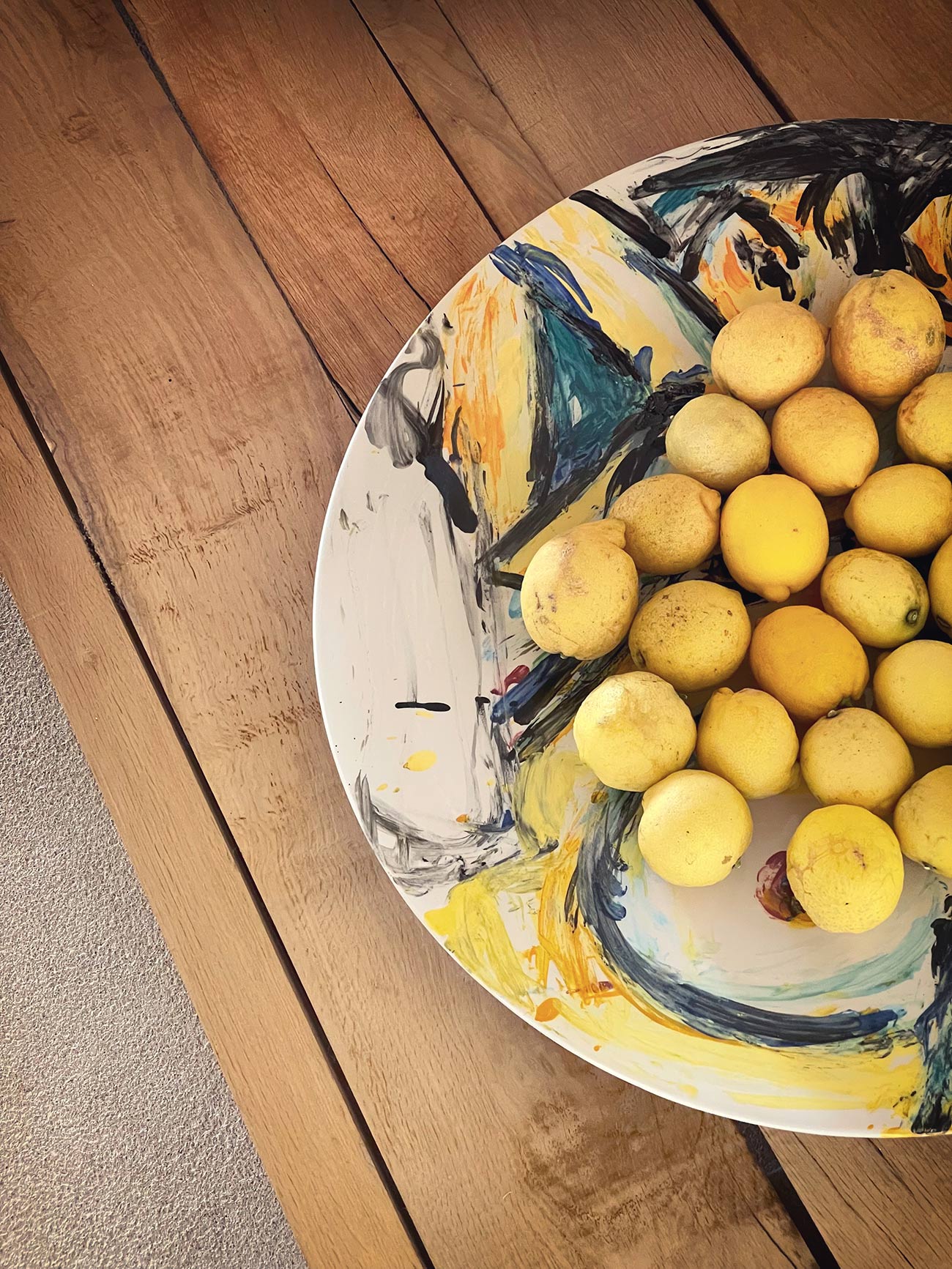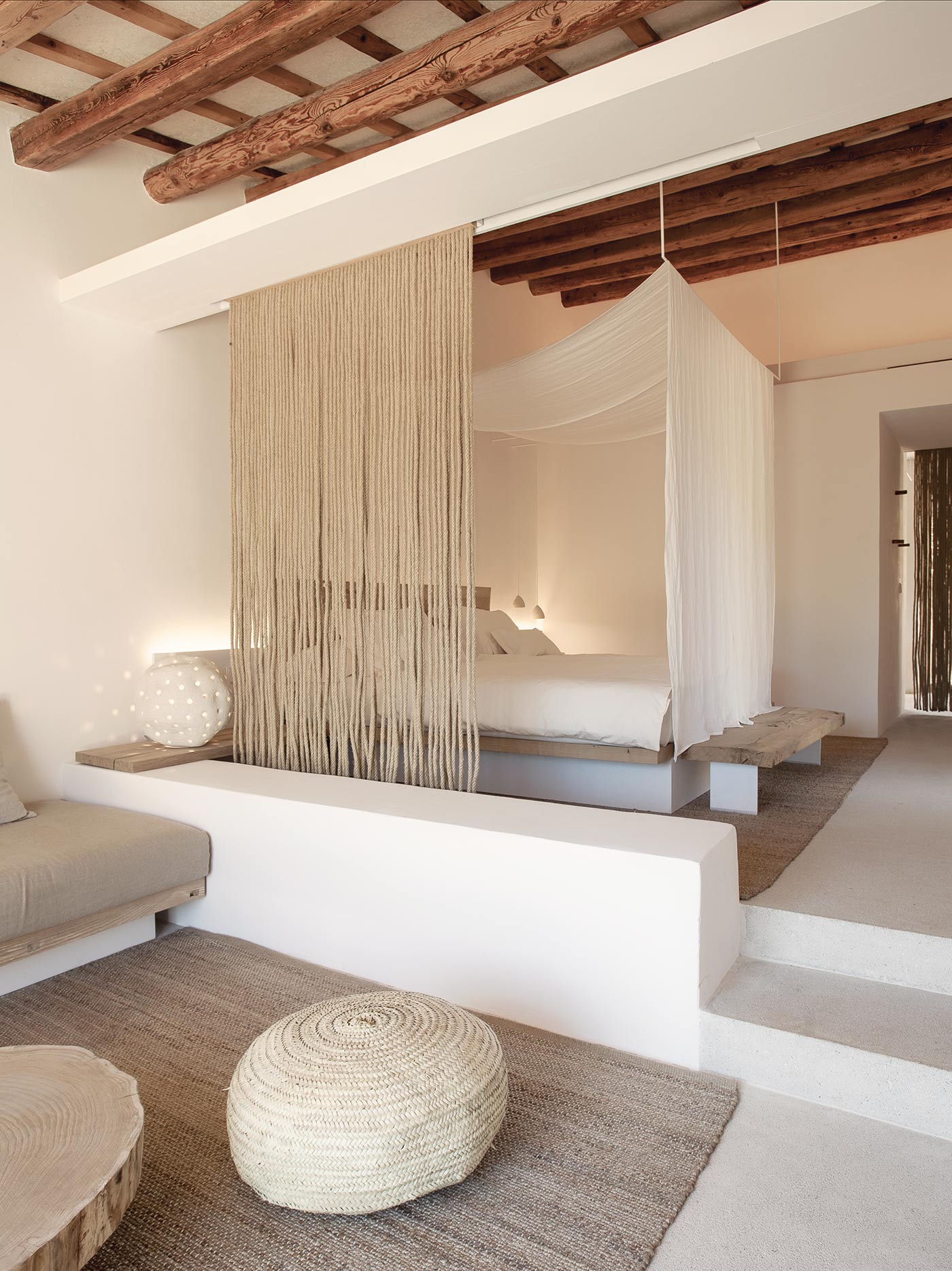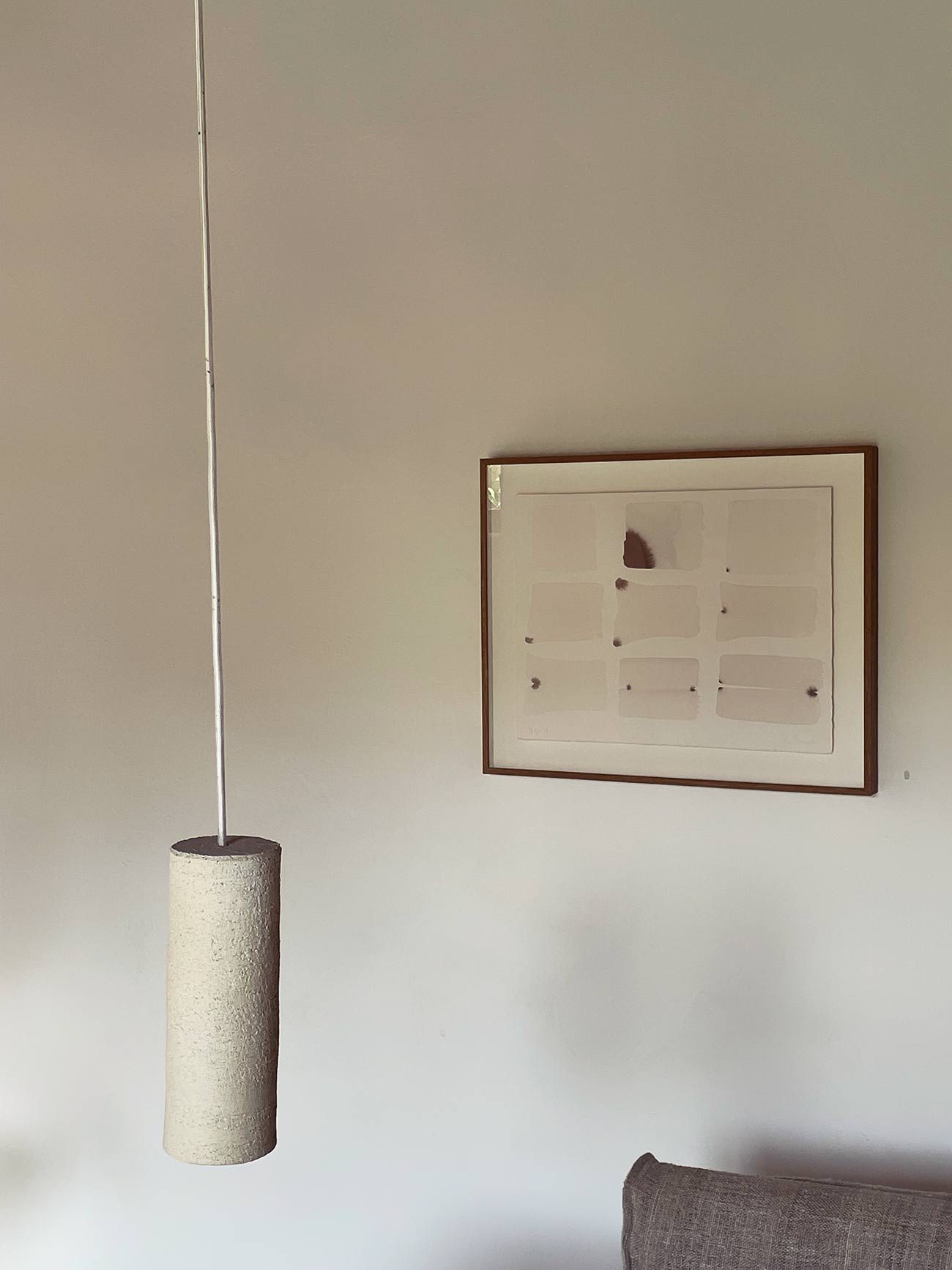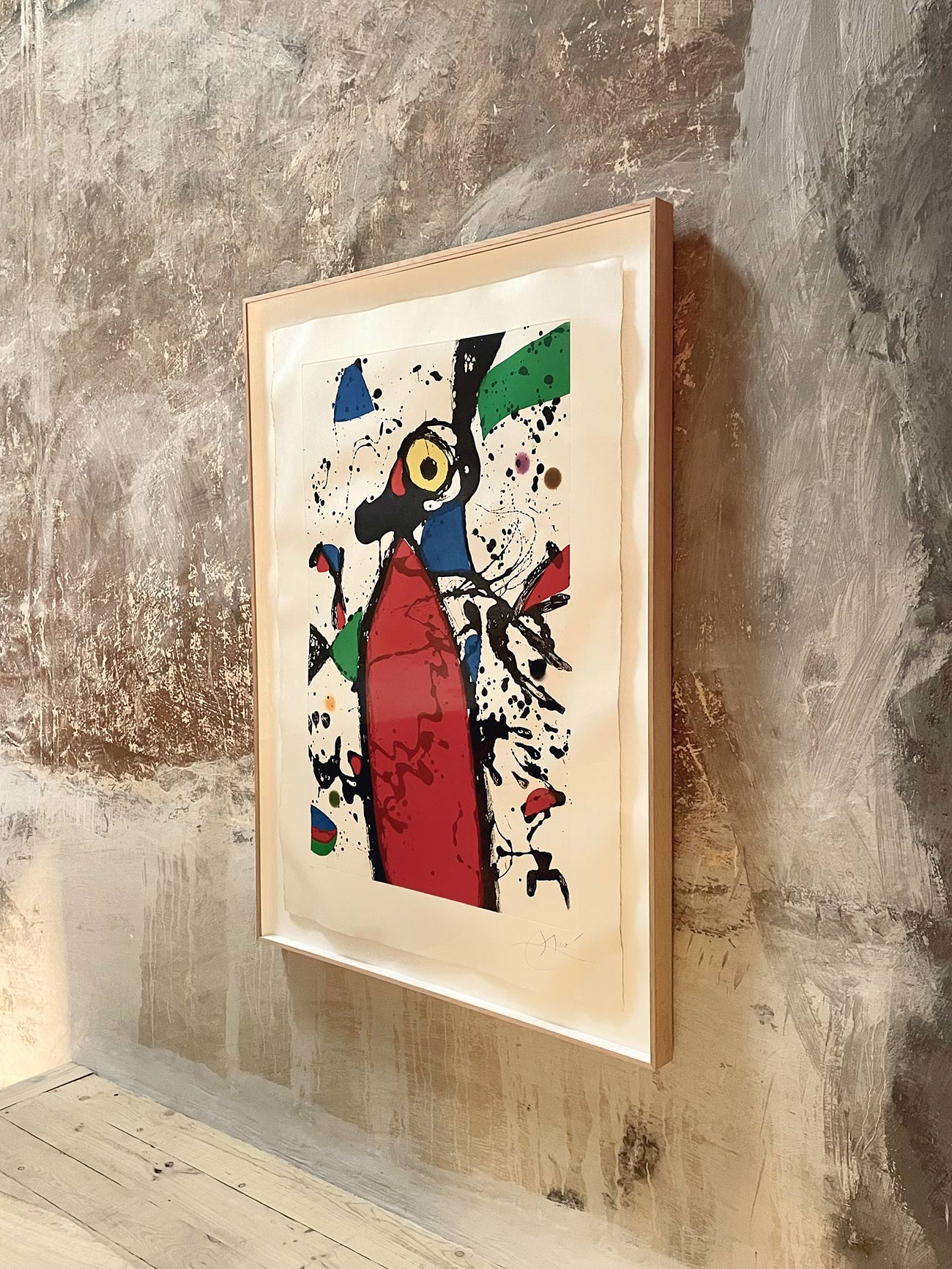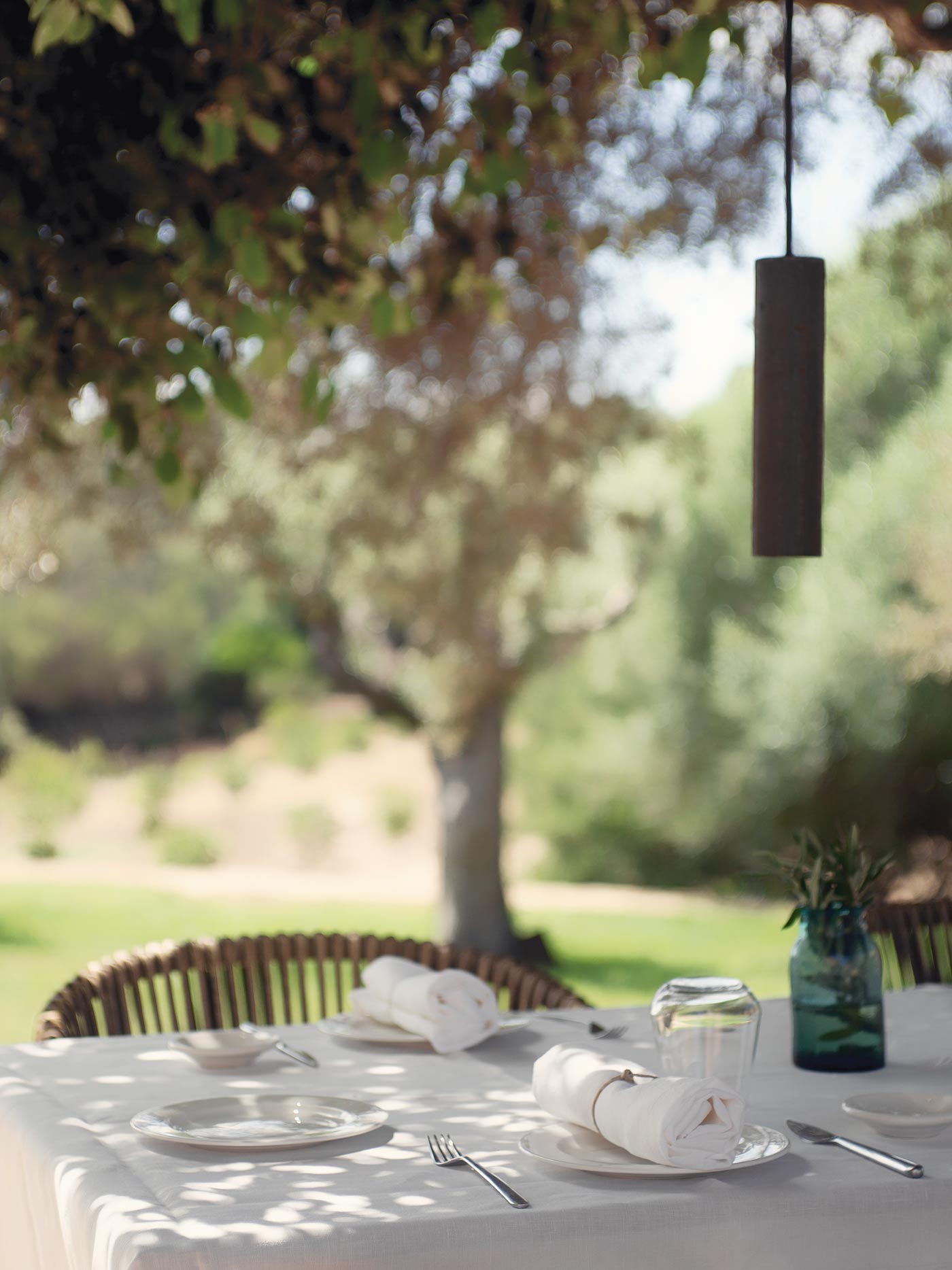 Soft colours, sleek alleys and natural fabrics are the essential ingredients at Es Racó de Artà.
When you enter this sanctuary you discover: great works of art (some of them wooden sculptures or a real Miró at the entrance to the wine cellar) and a combo of cozy rooms that also double as the lobby. The prevailing look & feel: sand and beige colors meet brown wooden beams.
Sipping on your welcome drink you are trying to catch up with your soul that has already wandered off in full vacation mode.
True to the hotel's idea: "Here we turn our back on the ordinary and return to nature."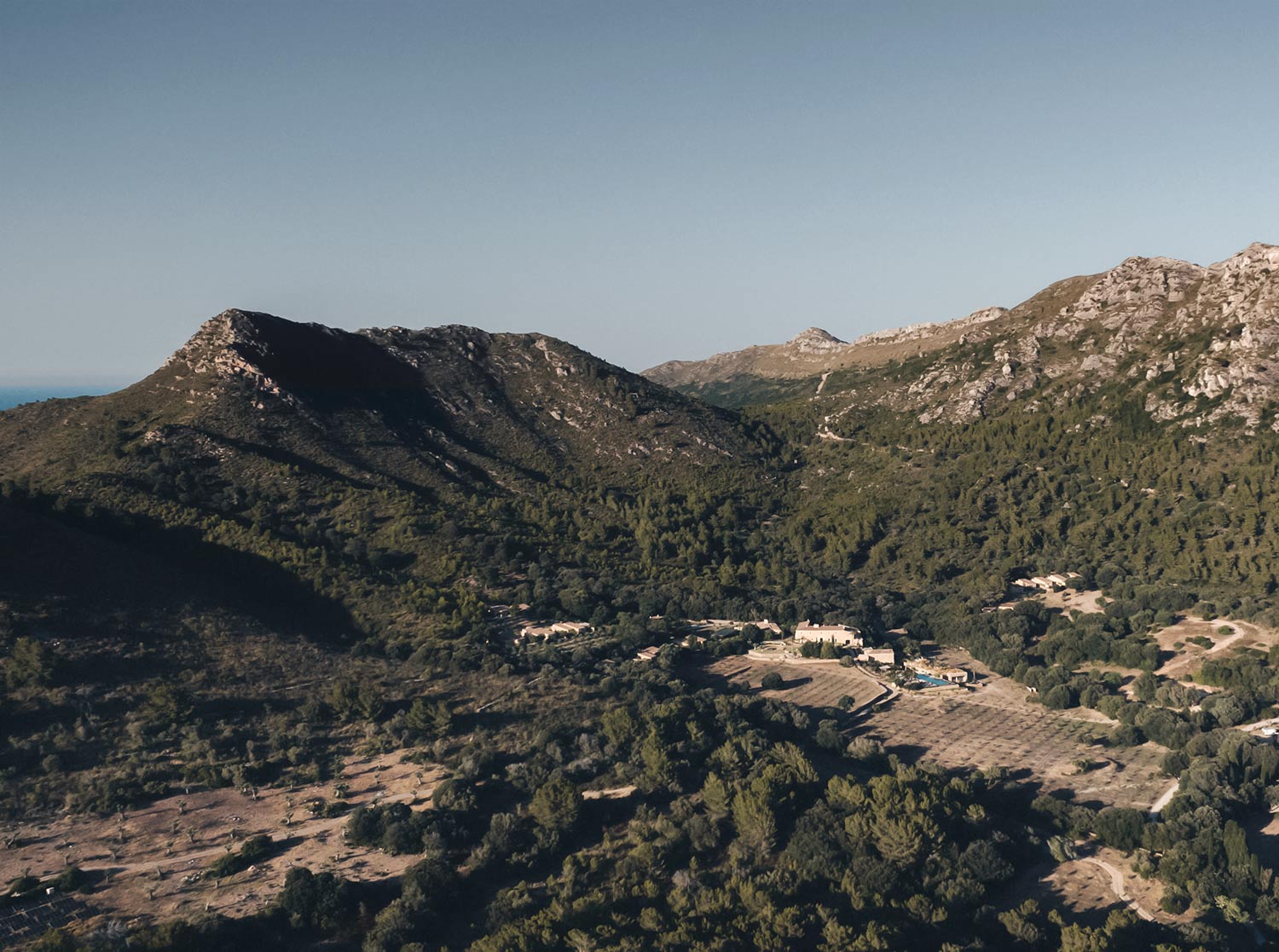 The story
But what makes Es Raco de Artà a place we haven`t seen anywhere else before?
First of all, it is their philosophy.
To understand it, you have to know the story and the people behind it: Es Raco de Artà is the invention of the well established Majorcan architect Antoni Esteva (Esteva i Esteva Architects), his friend Jaume Danús and their families. About ten years ago they began to renovate the ruin with its 185 hectares of land – on the island where they grew up and live.
They formulated their goal with the words: "Back to nature, back to the origin. Back to that Mallorca they knew from their childhood in the 50s and 60s. An island, where nature, architecture, culture and gastronomy played the main role without having sold it to mass tourism."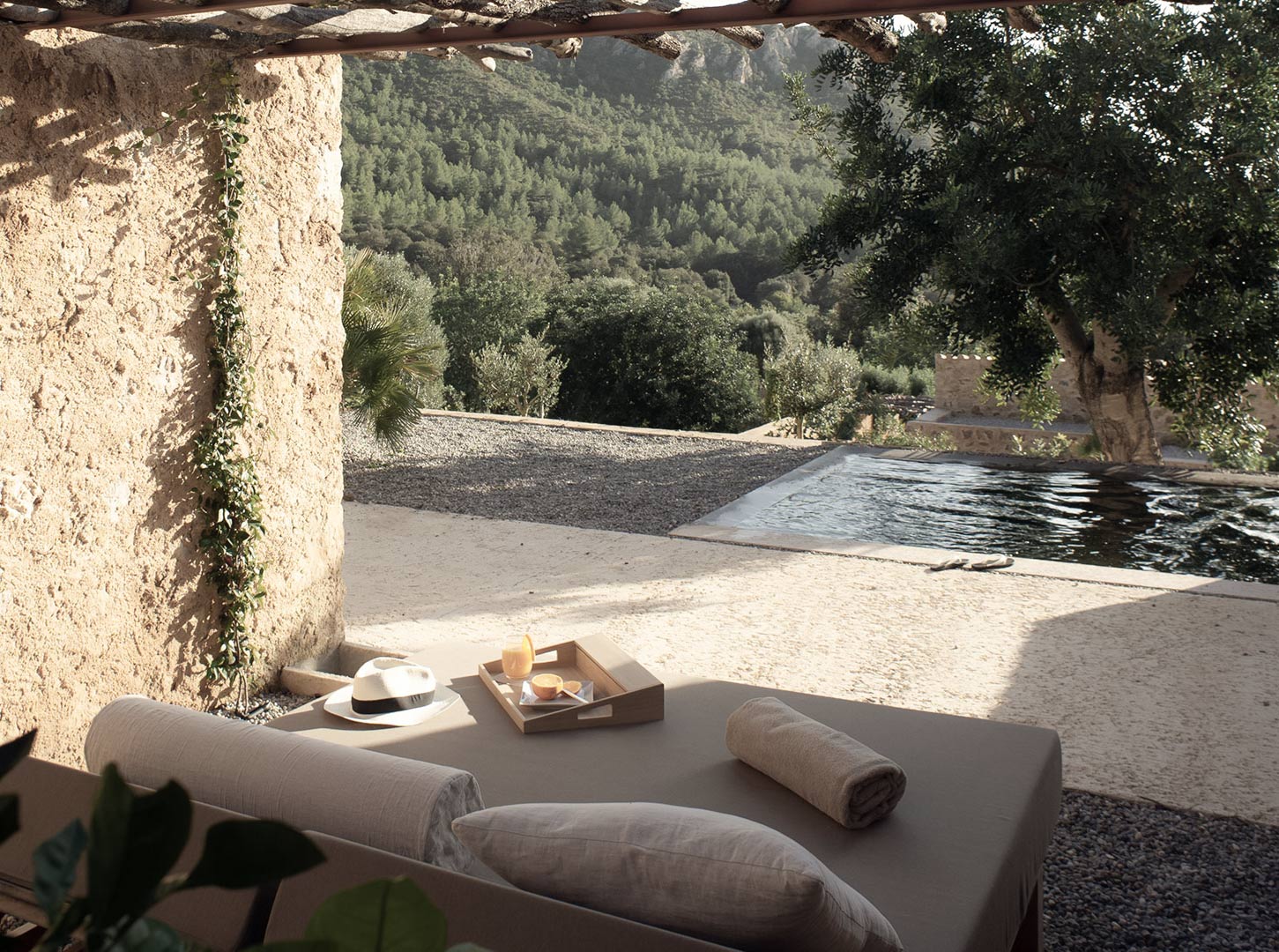 Behind the house we discover endless mountains and forests of oaks, wild olive trees, carob, pine and occasional cypress. The property includes 14 hectares of organic vineyards, about 1200 olive trees, 200 different fruit trees and a field of native xeixa (a wheat variety from Majorca). And for the culinary experiences, a 2000 m2 organic vegetable garden and herb garden has been planted on the premises.
The Facts
Es Racó de Artà consists of eight beautiful bright suites, 21 cottages (boasting 115sqm of space), a casita with two bedrooms and a large holiday house with three bedrooms for families. The rooms and cottages are distributed throughout the area. And most important: Only natural materials were used in the rooms. You feel truly undisturbed and live in harmony with nature.
In the center you find the main house, adjacent is a restaurant where you can have lunch and dinner in the evening. The cuisine: High quality, but no bling bling. Excellent regional and seasonal cuisine.
Wellness
There are five treatment rooms, sauna, steam room, contrast bath therapy, watsu, and of course yoga and mindful movement classes in very beautiful, natural spaces (i.e. the former stable).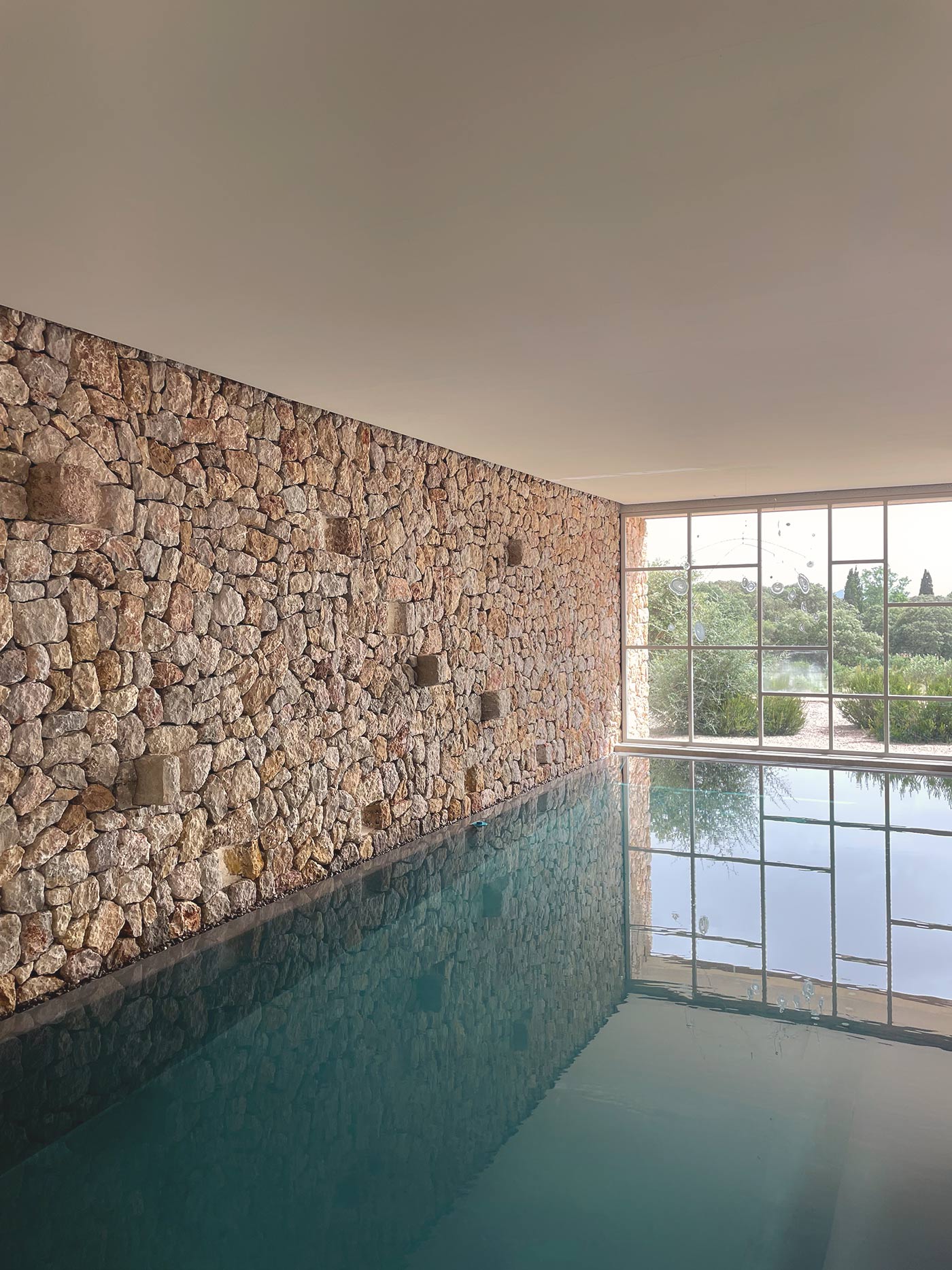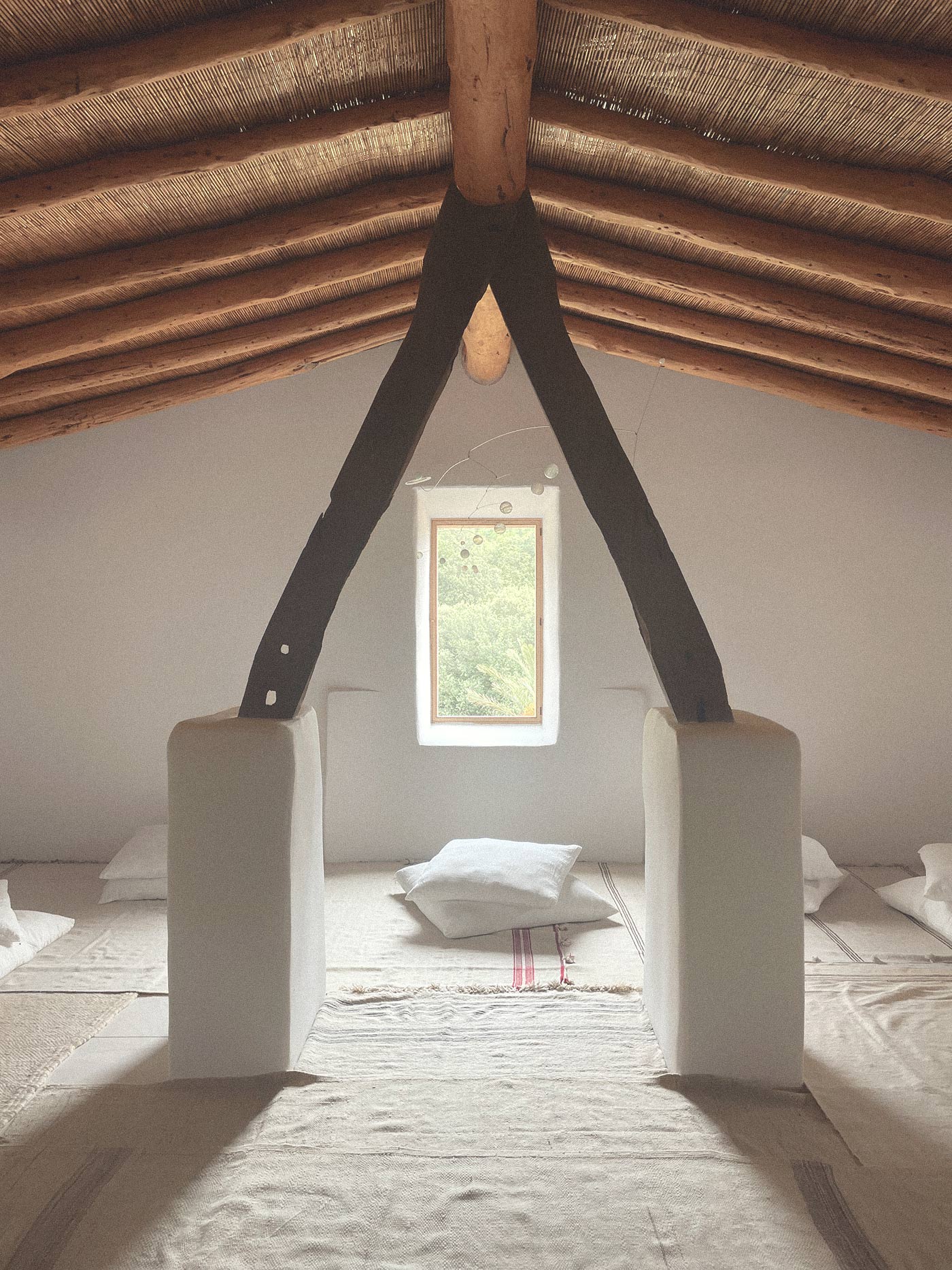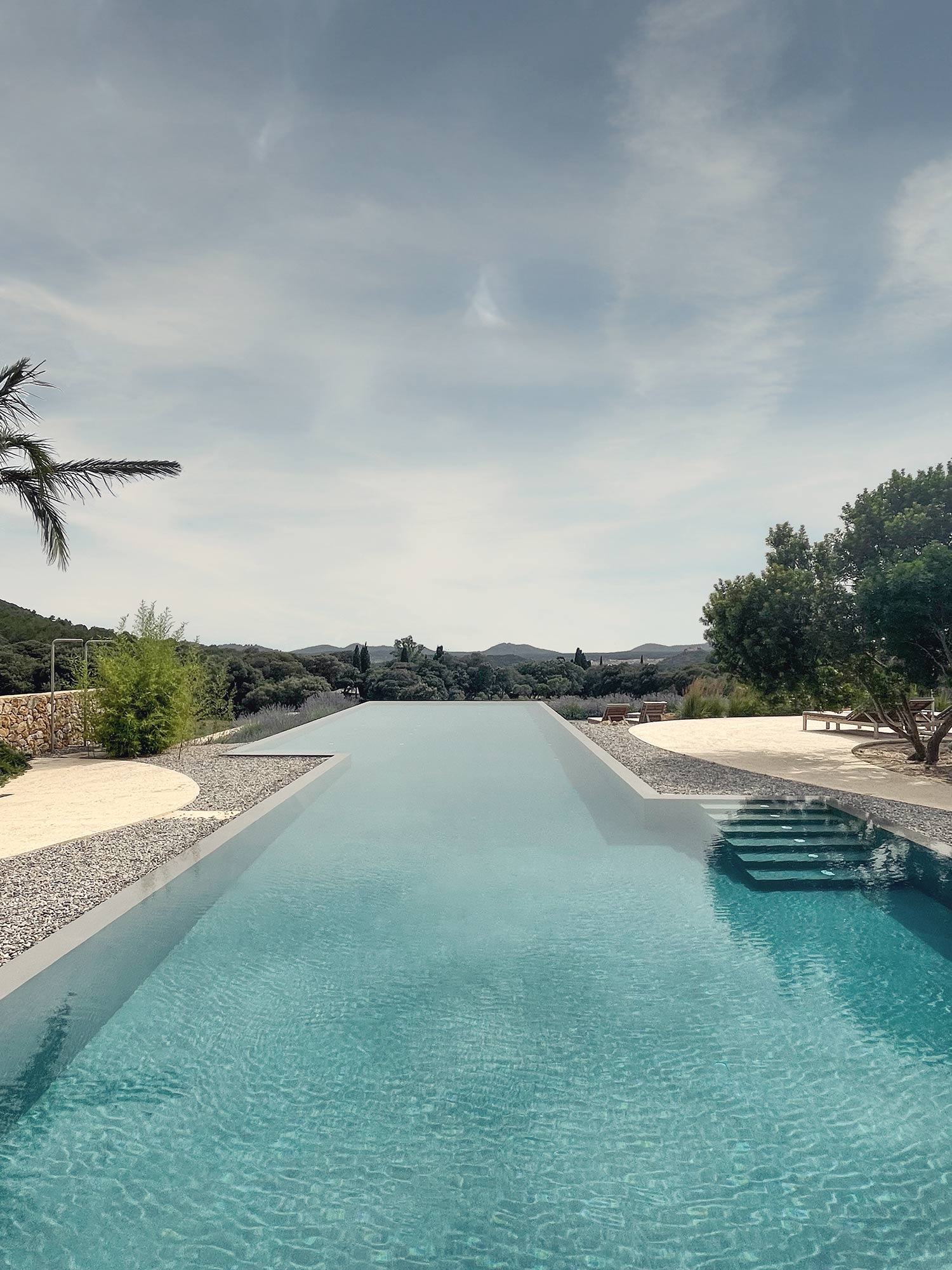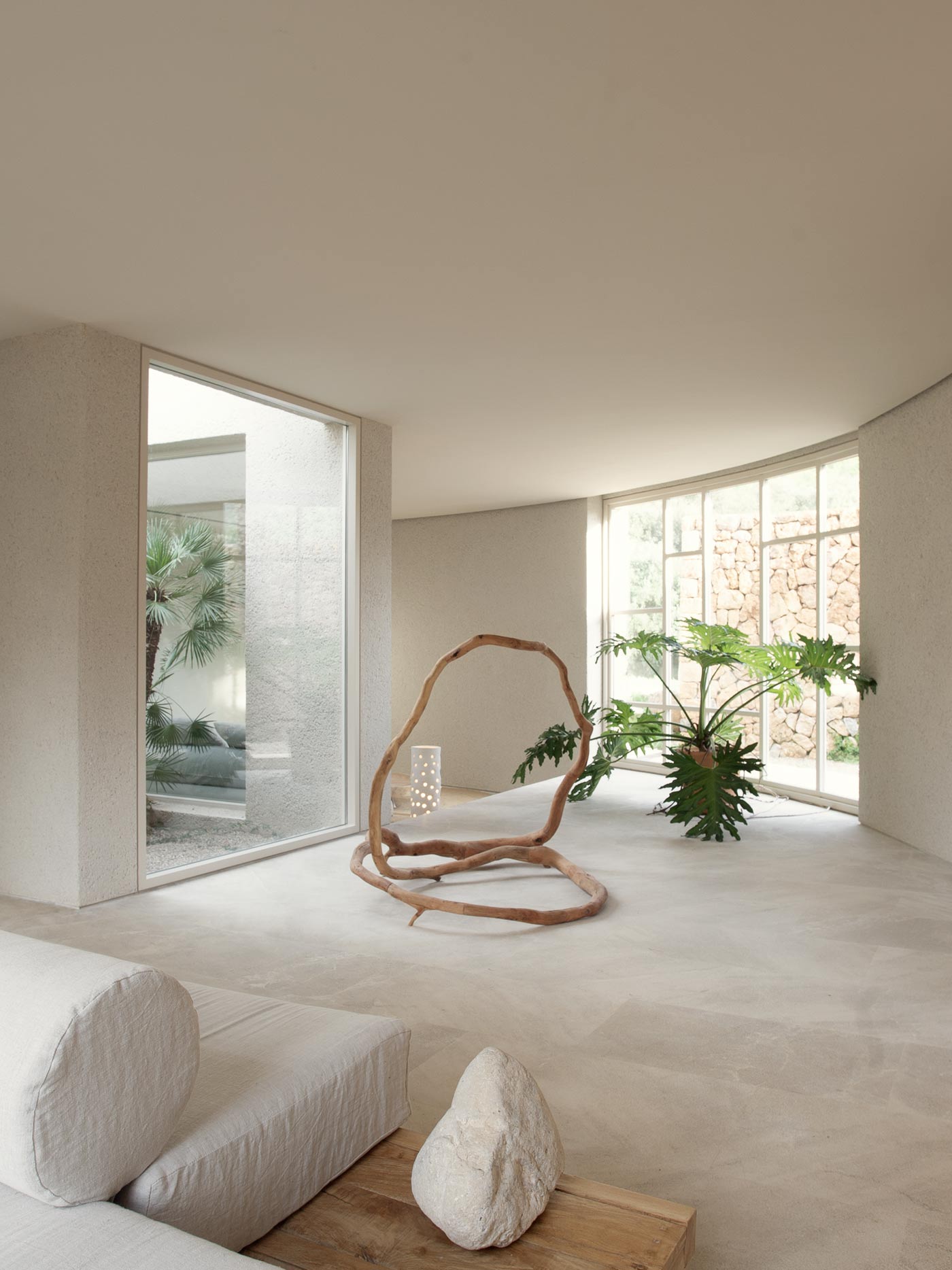 Harmonious forms are also to be found at the gym, the indoor pool and the outdoor swimming pool.
Plus an indoor & outdoor infinity pool with views of Artà. Craft workshops, art classes, cooking classes, honey tastings, olive oil tastings, medicinal plants and herbal medicine workshops and much more.
One also has to point out, that the wellness area here does not look like a wellness area at all, which makes it a very pleasant location.
Ideal for
We feel Es Racó de Artà is an ideal place for people interested in great design and architecture. And a place to recharge your batteries. Be it through a week of healthy eating or even a week of sports (yoga, biking, running) in the mountains and the hinterland of the island. Especially in the low season, when it is not so hot, Es Racó de Artà offers perfect conditions.
Prices
Doubles from around 468 euros (low season).
season
Es Racó de Artà is open from March until December.
Booking & Contacts
Es Racó de Artà
Cami des Racó
Ctra. De Cala Mitjana Km 1,5
Artà, Mallorca
Illes Balears,
Spain 07570