Jesica & Albert used to run restaurants in Barcelona. But a few years ago, the Catalan capital felt  too crowded and hectic for them. They sold everything and together with their young kids they moved to Majorca. To Sóller, a charming little village in the middle of the Tramuntana mountains. This is where you still discover the authentic part of the island — small, narrow streets, typical Mallorquin houses made of stone and a beautiful piazza in the center with many restaurants and bars.
Just a few steps away from this square the couple recently opened their Meem Townhouse. A boutique bed & breakfast with seven gorgeous suites — one more beautiful than the other.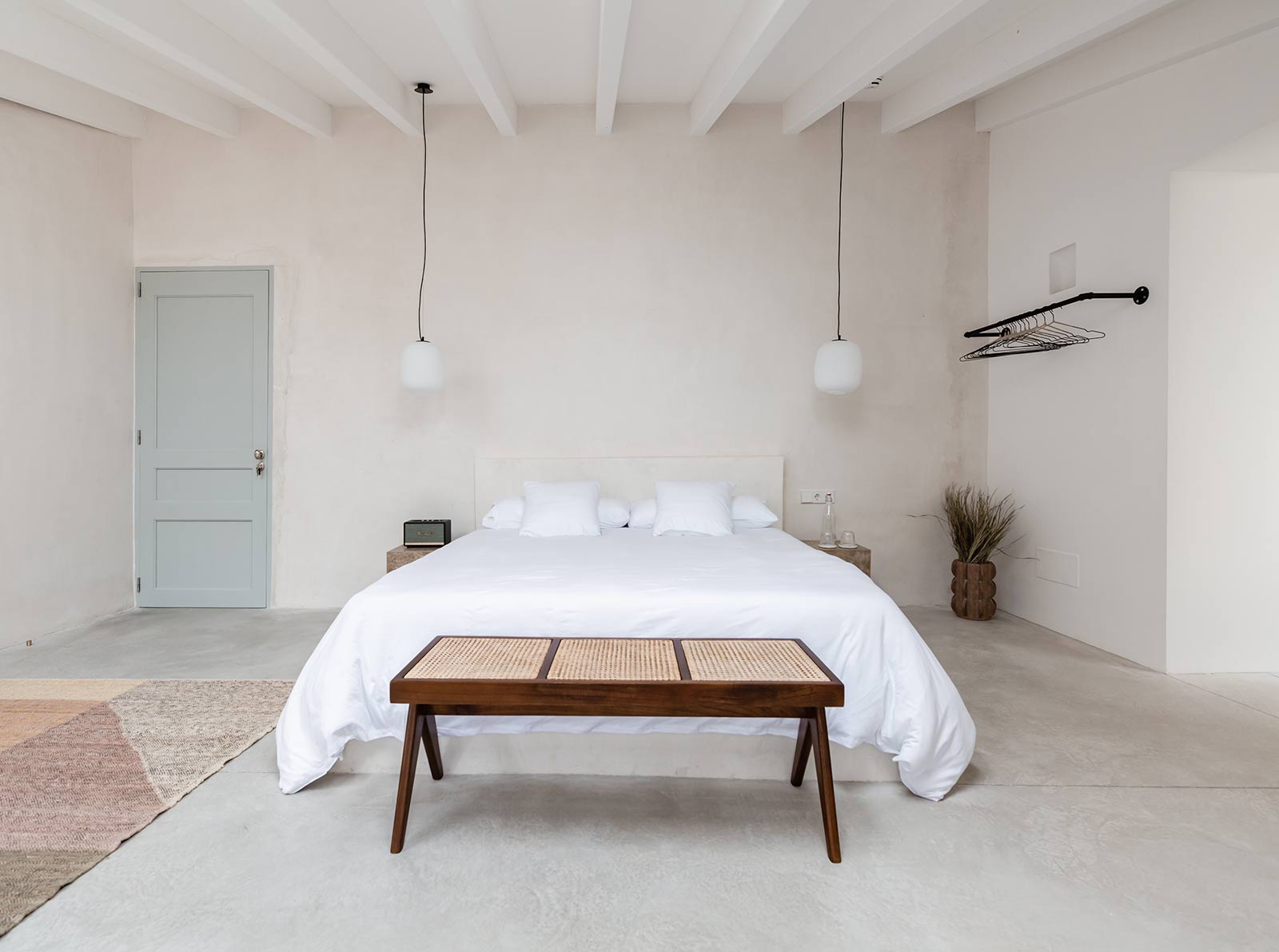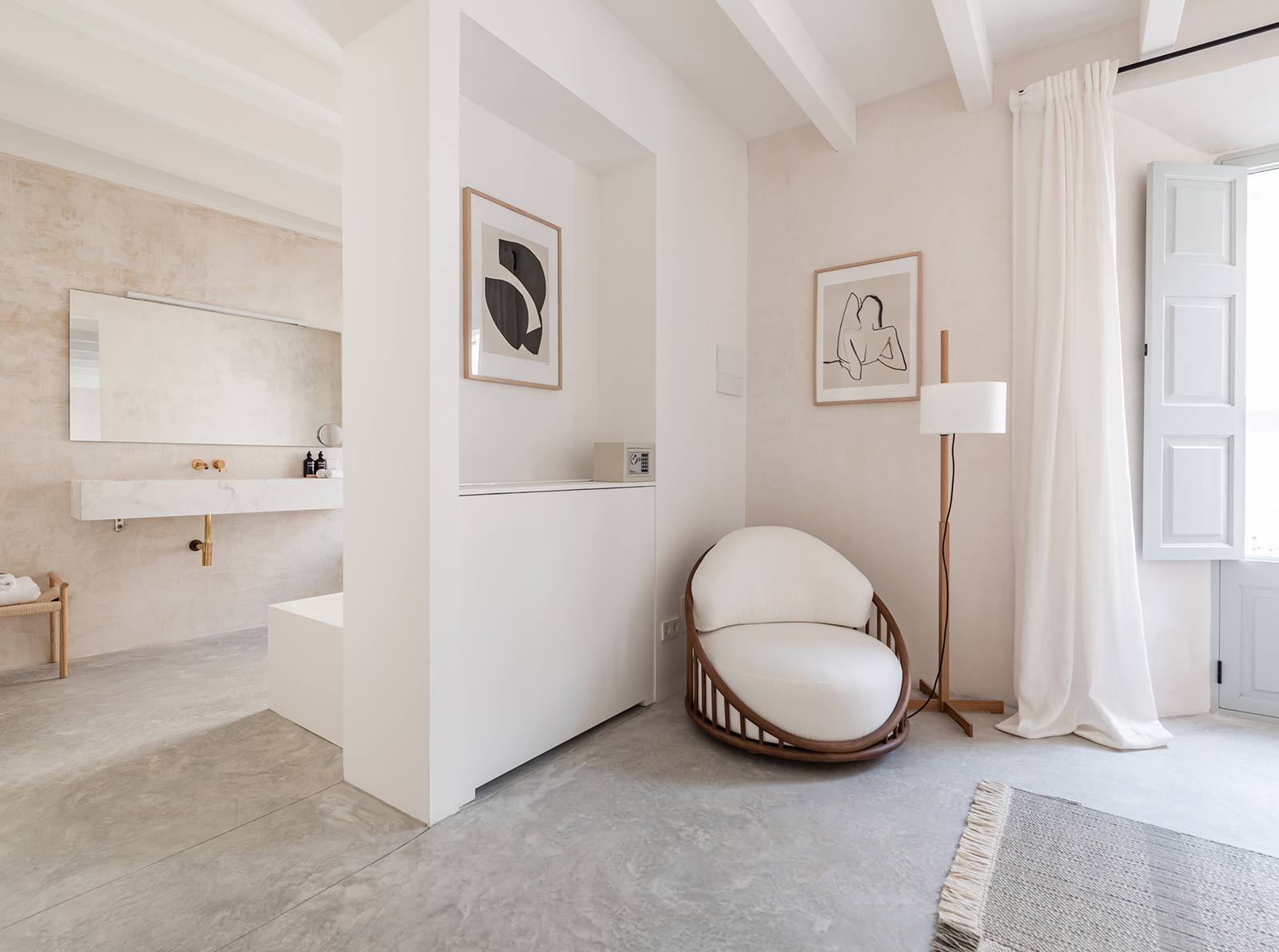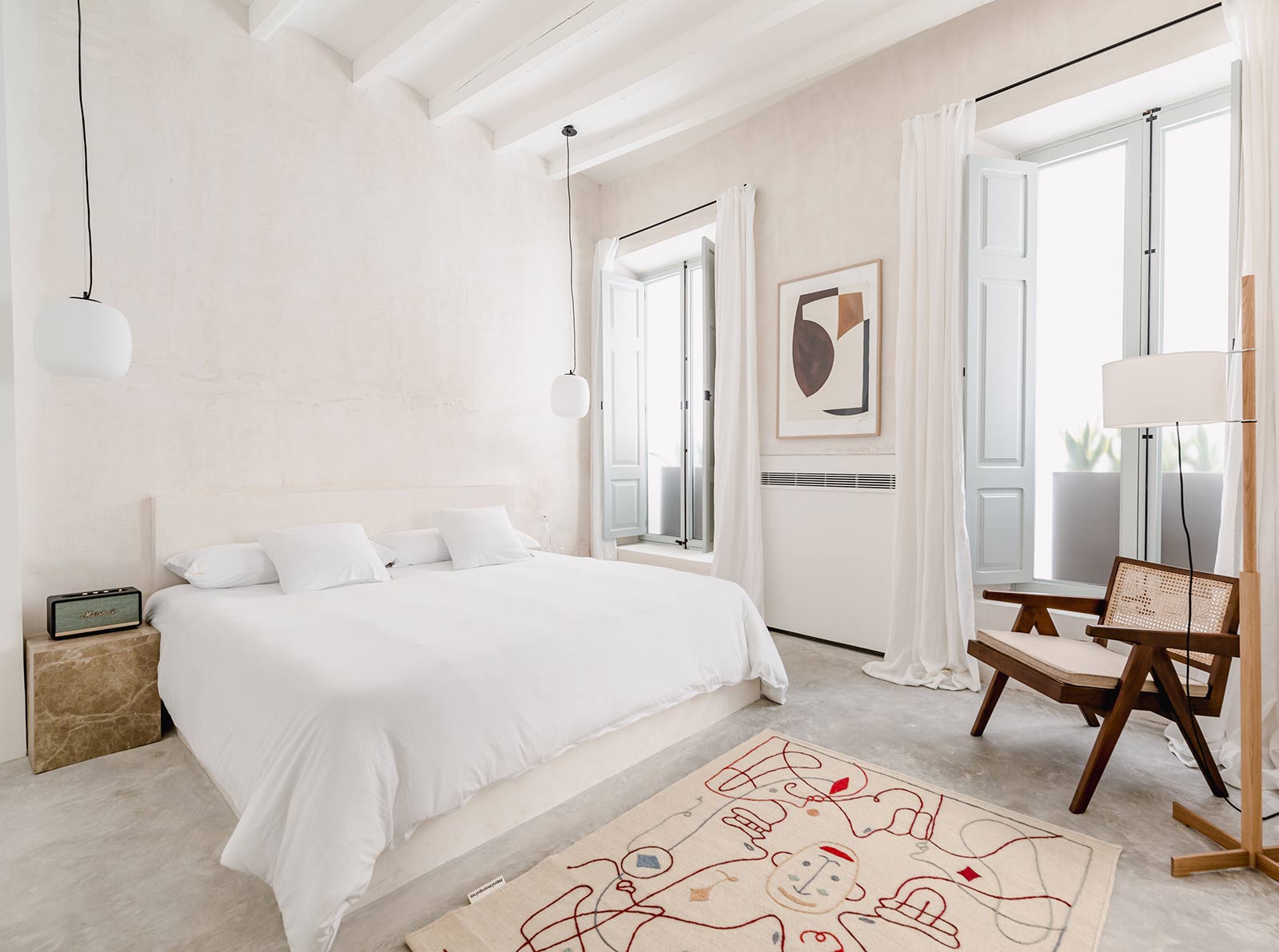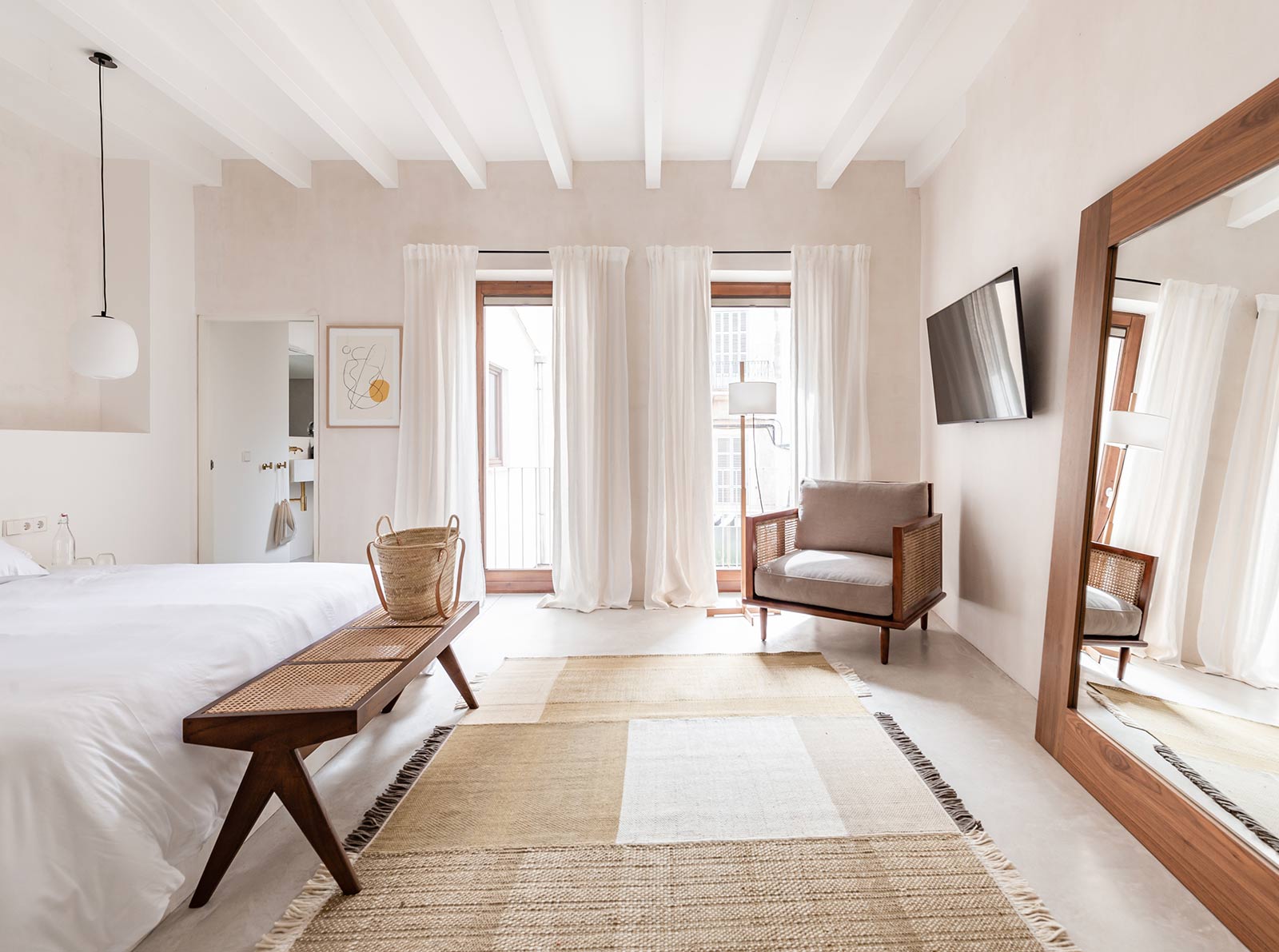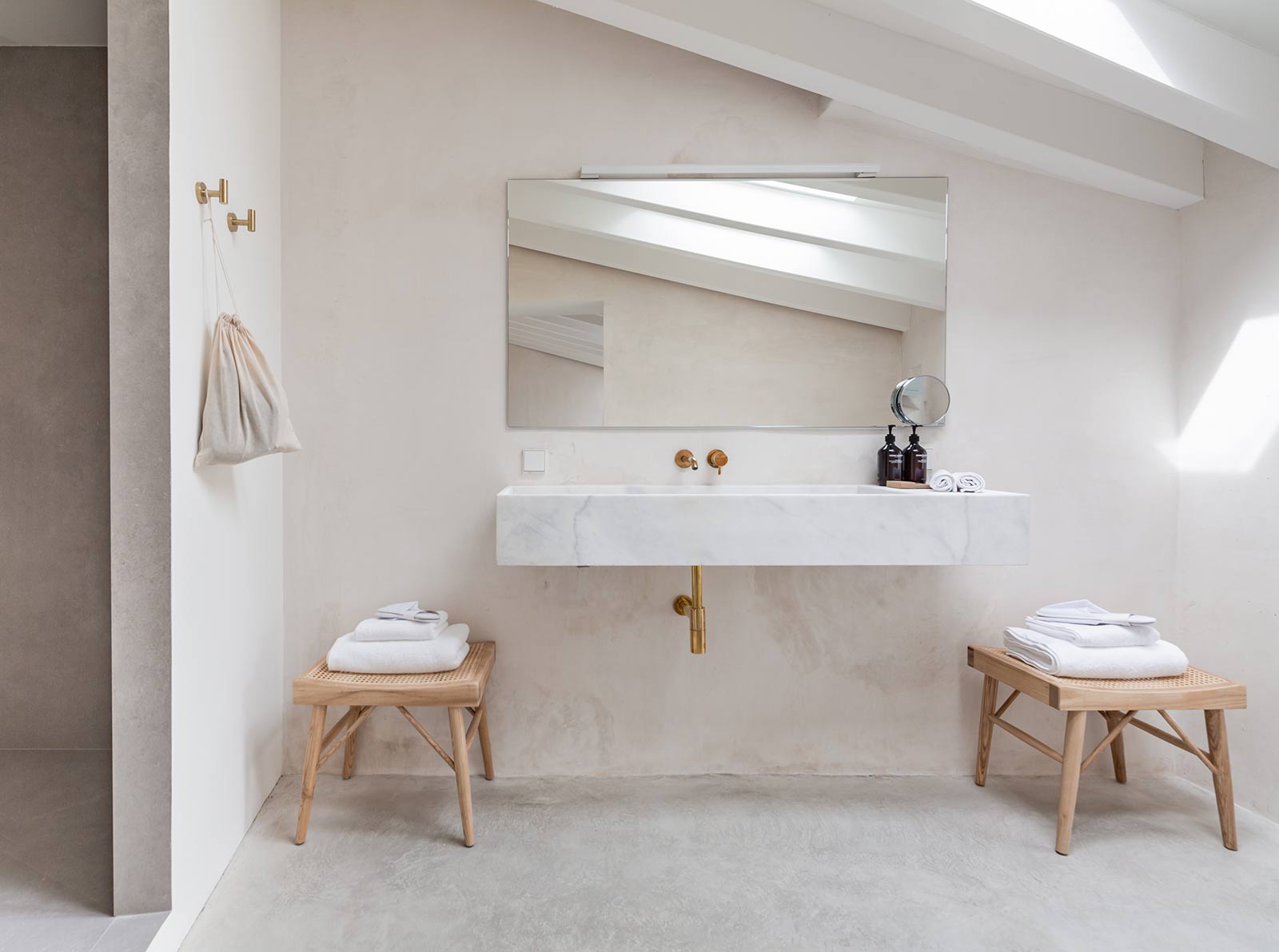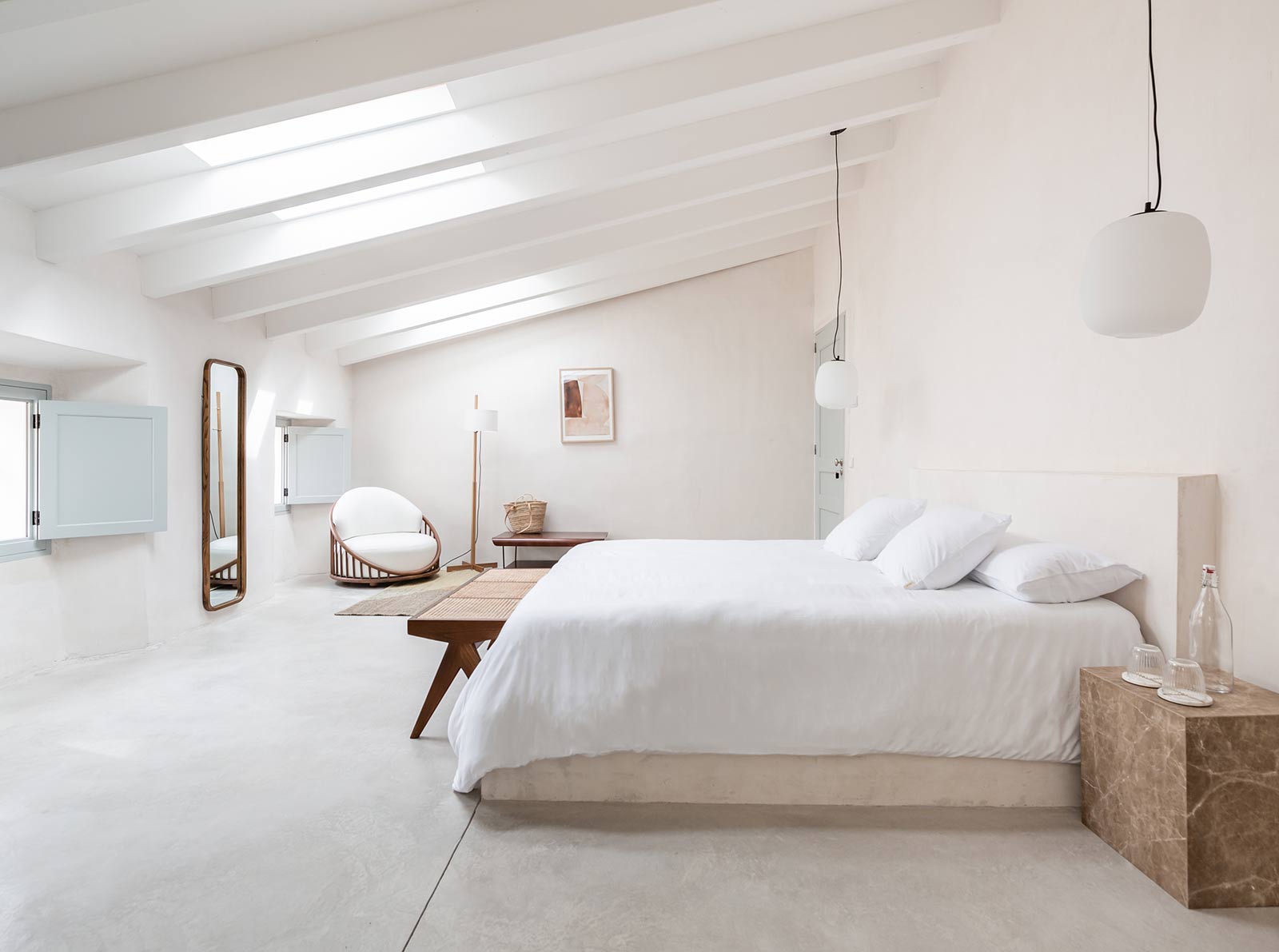 Here is how your arrival at Meem Townhouse will most likely pan out: You pass through a large, heavy glass door and will be welcomed in a room with high ceilings, a stone floor and two or three inviting lounge chairs to sit in. Just beyond are a couple of tables and a terrace, where when we arrived a guest was nursing a glass of chilled white wine. And it strikes you immediately: This place will not disappoint.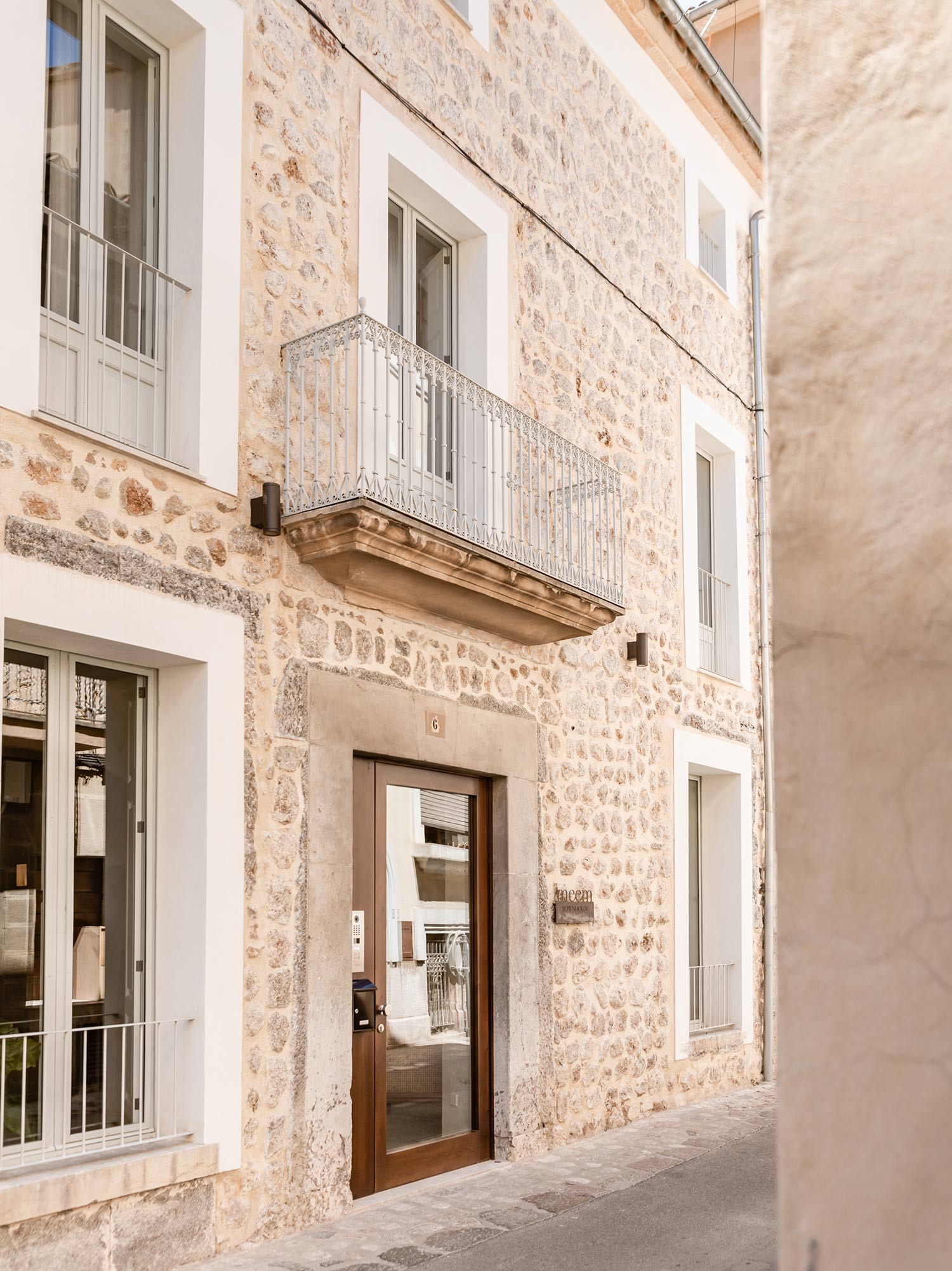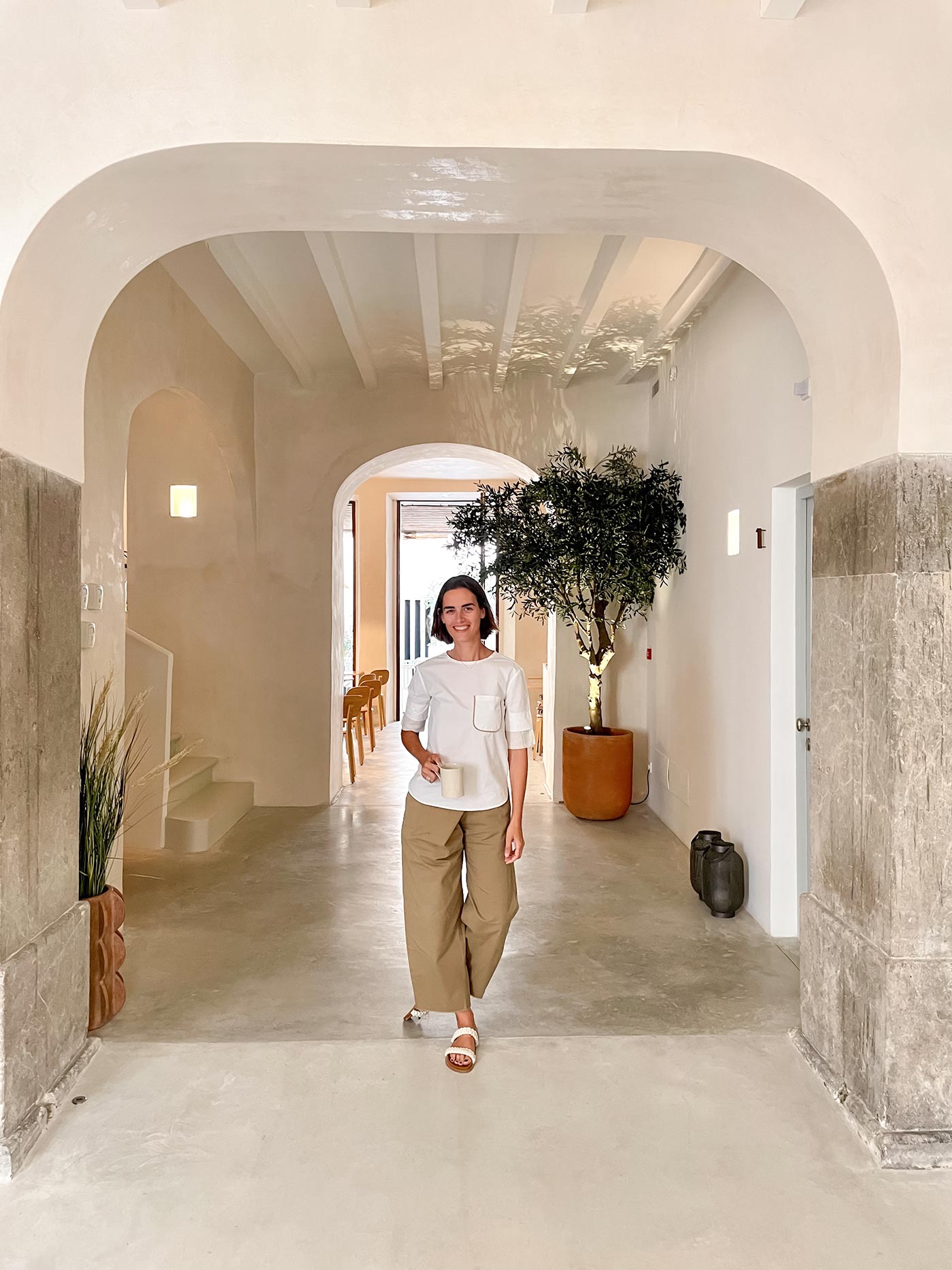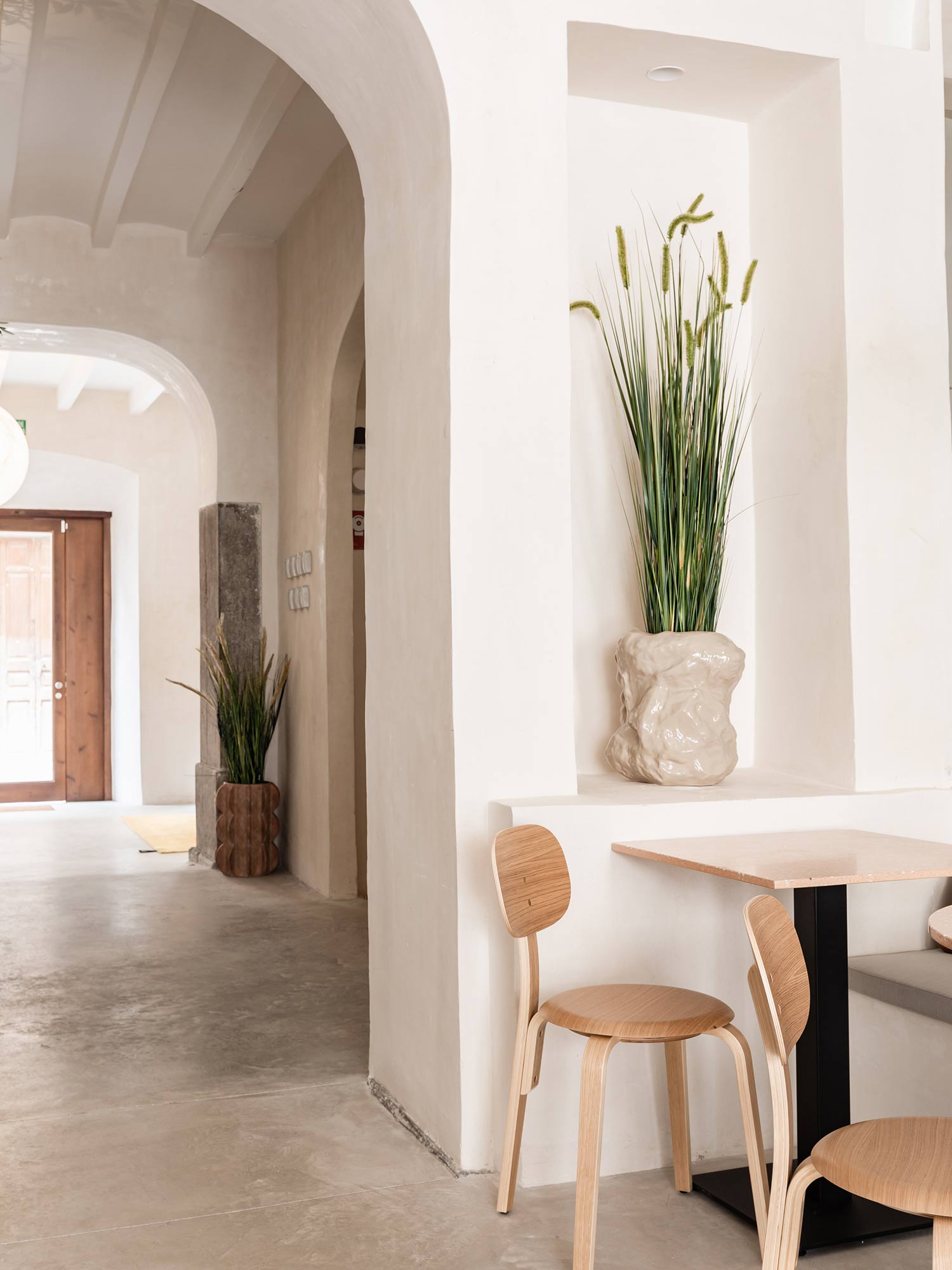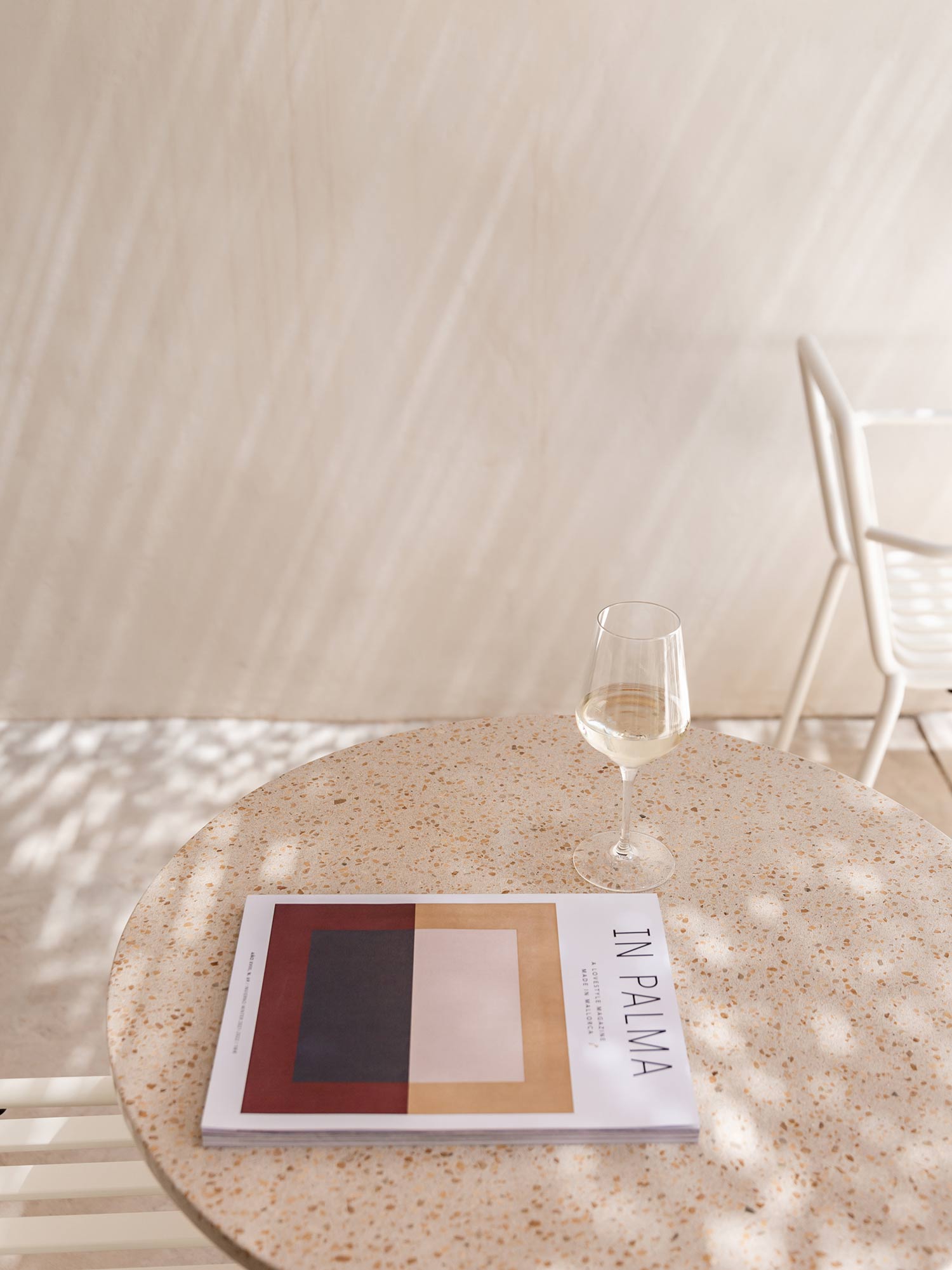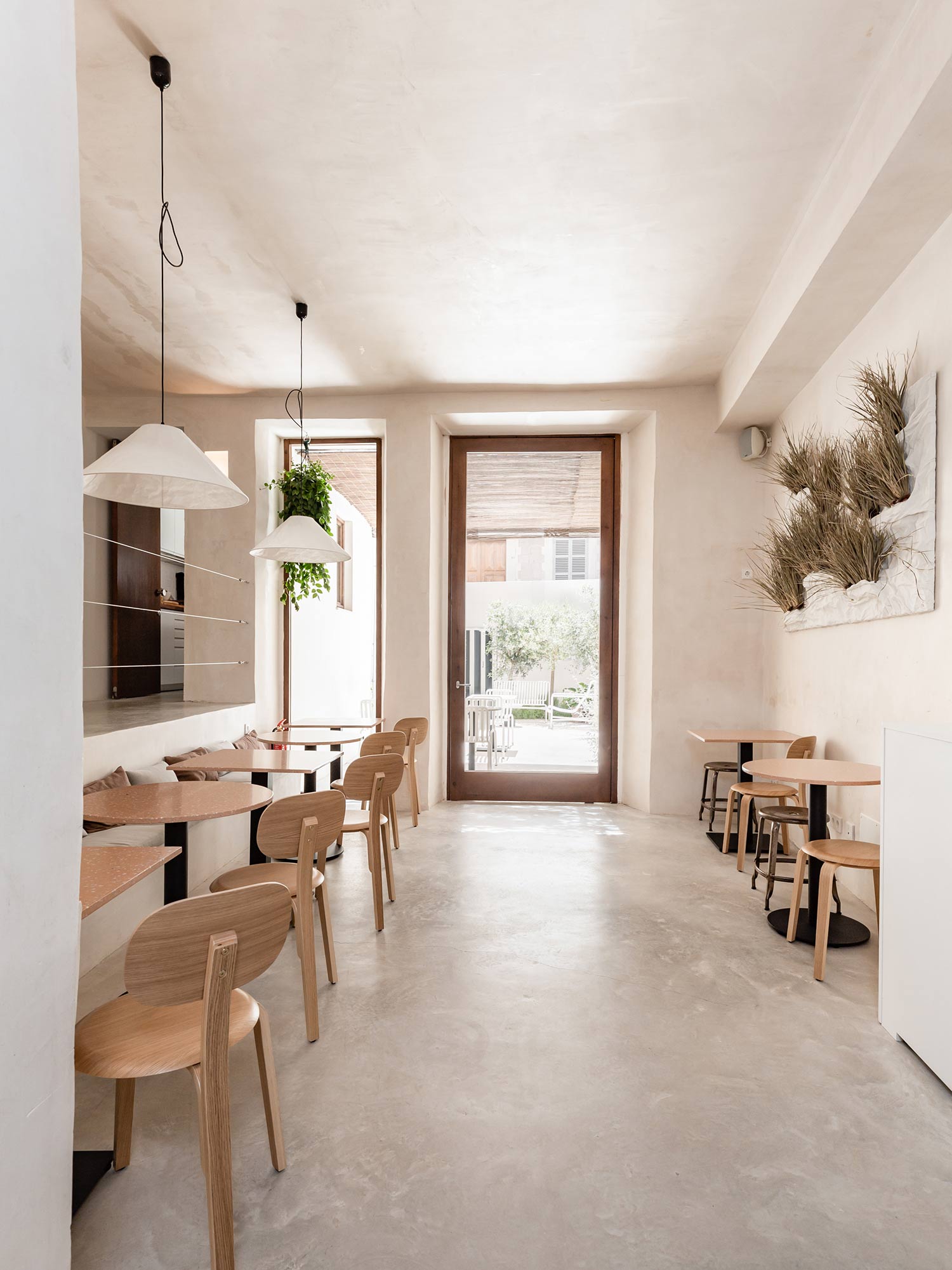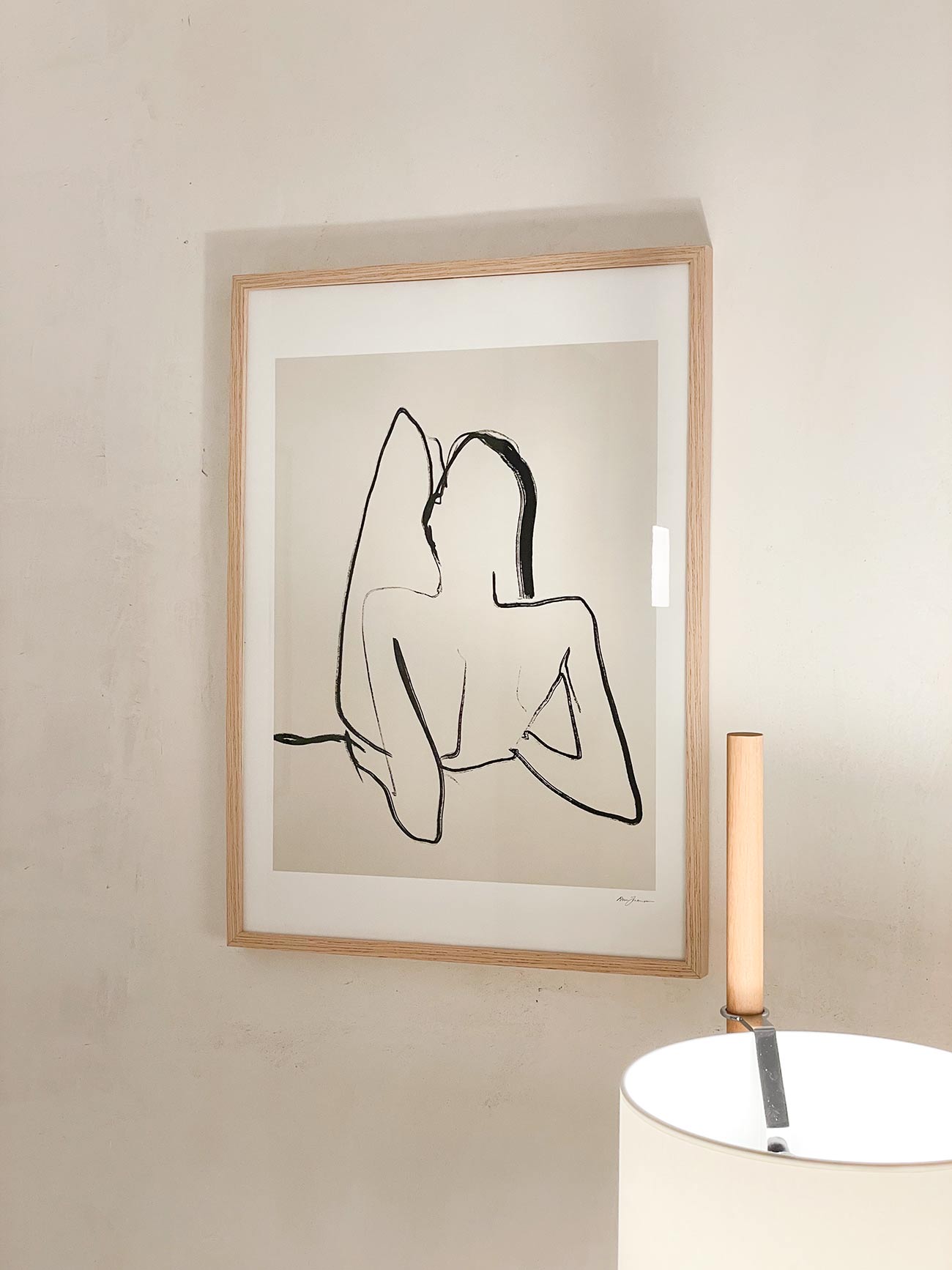 meem-townhouse-soller11@2
meem-townhouse-soller10@2
Beautiful clean design from the Majorcan based studio Al Cuadrado, host Jessica and matching art on the walls in the rooms. At Meem Townhouse everything blends together harmoniously.
We meet Jessica, who furnished the house together with the architects of Al Cuadrado Architectura from Palma de Mallorca. Jessica has a knack for spaces and design. Within the Meem walls you feel totally at ease. Nothing flusters the eye of design aficionados. Think of your stay as a bit of time traveling back to an unspoiled Mallorca some 40 years ago (it still does exist in parts of the South).
Natural colors — gray, sand and some brown dominate the whole house. In the suites, everything is fluid. No door separates the bathrooms from the bedrooms, and both the bathtubs and the walk-in shower and fixtures are of one piece.
Ideal for
Couples looking for a "living room" in Majorca's most beautiful landscape, the Sierra de Tramuntana.
The surroundings
Sóller still qualifies as more of an authentic town. Despite the bars and restaurants being somewhat overrun by tourists in the summer you still feel like you are in Spain. The food, the vibes, everything has a Mallorquin feel to it.
Also plan on visiting the neighboring Valldemossa, Fornalutx and Deja as well, where there are still rough coves and beaches without tourists to be found. A little further south is the village of Banyalbufar, which we are also quite fond of.
Combine with
We would recommend the combination of 4 days Meem Townhouse and then 5 days Es Raco de Artà in the north. Both hotels are the perfect home base for a very relaxed and above all high-quality Mallorca vacation.
Prices
Doubles from 140 euros per night including breakfast. High season from 189 euros.
Booking & Contacts
Meem Townhouse
Jessica & Albert
Carrer de Sant Jaume 12
Soller / Majorca
Spain