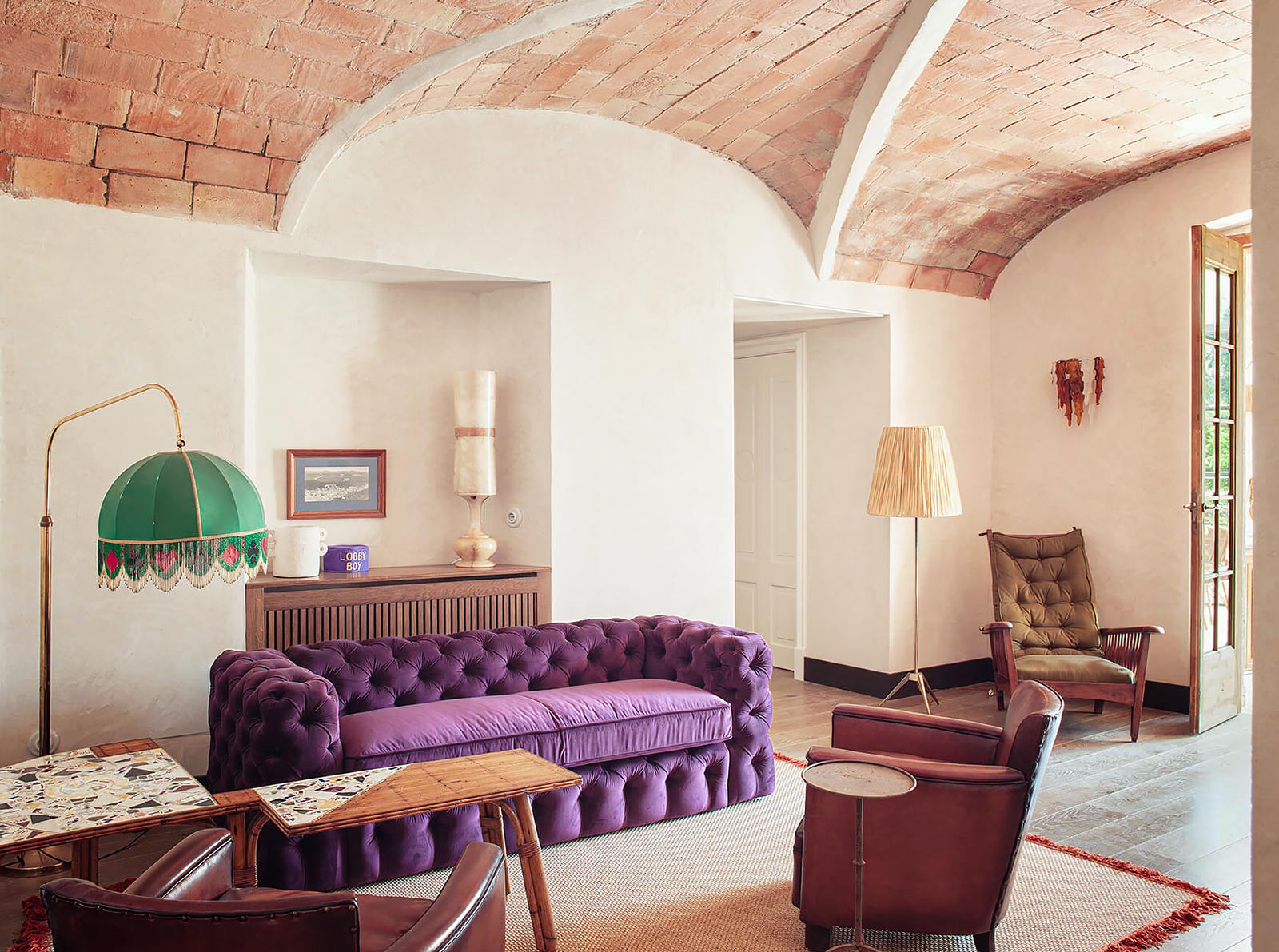 In the middle of the Catalan coastal town of Begur, Carla Lloveras has opened an enchanting B&B with eight super pretty rooms and suites. The ambience is a dream and it is only 5 minutes to the most beautiful beaches.
Just a geography quickie: If you rent a car in Barcelona and steer in the general direction of Girona and France, around 1.5 hours later you find yourself in the small coastal town of Begur. The village sits on a hill from which small roads lead to a total of eight beautiful coves. Think pine trees, turquoise waters and sandy beaches and you get the idea. Locals will attest to it that these coves are among the most pretty in the entire region.
But in Begur there hasn't been a "pretty" hotel yet.
Until now. Carla Lloveras, originally from Barcelona, has truly changed that. In the middle of the old town she has converted an ancient winding villa into a very special and enchanting B&B.
As soon as we entered we knew: This one has to become part of the Pretty Hotels family.
The reception desk consists of an antique dresser with a red shelf housing the keys. And after meeting the friendly hostess we were thinking in moving in here right away.
It only keeps getting better. First in the lounge and then on the small terrace where breakfast is served in the summer. Think miniature Soho House meets stylish 1920s Parisian apartment. Then sprinkle in some Catalan creativity. Colors are vibrant and abundant but coherent nevertheless. This place is definitely an El Dorado for design lovers.
Up on the roof there you can enjoy a sundowner and mingle with the other guests on a little terrace. Cocktails and wines are being served and well curated music rolls out of the small speakers.
the rooms
There are a total of eight rooms spread over two floors. They are all named after influential ladies. Carmen, Maria or Emilie, for example. Since we were visiting out of season, we had a peek at all of the "petit chambres". Not surprisingly — we can also recommend them all. Hats off to the interior designers and their creativity to get the most out of the bathrooms in the smaller rooms. In some ways they seemed to have been remodeled after a luxurious train compartment of an Orient Express. We do tend to be picky but … just could not find anything that appears out of place or is bothersome in any way.
The most beautiful suite in our opinion is named Valentina. 48 square meters in size, with a huge bathroom and its own terrace overlooking Begur. Check it out and you probably would want to extend your stay from days to weeks even months right away (ok, that would be a bit expensive).
the surroundings
Begur is a typical, small Costa Brava town. In summer the village is full of tourists and vacation home owners. There are good restaurants on every corner. Since La Bionda is right in the center, it's not a tall task to find a place for dinner.
During the day most guests enjoy the beaches. Or they rent a boat. We would also recommend a visit to the neighboring village of Tamariu, where there is also a beautiful beach with nice, small restaurants for lunch.
Prices
In low season the double room is available from about 155€, in high season from 210€ to 405€ per night including breakfast.
Booking & Contacts
La Bionda Begur
Francesc Forgas 1
17255 Begur
Spain
Pretty Hotels Recommendation
Combine a stay with a visit to Barcelona and Girona. Three days in Barcelona (for example, at Hotel Casa Bonay), then a week at the beach at La Bionda, and finally two nights in Girona (for example, at La Comuna). Gourmets should also try to get a table in Girona at the two-star restaurant El Celler de Can Roca. A perfect end to a trip to Catalonia.