Adriatic Sea, Le Marche, Central Italy. That's where my perfect summer begins. It`s that stretch of coast where I spent my childhood. The villages near my hometown are called Porto Recanati, Numana, Sirolo or Portonovo. Hardly anybody knows them. Thankfully they are still off the beaten path. My favorite place: The beach of Mezzavalle. It's accessible only by a steep path leading down a hill into a beautiful cove. Just sitting here, facing the sea, the gentle surf lapping on the shore, always puts a smile on my face. Add to that a fine glass of Vino Bianco and spaghetti with seafood at the Trattoria Mezzavalle, the only restaurant down here on the beach and you found the perfect formula for happiness. Simple, yet authentic Italian fare. Just wonderful.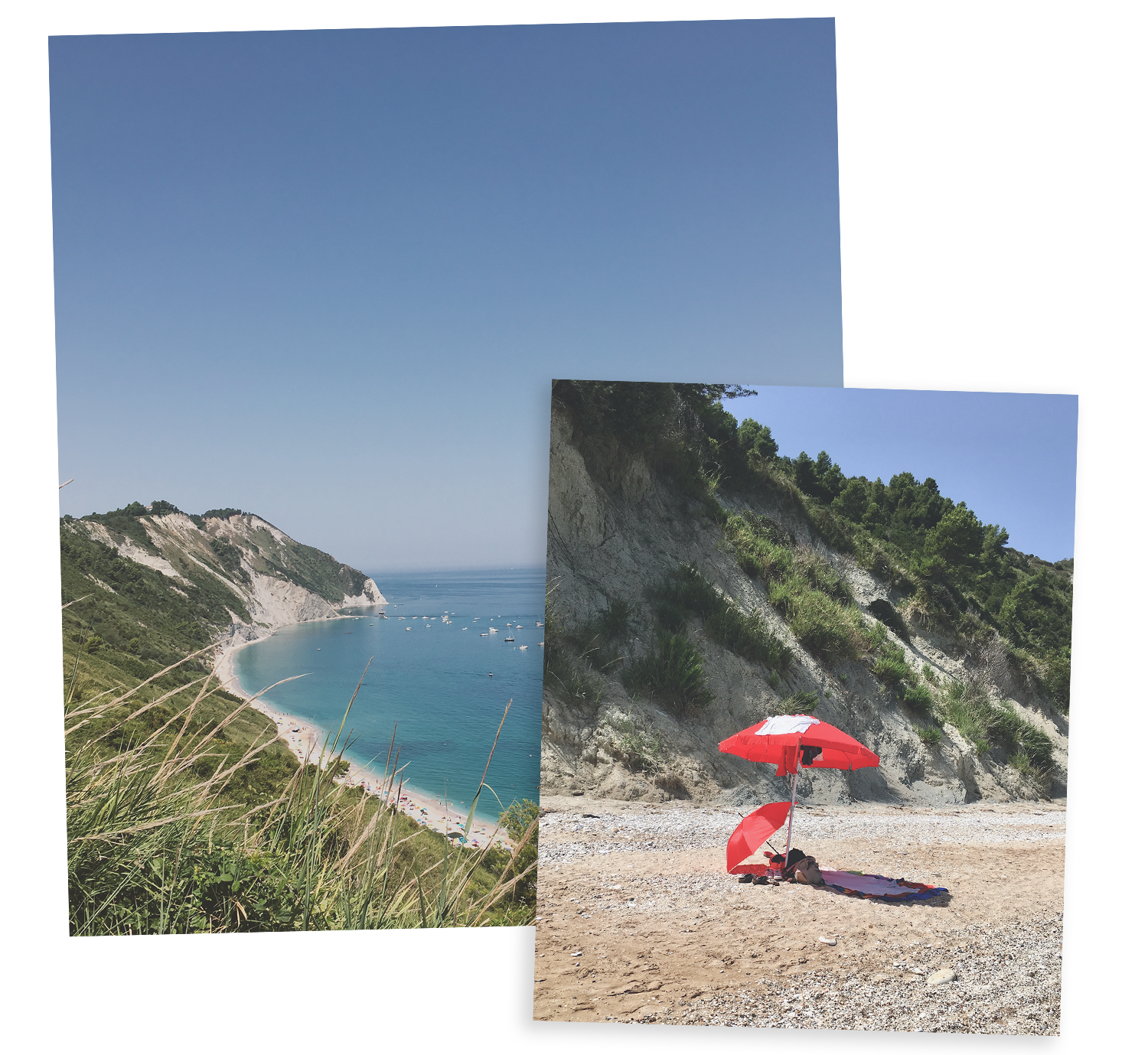 One of the most interesting places is certainly Portonovo. A real, Italian seaside town. Here I would recommend a visit to the restaurants Da Giacchetti and Emilia. They are both located right on the water. Especially Da Giacchetti might be a dream for many: beach club, restaurant and bay in one. The children play in the sand, the fathers read Gazetta dello Sport.
But for aperitifs and gourmet dinners, locals would prefer Il Clandestino. It`s run by renowned chef Moreno Cedroni. It's located directly on the beach and looks a bit like a hovel from the outside, but the food is excellent. (You have to make a reservation, though, or you won't get a seat).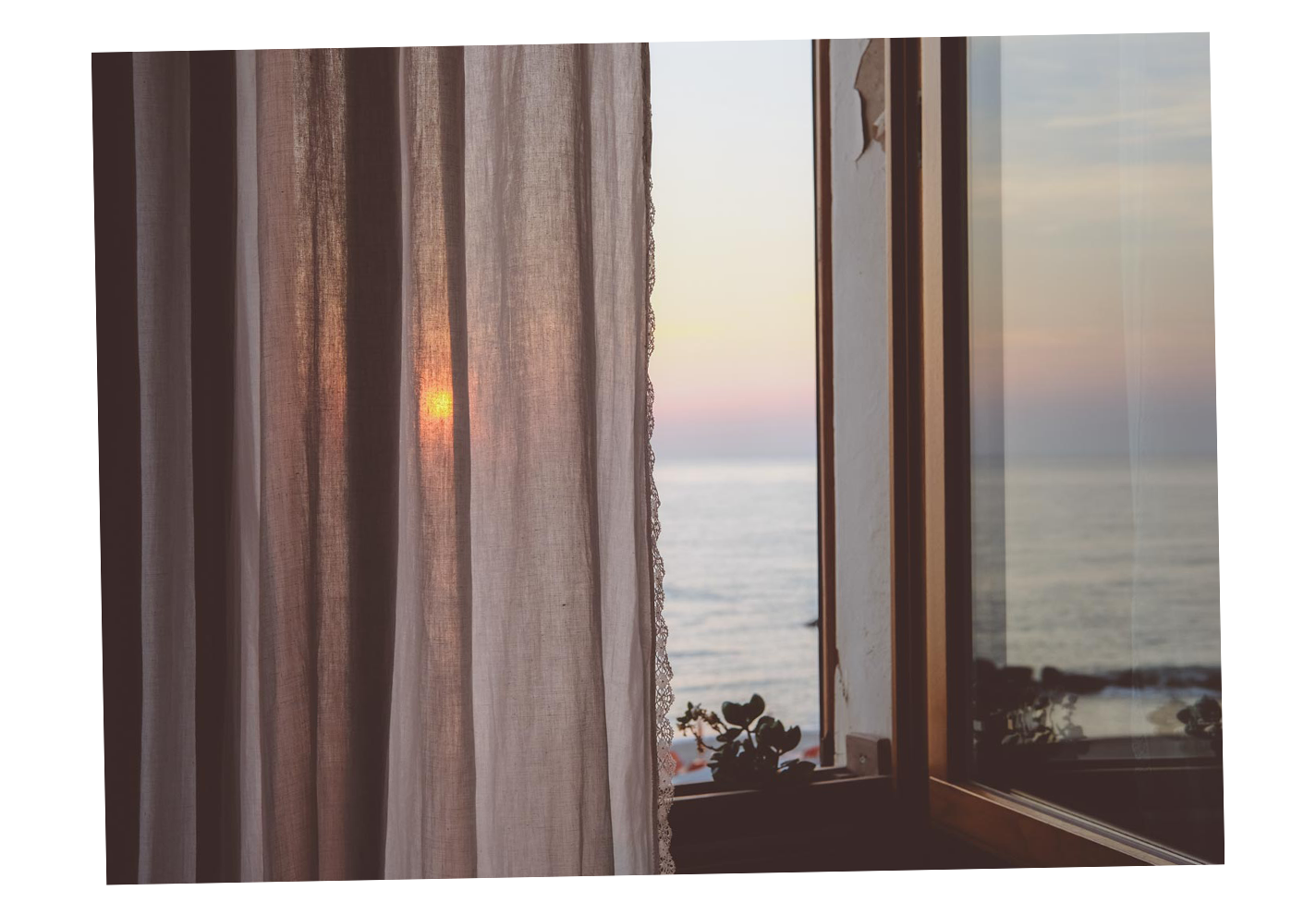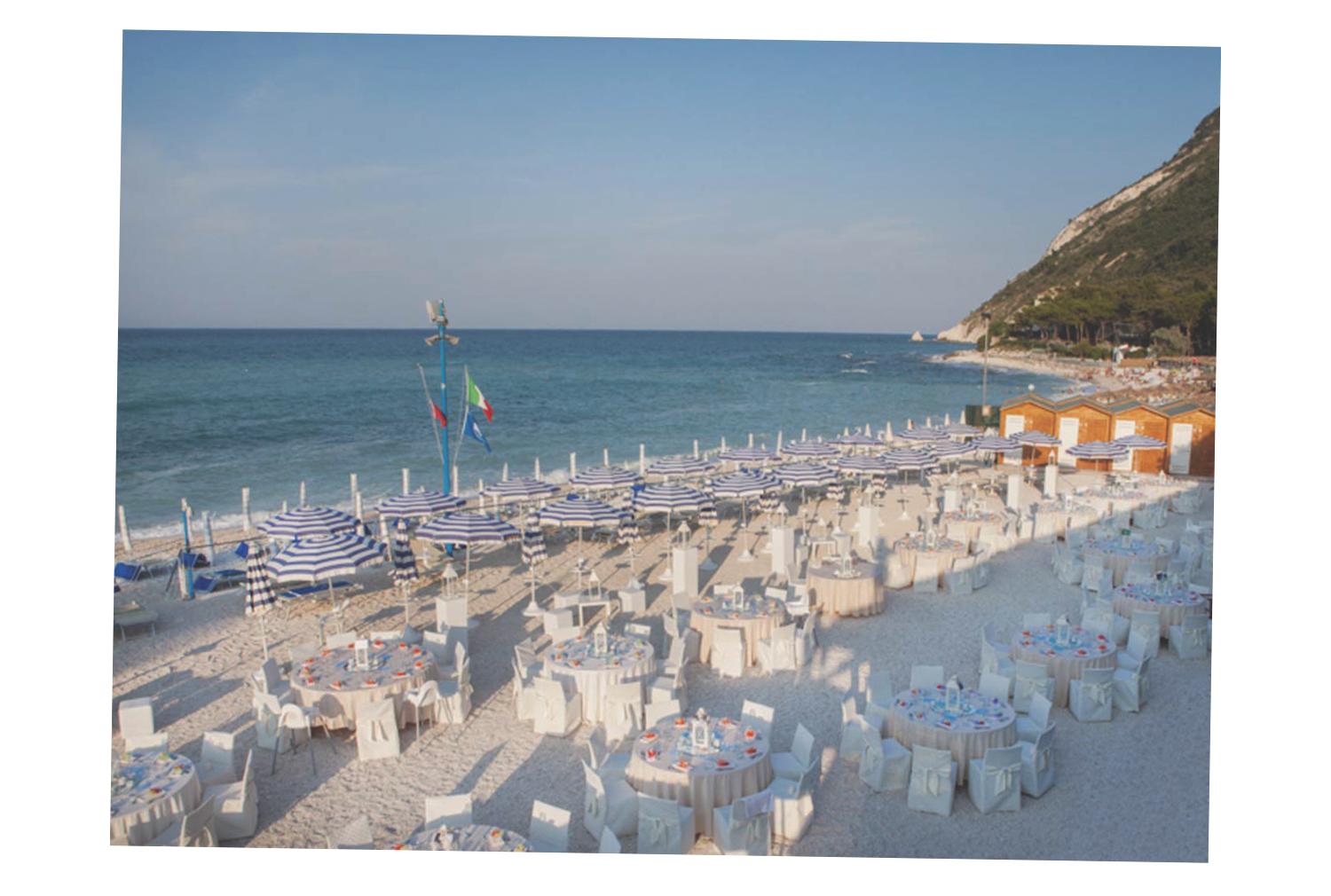 A little further south you find the small village of Numana. There are also beautiful beaches and bays that are not overrun by tourists even in summer. What you should not miss here is a homemade ice cream in the historic ice cream parlor Morelli, directly on the main square. It's been around since 1927. Just thinking of it, it makes me want to go there right away.
Stay in Le Marche
Corte Campioli
Hosts: Sabine & Christian Blumrath
Via Giardino Campioli 32
Barchi, PU
Doubles from 200 euros per night
www.cortecampioli.com
I Cucali
at Chiara Scislowski
Lungomare Palestro, 39
62017 Porto Recanati MC
Doubles from 100 euros per night
Filodivino Wine Resort 
bei Alida & Alberto
Via Serra 46
60030 San Marcello
Doubles from around 370 euros
All three are trusted members of Pretty Hotels.
Ciao Puglia !
If there is enough time, I always head south for a few days – towards Puglia. On the way to Bari I really recommend to stop in Vasto. It`s a small village framed by the Abruzzi mountains. Here you still find historic pile dwellings for fishing in the water, the so-called "Trabocchi". (That's why this part of the coast is often called the Trabocchi coast). In some of them you can still have lunch. Of course, you eat fish here, the most popular dish is the traditional fish soup with the "catch of the day". The experience is still pretty unique.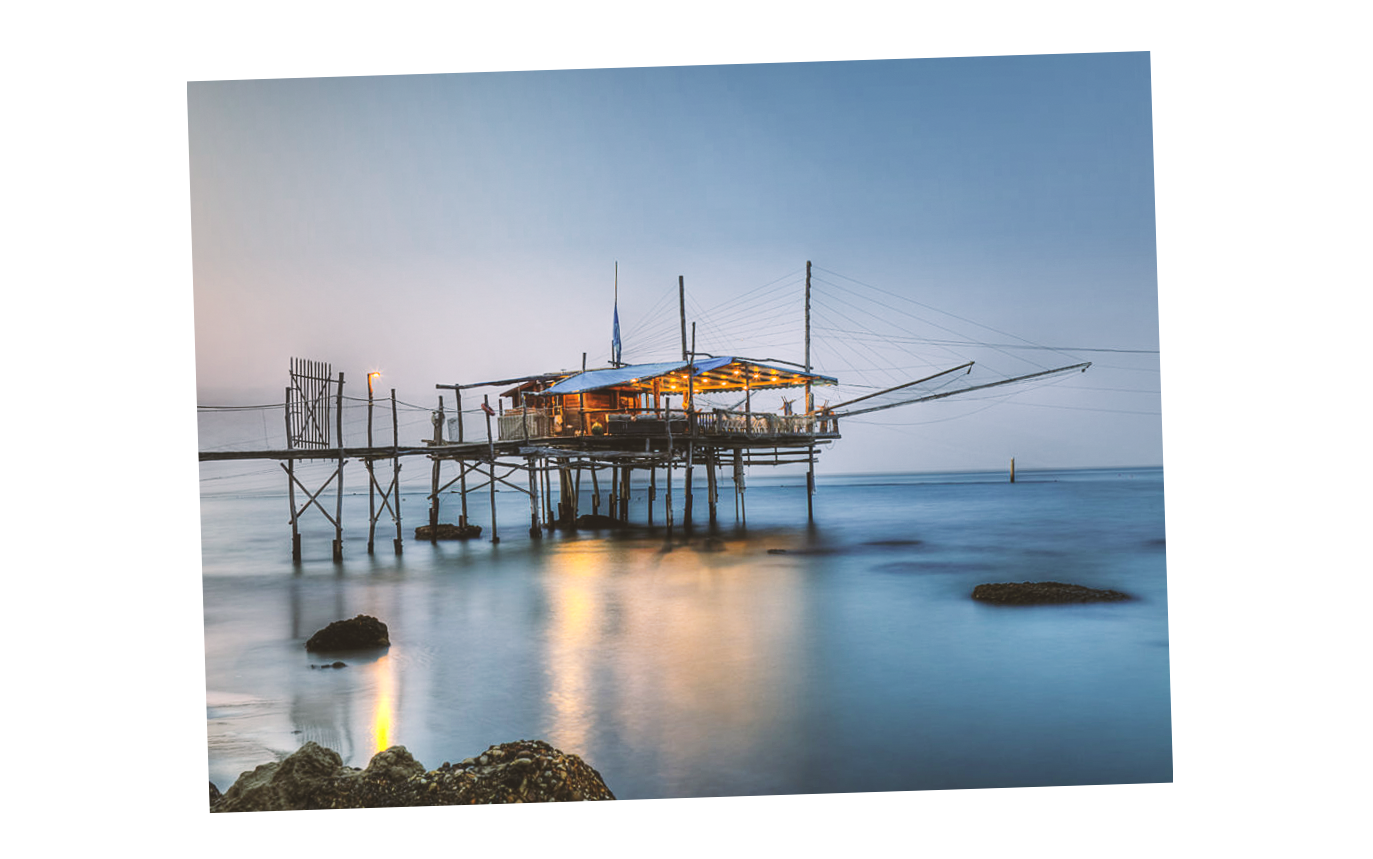 Via the beautiful city of Bari (a stopover is always worthwhile, also for shopping) we now drive down towards Ostuni, the white city in Puglia. Ostuni has become a little more famous in recent years, so you should hurry with a visit. But the beaches and coves are just some of the most beautiful in all of Italy. My favorite place is the rock of Torre Pozzelle. Here you dive in emerald green water. If you prefer a beach club, go to Ottagono. It is stacked with hundreds of orange deck chairs under orange umbrellas, with a stylish bar in the middle.
Good to know: We also have two beautiful member hotels here. The newly opened Masseria Calderisi (with 24 luxurious rooms and suites and its own beach club) and the Masseria Dagilupi (somewhat simpler, Bed&Breakfast and only three suites).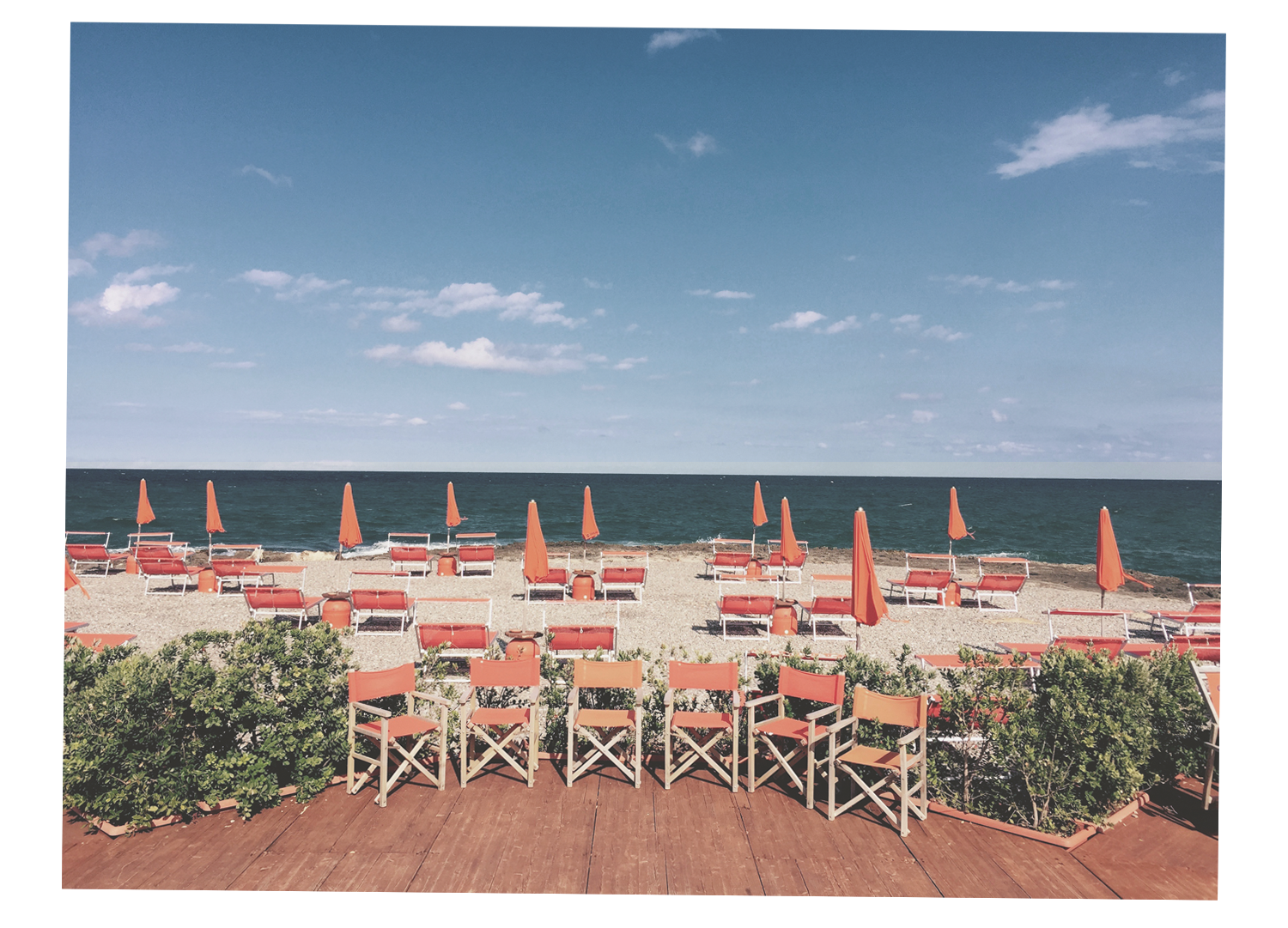 I would also recommend a dinner at Masseria Moroseta. Here, young chef Giorgia composes organic and healthy menus with local ingredients. – just the way we love it. (The only catch here: You have to book well in advance to get a seat).
For genuine Italian dining i recommend Al Solito Posto in the town of Ostuni. You can call spontaneously and eat with the locals on their authentic terrace in front of the restaurant. The food, of course, is terrific.
For another cult experience, sit down in one of the many butcher shops in Cisternino, a small village a little further inland. Just try the famous Apulian bombette. Also in Cisternino, have a sweet breakfast of pasticciotti pugliesi in the morning at Vignola on the terrace overlooking the valley.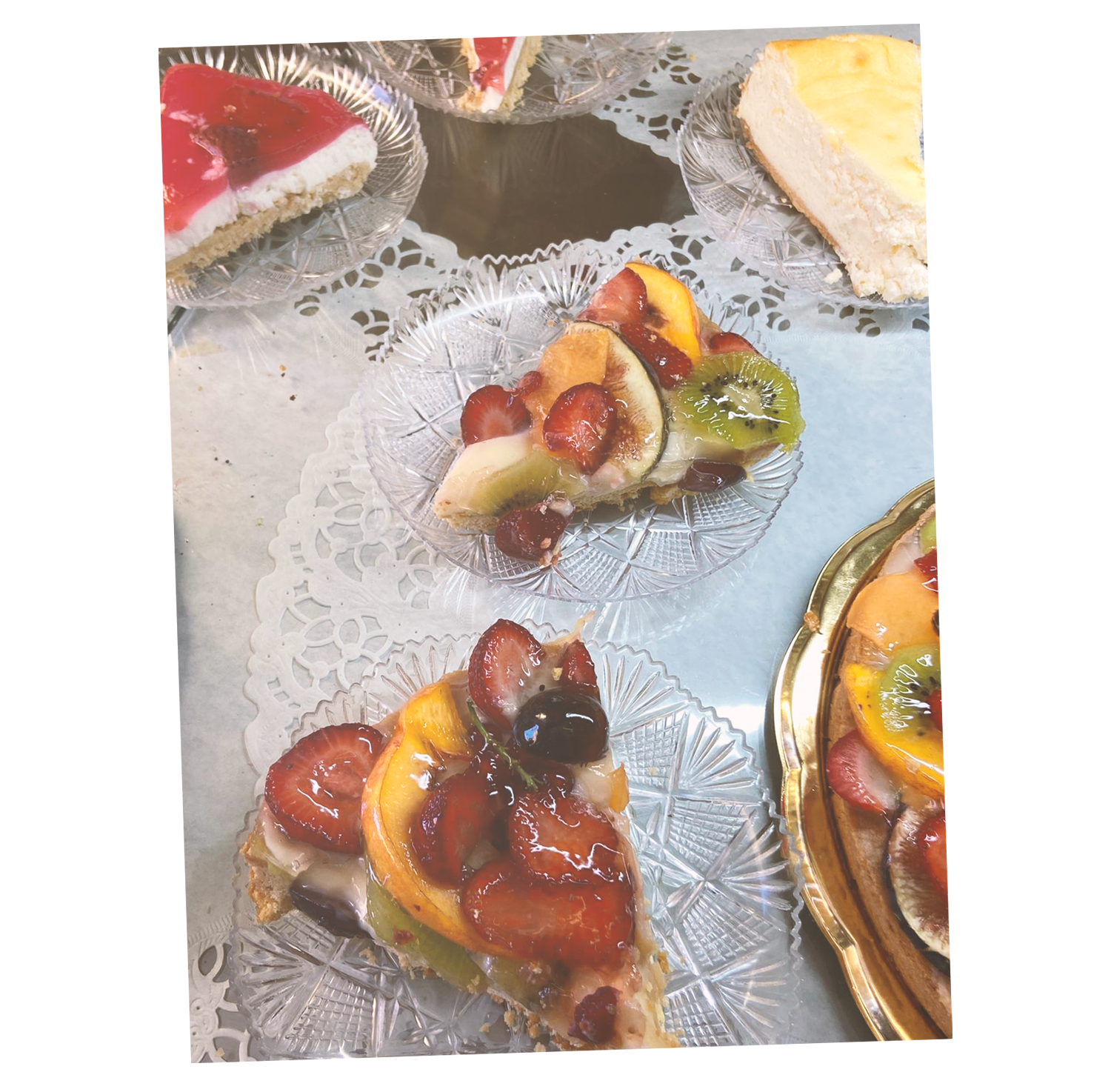 Lovers of nature and fruits should book a guided tour at the I Giardini di Pomona. It is a garden dedicated to the conservation of many botanical species and about 600 figs – one of the most important collections in the Mediterranean. In a small store you can also buy many products such as jams made from the plants grown in the garden.
Stay in Puglia
Masseria Calderisi
Strada Comunale Sarzano 12
Savelletri di Fasano
Doubles from 380 Euros per night
www.masseriacalderisi.com
Masseria Dagilupi
Contrada Lettiga
Ostuni
Doubles from 150 Euros per night
www.dagilupi.com
Let`s go to Campania
If you drive across Italy from Puglia, you end up in Campania. You probably know the capital Naples, Mount Vesuvius, the Amalfi Coast and the island of Capri of course. Whereas Amalfi has become a bit too overcrowded in the last years, my fondest memories here always take me to the Sorrento Coast. I love the enchanted atmosphere in villages like Sorrento, Massa Lubrense, Vico Equense and Sant'Agata sui due Golfi. Here you walk through charming citrus-scented alleys and still find sunny coves.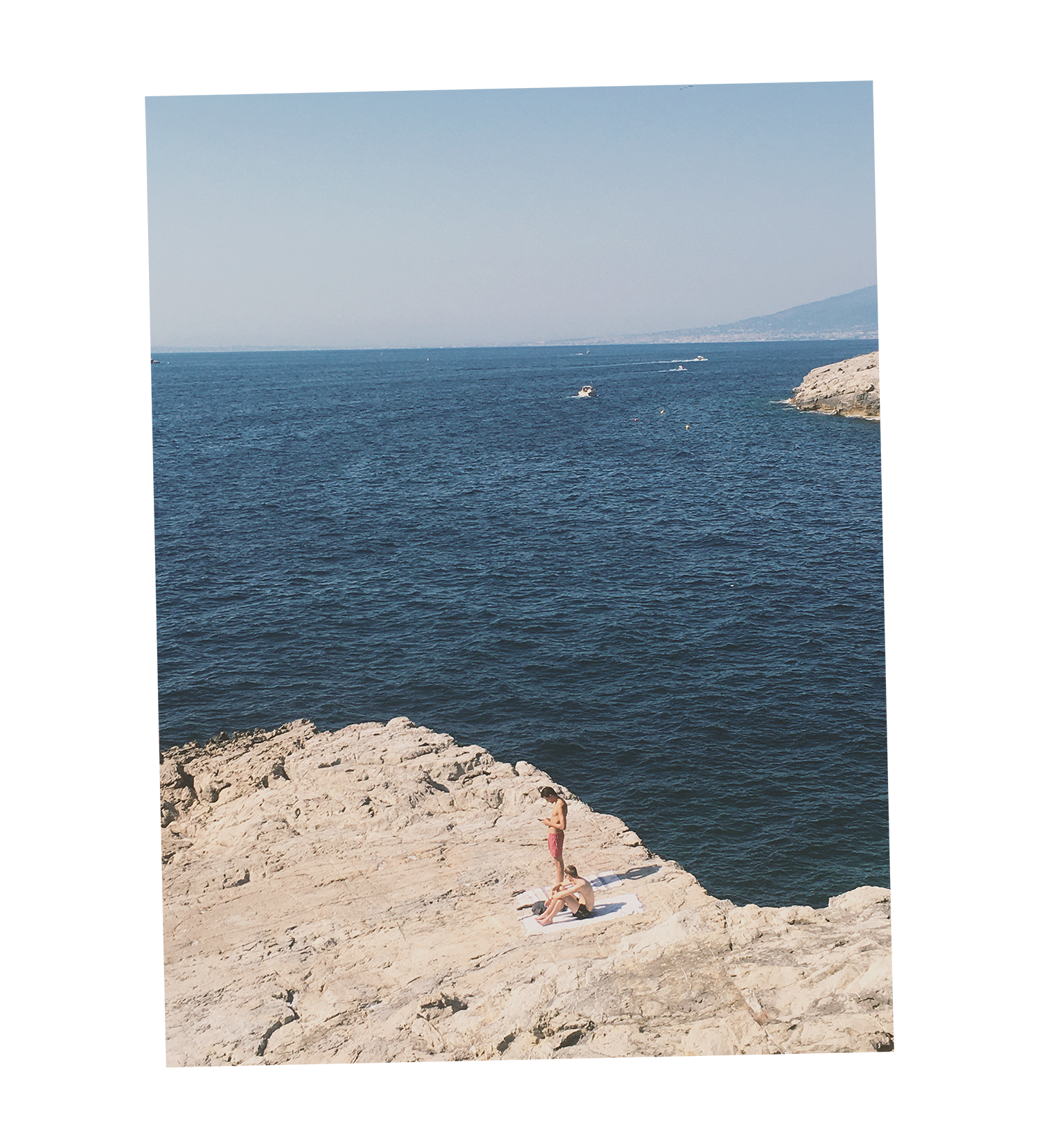 Quite surprisingly there are still undiscovered and untouched bays on this side of the coast. One of the most beautiful excursions leads to the easternmost point of this headland. From Nerano, take the road to Marina del Cantone. It leads to Punta Campanella, an old tower with a bell built to spot enemy boats, in the middle of an uncontaminated idyll that was declared a protected area in the late 1990s. You will see only the blue sea and the island of Capri. Beautiful.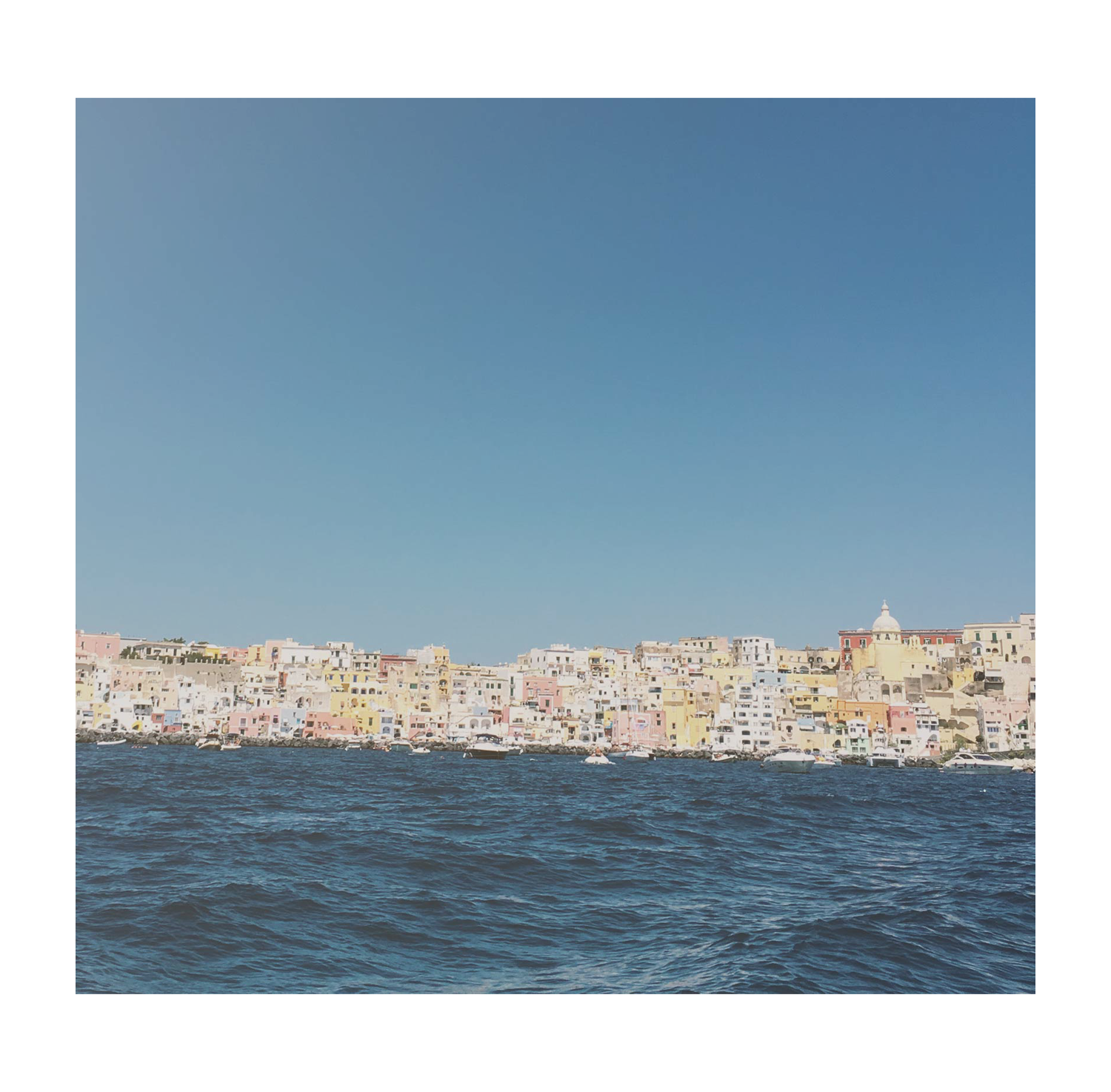 When I am in Campania, I always try spend a few days on Procida Island. The best place to stay (very simple and cheap) is Procida Camp & Resort. Either in a tent or even in a stylish silver Airstream. The small peninsula below Naples is a special gem with many colorful houses. To escape the hustle and bustle, rent an inflatable boat at the port to visit the most impressive bays and the nearby island of Ischia. And don't miss a dinner at Tonino La Conchiglia.
Stay in Campania
Procida Camp & Resort
Via IV Novembre, 2
80079 Procida
Napoli
Tent from 1.316 Euros per week.
www.procidacampresort.com
Mezzatorre Hotel & Spa
Via Mezzatorre 23
Forio di Ischia
80075 Ischia
Doubles from 475 Euros per night.
www.mezzatorre.com
Liguria, the next big love affair
I have been living in Milan for many years now. That's why short trips often take me down to the Ligurian coast. On summer weekends, it's a kind of ritual for us. Sometimes we just drive down to enjoy lunch at the beachside eatery Dö Spadin. It`s kind of a cult. You can get there only by walking down forty-minutes from San Rocco or reach it by boat from Camogli.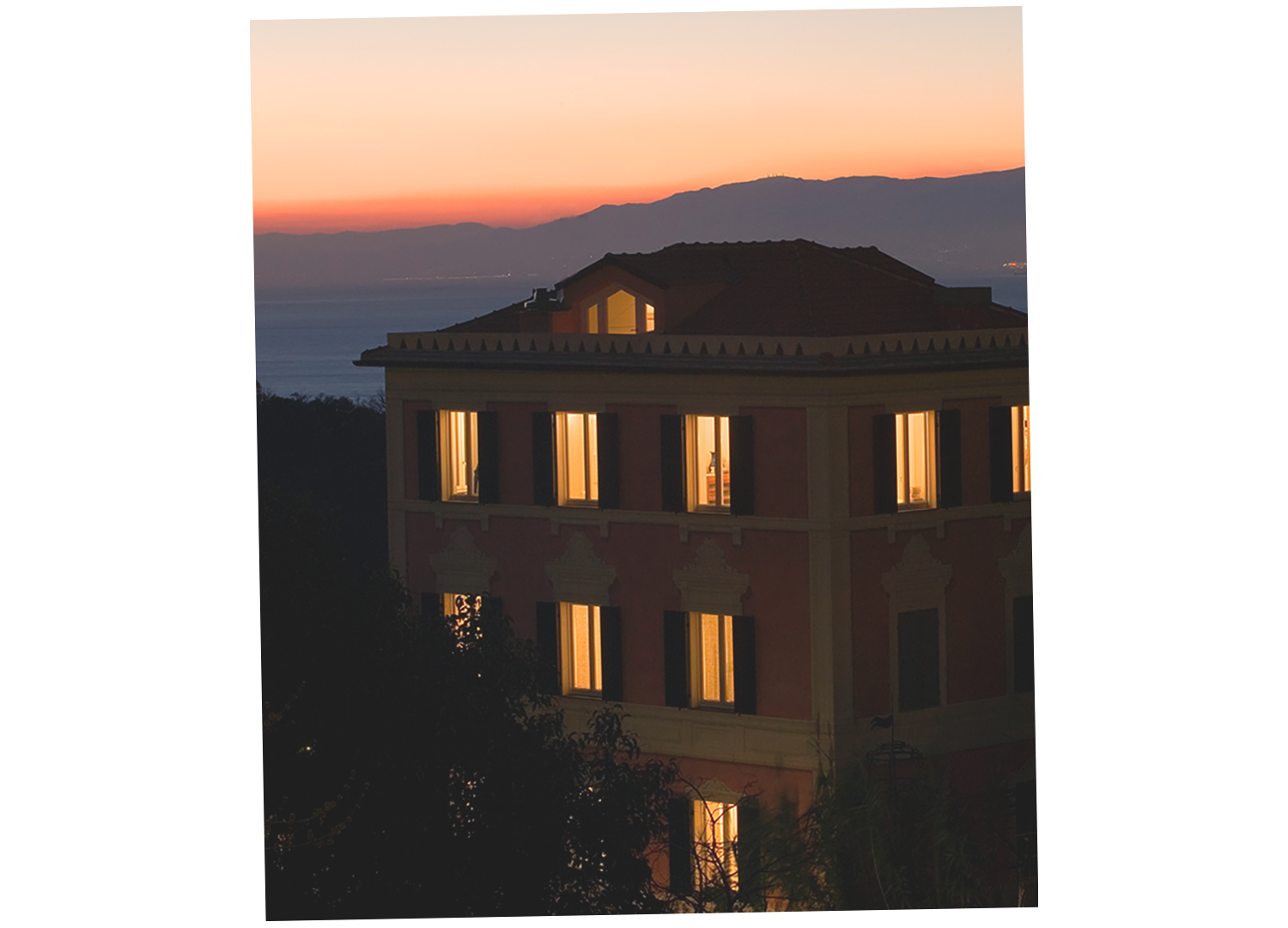 For lunch and Aperitivi I also recommend Bagni Sillo, where you can rent deck chairs on the rocks all day. Another insider tip is definitely the Abbey of San Fruttuoso. The Benedictine monastery, which dates back to the year one thousand, is located in Capodimonte, in a deep bay of Portofino Park. It can be reached either by hiking trails from the mountain or by boat from Camogli. The scenery on site is literally breathtaking. And you might meet different people than in the neighboring Jet Set village of Portofino.
Stay in Liguria
La Sosta di Ottone III
Località Chiesanuova 39
Levanto (La Spezia)
+39 0187 814502
Villa Rosmarino
Via Enrico Figari 38
16032 Camogli
Doubles from 233 Euros
©Pretty Hotels