Not yet familiar with the beach Praia do Amado on the Atlantic coast? Prepare to see golden yellow sand meeting the rough surf of the cold Atlantic Ocean. Watch local surfers daringly plunging into the high waves. The usually ever present package tourist? Missing in action thankfully here.
Praia do Amado is a real gem, a picture-perfect beach and a nice start to explore the Algarve from west to east. Despite the occasional architectural blunders from the 70s, the Algarve is one of the best and most beautiful vacation destinations in Europe, especially in spring and autumn. You just have to know where to stay and which places you should rather avoid.
Monte da Vilharina
Speaking of accommodation: If you want to stay right up here we`d choose the Monte da Vilharina Hotel. Think of a small enchanting jewell in the middle of nature with pretty little casitas, swimming pool in the garden, very family friendly and above all: very affordable. (In spring about 80 euros, in high season 153 euros per casita).
And Amado Beach, also home of a surf school, is only a 10-minute drive from the Monte da Vilharina Hotel. For all those yoga aficionados out there: Stay at Monte Velho Retreat Center. Yoga classes are held here all year round. Join like-minded people , enjoy fine organic food. The beach is but 10 minute stroll away.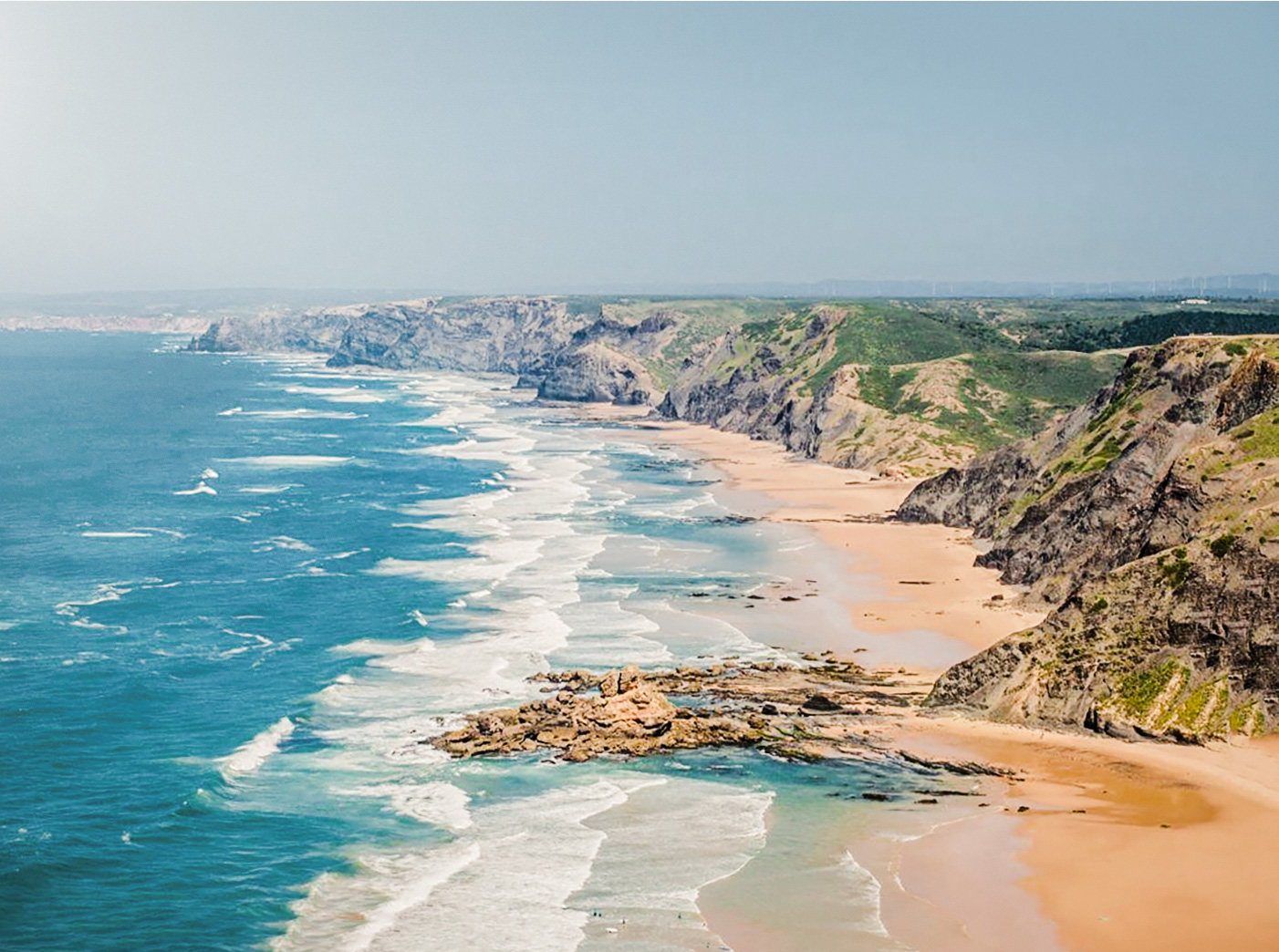 From Praia do Amado we make a detour to the most south-western town in Europe: Sagres. Many people only think of the beer of the same name, but Sagres has so much more to offer. Of course, the first place to visit is the lighthouse Farol do Cabo de São Vicente, to take the obligatory picture. It doesn't get any more south-westerly than that.
Heading down to Sagres
If you want to stay in Sagres, you could move in the Memmo Baleeira Designhotel or the Martinhal Hotel (the latter catering more to families with kids).
They're both very comfortable right on the water, but a bit – well – pseudo-designish. It would be more authentic to stay in one of the countless small surfer hostels (easier on the budget, too and you can spend your savings on some really fine food in this unspoiled town).
As for culinary outings in Sagres our favorite: A restaurant called Mum's. Ambitious menu, they serve everything from fish dishes to vegetarian lasagna. You'll also get great advice and entertainment when it comes to wine selection. A little tip: The Portuguese like to drink Vinho Verde, a fresh tasting White that pairs well with the fish dish. By the way, just around the corner, Arte Bianca has probably the best pizza in the Algarve, served in an urban industrial loft atmosphere.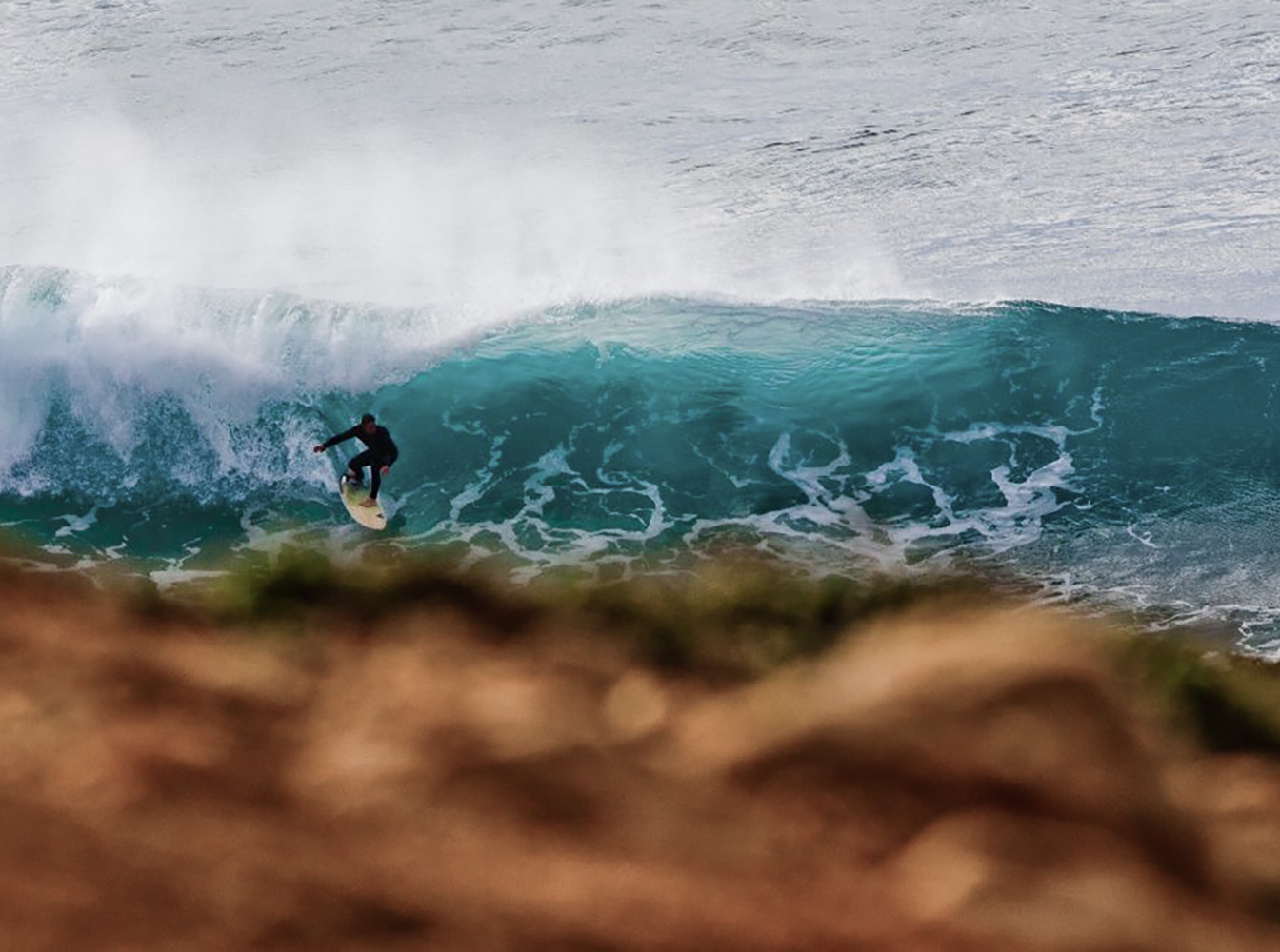 Aside from Lagos with its neat little houses and alleys, that next section of the South is nothing to write home about. Anyone who accidentally lands in Portimão or Vilamoura will be shocked at how ugly the hotel castles just behind them can be (regardless of the cliffs artfully carved out by the sea and idyllic bathing beaches).
But if you want to stay in Lagos, for example, Veronique Polaert runs Casa Mãe in town, a beautiful boutique hotel that we can thoroughly recommend from friends who have stayed there.
We continue westward into the hinterland. To Silves, for example, to try a Pingado or the house liqueur at the Da Rosa Café between blue and white tiles and marble tables.
Or Loulé, where a sushi restaurant called Artigo Três is the talk of the town.
São Bras de Alportel
Finally, after a drive through rolling hills reminiscent of Tuscany, we end up in São Bras de Alportel. Beautifully located on a small hill, with narrow streets and cute traditional homes. Take a walk through the old town and mingle unobtrusively with the locals over galão and almond pastries in one of the cafes on the main square.
Unfortunately, our member house, the Farmhouse of the Palms, has changed owners. As an alternative, there is the Monte da Palmeira in Sao Bras, but we haven't visited the place yet. Sao Bras is a perfect starting point to explore the beaches and bays. Our favourite spots are the two beaches Praia da Barra Velha/Nova (in Fuzeta) and Praia do Nino de Andorinha (near Albufeira).
Olhão
If it wasn't for Olhão – a must see on the agenda —  you would stay longer. So it's back to the coast down to that run down fishing village that has recently experienced a renaissance. Artists such as the Belgian Meinke Flessemann, who is inspired by the light and the sea almost all year round, have settled here. Her paintings also hang at Lara and Dario's Casa Céu. The couple entertains their guests at the large wooden table where fishing nets used to be tied. Take a peek down from their roof top terrace and you immediately know why Olhão is called the Portuguese Marrakech.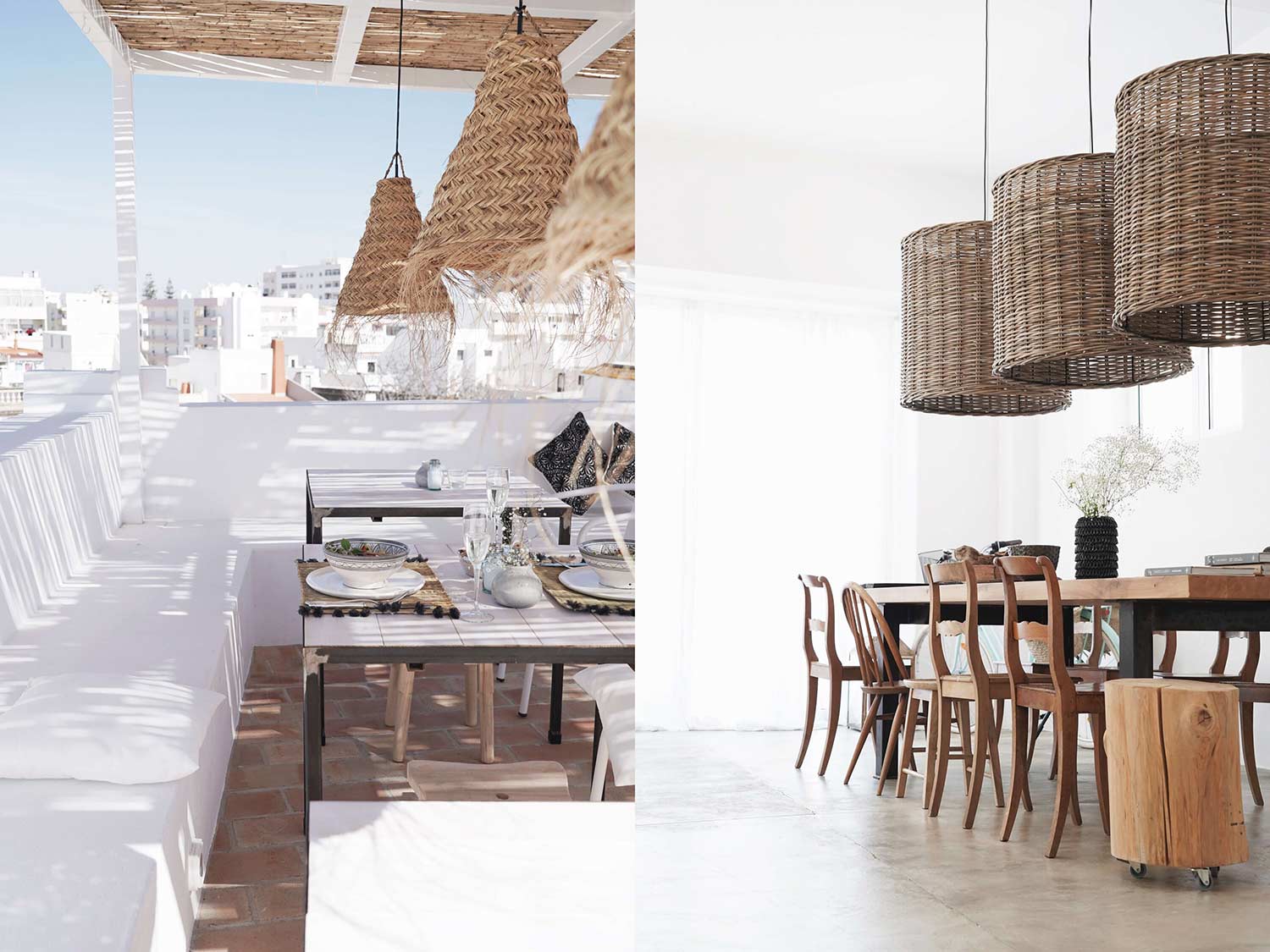 The ferry takes you to Ilha da Culatra or Ilha do Farol. Both islands are popular with Portuguese families, who take a beach day there on weekends and linger for hours in the simple restaurants with fresh fish & shellfish dishes. If you don't own a house here, you have to take the ferry back in the evening. There are no hotels here.
The best restaurants in Olhão: Tasquinha O Galo, À do Fernando, and Chá Chá Chá, owned by former journalist (& chef) Kevin Gould. He also fell in love with Olhão a few years ago and now cooks many regional dishes for his guests.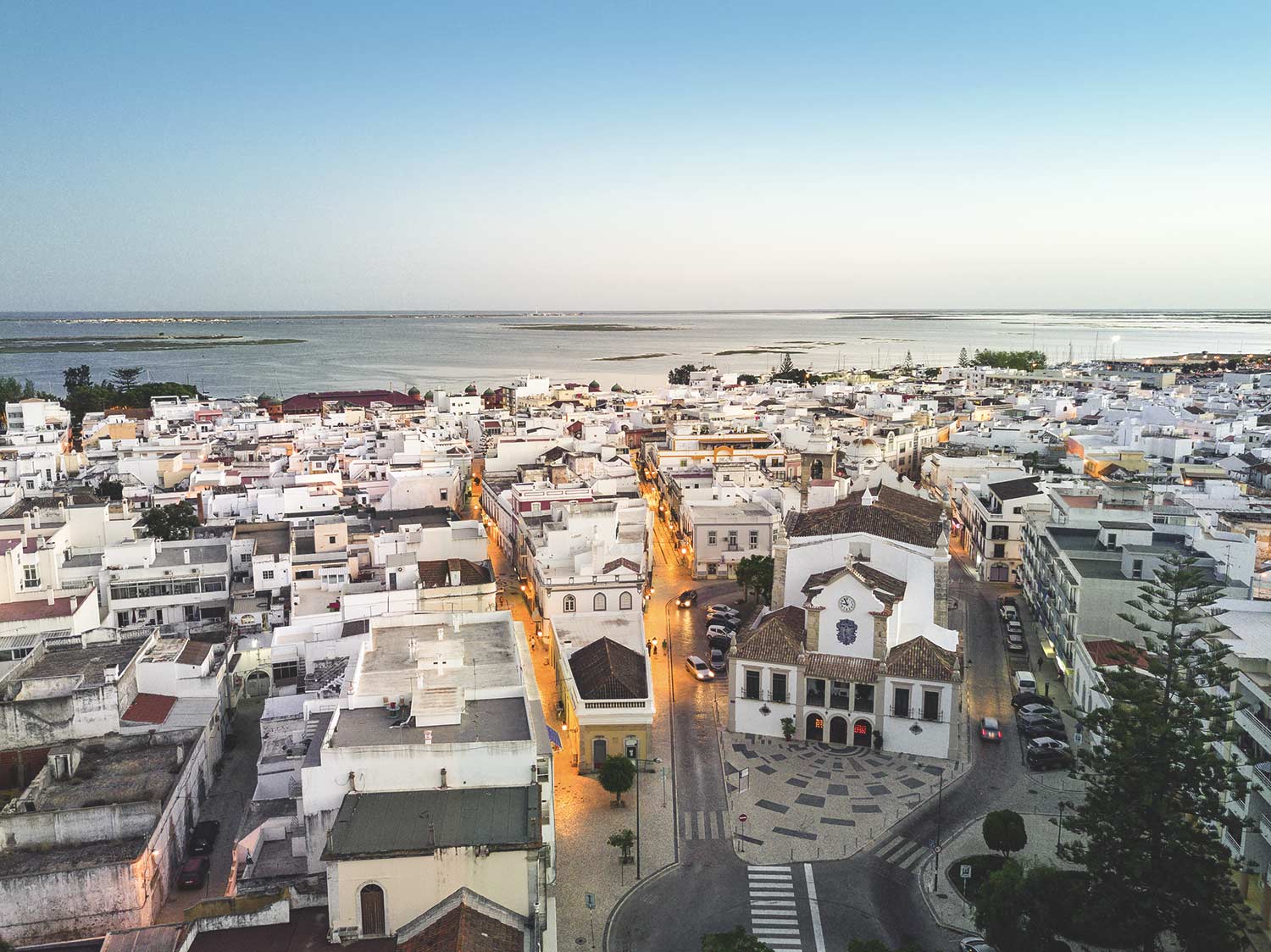 Moncarapacho, not far away, is the epitome of the dreamy Portuguese village. Here, you can stroll through the market on weekends and indulge in down-to-earth sophistication at Da Ana Restaurante. Alternatively, reserve a table at À Terra Restaurant, part of the design hotel Vila Monte Farm House. 
Last exit Tavira
Our tour ends in Tavira, supposedly the most beautiful town in the Algarve. The Spanish border is not far from here. Instead of rocky coasts, we now find expansive sandy beaches again. You only have to cross the lagoon by boat or, in a few places, on foot. The old Roman bridge is a good orientation point to avoid getting lost in Tavira. At one end of the bridge you can hear the fado music coming from Casa das Portas – one of the stores selling soaps, home accessories & souvenirs. It's always worth a visit.
The best restaurants in Tavira: Come na Gaveta, Pausa and D'Gusta.
For those who would like to stay in Tavira, we recommend Turismo Rural Monte Do Alamo. Rosario, Luis and family have been running the B&B with 6 rooms for 15 years now. There are dogs and they also have a donkey. Cooking classes are held during the day, and in the evening they chat over dinner in a cozy atmosphere. And: You will certainly not want to leave without a glass of homemade Medronho jam.
Journey
The largest airport in the Algarve is located in Faro. From April to October there are also many direct connections from all over Europe. Alternatively, you can fly to Lisbon and then drive down the coast in a rental car (it`s only about 2.5 hours).
©Pretty Hotels 2021.