Hotel Fex, Engadine / Switzerland

Mountain paradise: Located 2.000 metres above sea level near St. Moritz, Hotel Fex welcomes guests with a very organic and natural approach and a stunning landscape right in front of the historic building with only 16 rooms. 
Your holiday at Hotel Fex begins in the poetic town of Sils-Maria, which even Friedrich Nietzsche fell in love with. This is where you are picked up and transported up the mountain, because you are not allowed to drive up to the place with your own car. Some guests actually book a carriage for this trip, which takes about 50 minutes. And we highly recommend it, because just Gian, the local coachman, makes the trip unforgettable and you get to know all the historic stories beforehand.
When you pass a little village with a few houses, you spot a little sign saying "Fex Gallery". You risk a quick peek inside and think: "Wow, there are some really nice paintings hanging inside". So before you even get to the hotel, you're giving the place further brownie points.
The hotel itself lies on a plateau, next to a farm belonging to Hans-Ueli and his wife Sara. They operate the farm in unison with the hotel, which is why there are sometimes Alpacas on the meadow in front of the hotel, peering at the hotel's terrace with interest. 
But still: The hotel is the real "star" of this valley. It was built as early as about 1850, but at the time was located in the town of St. Moritz, about 25 kilometres further south.  In the year 1900 it was completely dismantled, packed up and was transported up to the valley of Fex via horse and cart, where it was rebuilt. Nowadays, a family from Zurich owns it and they are taken great care with the renovation, turning it into a very "natural"  holiday resort – with beautiful and carefully furnished rooms, a very organic, biological kitchen.
When we visited, the sun was rising early in the morning and we took a morning walk up to one of the little huts – just amazing.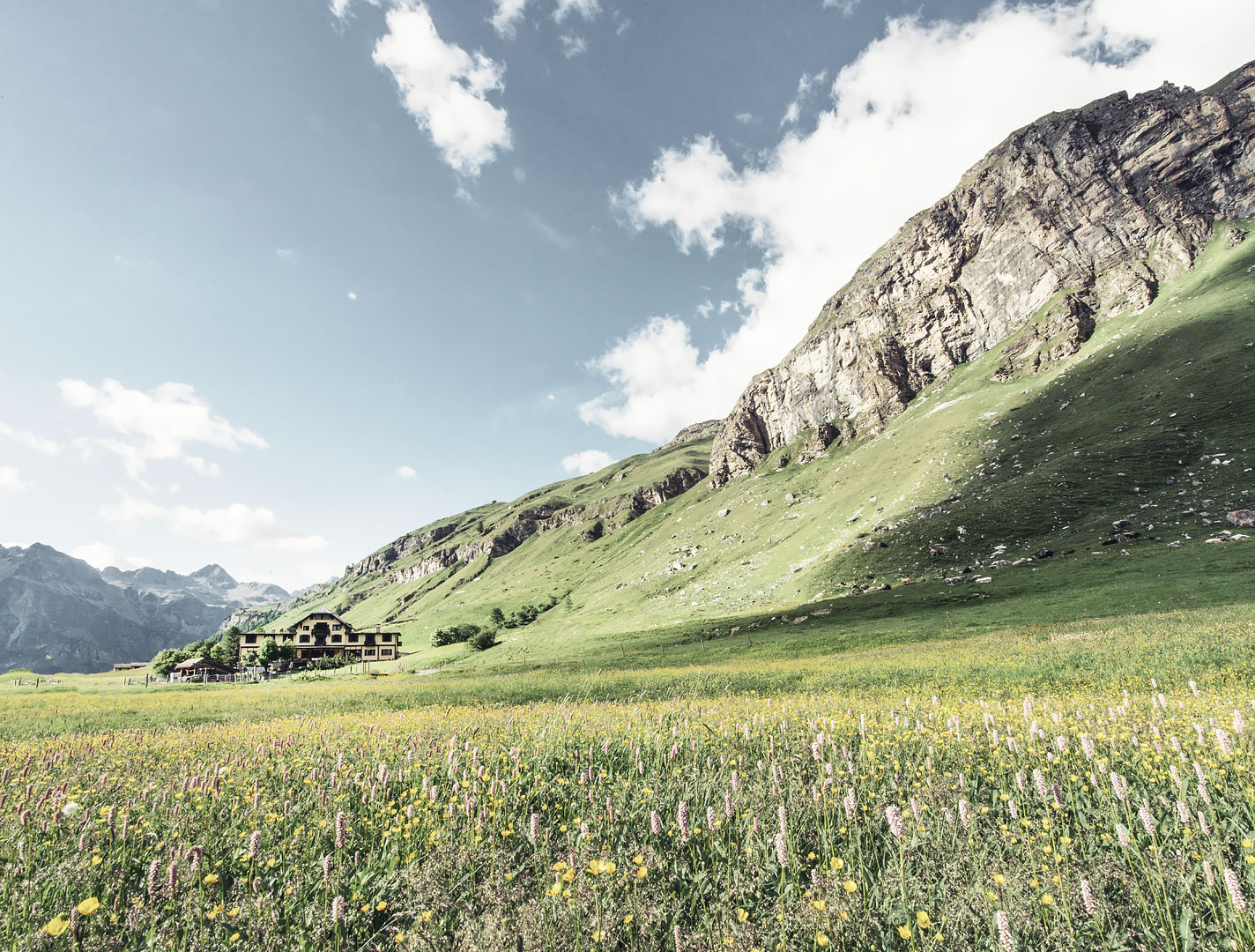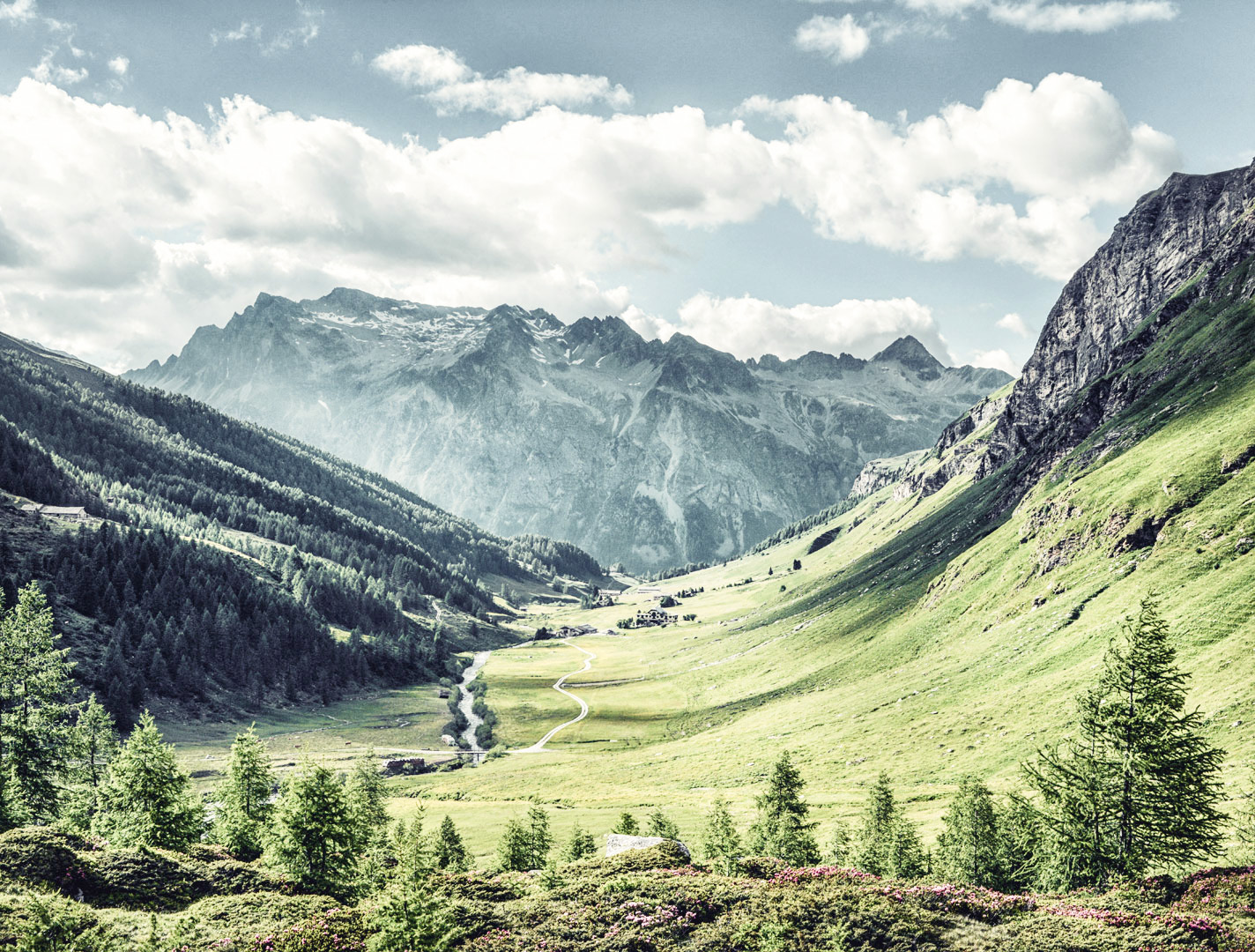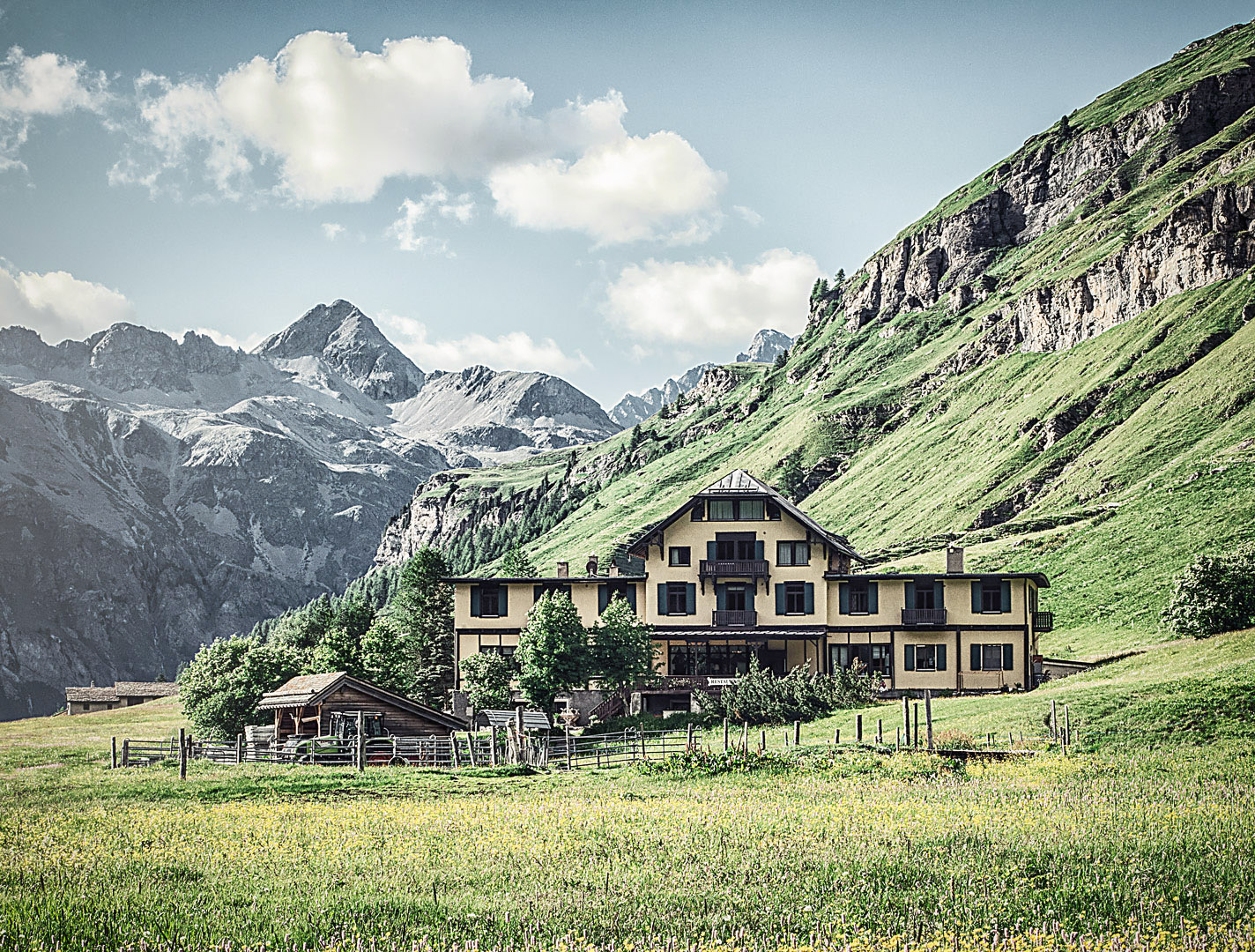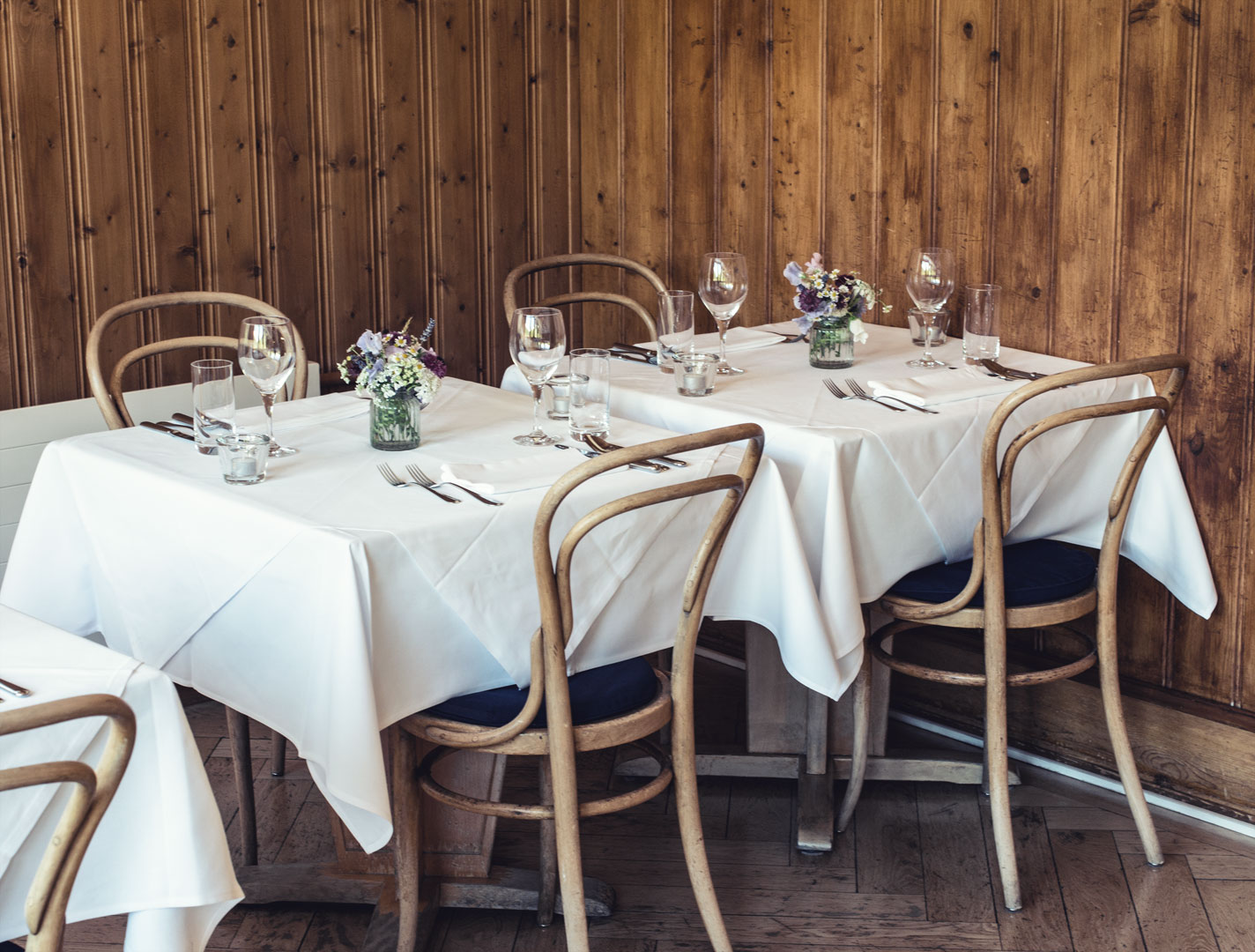 ---
The Rooms
The Fex hotel is very straightforward. It has only 16 rooms. Some of the historic rooms are freshly renovated. And all of them have a wonderful view to the Engadiner mountain range. Because of its history hotel Fex also offers single rooms. 
Cuisine
In the mornings a wonderful, biological breakfast is served in the hotel's divine restaurant on the first floor. At lunchtime you can order home-made dishes, or take a short trip to the neighbouring huts. In the evening there is a dinner-menu, which is all quite classy. And the "Stüva" on the ground floor is reserved for external guests.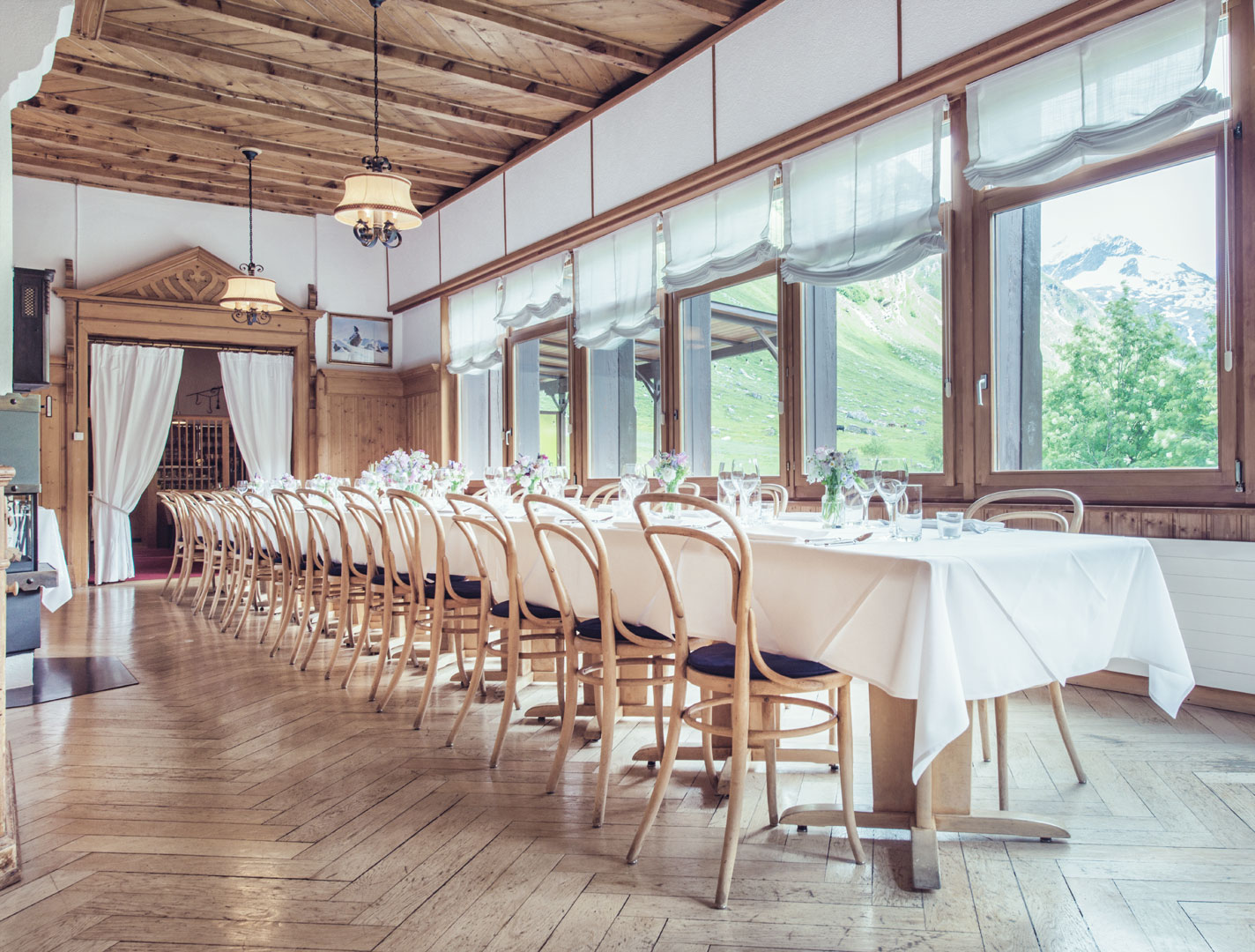 Ideal for
One week mountain hiking right in the middle of the majestic backdrop of the "Oberengadin", with healthy food and  homely parlours. Or you can simply relax by reading, savouring the impressions, or just meeting like-minded people. 
Special
At different times of the year Hotel Fex offers yoga workshops, writing seminars, herb-rambling and even tango courses. All you need to do is ask.
Location
Prices
Double room with breakfast and evening meal from 135 Swiss francs per person. Single rooms from 145 Swiss francs.
Booking & contact
Hotel Fex
Via da Fex 73
7514 Fex, Switzerland
+41 81 832 60 00