Grillenöd, Bavaria / Germany
Surrounded by untouched Bavarian nature, sculptress Mona Zimen rents out two incredibly charming holiday flats on her Grillenoed farm. Enjoy tranquility with chickens, sheep and two donkeys – and a perfect view to discover a life in the countryside.
First, as always: geography. Grillenöd is not Venice, so chances are you have never heard of it. Even the neighboring municipalities won't help much. Passau, about half an hour to the east and famous for three rivers (the Danube one of them) mingling in different colors may ring a bell. The area is called Lower Bavaria. Think of hilly landscapes and a lot of hillbilly farmers.
Arriving in Grillenöd you leave stuffy Germany behind and slide into a true holiday oasis. The Swedish architecture of the estate sure helps — a very pretty ensemble of three houses, beautifully situated on a hill. One is all in white, two in rural red. Truth be told: The first five minutes already won us over.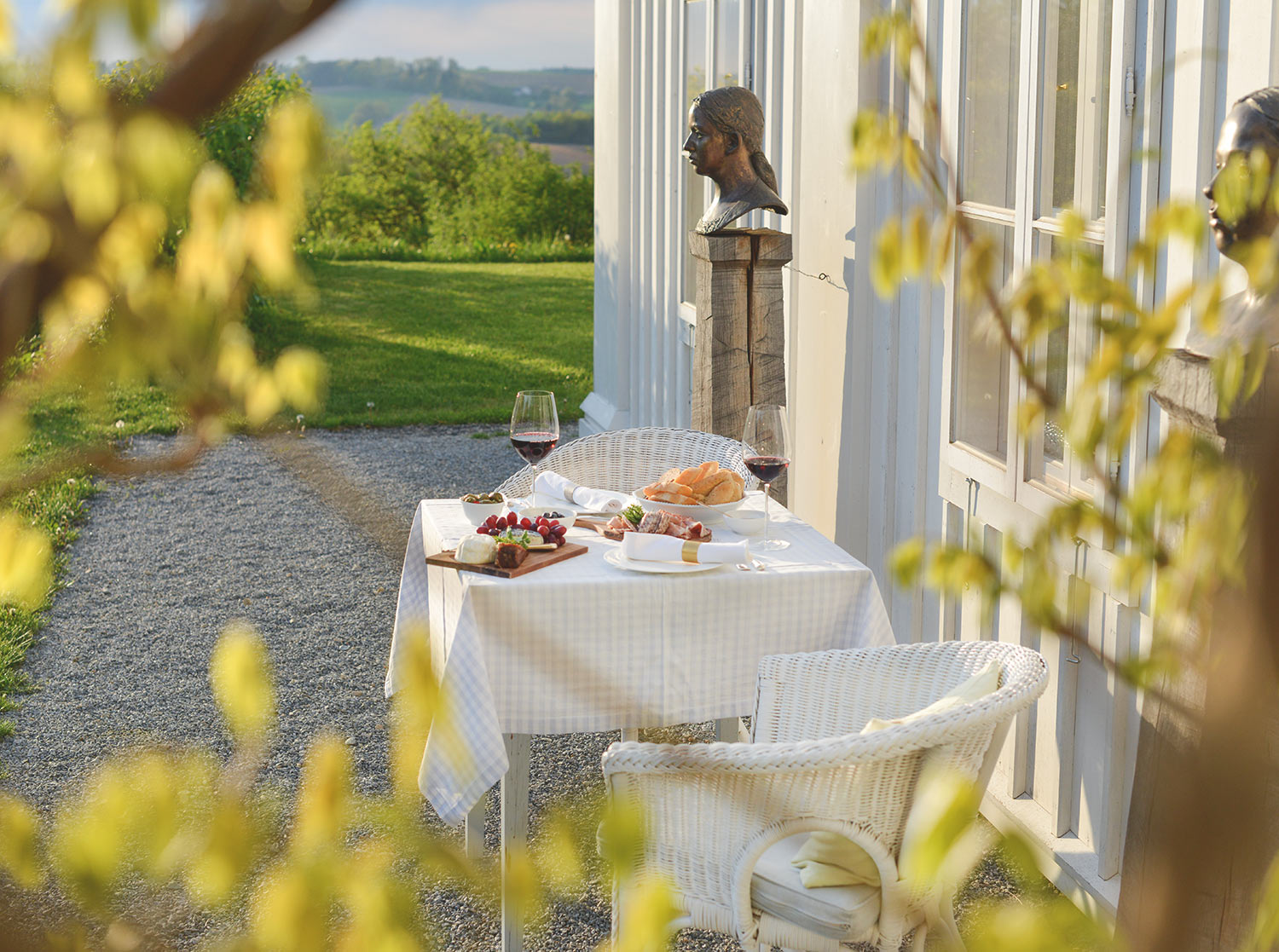 We meet Mona Zimen, the charismatic hostess. She lives in the white house. From the outside it looks more like a villa from one of these Swedish kitsch novels. Inside there is art all over the place. Mona Zimen is a trained sculptor. In the large studio, the evening sun casts its light on the busts. Beautiful.
THE APARTMENTS
Mona Zimen rents out two almost identical holiday flats. They are located on the first and second floor of the red house.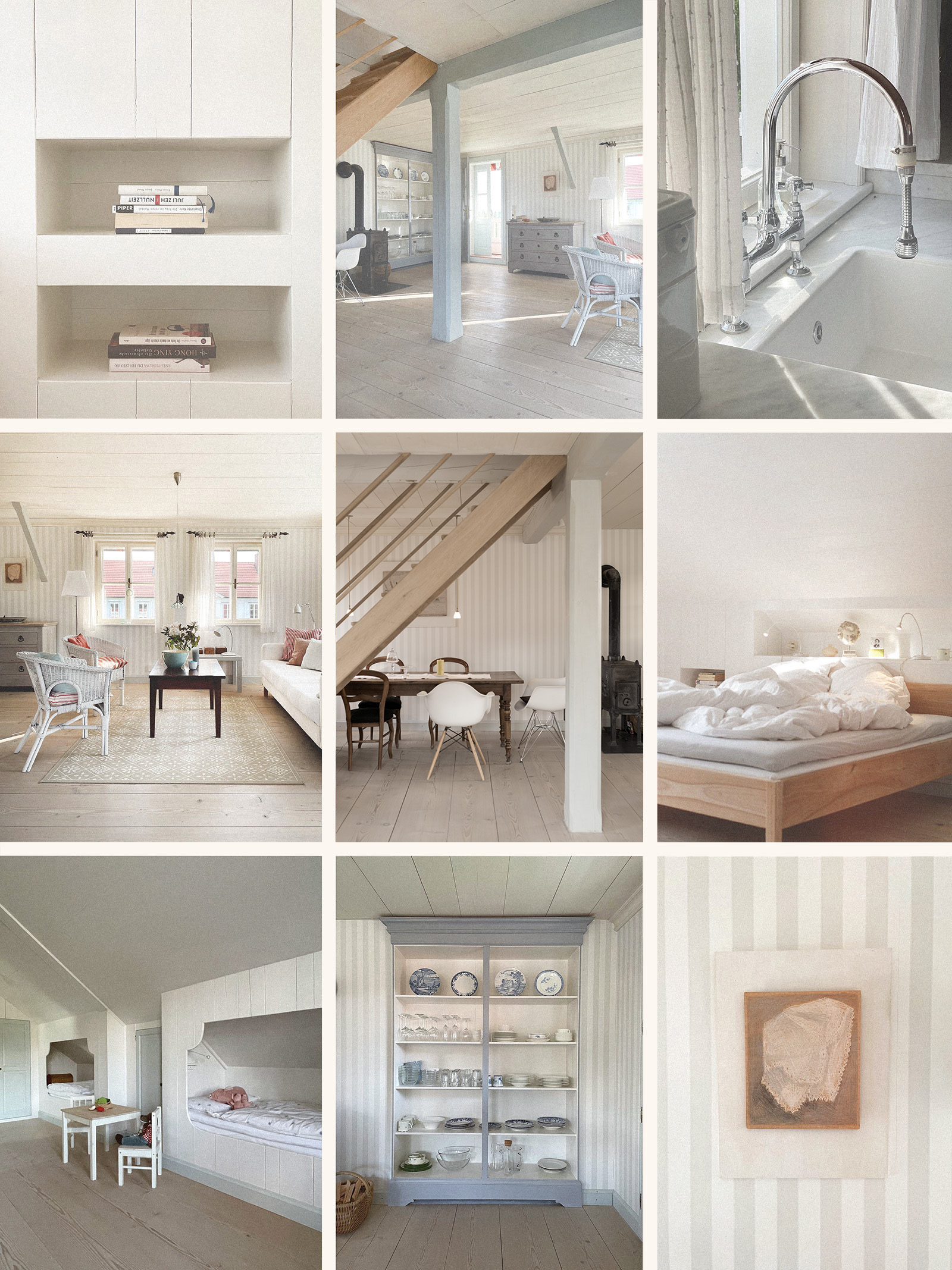 We stayed in the flat at the back (holiday apartment 2). And right from the start, what's not to like here? You walk through the large living room with its well-equipped kitchenette on grey wooden parquet flooring. The light seeps through the windows during the day. A wooden staircase leads to the upper sleeping area. Whether there is four or two of you, there is enough space upstairs. Wonderful ambience, everything bright, beautiful materials and fabrics. And bunks for the children. The en-suite bathroom is also upstairs in the sleeping area. With freestanding bath and walk-in shower. And a washbasin with English fittings.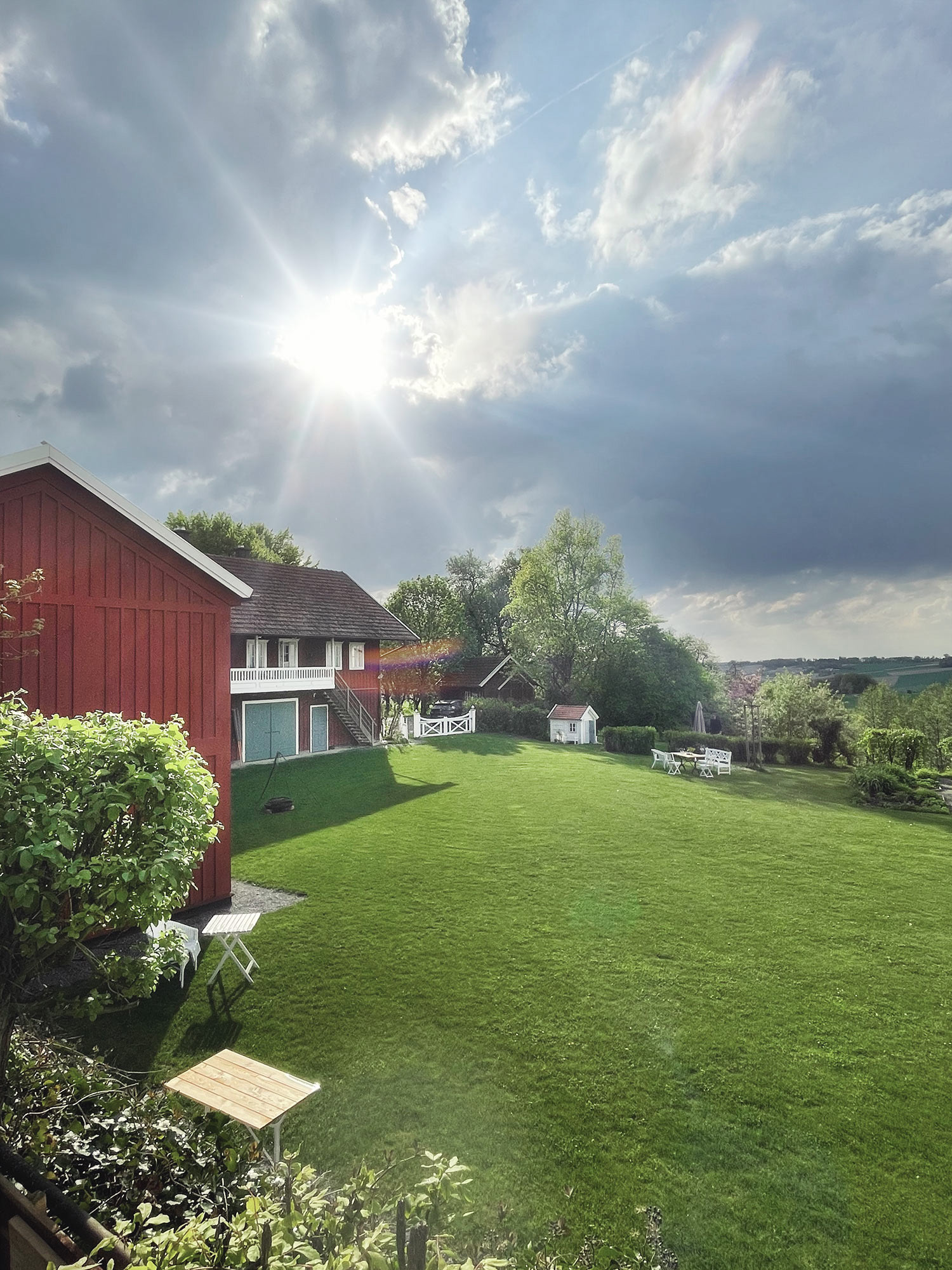 The art
The hostess creates sculptures all year round in her studio next door. Make sure to take a peek. She will be happy to sell you some of her work.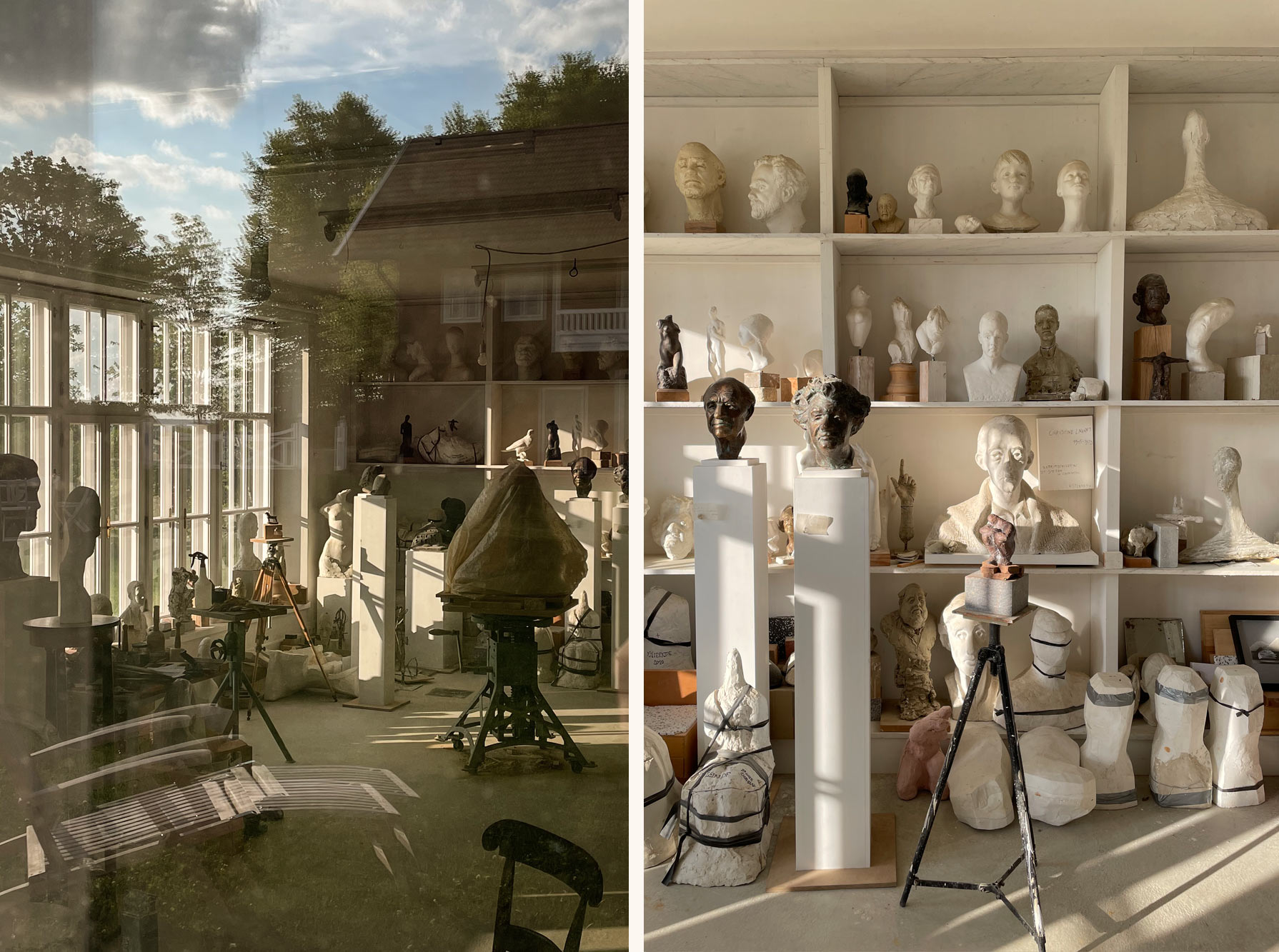 What can you do?
Well, first of all, you could find peace and quiet here. Because that's just what this farm invites you to do. For example, down by the bathing pond with its own jetty. Or in its own chapel a little above the property. From the house, you can walk directly into beautiful natural fields and forests, some of which still belong to Grillenöd. Behind the main house also live the chickens, two donkeys and sheep, which you should definitely visit.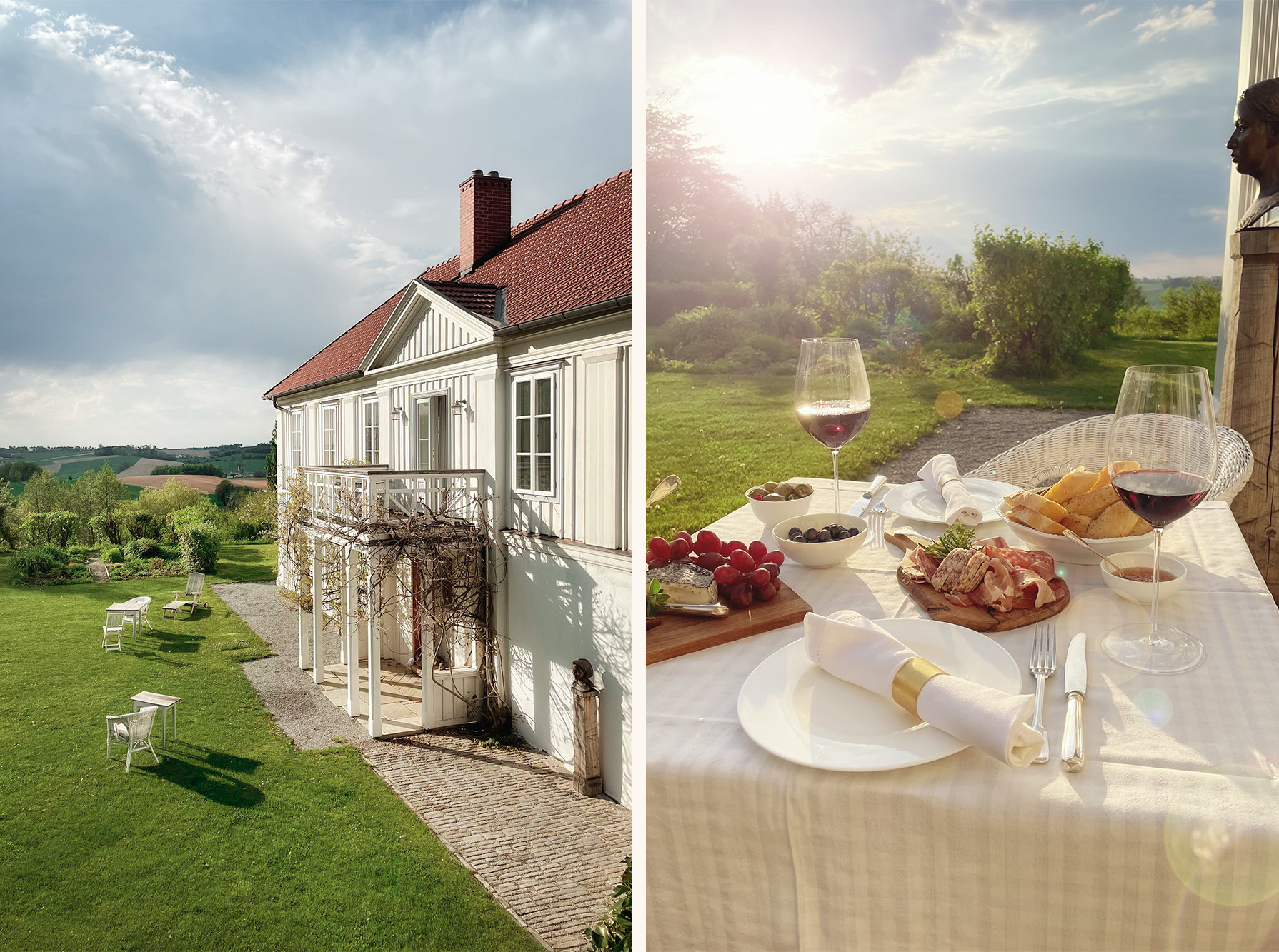 A market with organic products is down the road (around 10 minutes by car). Of course, many guests also visit the city of Passau for a day (approx. 30 minutes). There is even a highly recommended museum of modern art here.
We recommend a bike tour to Sandbach, where you take the old ferry across the Danube, then ride back to Vilshofen (stop for a bite to eat there) and then return to Grillenöd via the very beautiful Apfelradlweg.
Location
Prices
Apartment from 139.- euro per night for up to four.
Bookings & Contacts
Grillenöd
Mona Zimen
Grillenöd 1
Haarbach / Bavaria
Tel: 08535 912399
www.grillenoed.de