Stories we just love: In 2017, Kamila and Fabian made a bold move. They left Berlin behind and became proud owners of a historic manor house in the former East German state of Mecklenburg-Vorpommern (side note: German chancellor Angela Merkel was born and raised here). After a lengthy and elaborate transformation the rundown estate turned into a beautiful inn with six apartments and a guest room. Nestled in a quiet park-like setting with rolling hills and lots of green just 2 hours away from the hustle and bustle of Berlin.
Get there and you will fall in love with this German Gutshaus and it's architecture right away. Guaranteed. History is about to be served: the foundation of the house dates back to the 15th century. For most of its former life it served as a playground for well known merchants. When communist Germany came around it was converted into a giant kindergarten. And after the wall came down, it pretty much fell apart and was only returned to its former glory when Kamila and Fabian took over…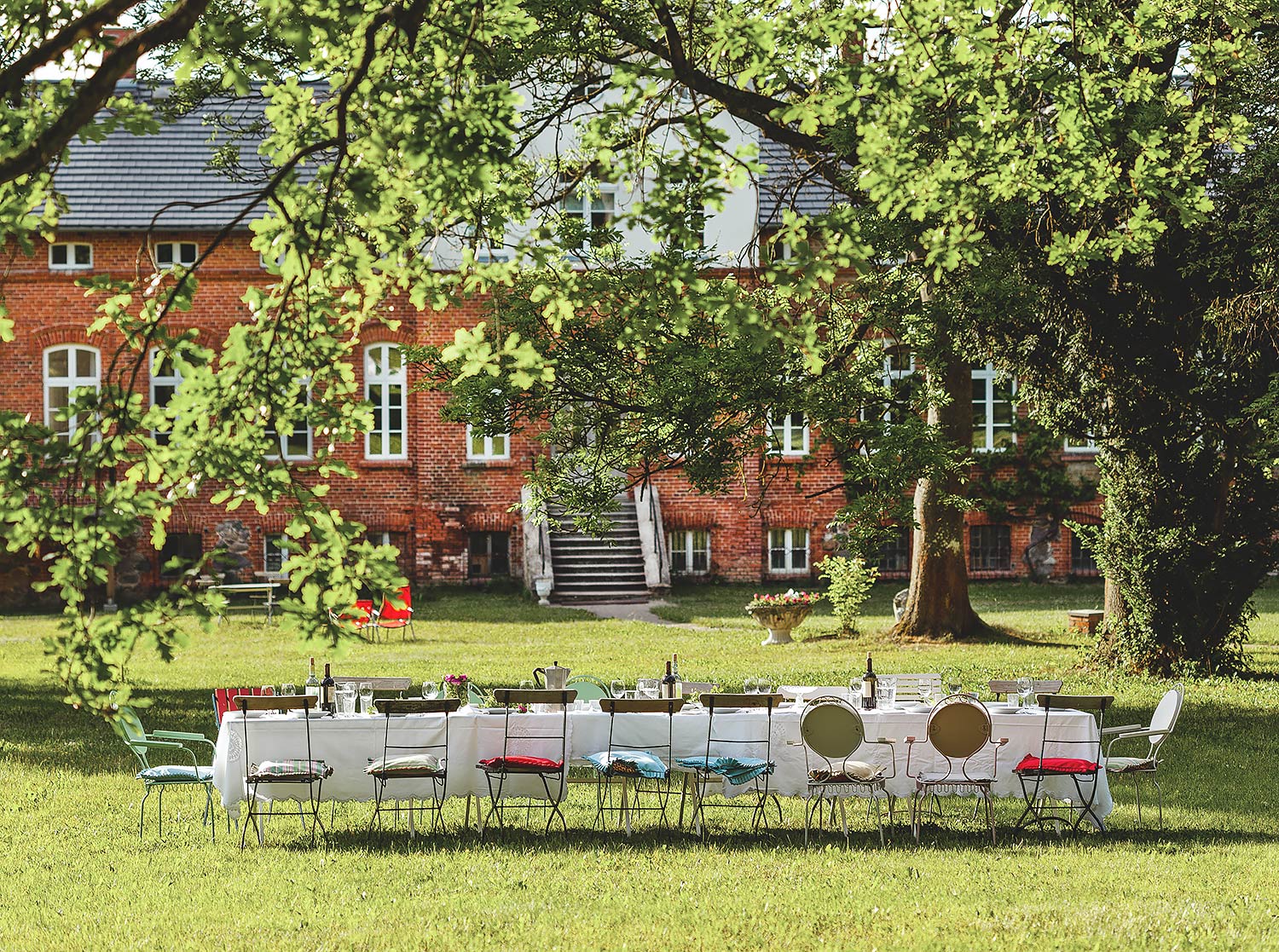 The apartments
Gut Pohnstorf has a total of six spacious vacation apartments and one double room. We were allowed (still during the lockdown) to spend three wonderful days with Bertha (actually the name of this particular apartment) and to visit the others extensively. What struck us immediately were the mighty walls and lounges on the first floor.
Because next to the apartments there is a n extra salon. It is located next to a large communal kitchen, where groups are allowed to cook together. For larger groups, Gut Pohnstorf also organizes a local catering company, which then prepares the meals on site. In addition, there is the large banquet hall for birthday parties, weddings (and, of course, conferences or staff seminars). Here there is room for up to 60 people.
All the apartments are named after women from the 19th century, who left a lasting mark on the place. The two largest ones are Malwida and Margarete. Both are about 130 square meters in size. Malwida as well as Margarete feature beautiful old rooms with high ceilings. Both of them have direct garden access. A bit smaller are Marie and Bertha with 90 square meters and two bedrooms each (so also suitable for families with two children). Then there are Louise (one room, 30 square meters), Clara (a loft, 60 square meters) and Hedwig (3 rooms with 85 square meters). All of them are equipped with a kitchen, of course. Details about the individual apartments can be found on their website.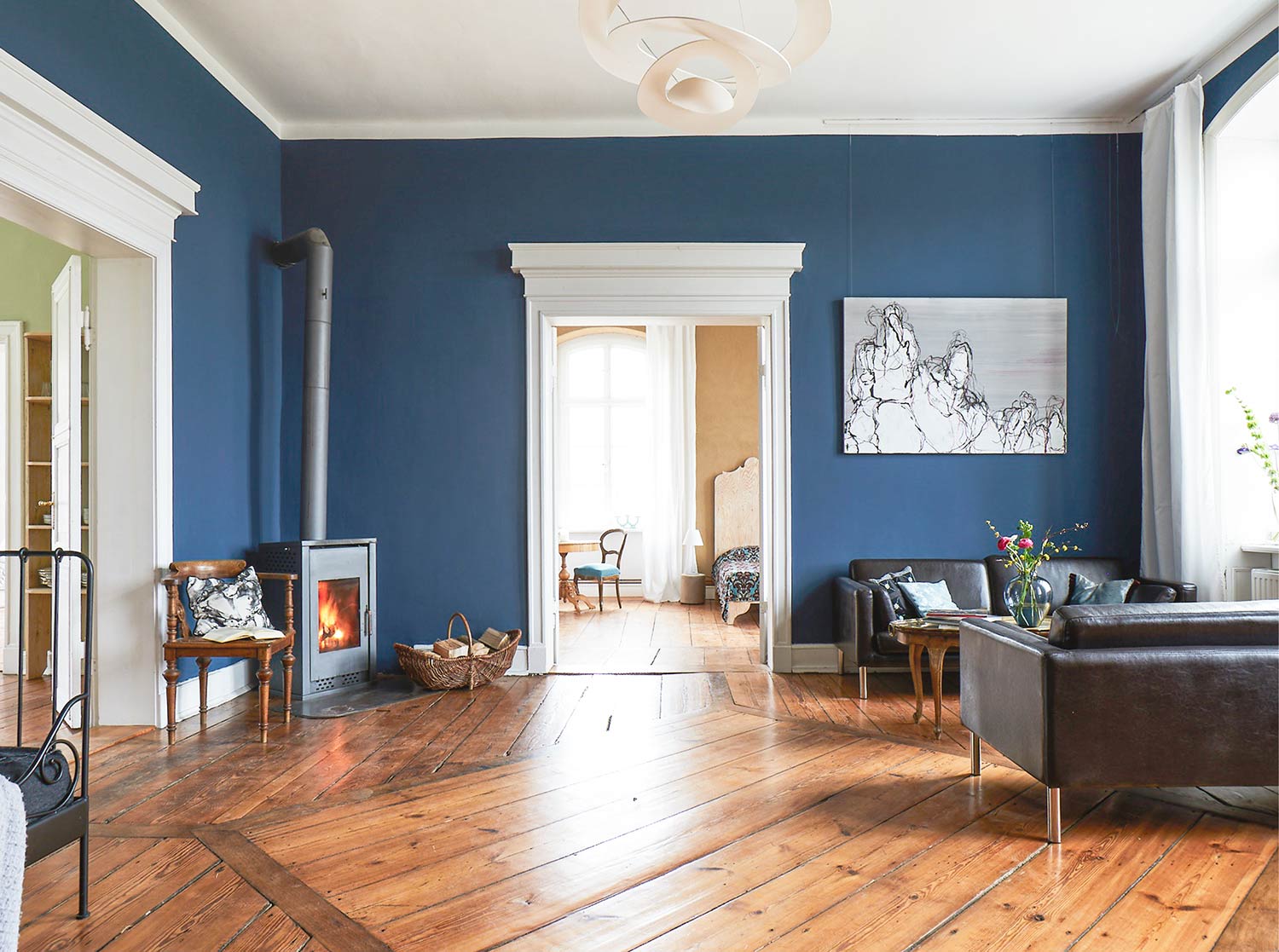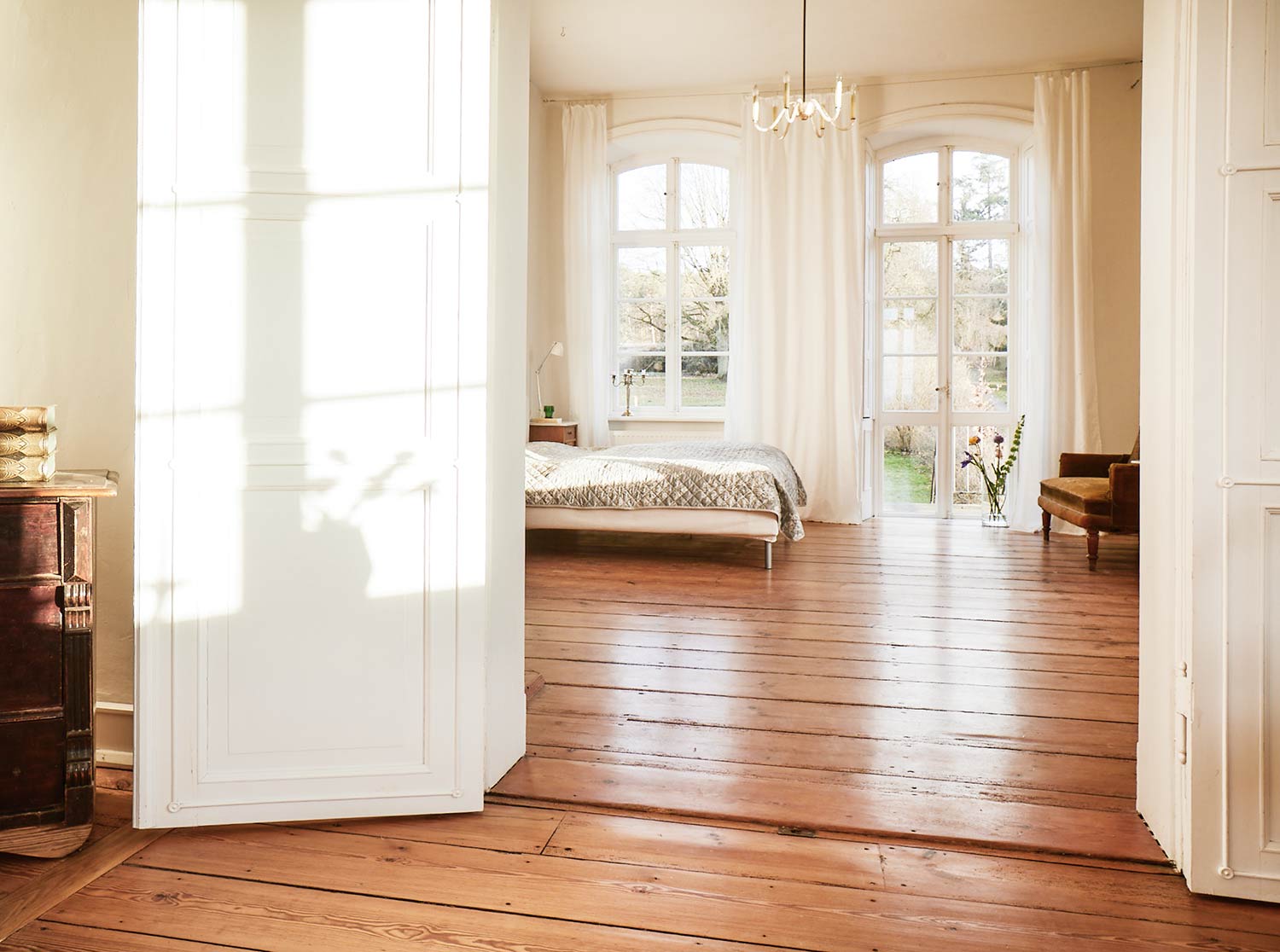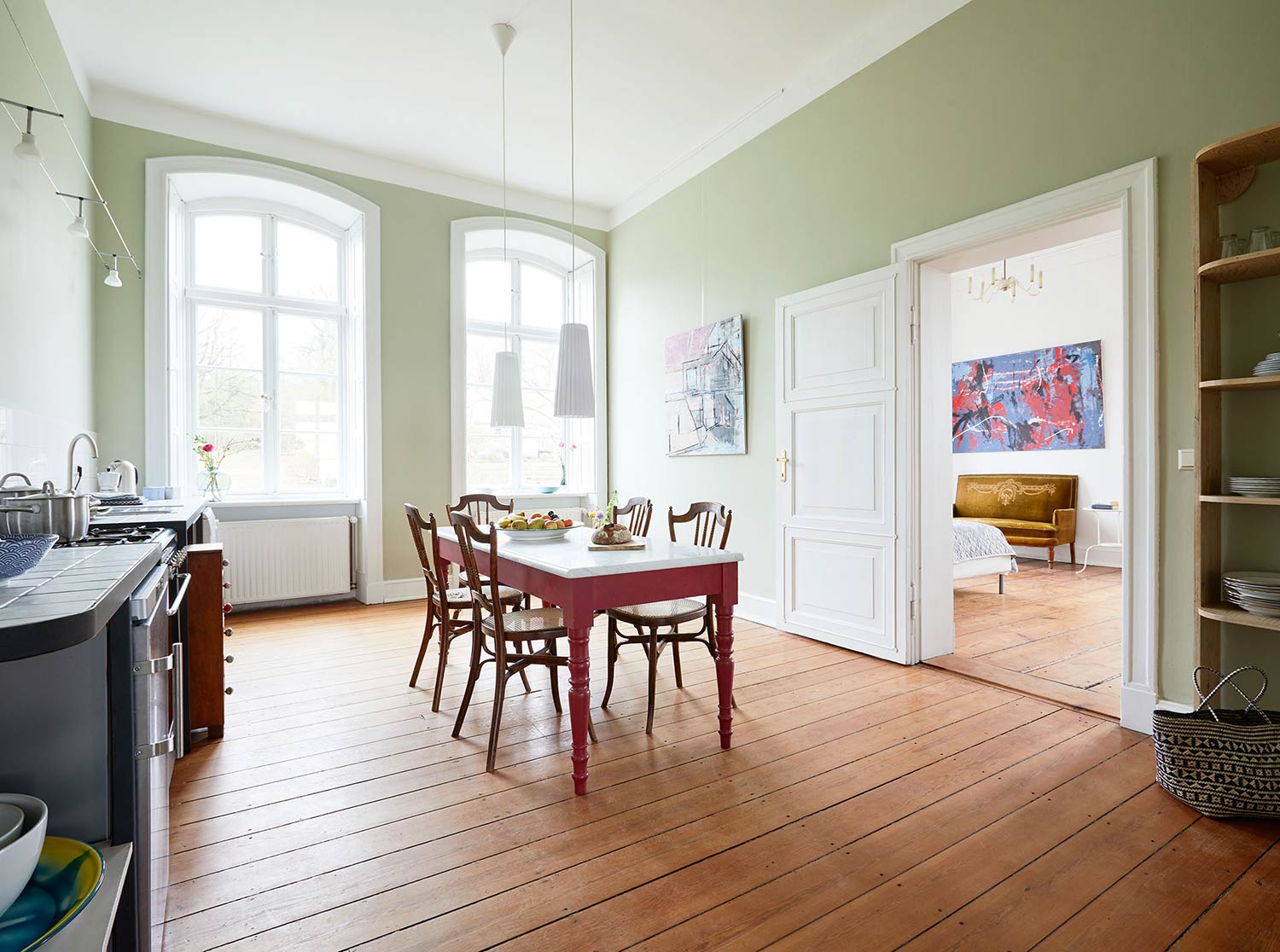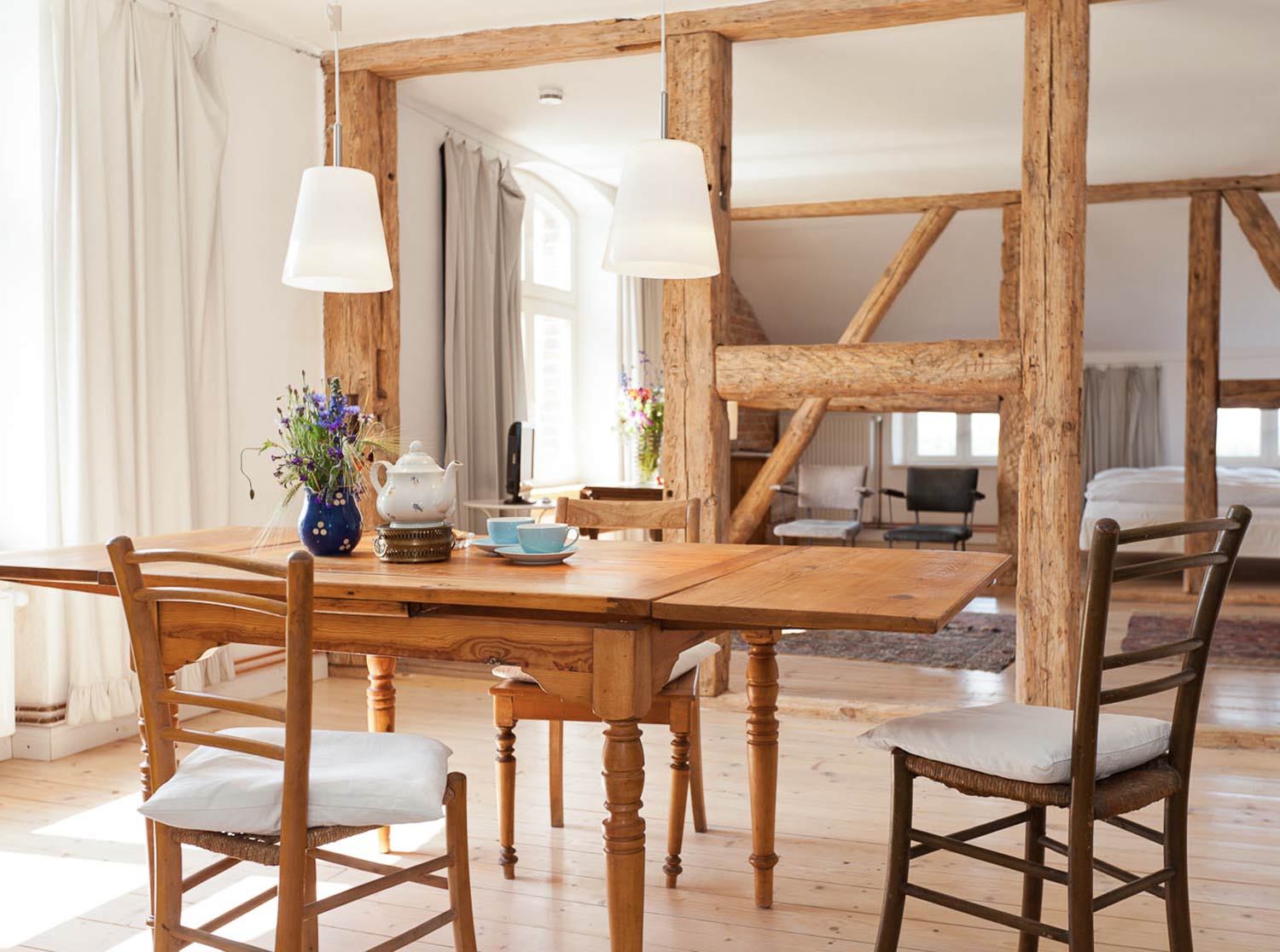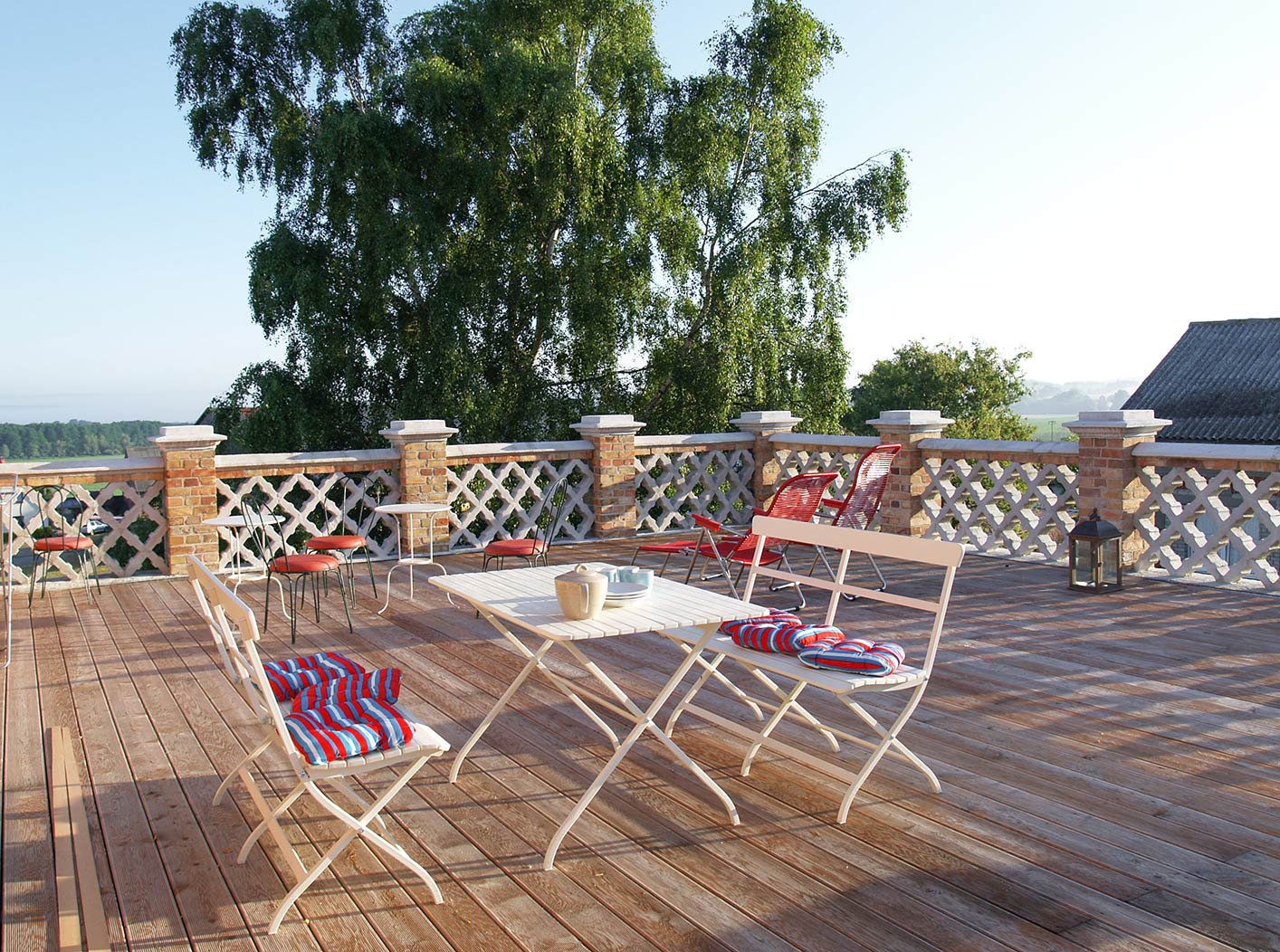 Culinary
For an extra 15 Euros per person breakfast comes prepared –  primarily with products from the surrounding area. Have it anywhere you like, in the salon, in the garden.  Gut Pohnstorf is not a vegan eco-hotel, but a lot of attention is paid to the environment. Also during the day there is the possibility to order an organic box and then cook it in the communal kitchen or in your own kitchen.
PS: There is also a manor house café on the premises, which is open on weekends for coffee and cake.
SURROUNDINGS
We were quite impressed by the enchanting surroundings. The region is also called "The Swiss part of Mecklenburg", because there are many lakes and a lot of nature with great hilly landscapes. Pohnstorf has its own bike rental with many different bikes including electric bikes.
It is not only beautiful here in summer, but also in autumn and winter. Especially for city dwellers this place is the perfect refueling and time-out station.
Prices
The two large apartments "Malwida" and "Margarete" cost from 249 euros per night, Marie is 214.- Euros, Bertha and Hedwig 174.- Euros, Clara 159.- Euros and Louise 109.- Euros. All per night. Minimum 2 nights.
Booking & Contacts
Gutshaus Pohnstorf
Pohnstorf 17
17166 Alt Sührkow
Germany