Seeing is believing. That's a crucial part of the Pretty Hotels DNA. And that's why star ratings and Instagram posts with effusive praise are just amuse-gueules. The same goes for Sicily, which is certainly an interesting and great destination. But one with many pitfalls. After all Sicily is a rather large island in the very South of Italy.
What you need to bear in mind is that Sicily consists of a fertile part (east / south-east) with lots of vegetation and mountains – and a very arid part with lots of gravel, steppe and desert-like areas (west / south-west). The region around Catania and Mount Etna is different from the region around Palermo. And Palermo and Catania could hardly be more different.
You can only truly experience Sicily if you follow in the footsteps of the locals, get to know their restaurants and find their hidden beaches. On this island happiness is synonymous with simplicity. Sit down for a simple plate of pasta with anchovies and toasted breadcrumbs (pasta c'anciuva) in a trattoria at the foot of Mount Etna. Priceless! So is a glass of the local Nero d' Avola grape from the vineyards around Noto. What more do you need?
Palermo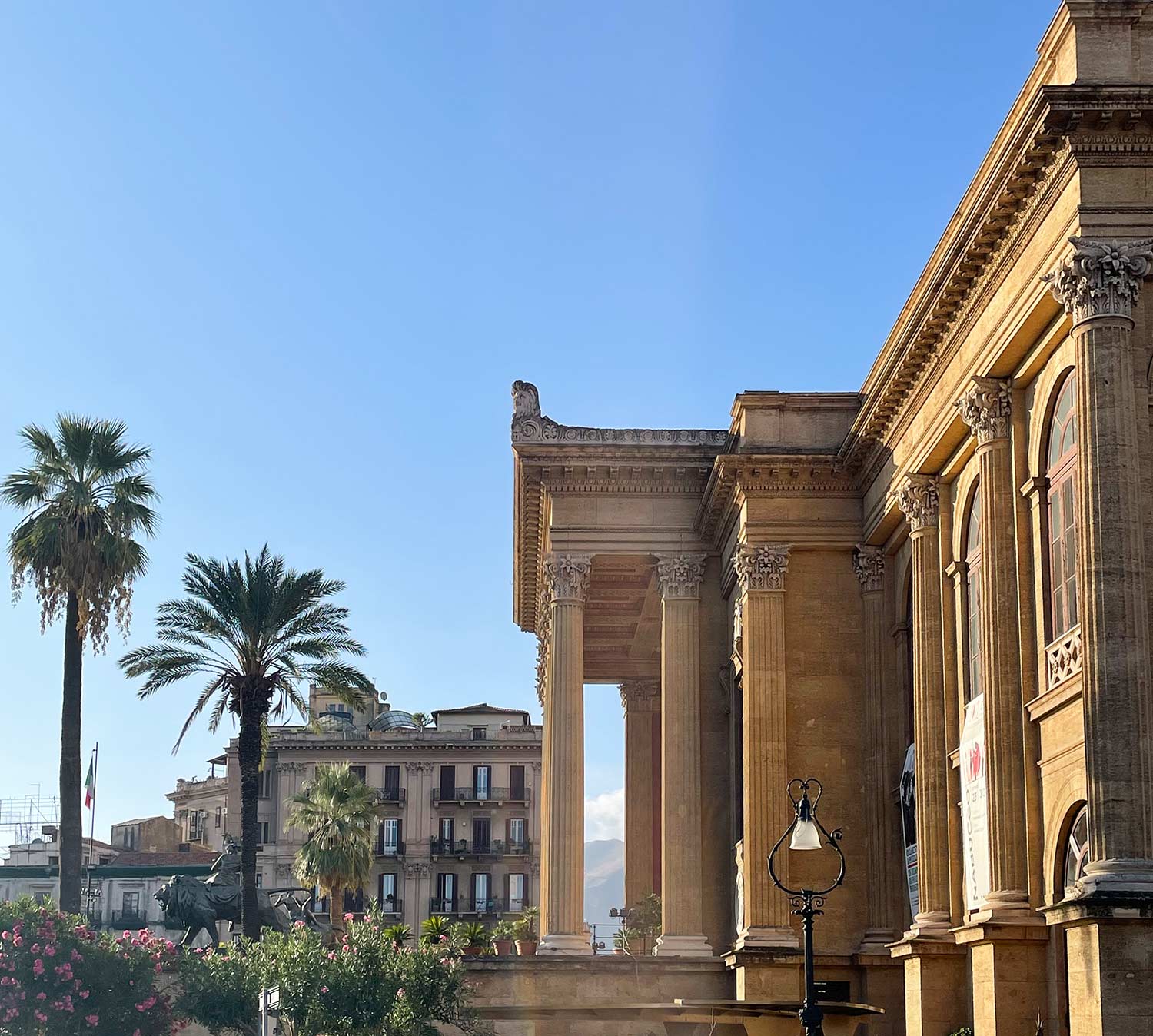 Our Sicily trip starts in Palermo. A city like a dream. Italian, authentic, right on the water and very clean. On a list of the most interesting cities in Europe, definitely among the top 5. Palermo has a charm all of its own, think Havana, only renovated. The centre is essentially a network of very well preserved palazzi. Each house façade is a work of art in its own right. And one of the landmarks, the Teatro Massimo, is not a show-off building, but a statement of art and culture. In the evening, the locals gather in small side streets around the Piazza Caracciolo, DJs mix good music, there is dancing and flirting.
The only thing we haven't found in Palermo is the right accommodation. But we did in the suburb of Mondello (15 minutes from Palermo): Villa Masetta. The hotel is right on the beach, you stay in colorful, authentically Italian rooms and are still close enough to the capital of Sicily.
Palermo Recommendations
Best coffee Casa Stagnitta.
Visit: Teatro Massimo.
Authentic Restaurant: Osteria Mangia e Bevi.
For Foodies: Restaurant Limu.
Best Pizza: Alfresco Palermo.
Stay: Villa Masetta, Mondello.
Cefalù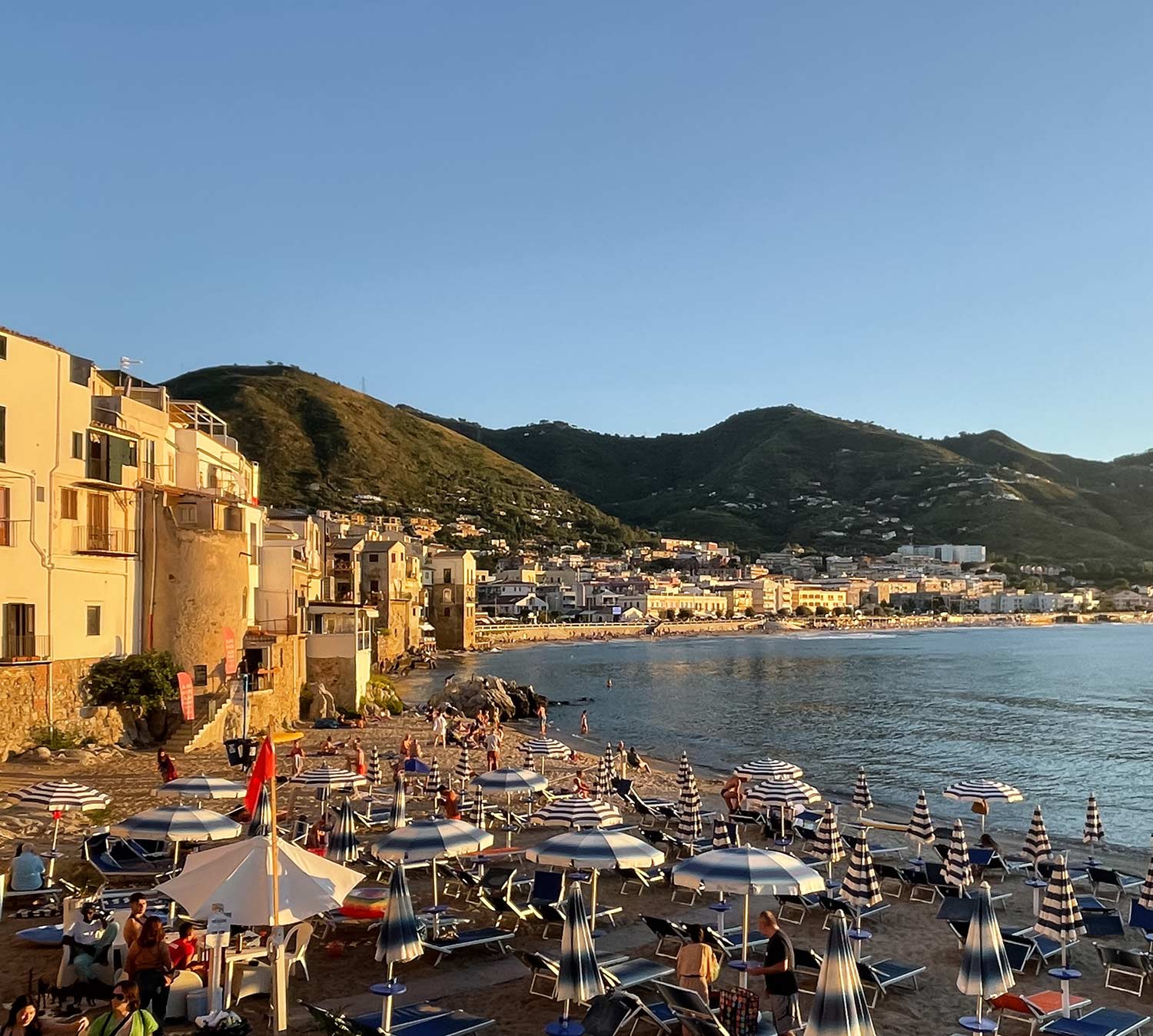 From Palermo, a beautiful coastal road leads east to one of the most famous Sicilian resorts: Cefalù. Taking the train is also an option, however, in Sicily they are not exactly of the Orient Express kind. Instead of a romantic it is more of a rough ride.
Cefalù itself is pretty and absolutely worth a visit. Unlike many neighboring towns, Cefalù is very well-kept. The old town dates back to well before Christ. You walk through narrow alleys and beautiful house facades and look out over the Aeolian islands of Alicudi and Filicudi. Speaking of Filicudi: We also visited the small island in the summer of 2022, the report by our Italy correspondent Laura Taccari can be found here.
By the way, we tested the Le Calette Hotel during our visit. Quick verdict? Stay away …
A better option is in the hinterland of Cefalù. The Hotel Susafa. It is about an hour's drive south of Cefalù, somewhat hidden in the mountains. The journey is worthwhile, because at the Susafa you stay charmingly in a luxurious organic farmhouse with swimming pool. The location, ambience and rooms are top notch, food and service unfortunately not.
Cefalù Recommendations
Museum in Cefalù: Museo Mandralisca.
Dine: Ristorante Qualia.
Stay: Susafa.
Taormina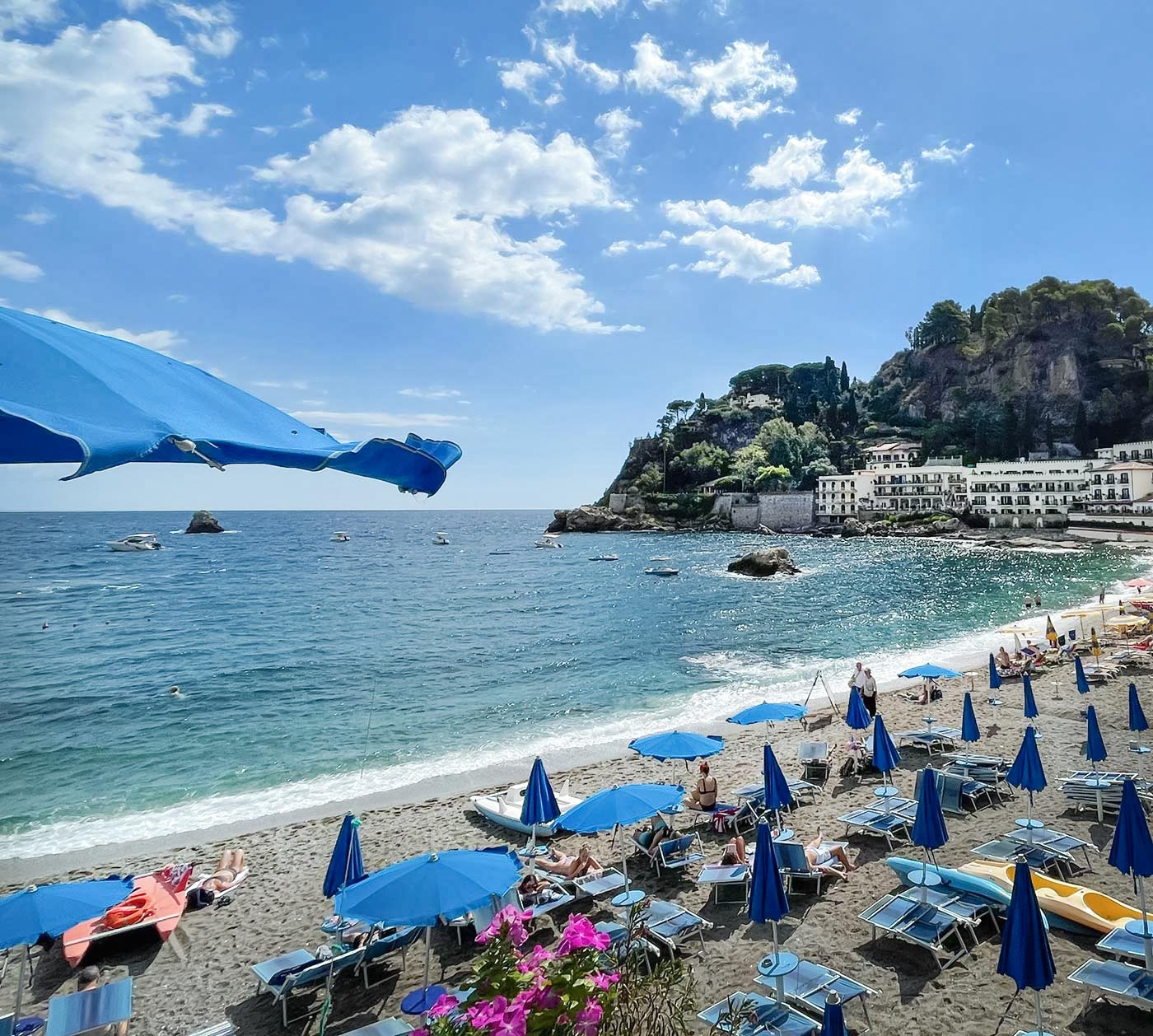 From Cefalù we take the motorway that winds along the water to the south via Messina. Be aware: The towns along the way look inviting. But looks can be deceiving. You mainly find ruins and not very well-kept beaches. Many of the houses are for sale.
Taormina, however, is a stunner. Of course, it's no Saint Tropez or Portofino. But the location of the town above the cliff with a view of the sea and Mount Etna and the small part down by the beach (Mazzarò) is a dream. The streets wind through various tunnels to the ancient buildings. Some still in Art Nouveau style, but many from the 60s and 70s. Right in the middle: the two Belmond luxury hotels, the Villa Sant' Andrea down by the water. And the Grand Hotel Timeo. Plus the Four Seasons San Domenico Palace, with a view of the sea and Etna. Due to this abundance of luxury hotels, Taormina has become a kind of "it" place in recent years. In the summer months, the big yachts of the billionaires anchor here.
The three hotels are very nice, but since summer 2023 they have been charging obscenely expensive rates. One would definitely recommend two nights – if it were 500 euros per room per night (it's more like 2.800 euros per night).
Many also want to go to Taormina because parts of the film "The Godfather" were shot here. You can visit some of the locations used in the movie, for example the villa where Michael Corleone lived: the Castello degli Schiavi.
Taormina itself can be explored in a day or two. A day at the beach and another to see the ancient ruins is worthwhile in any case.
Dining in Taormina
Teatro 44 und Osteria Rosso diVino (both up on the hill).
Lido La Pigna (at the beach).
Linguaglossa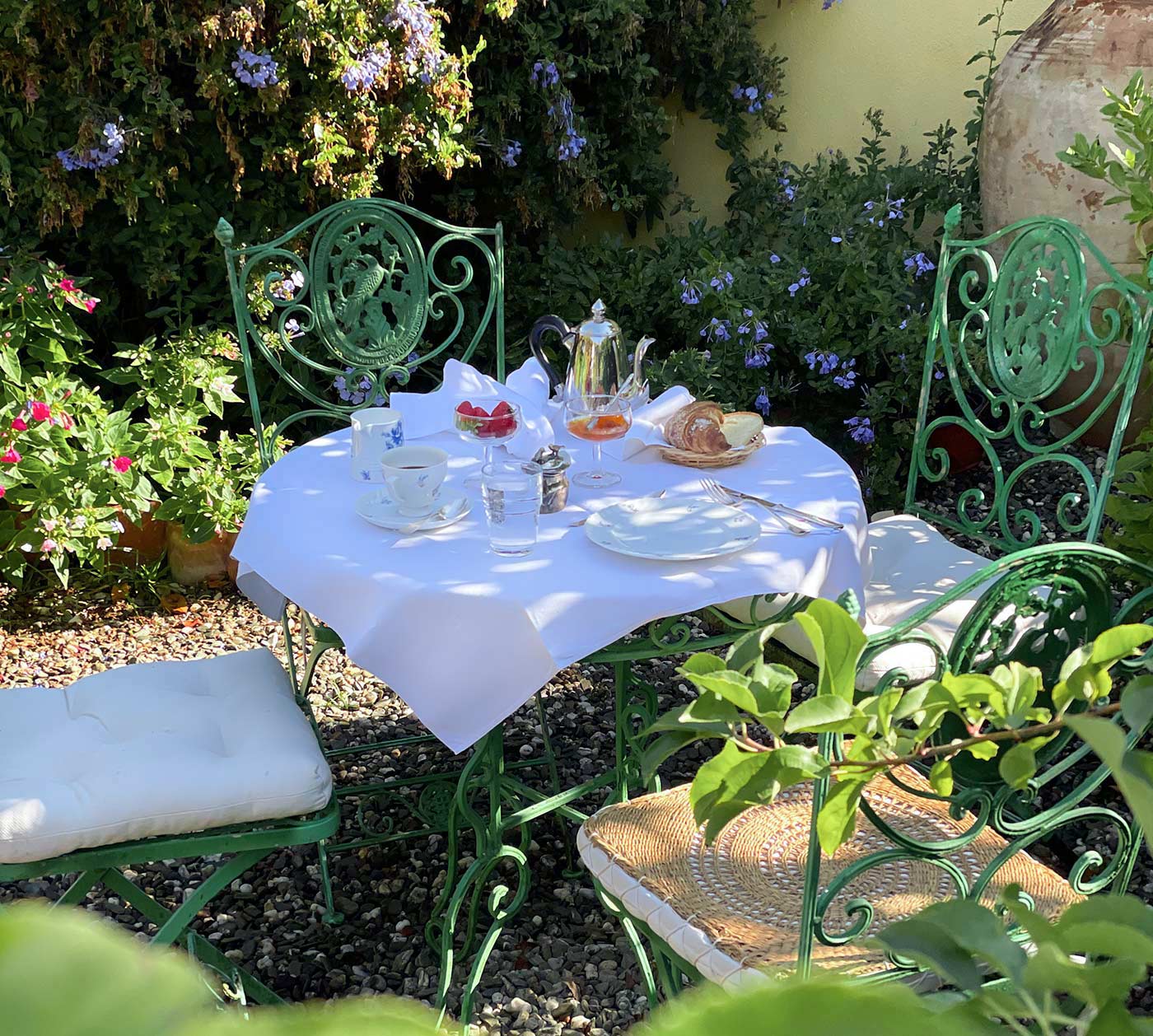 From Taormina we drive up a mountain road towards Etna. To Linguaglossa. There we enter a castle which, once you are inside, reveals itself as true treasure cove. Palazzo Previtera is the name and it is without a doubt the highlight of this Sicily trip.
The Previtera family, noble emigrants from Provence, built the intricate house in 1649 as a summer residence. Since 2022, travelers have also been allowed to occupy the premises. Artists stay in artist-in-residence programs and leave behind magnificent works. There is even a large art gallery on the ground floor.
There are four suites and two cottages in Palazzo Previtera, where you can be self-catering. But you shouldn't, because Linguaglossa is a real culinary hotspot. The place has two Michelin-starred restaurants. The Shalai and the Dodici Fontane. We can especially recommend the Bocaperta restaurant. Genuine Sicilian cuisine. Beautiful. And above all, good. 10 points.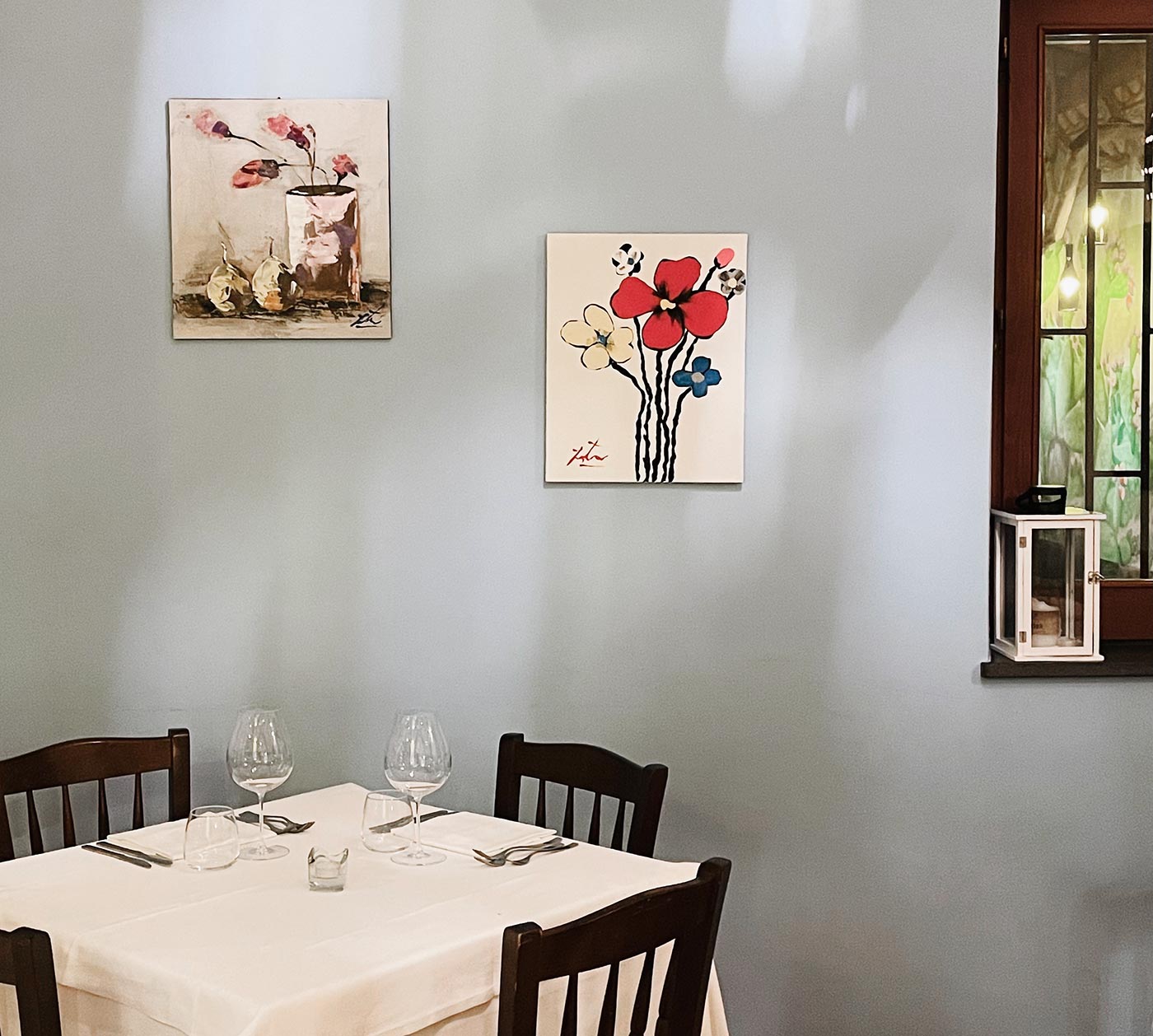 Linguaglossa lies directly below Mount Etna. Of course, you have to climb the 3,357-meter-high volcano during a visit. Or at least climb it on an e-mountain bike. There are many guided hikes up there.
The Local Expert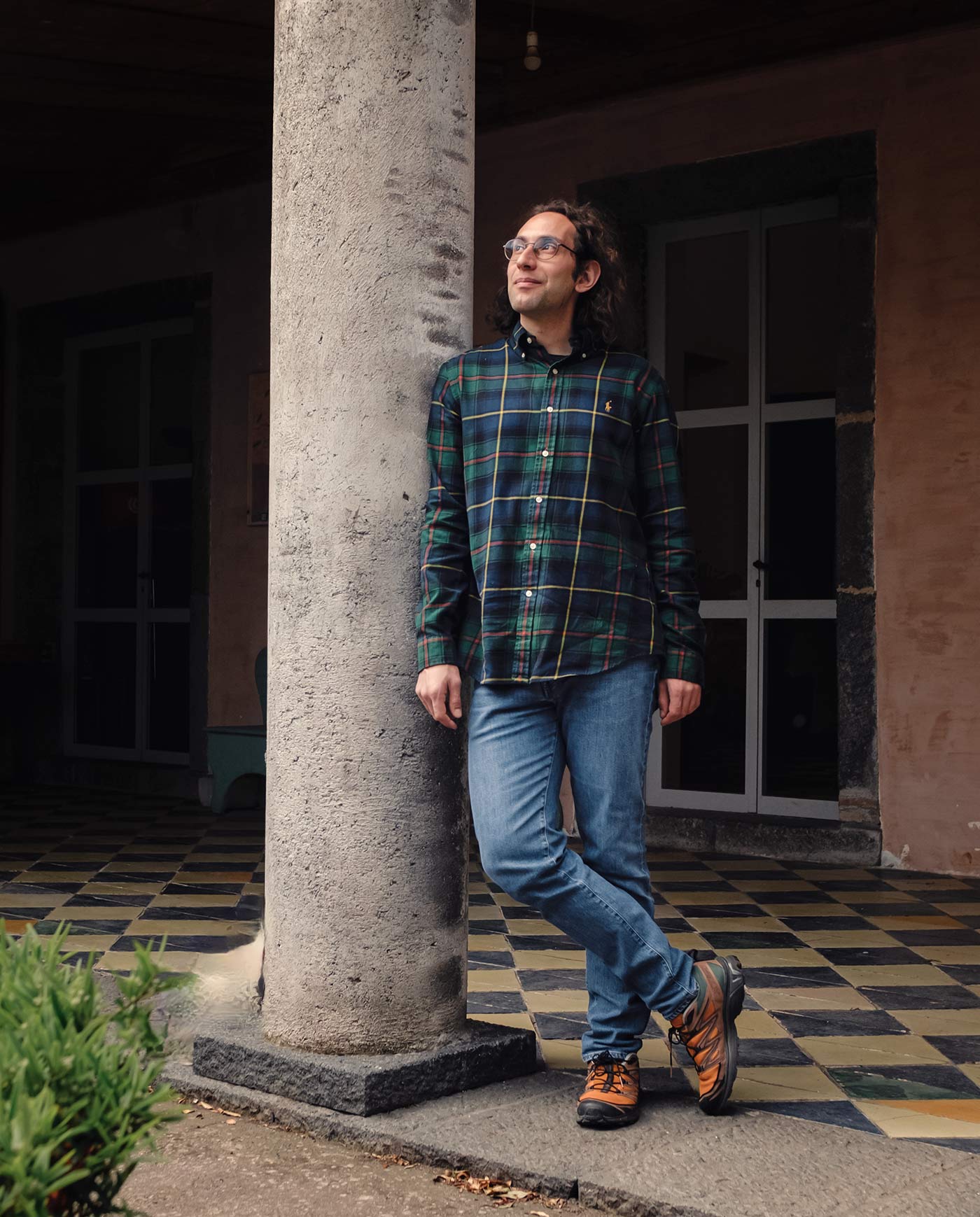 The host at Palazzo Previtera, Alfio Puglisi, a descendant of the Previtera family, definitely recommends a guided tour of Mount Etna in Linguaglossa, for which you should plan about 5-6 hours. Cost: about 100 euros. Prerequisite: good shoes.
During our visit to the Palazzo, we asked Alfio about his general recommendations in Sicily.
What's the one thing you always recommend to someone visiting Sicily for the first time?
If you would like to get an idea of what is Sicily, especially in a weekend I would pick Palermo or a weekend on the East coast of Sicily, so you can get a glimpse of life under the Volcano. Etna, its wineries and Taormina are my favourite spots, it's a mix of traditional and cosmopolitan vibes just 20 km apart from each other. If you have more time, I would even recommend a trip to the Aeolian islands (i.g. Lipari and Salina). Sicily is a land so filled with culture and myths, so probably two weeks are not enough to see the entire island.
Why is Catania so different from Palermo? Is it just a feeling or are there also big cultural differences?
Palermo has always been an aristocratic city, whereas Catania is a town of traders. The seafood market in Catania is a lovely spot to understand how trade occurred and it fully immerses yourself into the life of the Sea transported into the buzzling center of Catania. Independent fishermen and farmers selling their produce to locals just steps aways from the Duomo, the best example of Baroque architecture in Catania. Catania people are more industrialists devoted to innovation whereas Palermo people may be more classy and well educated.
When people are coming to Sicily to eat great food. Is there a good source where to find good local restaurants? 
There is not really an organic fully comprehensive Sicilian food guide written by locals (you have a lonely planet guide but it misses some few interesting ones), maybe my friends at Emotional Sicily and I should consider writing one. Best tip is to walk around town and ask for suggestions. Some of the best restaurants are hidden away, so keep exploring and be brave to enter the most strange doors.
Which winery would you recommend visiting, when staying in Linguaglossa?
There are more than 210 wineries in the area, so wine connoisseurs can really have fun exploring the most exciting winemaking projects.  For red wines I love the heroic agriculture of Vini Franchetti and the innovation of wine making of Cusumano, alternatively for a lunch in vineyard Tenuta di Fessina, its old Palmento and terrace over the Alcantara Valley is beautiful. For natural wine, explore the Alcantara Vallery deeper and enjoy the allure of Tenuta Rustica.
Dining in Linguaglossa
Authentic: Bocaperta.
For Foodies: Dodici Fontane, Shalai (both own a Michelin star).
Stay in Linguaglossa
Of course with Dr. Alfio Puglisi at
Palazzo Previtera
Via D. Alighieri 24
95015 Linguaglossa
Catania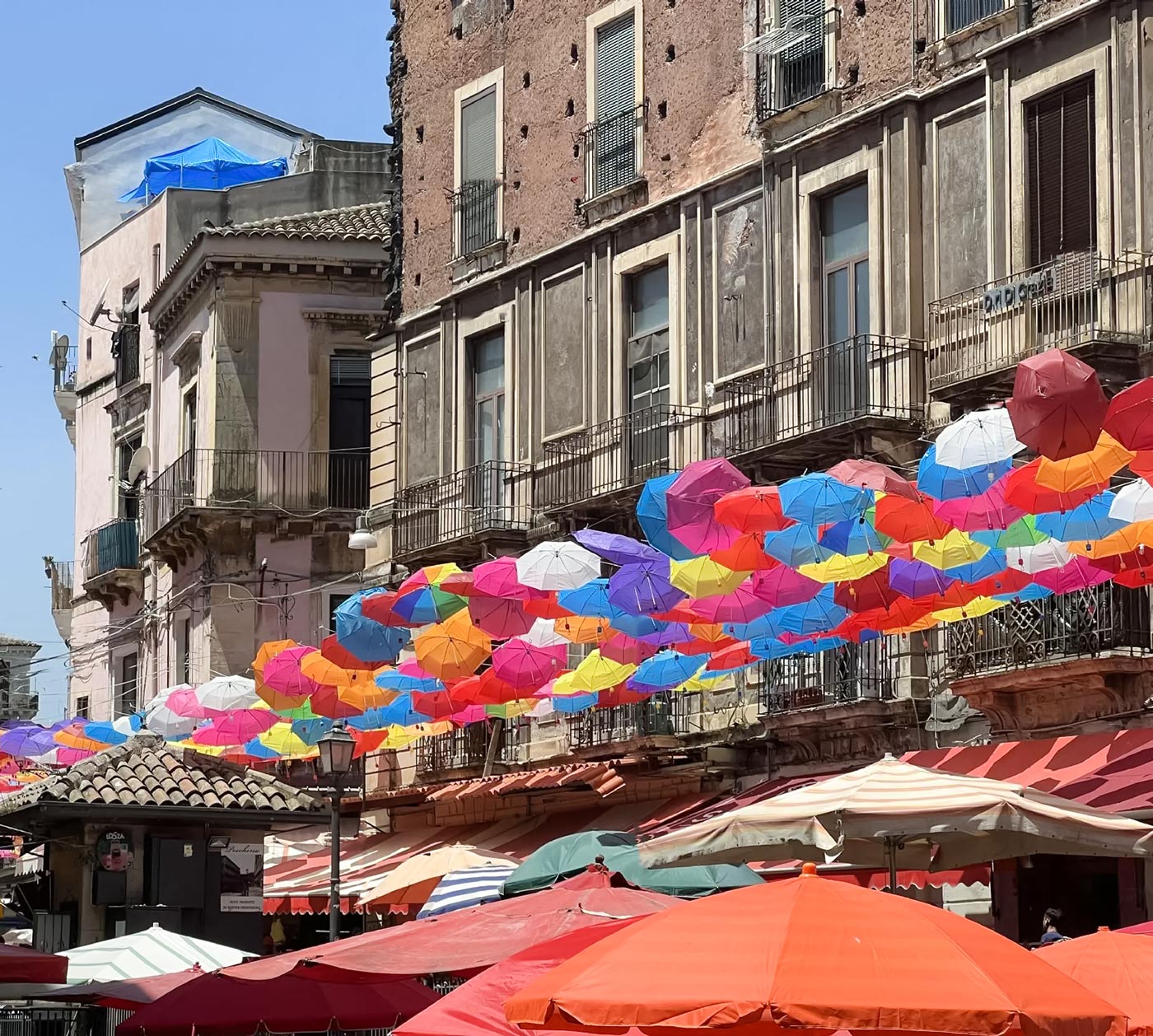 We drive down the serpentines again towards the west, into the centre of Catania. Should we visit Catania? By all means. The city is not quite as pretty as Palermo. But it is truly important for understanding Sicily. The facades in Catania are dark, the streets and cafés are reminiscent of Berlin Kreuzberg. It's creative and the buildings are historic.
As recommended by Alfio Puglisi of Palazzo Previtera, the fish market here is a must. Because Catania is and remains a trading city. At the fish market, this "historical" world is presented very impressively.
The city beaches are rather rough despite the great location (reachable from the centre in 5 minutes). A beach club next to abandoned wooden ruins is not uncommon. Catania is a bit Sicily unplugged.
Although decorated with a Michelin star, the restaurant Sapio is still an insider tip among Catanians. Here you are served fine Sicilian creations, albeit at a hefty price. For foodies, however, it is also a must-visit.
Catania Rcommendations
Visit: Fish market & Teatro Massimo Bellini
Dining: Le Tre Bocche.
For Foodies: Sapio.
Ragusa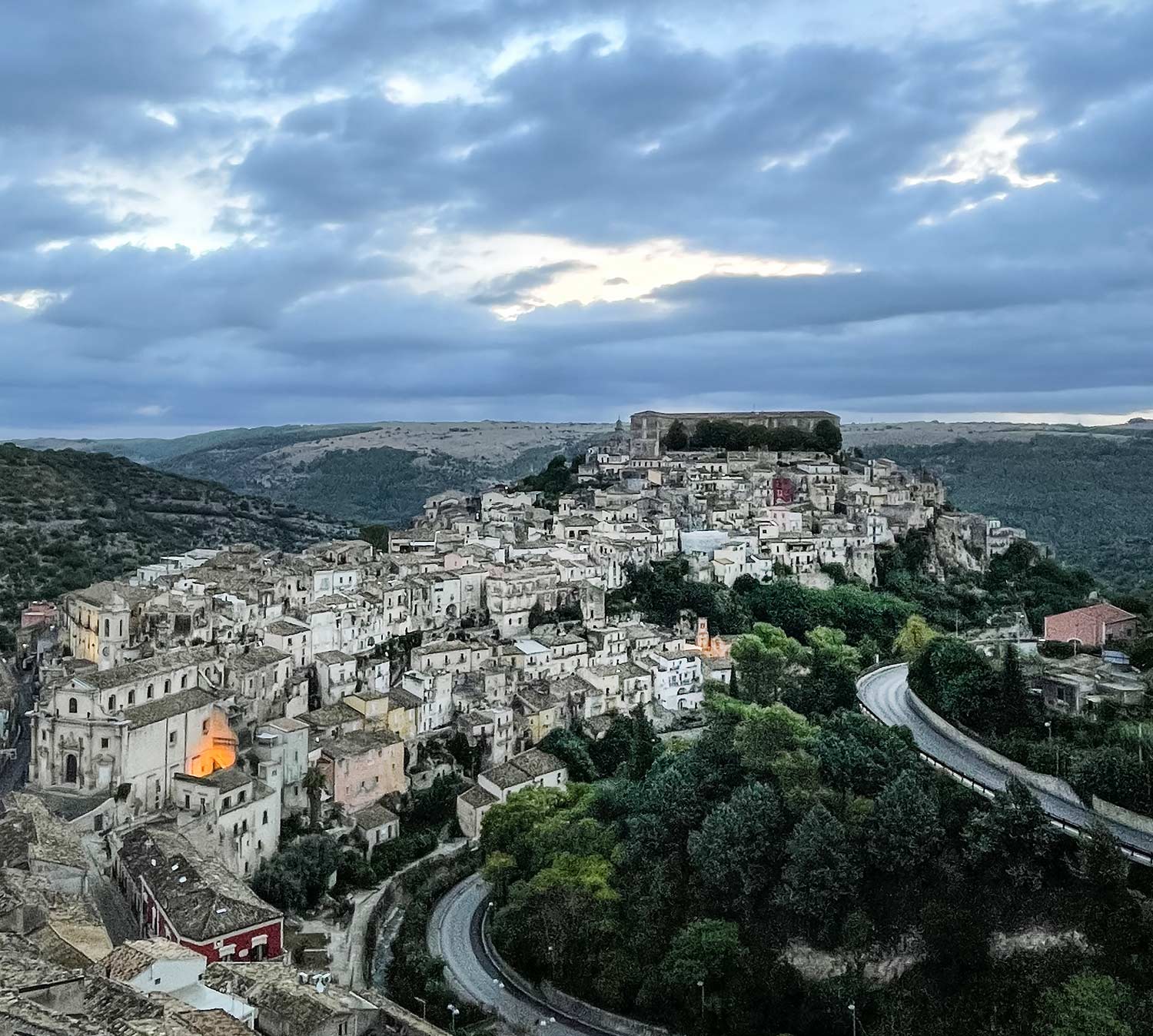 We go further south through small, partly abandoned villages towards Ragusa. A sea of houses that looks more charming on the pictures and posts than in reality. Ragusa dates back to the time before Christ, but was completely destroyed in an earthquake in 1693 and then rebuilt. You walk through narrow streets, but it's hard to see past the bars and hostels set up for tourists. It is exciting to visit Ragusa and the neighboring village of Modica, but you don't necessarily have to stay here for long.
That's why we recommend the Tenuta Cammarana farm, about 20 minutes away, as accommodation. Sylvia La Padula and her husband, the artist Giuseppe Pulvirenti, have opened part of their Villa Cammarana to guests.
There are five very charming rooms, some of which are very simple. The suite on the first floor even has a beautiful view of the sea and the beaches to the south. They are only 15 minutes away by car, which makes Tenuta Cammarana a very good starting point. The nearest beach is Marina di Ragusa. Highly recommended, with many small beach clubs and bars. But again, we are not on the Cote d'Azur. Everything is still very simple. Just Sicilian.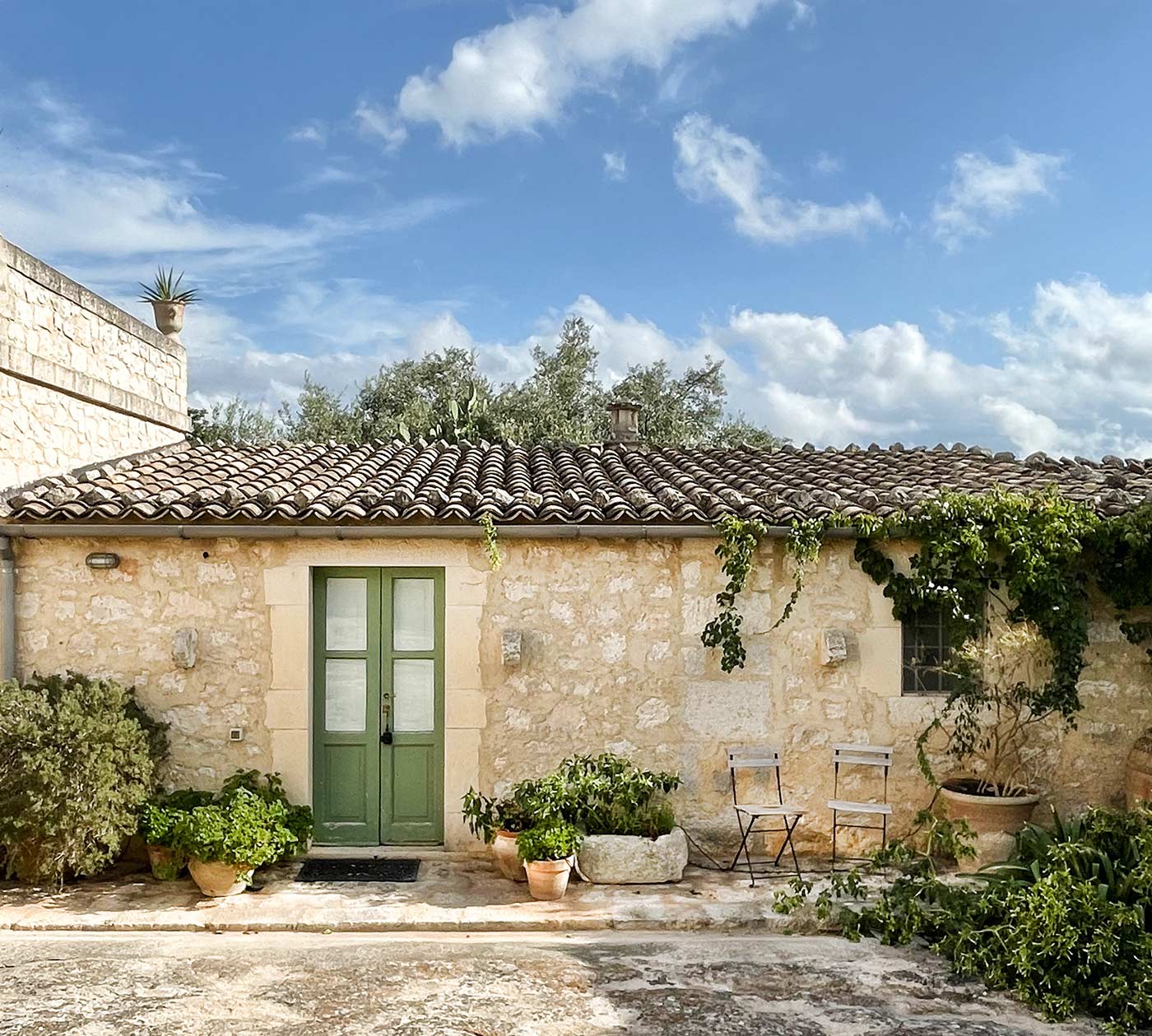 If you want, you can order dinner for the evening at Tenuta Cammarana. Depending on the weather, you can sit in the garden or the orangery and enjoy the kind of food you've read about in books and reports about Sicily: excellent home cooking.
Stay
Tenuta Cammarana
97100 Donnafugata
DZ from 160 euros
Sicularia
From Ragusa, we head west on the southern side of the sea. The roads now become lighter and the surroundings resemble a desert. Every now and then you see very deserted villages, beige hills, no trees. We drive to Agrigento in about three hours. On several hills there are Greek temple ruins. Every now and then you find a bar with bizarre furnishings and good coffee. A road trip like in Arizona.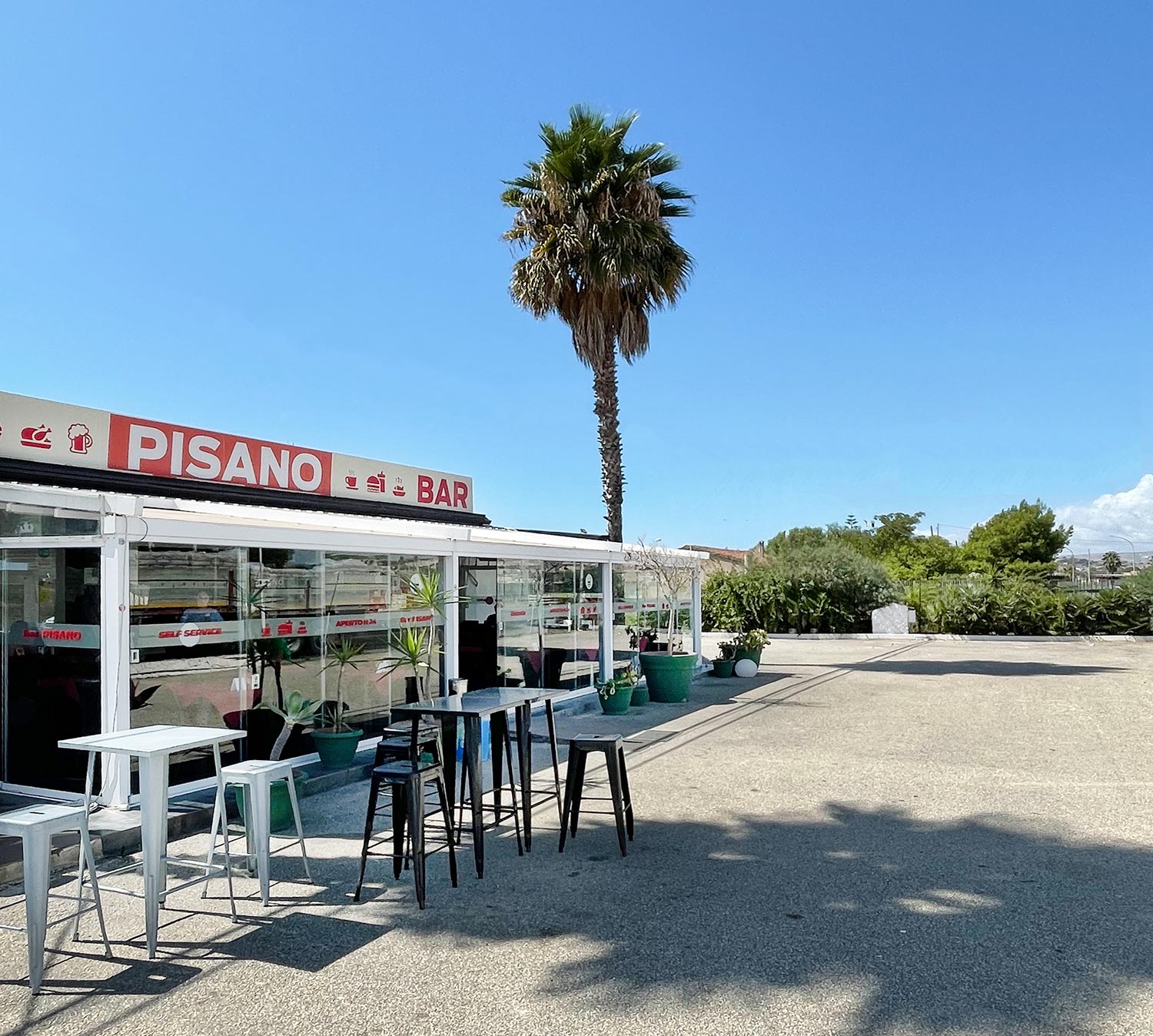 At Montallegro we turn onto a small coastal road. It leads to a new hotel. The Adler Spa Resort Sicilia. It is owned and built by a South Tyrolean family who have fulfilled their dream of a hideaway by the sea. As the name suggests, it is a resort with a lot of wellness and comfort. And after one visit, one has to conclude: It's a pretty ideal end to a trip to Sicily. Because after a lot of rough nature, noisy cities and the constant challenge to find good restaurants, you can now let yourself be pampered in the Adler Resort.
You have breakfast with a view of the water and after dinner you stroll into a wonderfully air-conditioned room whose walls were whitewashed from the red volcanic stone of Mount Etna.
Stay
Adler Spa Resort Sicilia
Contrada Salsa
92010 Siculiana
Sicily
©Pretty Hotels 2023