Chesa Salis is situated in the center of Bever, a small, peaceful suburb of the famous St. Moritz, near the Samedan airport. Of course even Chesa Salis can't free itself from the flair of this mecca for winter sports, which is immediately noticeable in the lobby, where the house is characterized with a few chic elements. But Chesa Salis is completely different to the big 5-star hotels in downtown St. Moritz. Those, who are familiar with the Engadine know, that this place is full of hidden beauty. Especially in the summer.  
Some of the rooms are really stunning: The Rodolfo room for example, is a jungle made out of Swiss pine wood. Even though the new hosts, Sarah Wild and Uwe Schmidt have strewn a few modern accessories around the place, it is very cosy and authentic.
Chesa Salis is quite a historical place: This Engadiner patrician house dates back to the year 1590 and belonged to the estate of the Engadine nobility, the von Salis family. The outside facade was adorned with the typical Engadine sgraffiti by the architect Nicolaus Hartmann in the year 1880. The structure is basically just painted on. However, the stucco is real in the bright Salis-room, which manages without any wood at all.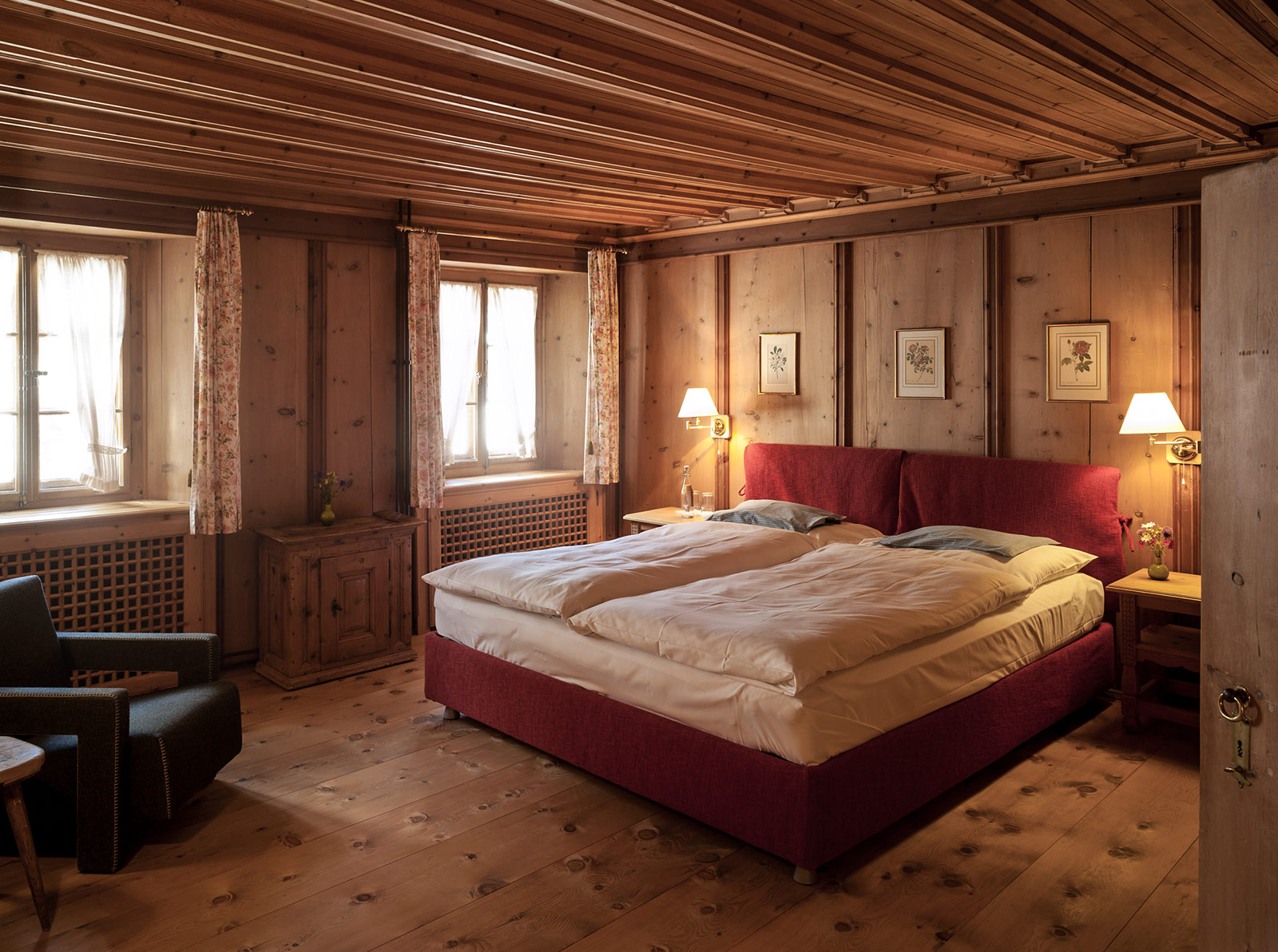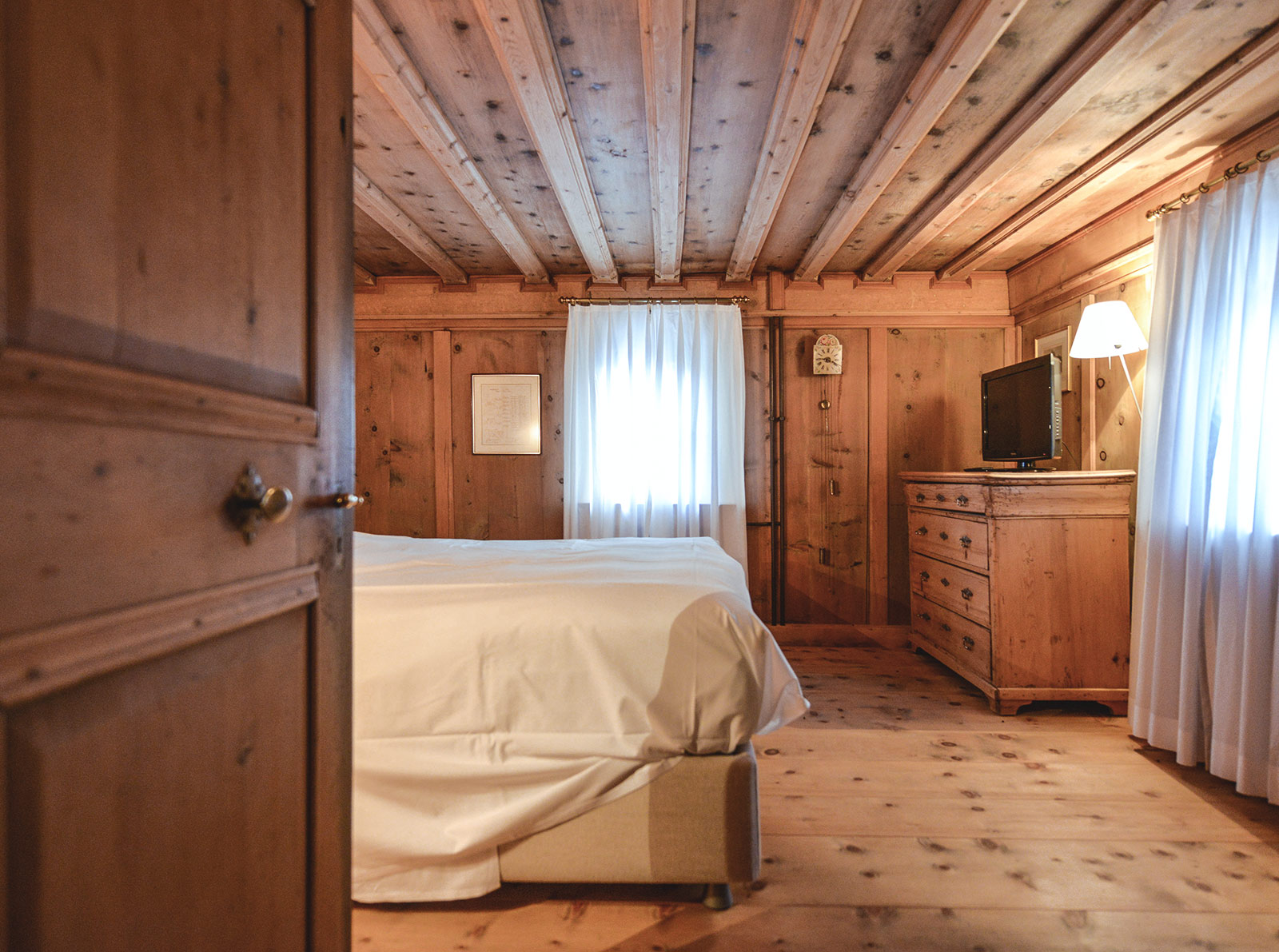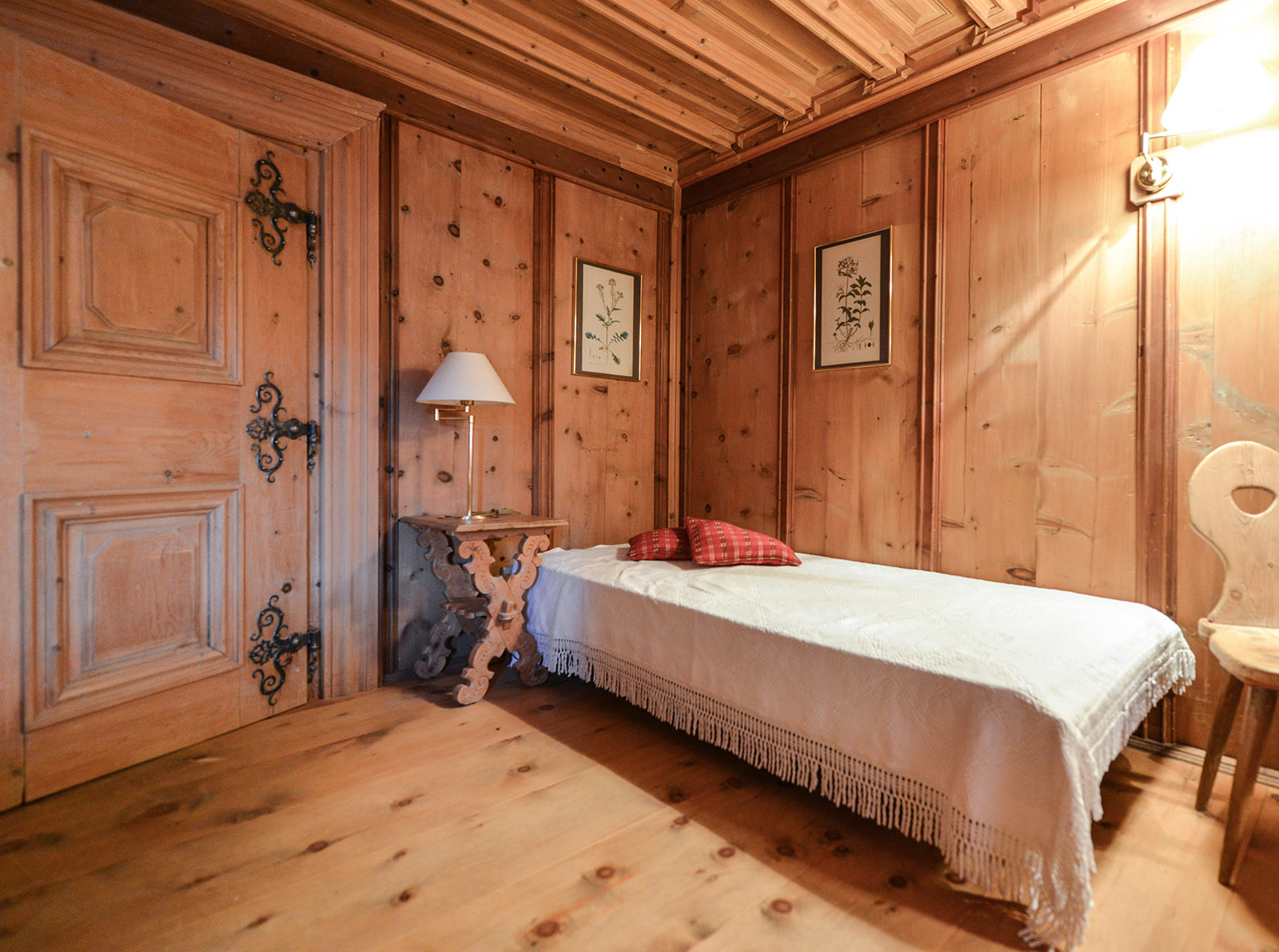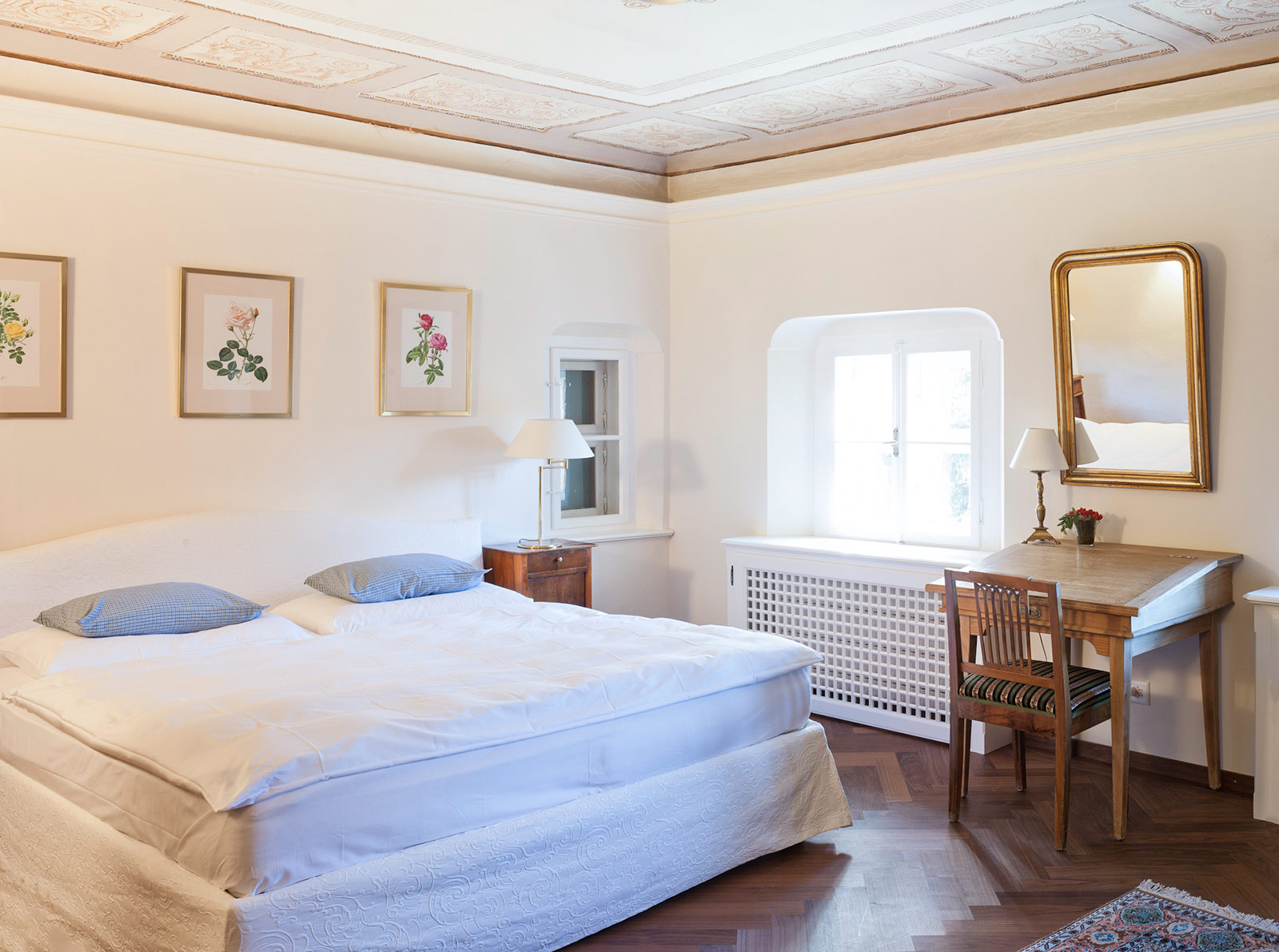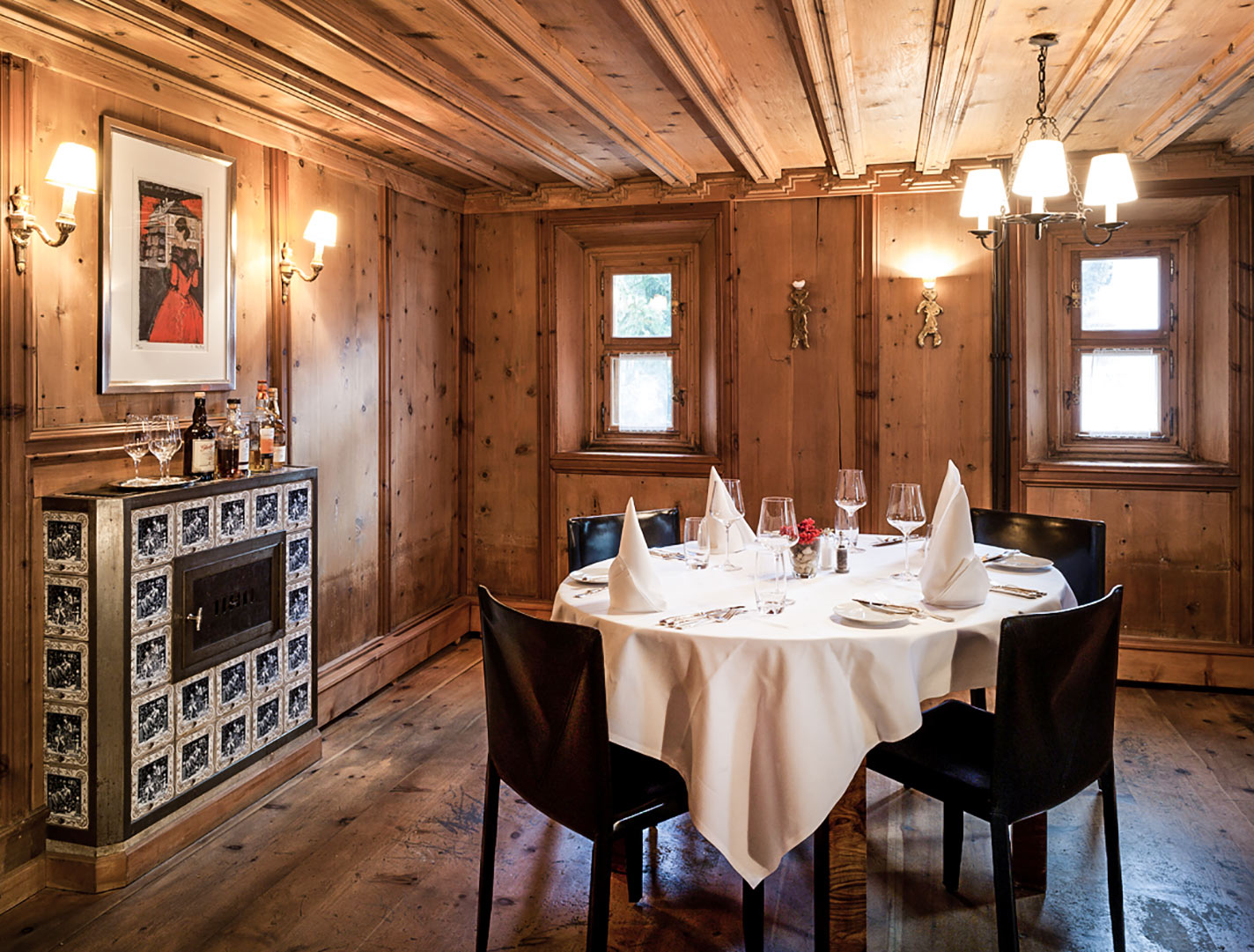 Culinary delights
At the moment Chesa Salis only offers rooms on a B&B basis.  Those who want to dine within the Chesa Salis family, can book an arrangement with half board and get their romantic dinner at the nearby Chesa Spinas. It is located in the beautiful Val Bever and you can either walk there or take a train or bike – or take the horse, which would be our favorite. The mountain hut also belongs to the Degiacomi family.
An it is only eight minutes with the ski-bus to get to the well-known Corviglia ski area. St. Moritz village is about 10 minutes by car.
Prices
Doubles from about 170 Swiss Francs (160 Euros) for two including breakfast.
Booking & Contact
Chesa Salis
Fuschigna 2
Bever – St. Moritz
Switzerland
Tel: +41 81 8511616
reception@chesa-salis.ch
www.chesa-salis.ch