Sometimes to get the whole picture you have to meet the owner. Tenuta Bertarello by itself is impressive but add Beatrice Peruzzi – mother of three and hospitality entrepreneur from Milan – and you have found the heart and soul of this breathtaking hotel. Not only did she discover the old stone villa (with roots dating back all the way to the 1700s) she also renovated it and turned it into a modern Roman sanctuary with great energy. Her perception: a farmhouse to be shared with family, friends and international guests of the curious type.
Consider yourself welcomed with warmth and open arms. At least that's what happened to us when we visited. Upon our arrival candles were already lit on our table, a fire was burning in the fireplace making us feeling cosy right from the start. Striking features catch the eye almost instantly … like the embroidered linen napkins or the cooking pots. The pantries, the wooden toys and the deacon porcelain must have been manufactured when Sophia Loren was still a child.
If this is your thing, you really come to love this place.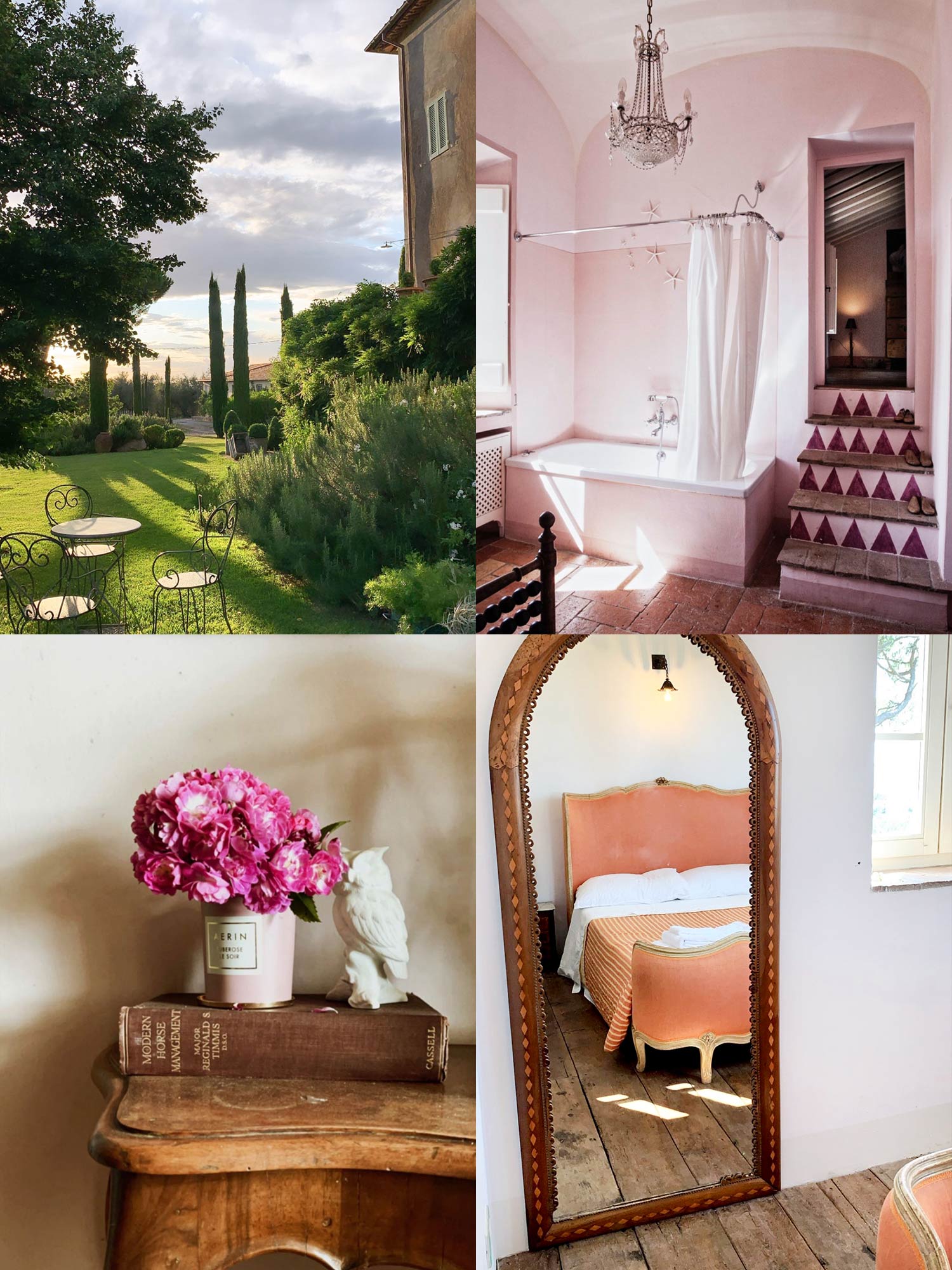 The building itself is also quite authentic. Prepare to experience simplicity and embrace Italian country life at its best. Beatrice revels in organizing picnics or cooking classes. If you really want to get down to basics, take a peek at how the local shepherds make cheese. Or: Prepare theme-based menus with lots of ingredients from the garden. Pair that with rare gems from local vineyards and you really are in for a treat.
In autumn you can help picking olives and then – if you wish – take part in the olive oil making process (highly recommended). By the way, the Bertarello Olive Oil is not only sold here on the farm but also in Milan, where Beatrice actually has her home base. Side note: She also runs a restaurant and a bar there.
We love
The huge garden with the swimming pool, which frames the house and the surrounding buildings and offers various corners to relax. Reading a good book with a glass of wine on the side — wonderful idea. The mood? Think of olive groves, vegetable gardens, blue sky, torquoise water and chestnut groves in the distance.
The Tenuta Bertarello is a refuge, a nest, a house that eludes the typical standards  of vacation resorts.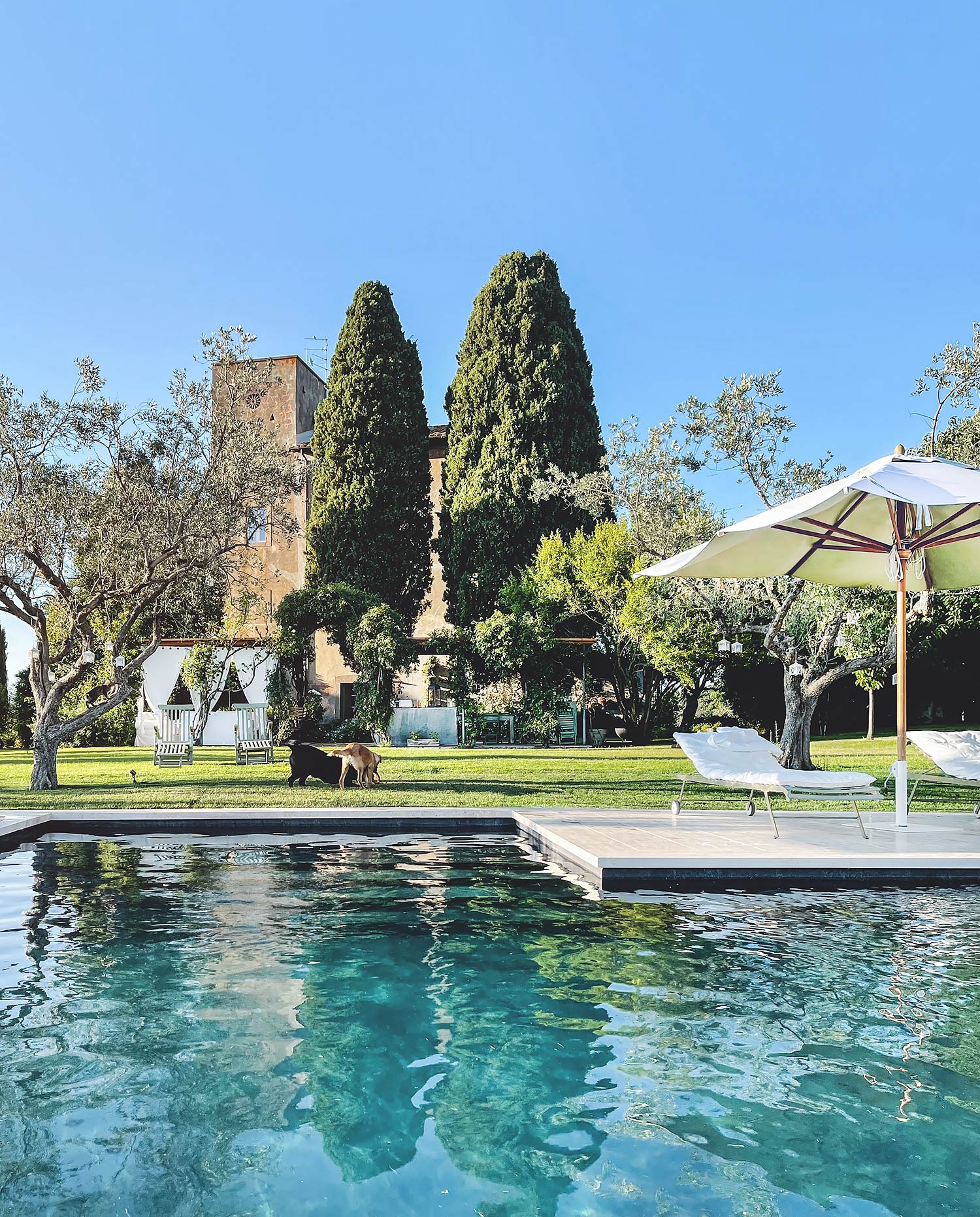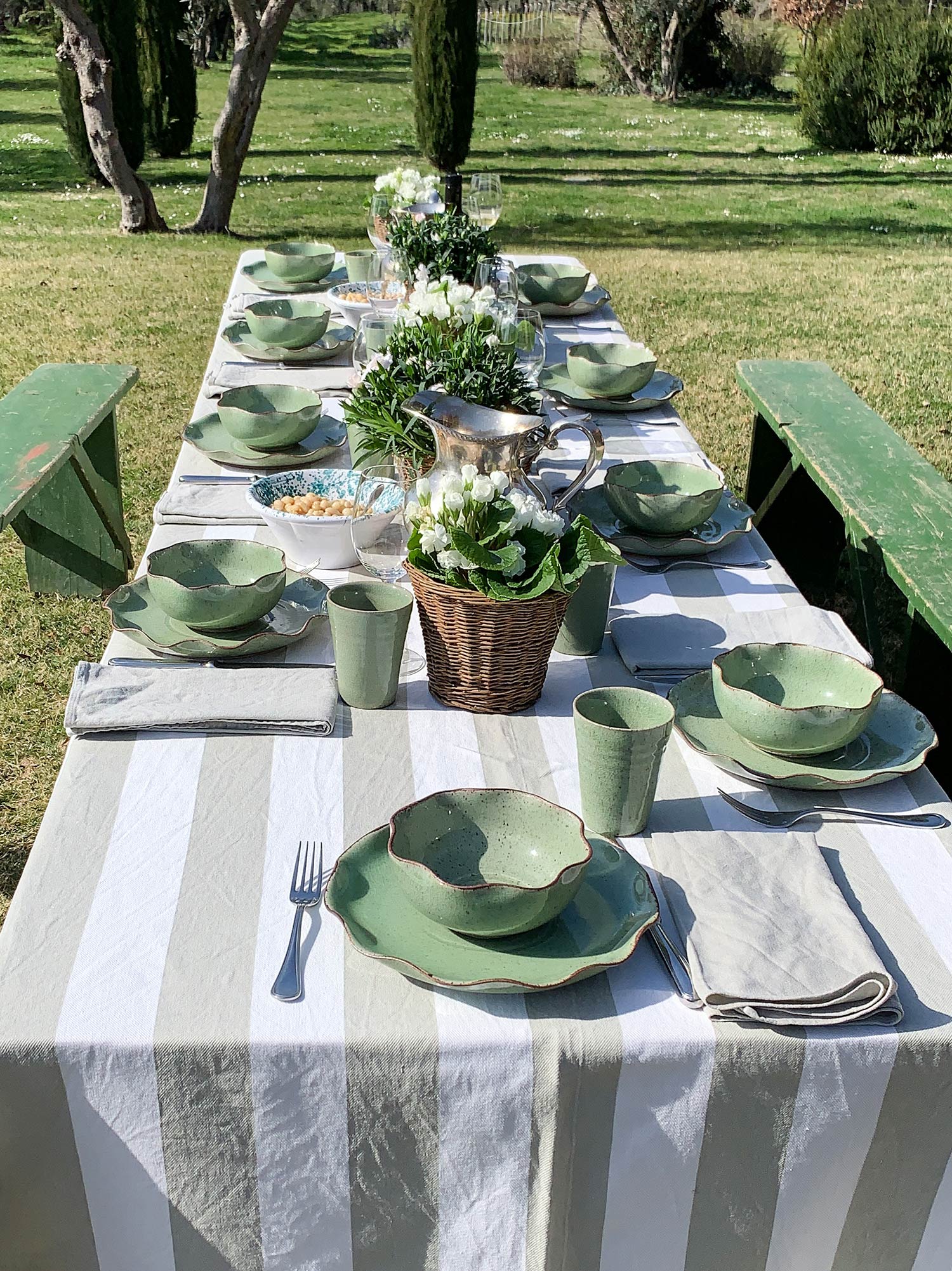 THE ROOMS
The main house consists of three apartments. Each apartment has a double bedroom, a room with two single beds, a bathroom with a tub, and a living room. On top of these, there is a very large master bedroom with a king size bed and a bathroom, and another room with three queen size beds and its own bathroom.
Honestly speaking, the rooms are all quite special, some have a stone floor with tiles from the 70s, some have an ancient parquet floor and most of the beds are historical. Bertarello is not even close to being a design hotel but much rather a check-in to a journey through time. And of course you can also rent the whole house – we`d recommend it for up to 14 people.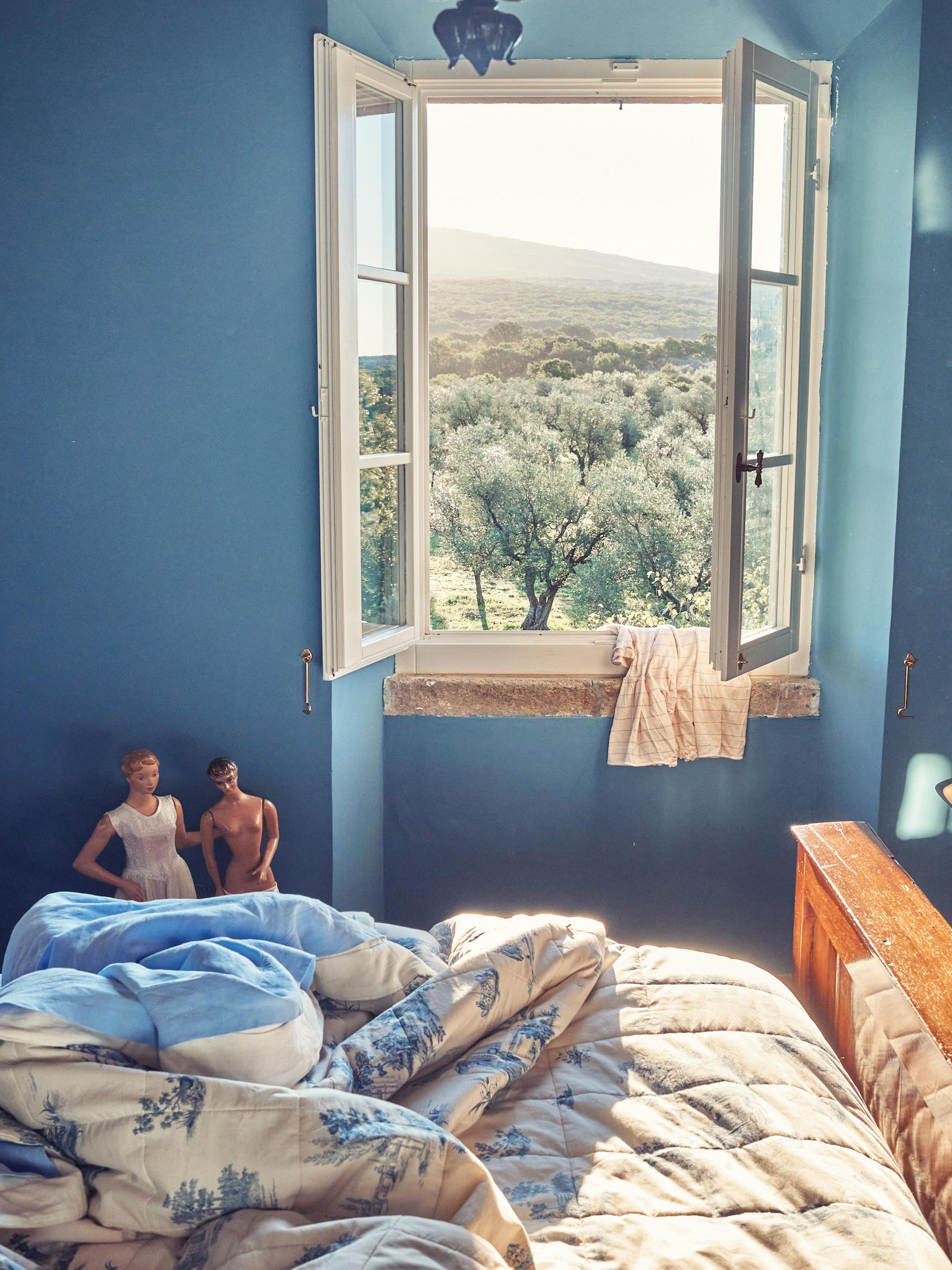 CULINARY
Upon reservation, guests may lunch and / or dine at Tenuta Bertarello. In summer, the freshly prepared dinner is served in the patio, in colder months you can dine inside the house.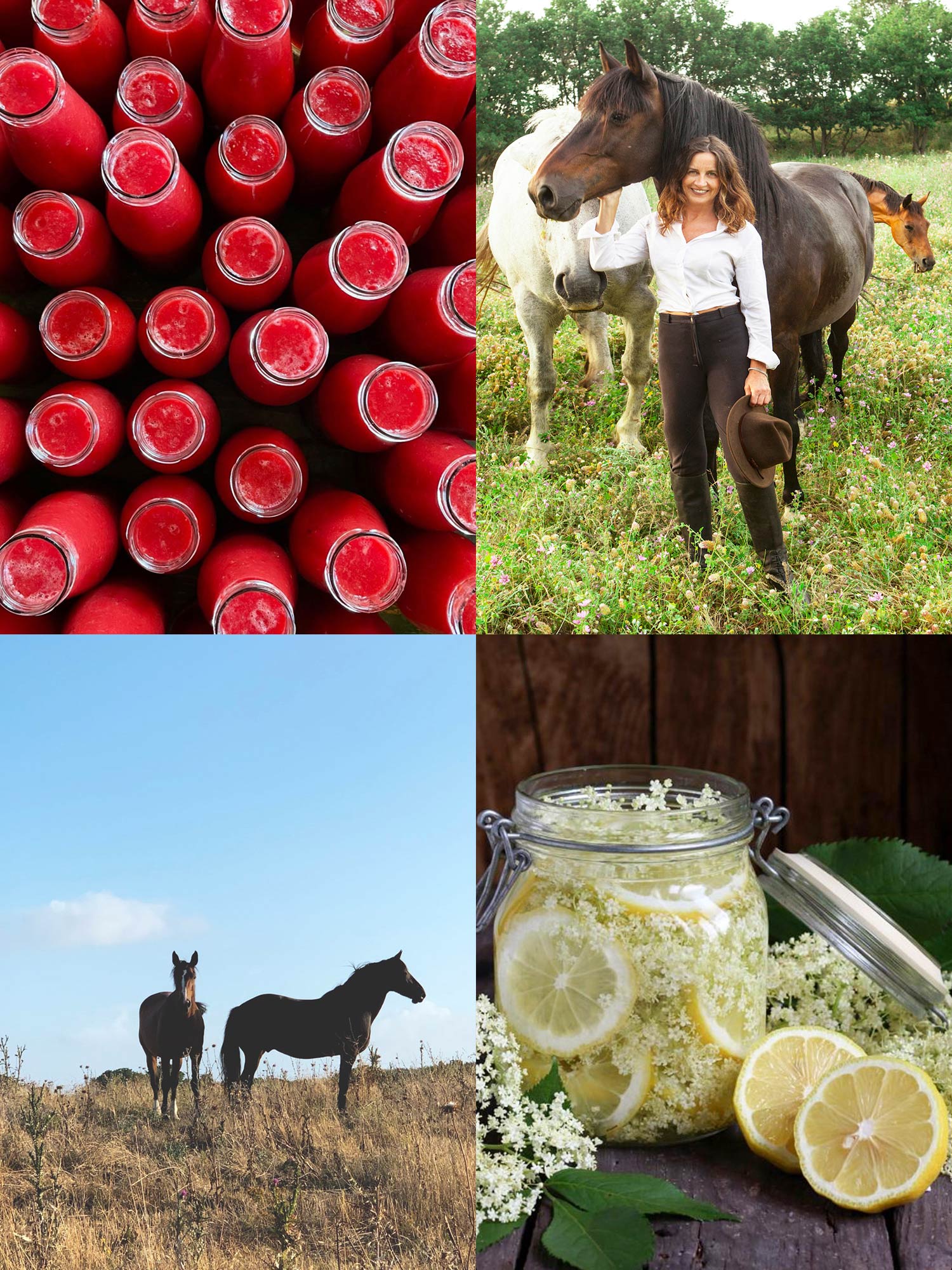 What`s cooking? Wild herbs, edible flowers, homemade pasta, fresh cheese, genuine meat from local pastures, organic eggs from the farms chickens, all seasoned with the organic Bertarello extra virgin olive oil.
SURROUNDINGS
Bertarello is ideally located to discover the treasures of central Italy. Rome is only 1.20 hours by car for instance. We`d recommend Viterbo (15 min), where every year on September 3rd you can see the passage of the Santa Rosa carriage, which has been included in the UNESCO World Heritage List since 2013. You should also visit the many small historical villages nearby, architectural gems that are enthroned on cliffs and hills: The Etruscan necropolis of Tarquinia, the Baths of the Popes, Villa Lante in Bagnaia, Palazzo Farnese in Caprarola, the Moutan Botanical Center, Lake Bolsena and Vico, the ruins of Ferento, where a very special theater season takes place in summer. Trust us, you won't run out of sights to see …
SPECIAL
Beatrice also owns a boutique hotel in Lima, Peru. It is called Quinta Miraflores and it is also a pretty place. Make sure you plan a Peru – Bolivia vacation once in your life. When we did this, it was one of our most beautiful trips in the last years.
Prices
350 euros per person including breakfast.
Kids
Are welcome.
Booking & Contacts
Tenuta Bertarello
Strada Pontarello, 81 Località Tre Croci
01019 Vetralla (VT) – Italy