Just a little geography, so we know where we are: Deep in the German south, holidaymakers love the Allgäu region, which is famous for its hilly landscape and old wooden houses. Some might even compare it to Tuscany in Italy. And right on the border to the famous Bregenzer Wald in Austria, Anja Engelke and Michael Schott have fulfilled their dream of a modern and cosy guest house.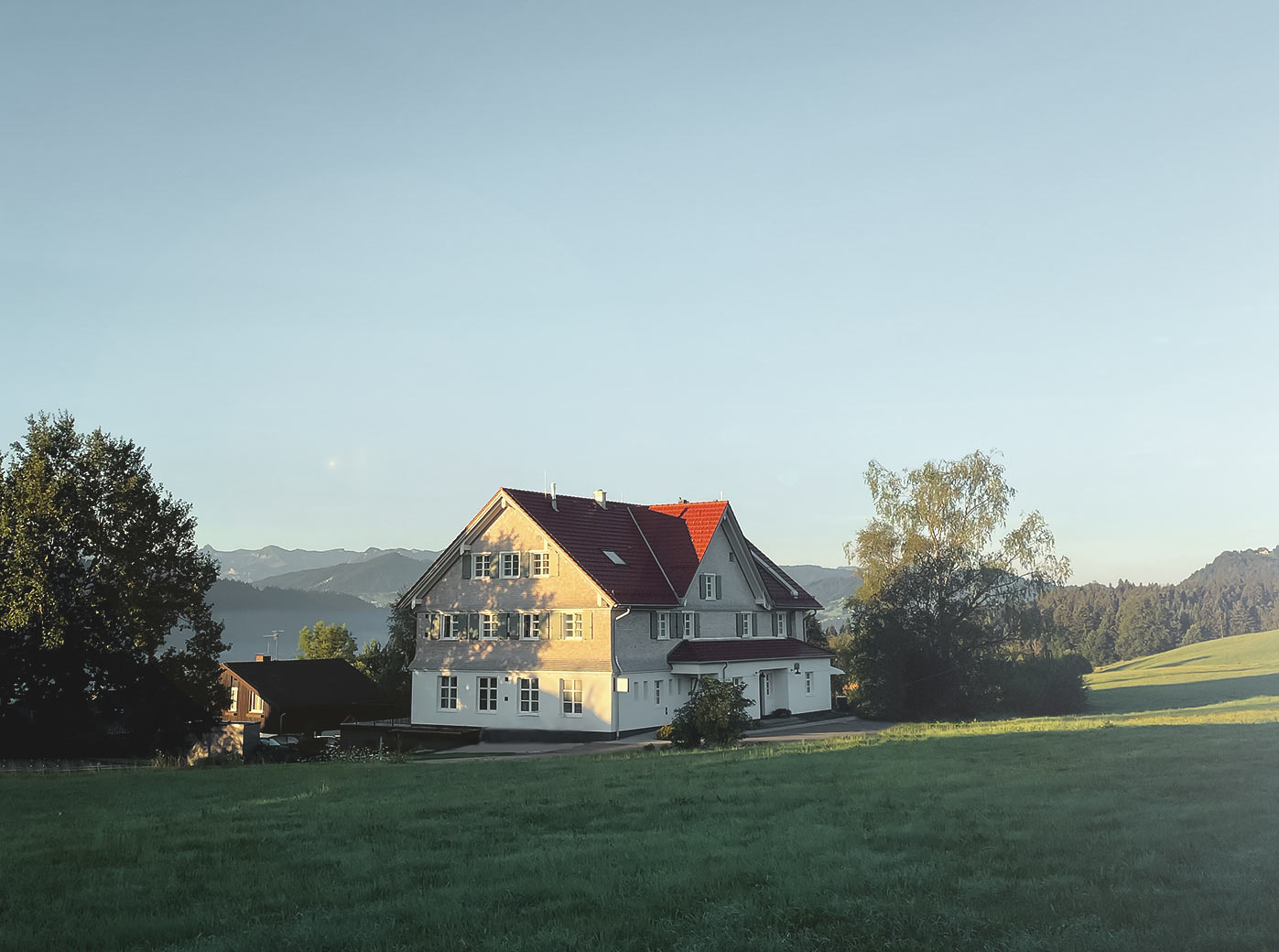 There is quite a bit of history to be told about the property. Before Anja and Michael built the house, they bought an abandoned schoolhouse on this site. After trying to rescue and renovate the building, which dates back to 1930, they decided to start from scratch. But with a lot of effort, they kept the idea of the German Schindelhaus – with wooden shingles on the facade and rooms with high ceilings flooded with light. If you think of The Alpenloge as merely an investment project think again. It is rather a project of the heart by two hosts who are all about taking care of each and every guest. Of course, they both had a life before they transformed into innkeepers. Anja was working in the promotion of civic engagement in Hamburg, Michael worked as a photographer and post-productioner with his own studio.
On a more personal note: We were quite happy to hear that our website was motivation and inspiration to open the Alpenloge!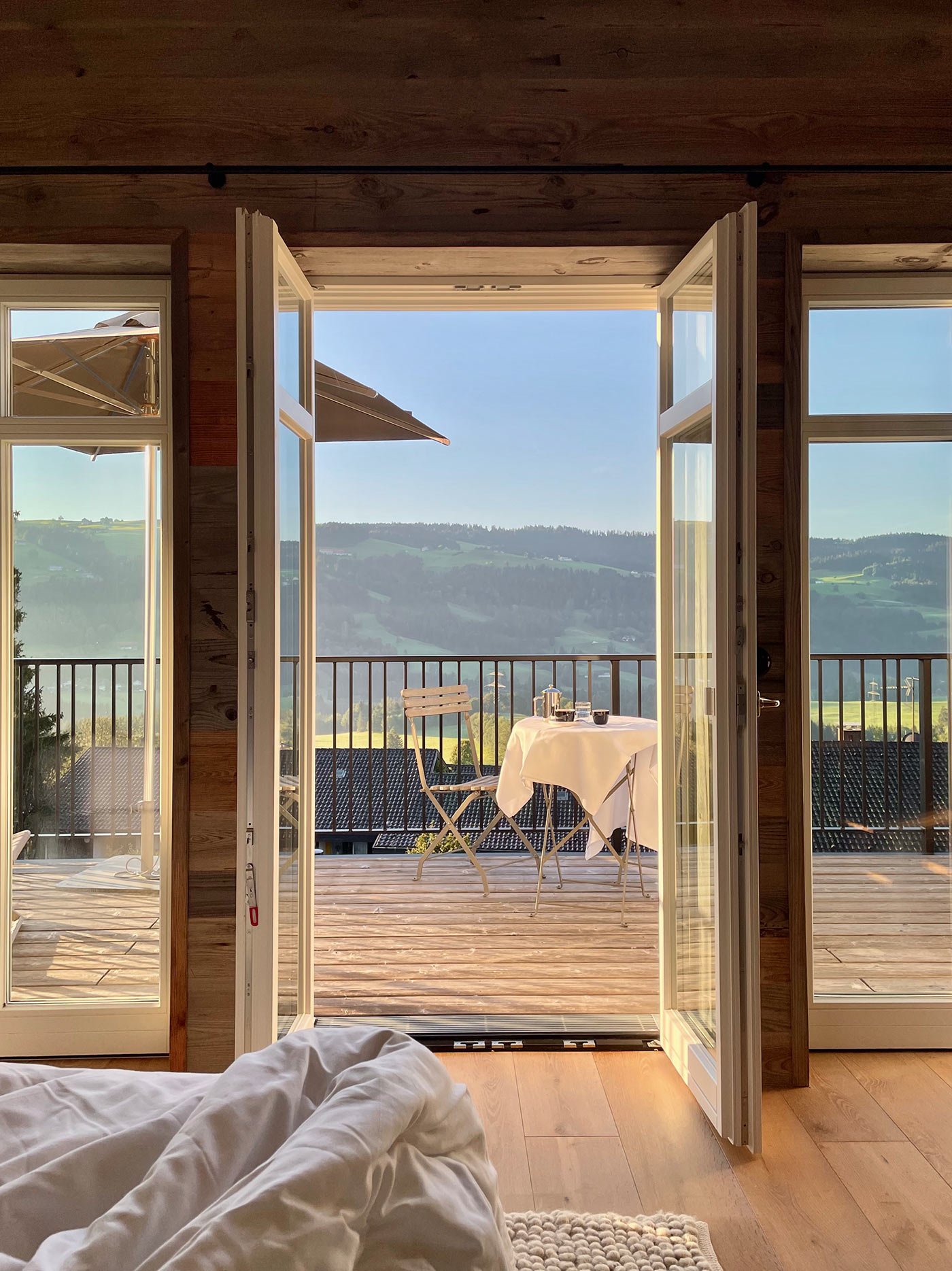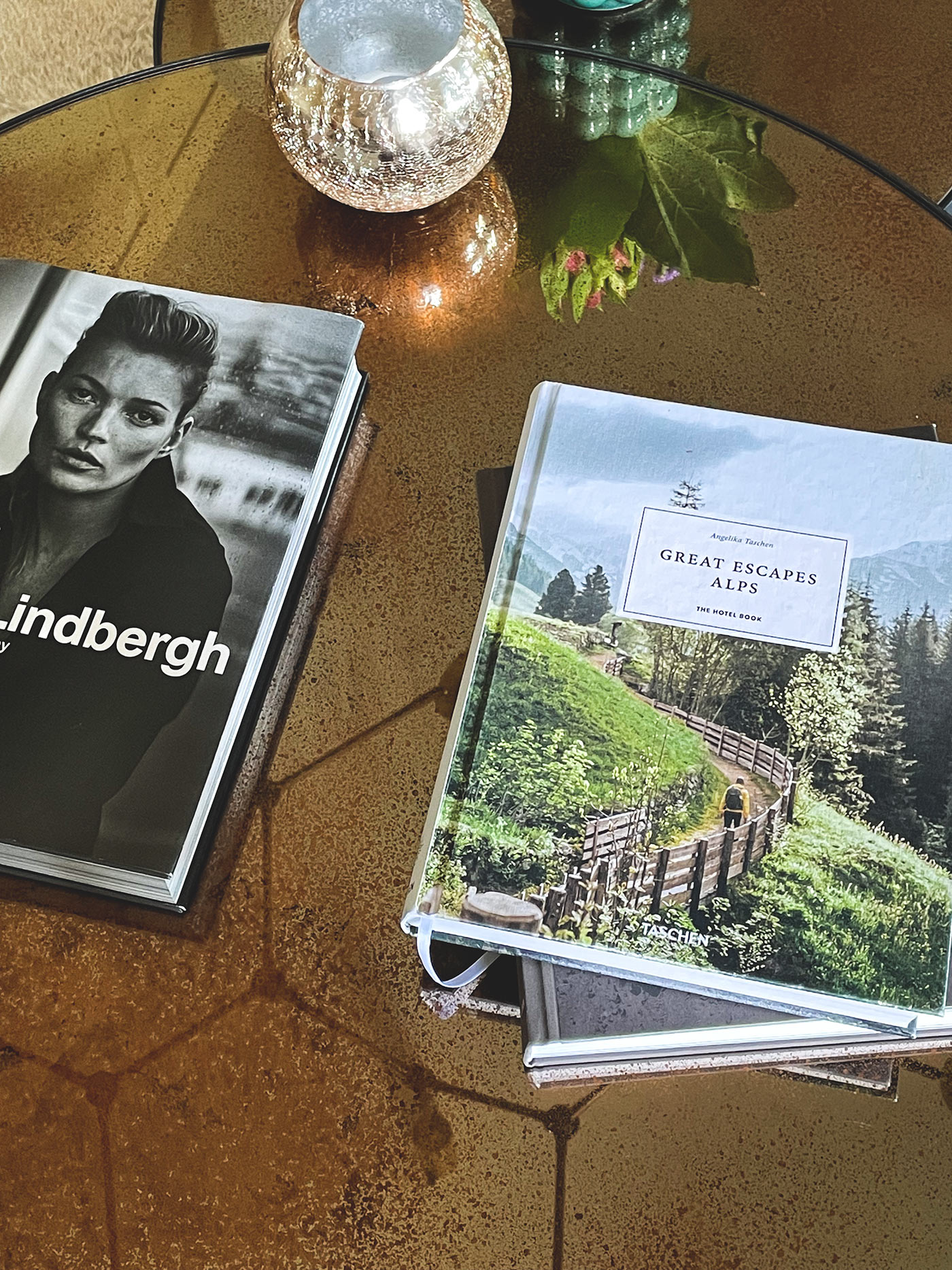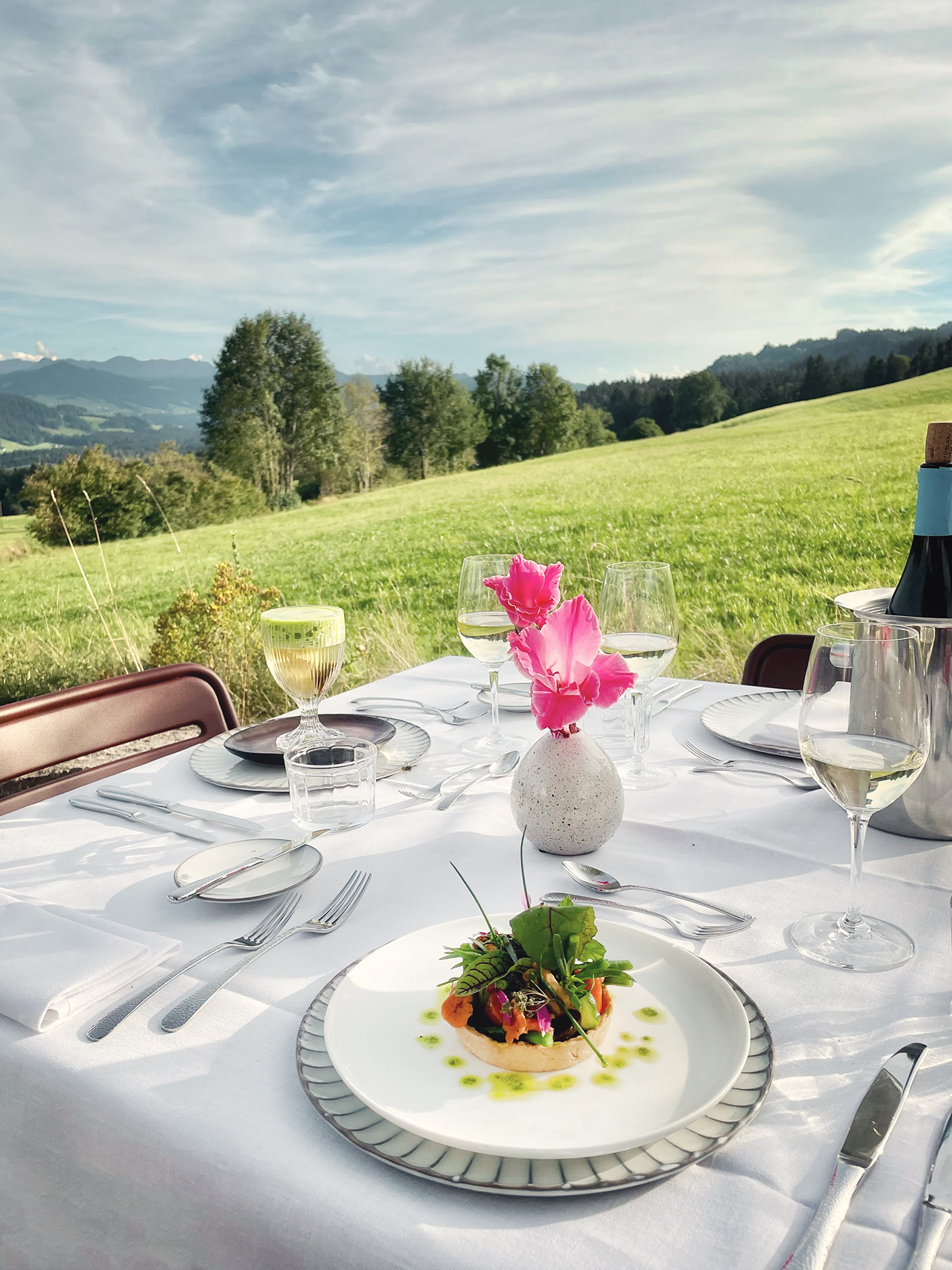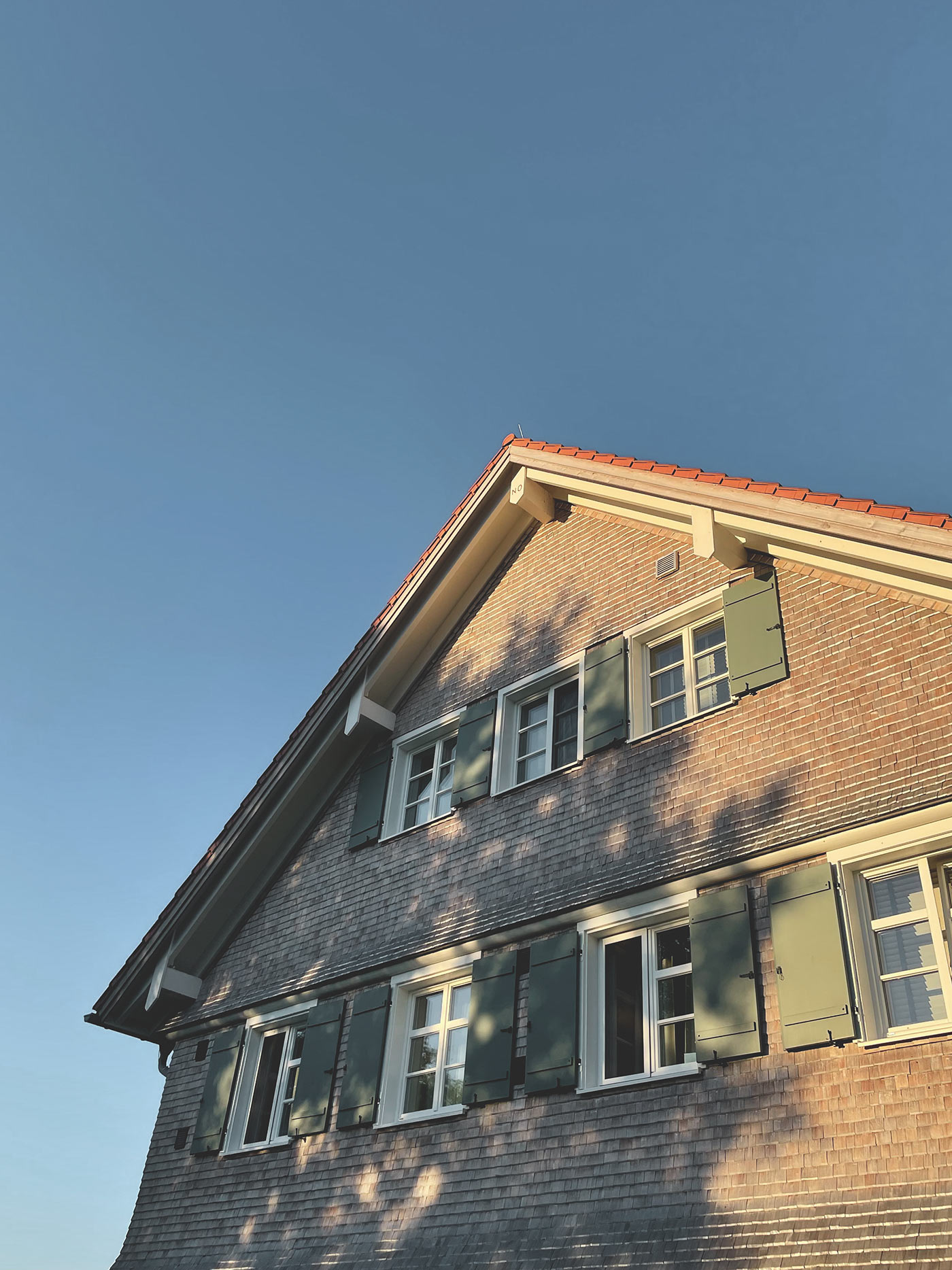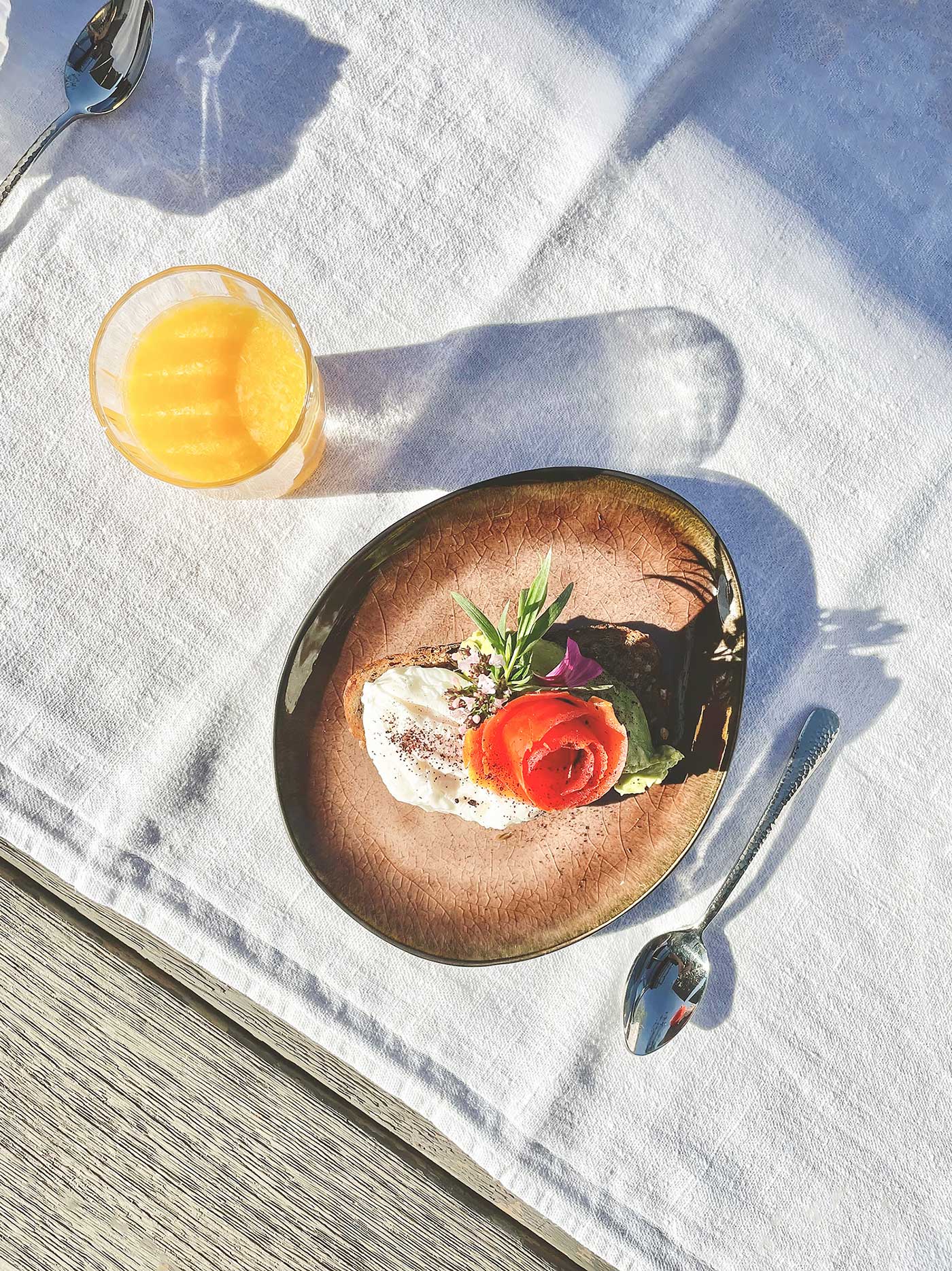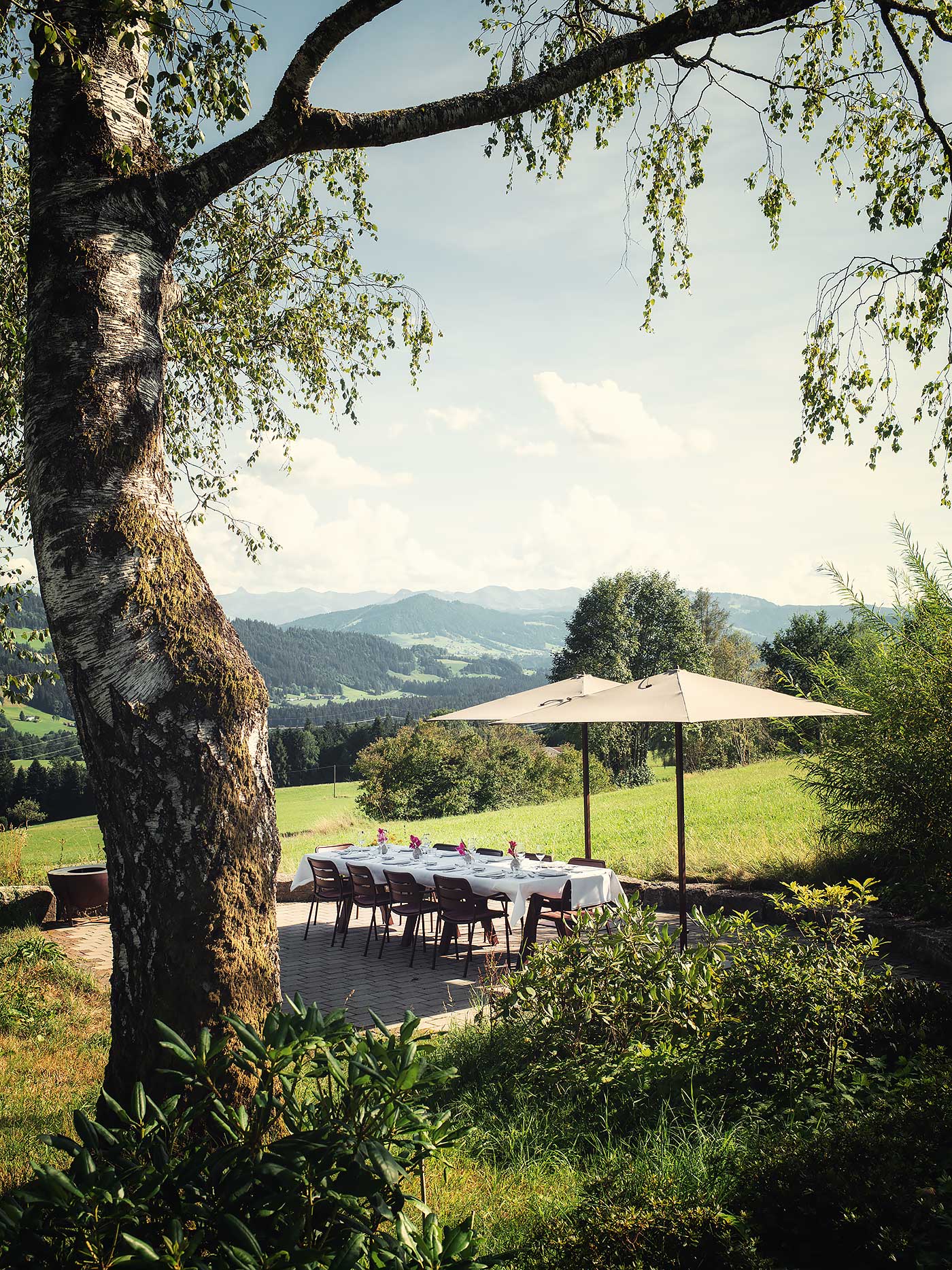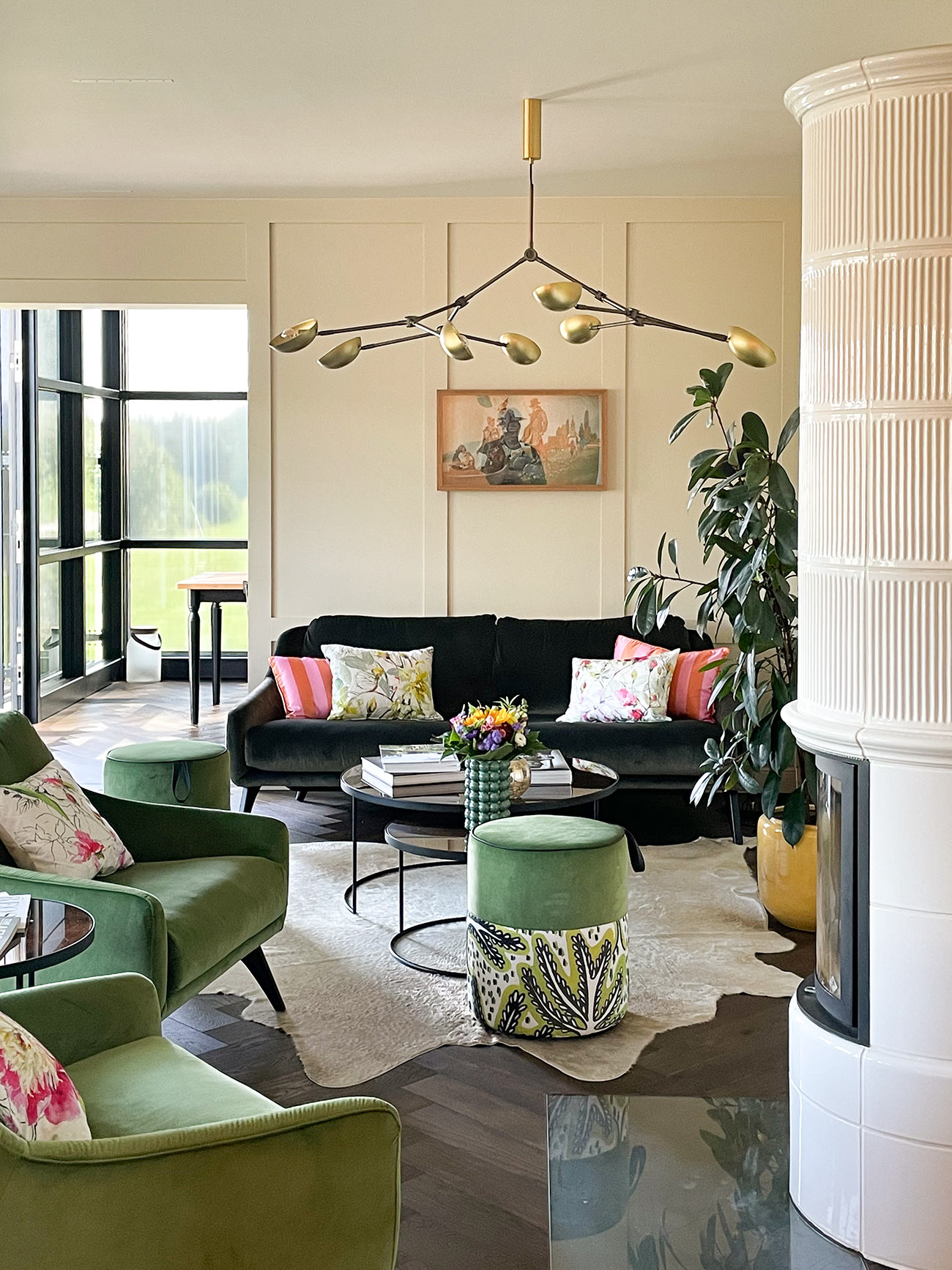 The Alpenloge is a haven of good taste. The salon, the coffee table books, the food and the whole atmosphere is just gorgeous.
On a more personal note: We were quite happy to hear that our Pretty Hotels was motivation and inspiration to open the Alpenloge!
But back to Anja and Michael. They created such a spectacular place that once you have moved in you do not want to move out ever again. Because everything is of the utmost quality. For the better part of five years they went to every furniture fair and exhibition imaginable in their quest for just the right materials and applications. The results speak for themselves. The beds are from Schramm, the light switches from Berker from the matching 1930s collection, the fittings from the Nicolazzi manufacture.
There are nine rooms in total, six of them suites, varying in size between 30 and 60 square meters. We liked the two suites number seven and eight in the attic the best. Especially for city dwellers, they are a real highlight. One looks through the almost four meter high glass front straight into the Allgäuer mountains. If it were your apartment, you wouldn't move out again … we did mention that already?
WELLNESS
Oh, there is plenty of that. Around 180.000 square meters of it to be slightly more precise. Right in front of your door step. Climb up on one of those E-Mountainbikes and cruise all the way up to the Hirschberg, take a hike around the Bregenzer Wald or venture out for a dip in the near Bodensee, 20 minutes away. Of course, the Alpenloge does have its own spa featuring a large sauna, a steam bath, a comfortable relaxation room and a small massage parlor.
CULINARY
Look no further than their own restaurant that is exclusively catering to the in-house crowd. In the morning an opulent breakfast is served in a cozy setting. Just bring enough time to enjoy coffee and those succulent egg dishes. There is also a neat little place in the lounge next to the fireplace to enjoy a first coffee in the morning. In the evening, choose from a lovely selection of delicacies – all healthy, organic and for the most part locally produced. Think simple but with a twist. The credo of this particular place: You are on holiday so treat yourself to something good. That generously applies to their selection of wines as well.
Ideal for
Couples seeking for a romantic hideaway. Children are allowed to stay, but it`s not the kind of typical kids club place.
Combine with
The Alpenloge is located at the entrance to the mountains of the Bregenzerwald, so a combination with the Hotel Hirschen in Schwarzenberg (which is also a culinary stronghold paired with beautiful natural scenery) is recommended. Also recommended is the combination of Alpenloge and Signau House & Garden in Zurich. One week in the mountains and three days in Zurich City. Perfect.
Price
Doubles from 270 euro (for two) including breakfast.
Bookings & Contacts
Alpenloge
Kirchenanger 6
88175 Scheidegg
Allgäu / Bavaria
Germany