When you meet Klaus and Carmen, you always see a couple brimming with positive energy. We sit down at the house bar, which is to the left in the hotel foyer. Exactly the spot where guests and drinks mingle and interesting conversations ensue.  Something the two hosts encourage to happen. "Guests should feel like they are in a local bar of any given South Tyrolean town even though we are 1,200 meters above sea level. From the very get-go we wanted to be anything but a boring, classic hotel," says Klaus, who is a bit more involved with guests and marketing as opposed to Carmen who likes to be in the back office and is also responsible for the employees … currently almost 60 and counting. But let's start at the beginning: How did the Miramonti Boutique Hotel become this magical place?
Where did you actually meet each other?
Carmen: Almost cliché-like … at the hotel management school in Merano. That was in 1999 … in our first year there. We are both native South Tyroleans. However, Klaus hails from Vinschgau and I come from Sterzing, a little further north towards the Brenner Pass.
Klaus: After we became a couple, I had high hopes that Carmen would join me in Vinschgau and that we would take over my parents' little guesthouse. But Carmen didn't see it that way (laughs). And our paths led us to other hotels. One of them happened to be the Miramonti Hotel, where we are now.
Carmen: Only it had different owners then and was a classic mountain hotel, a bit stuffy. But since we were the managing directors at the time we were able to get to know it quite well…
Klaus: …and learn to love it. Because even back then – more than 15 years ago – we already said that this place has a certain magic. This rock, the view of the mountains, of Merano, of the church. Plus the hiking trail behind the hotel and the proximity to Merano 2000, our ski area. These were all factors that made us say: "Everyone we know has to experience this once in a lifetime".
And yet you went to Austria first and ran a ski hotel there.
Klaus: Yes, that is the big difference when you are not the owner but the director. Changes were made that we didn't necessarily agree with and then you just move on after a few years.
Carmen: Yet we knew we wanted to do something on our own at some point – even if we didn't have a big budget. That path was always clear to us.
And then in 2010 the Miramonti was up for sale?
Klaus: There were several properties for sale. In the hotel industry, especially in South Tyrol, after the financial crisis of 2008 / 2009, there were a few businesses that had not been managed well and that were also complicated in terms of ownership structure.
Carmen: In the meantime, the Miramonti descended into the trusteeship of a bank, Erste Bank Austria, who were looking for a buyer. But of course they wanted to get a lot of money out of it first and foremost – it is a bank after all.
What did such a somewhat aging mountain hotel cost?
Klaus: We needed a fifth of the purchase price for the down payment and financing and that was a bit more than one million euros. The good thing for us was that we knew the house very well and roughly knew how much money you can make with it. So we set out to find the million. We didn't have it in the bank ourselves – I just asked my father if he could pay me out my share from my parents' business, so to speak. But that was not nearly enough.
So how do you get the money in such a situation?
Klaus: Believe it or not, besides our parents we actually asked well-known guests if they would support us. You know, as a young couple we were pretty motivated at this time. You have your personal goals and you would do a lot to achieve them. However, money is a crucial topic, especially with "friends" or guests. When we asked for a concrete sum, the initial loudmouth were suddenly a lot less enthusiastic. At the moment, their money was tight up somewhere else, they said.
Carmen: And yet – apart from some family members – there was a guest who lent us the money and we were able to buy the house – despite all the difficulties.
How did the Miramonti Boutique Hotel finally come together? Did you follow a precise plan?
Carmen: We both had the same vision for the house. But it was far from what it looks like now. The hotel was not perfect at all in the beginning and we had to improvise a lot.
Klaus: I still remember when our bank held a party up here and the number of paying guests was four in total. The bank was then in an adjoining room and the bosses asked me how things were going and I said: everything is just peachy. I really hoped that they wouldn't look into the dining room and see how few guests we actually had. But the first steps are always the hardest.
In 2016, you built the spectacular outdoor pool, which quickly became an eye catcher via social media. Was that also an important success factor in the Miramonti story, so to speak?
Klaus: Definitely. And it wasn't just the pool, but a completely new wellness area made of natural stone and the new "Owners' House" with new rooms, which had to finance the high investments in the wellness area. But yes, in retrospect, the pool had an enormous impact on future bookings. But I think it was also the overall concept. At the time, we also went completely new ways with Carina & Tanja from Nectar & Pulse in terms of photography – with vintage clothes and shots of an old Alfa Romeo. That didn't exist in South Tyrol at the time.
Carmen: Looking back, however, we have to say: We never thought that we would have to spend so much money. In the past years, we have invested almost 25 million euros. That is a lot of money.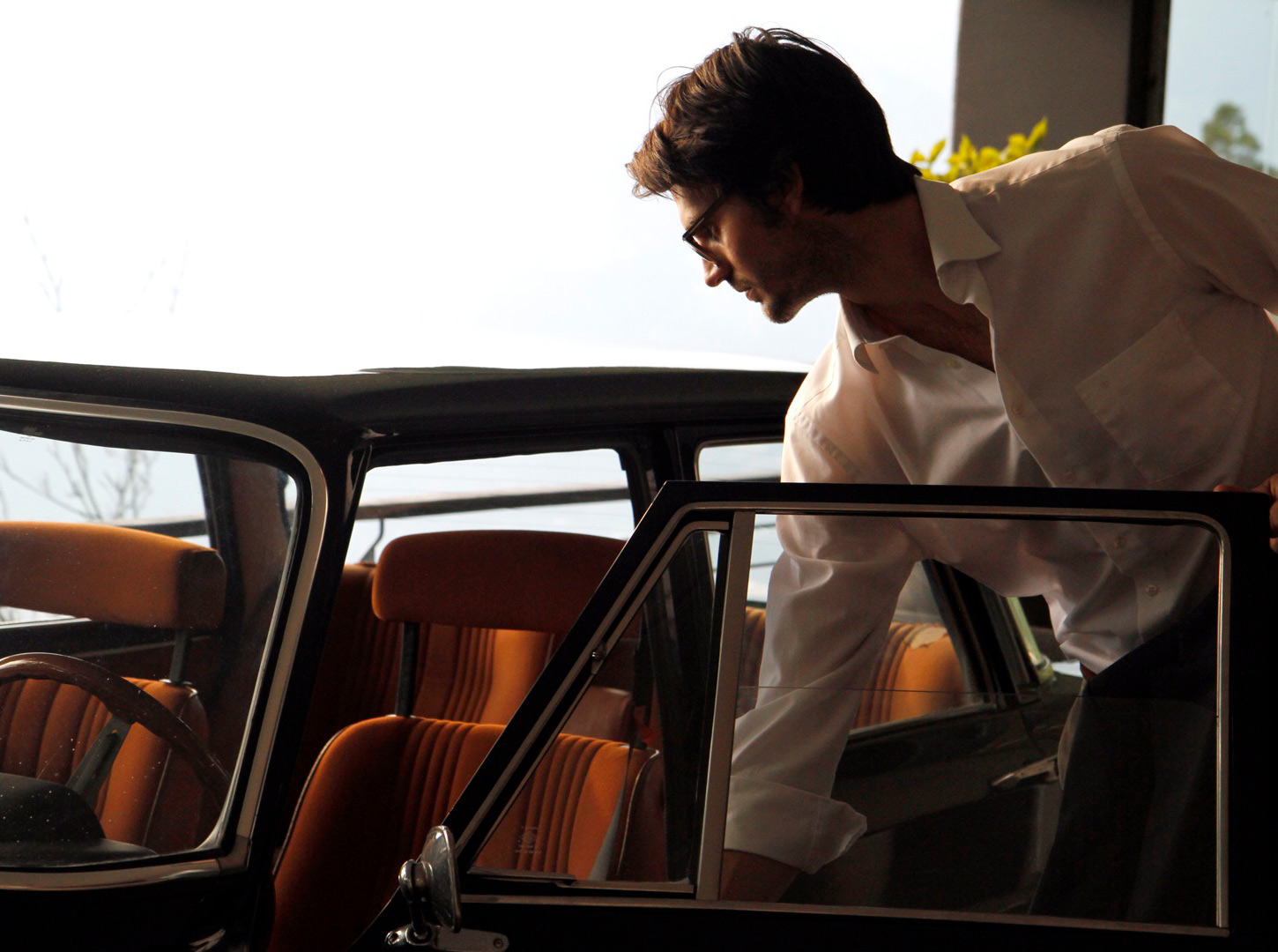 How important was it that you were "hands-on" in the hotel most of the time?
Klaus: Very important. You just prefer to go to a place where you know someone. Also with the staff, that's not to be underestimated. And we complement each other well. Carmen has certain strengths and I have other strengths. We have almost 60 employees now, and Carmen takes care of them, as well as the back office.
Carmen: And Klaus is the perfect host. I couldn't think of anyone better.
How would you describe the Miramonti today? What is so unique about this place. After all, it is one of the most successful hotels in the Alps…
Klaus: We always wanted a very harmonious hotel yet one that was reflective of the "Zeitgeist" so to speak. A hotel where the guest can find peace without feeling lonely. An American guest once said: You enjoy the silence without feeling lonely. I found that very fitting. I also like the phrase that was in Elle magazine: Hard to find, hard to forget.
Carmen: I think most guests appreciate the high quality they get up here. The architecture is simple yet spectacular, which is also due to this location and slope. And the feedback from the guests is really unique.
What advice can you give to those who want to venture into something similar?
Klaus: Our credo is "anyone can fulfill the dream of owning their own business if they put a lot of passion and courage into it – and don't just focus on the financial side."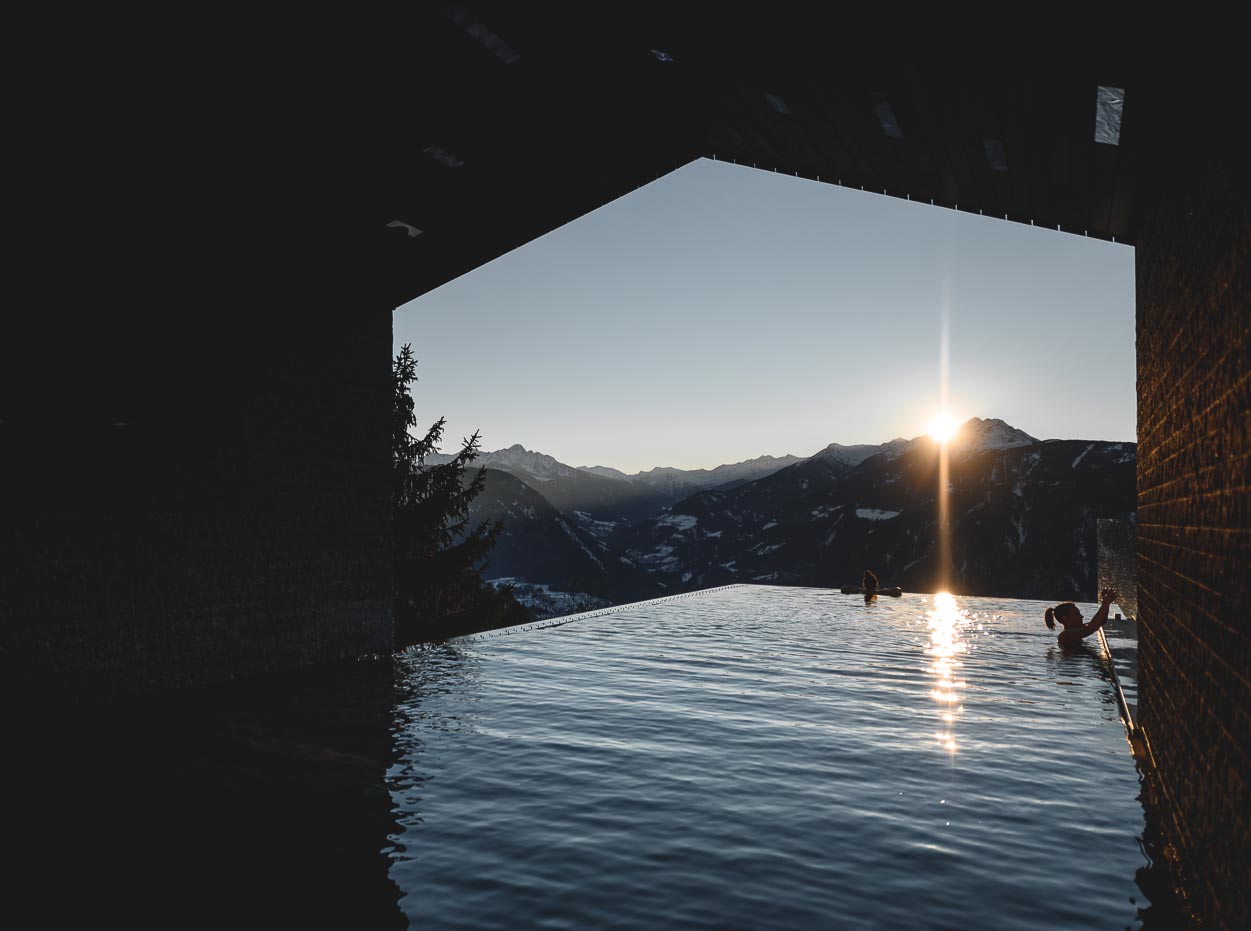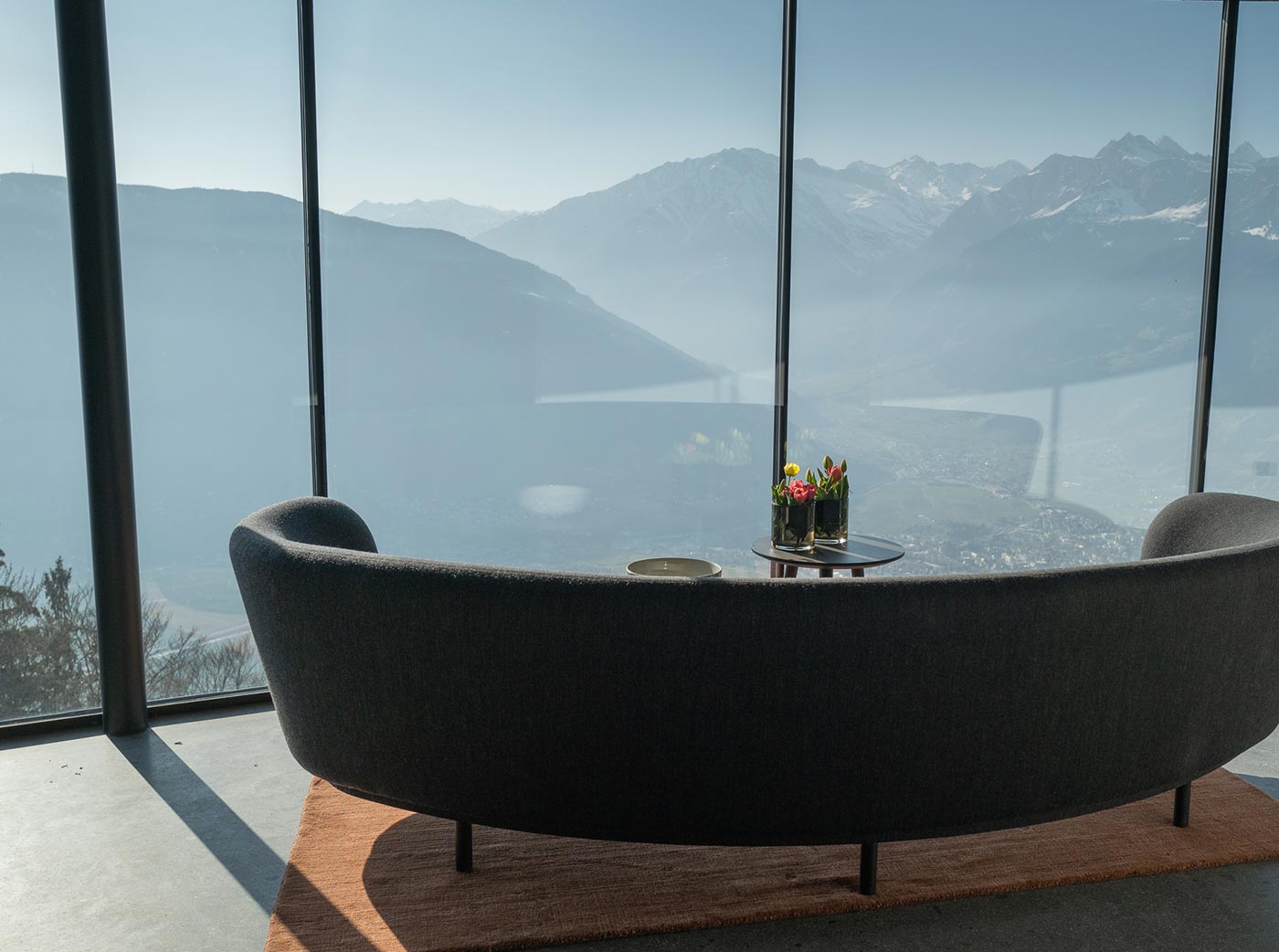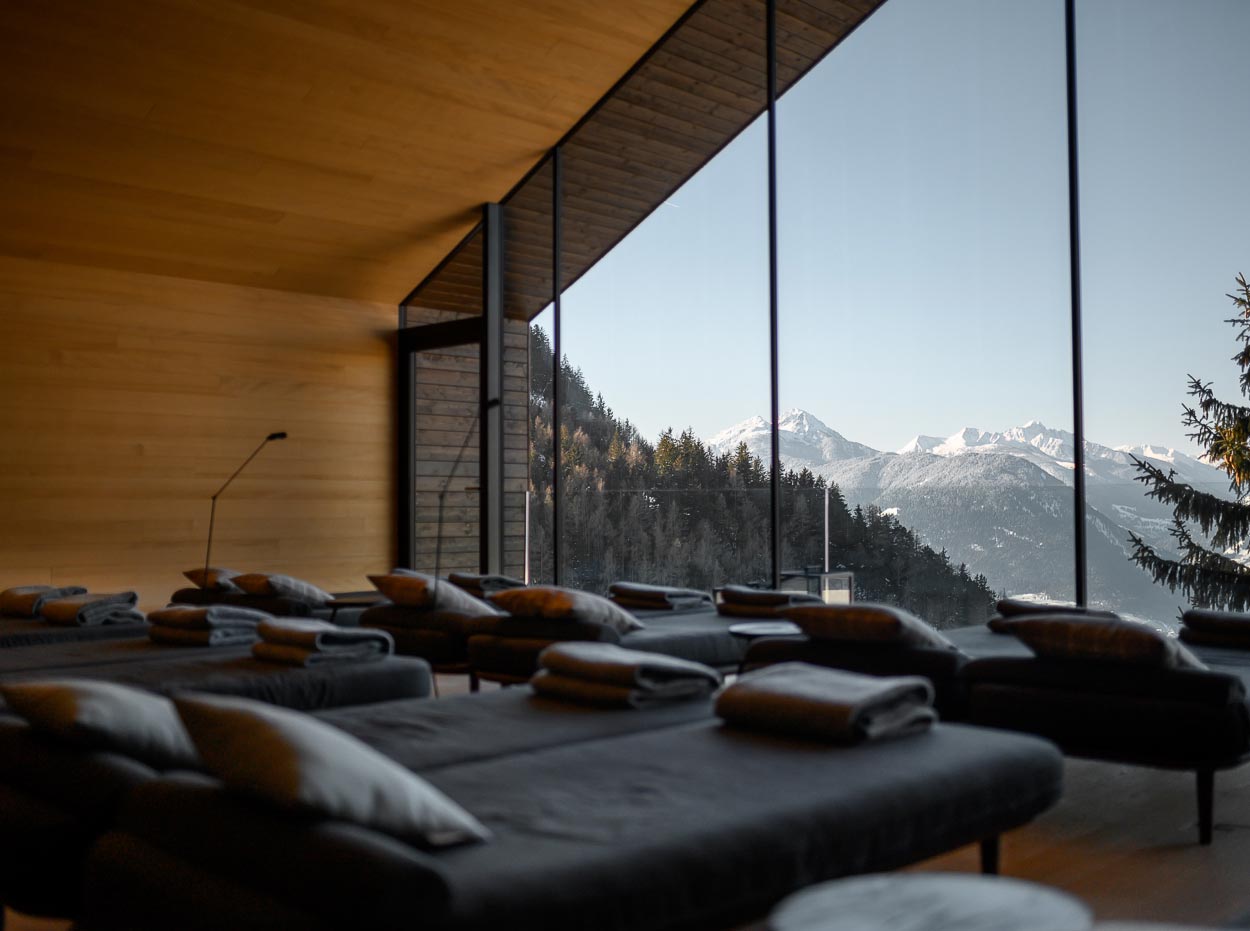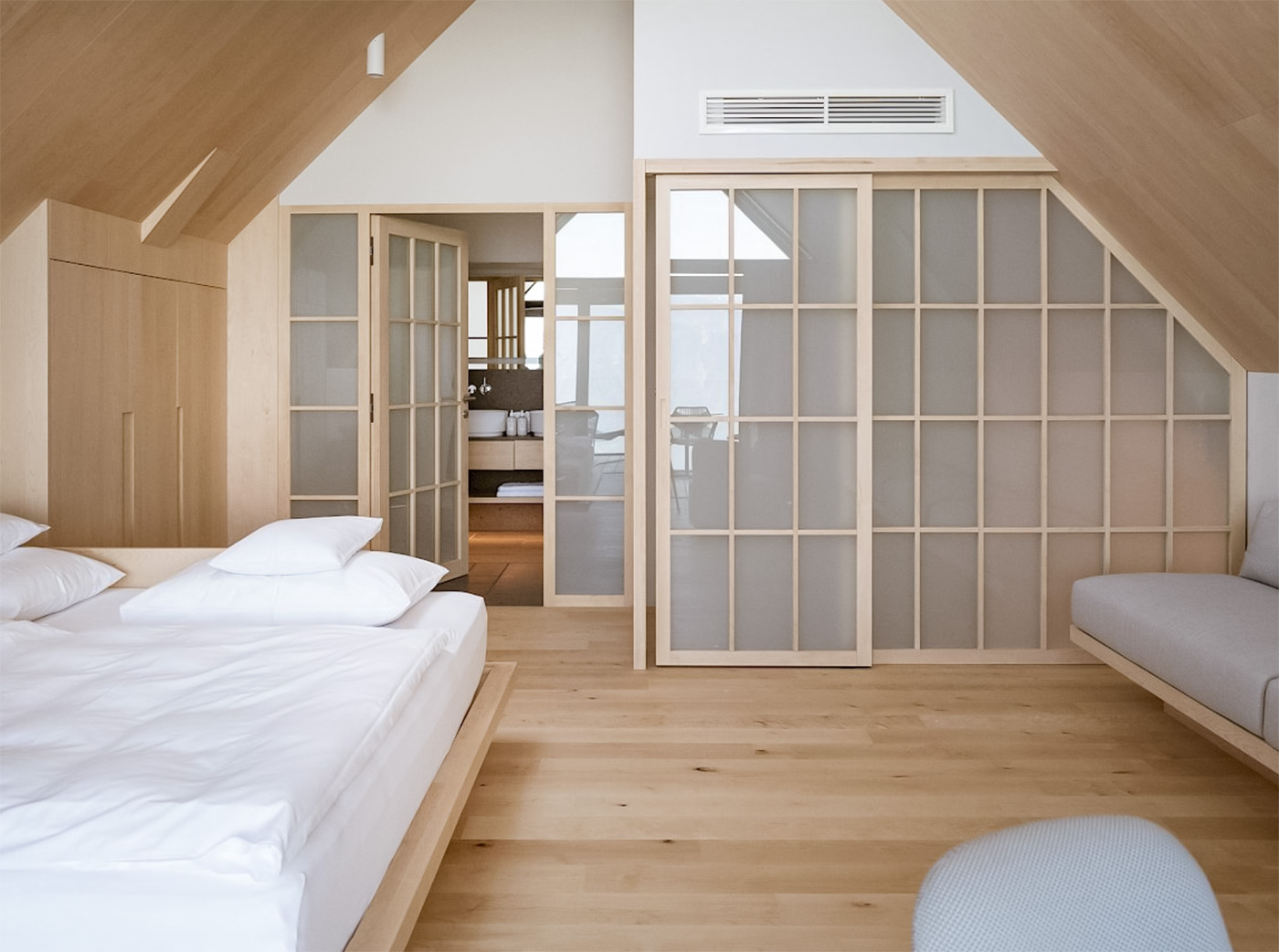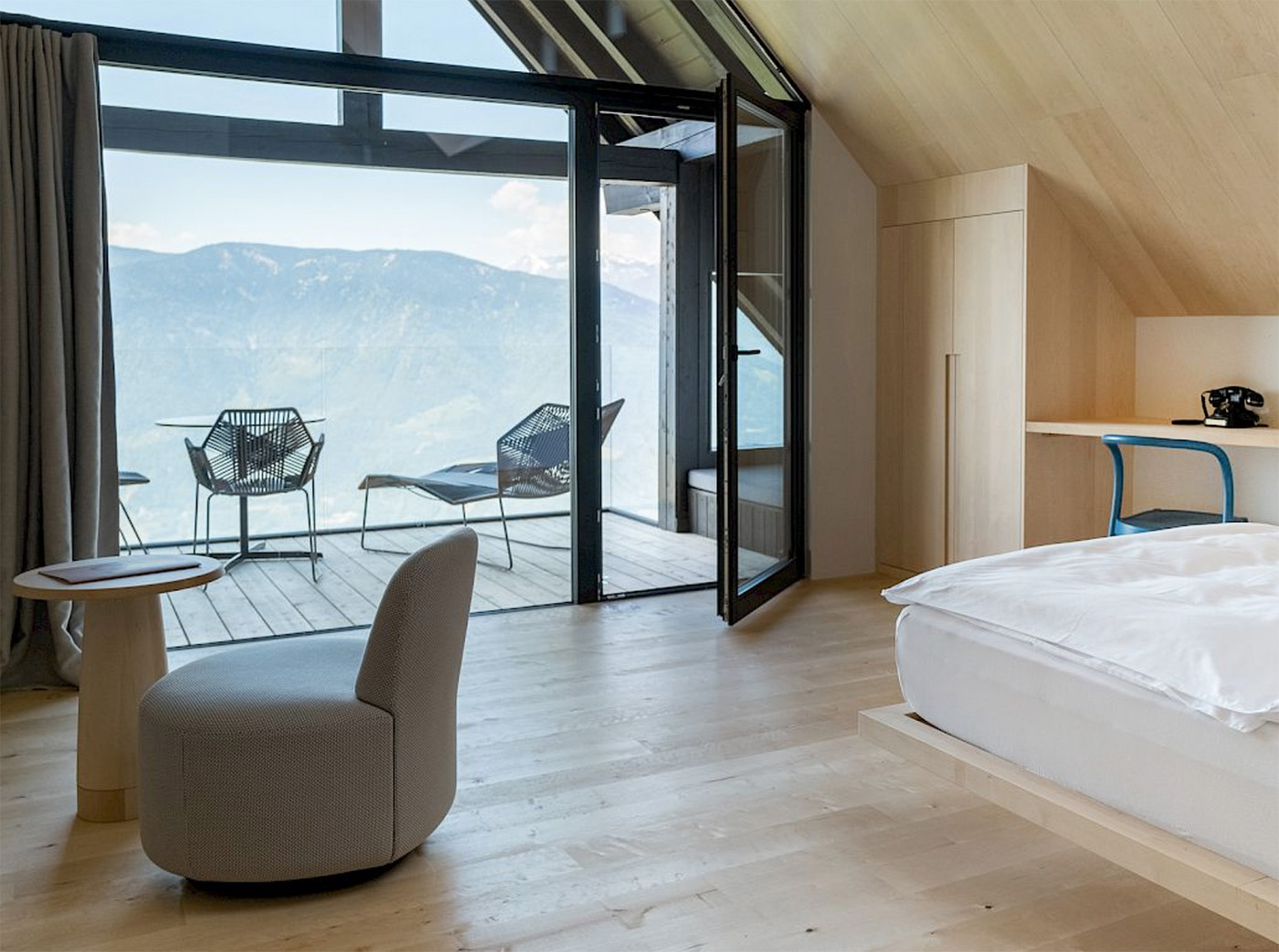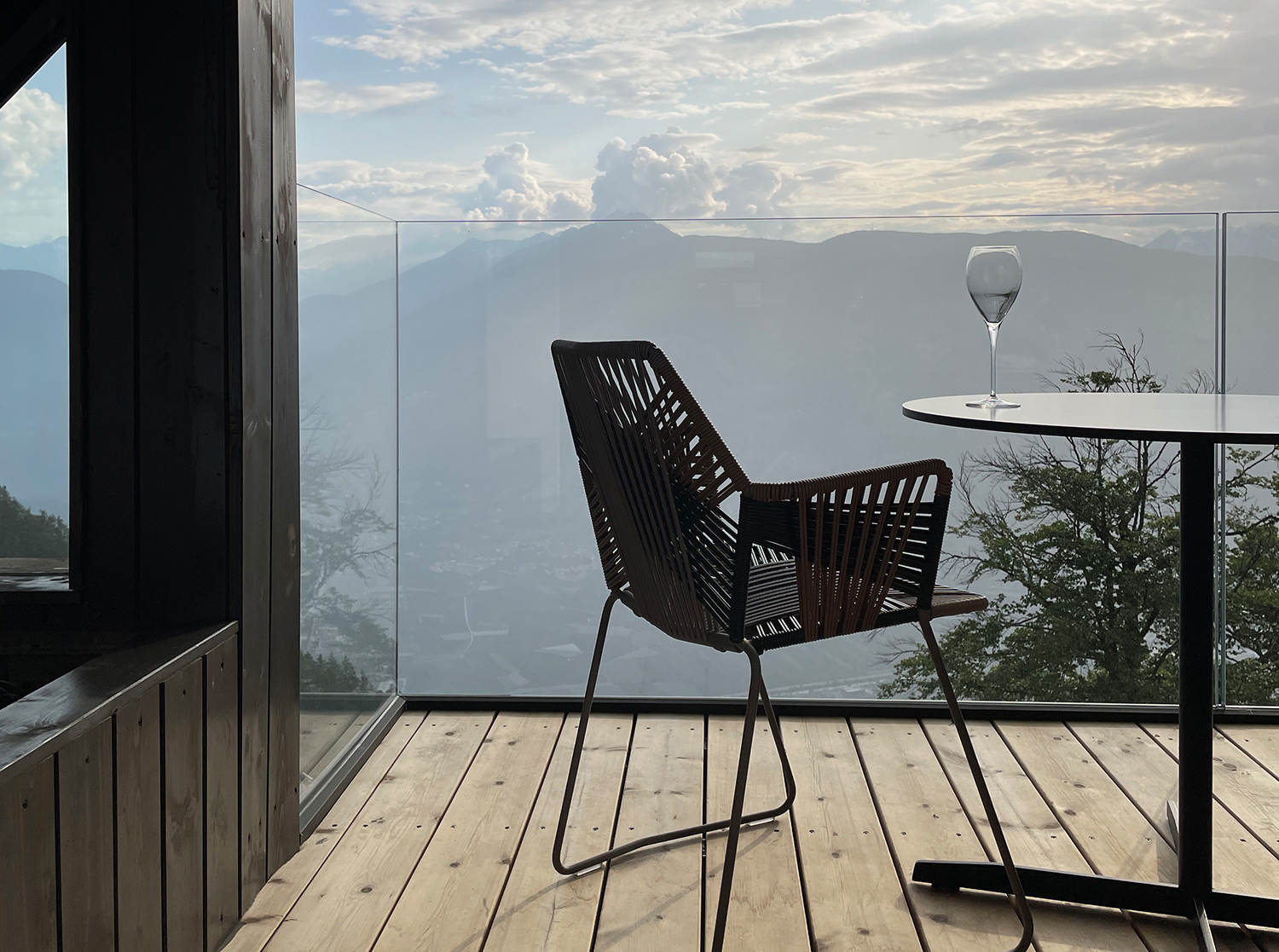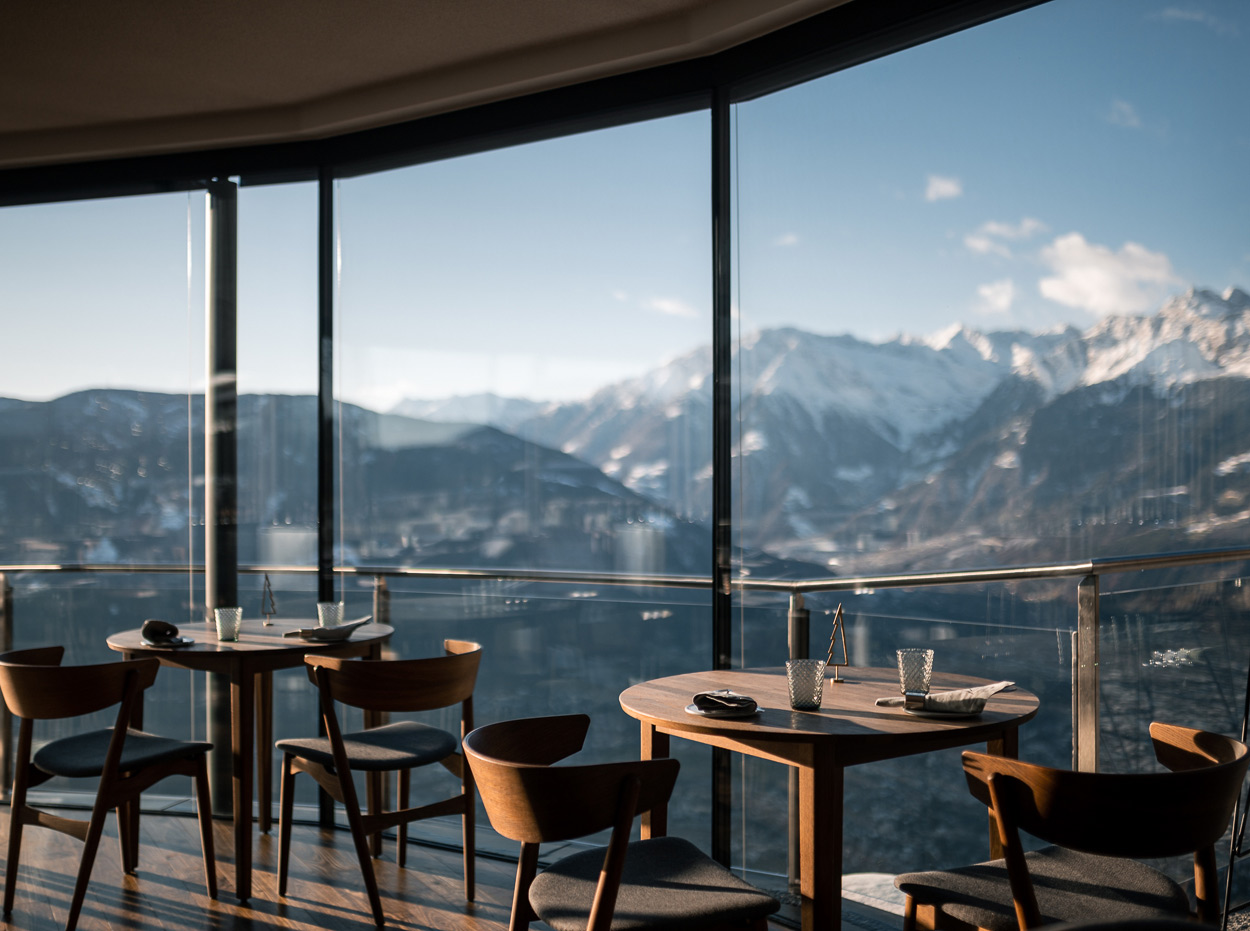 miramonti-boutique-hotel-hafling3
miramonti-boutique-hotel-hafling
miramonti-boutique-hotel-hafling2
What does the perfect Miramonti Boutique Hotel day look like?
Carmen: You might start with a few laps in the infinity pool or even a workout in the gym. Followed by a breakfast with a view of the Merano mountains. Then we always recommend head out and experience the outdoors. The hikes literally start right outside the front door. When you get home, relax in the Japanese onsen pool, pamper yourself with a spa treatment and then meet for a drink at the bar before dinner with mainly regional cuisine.
Sounds perfect and yes, we can highly recommend it. 
More information about the hotel is here and also on the Miramonti Website.
Contacts & Booking
Miramonti Boutique Hotel
St. Kathreinstraße 14
39010 Hafling near Merano
Bolzano, Italy
Special
Carmen & Klaus also rent out a beautiful villa in the center of Merano – the Villa Fluggi. Perfect for groups & large families.
Instagram