When Oana, a London-based micro-economist and writer, realised she has been spending most of her summers in Syros with her sister and mother, the thought for purchasing a holiday home arose. But as luck had it, the only available property in the picturesque strip of Vaporia would be a little too large for just the three. And so how would they justify acquiring one of the last remaining neoclassical gems built in the 1920s?
Well, by sharing it with guests.
So in 2020, they opened Aristide, a five star boutique hotel, an inspired endeavour that stems from genuine intentions, care for preservation and an open-minded view for personalised hospitality.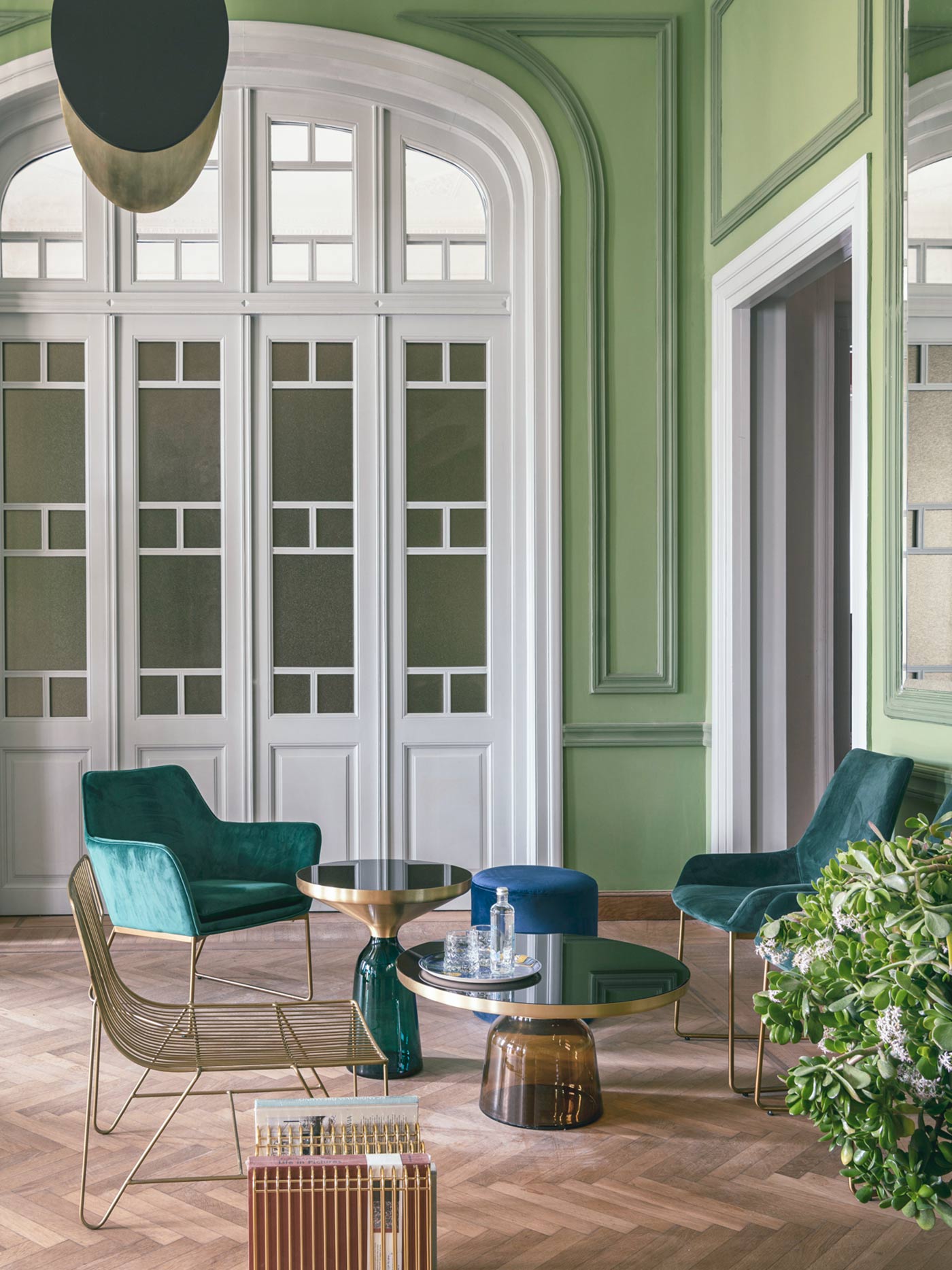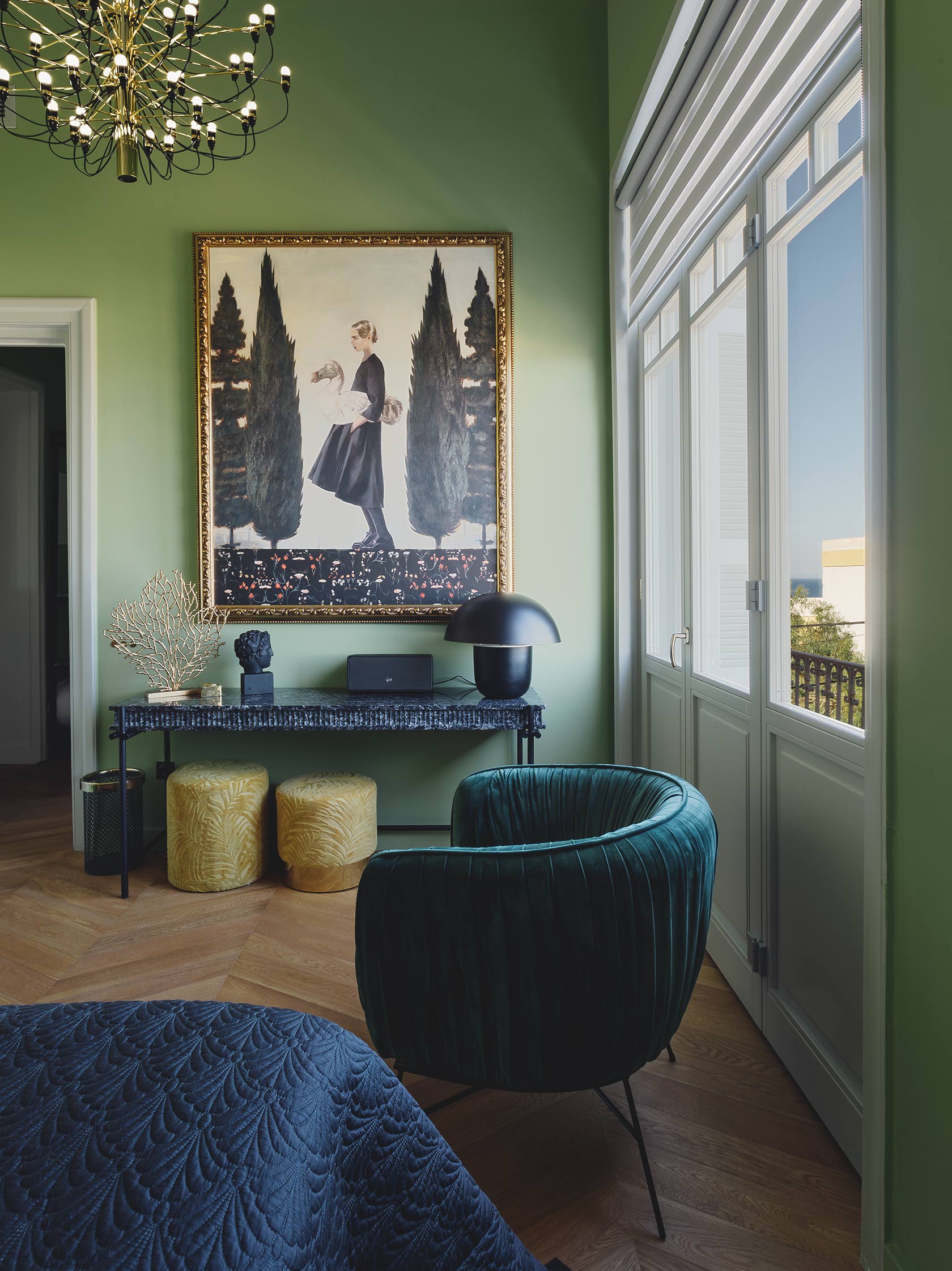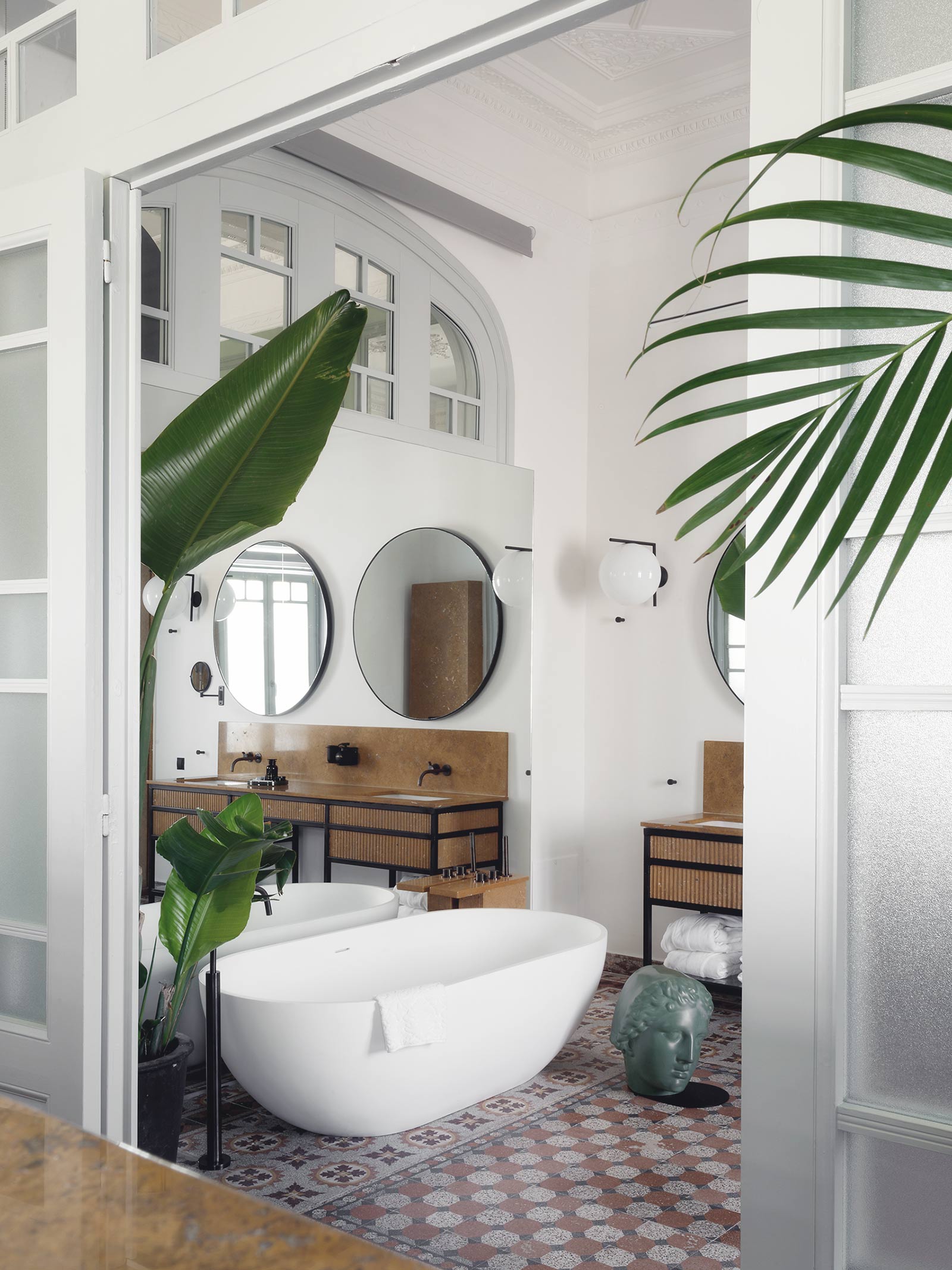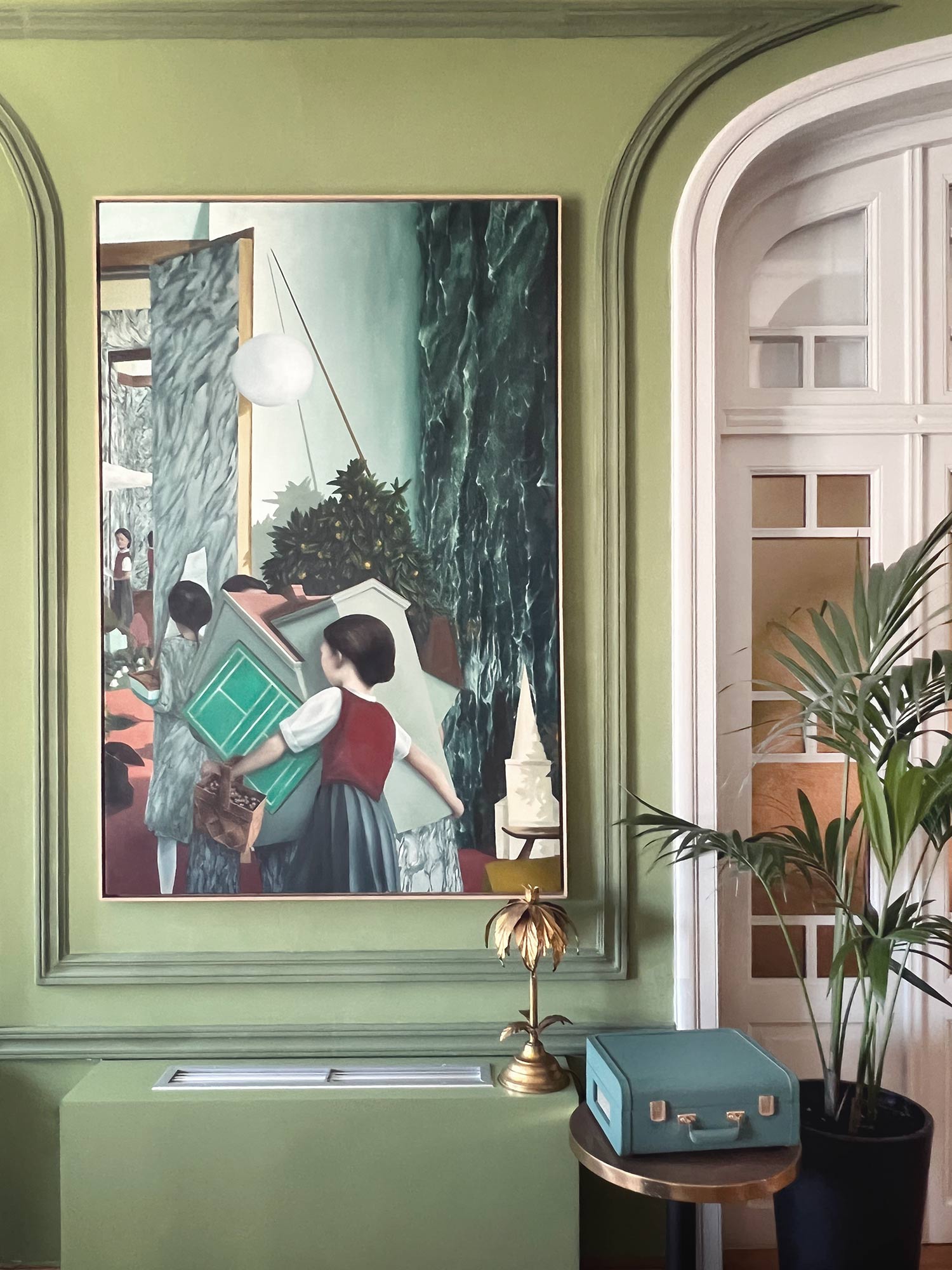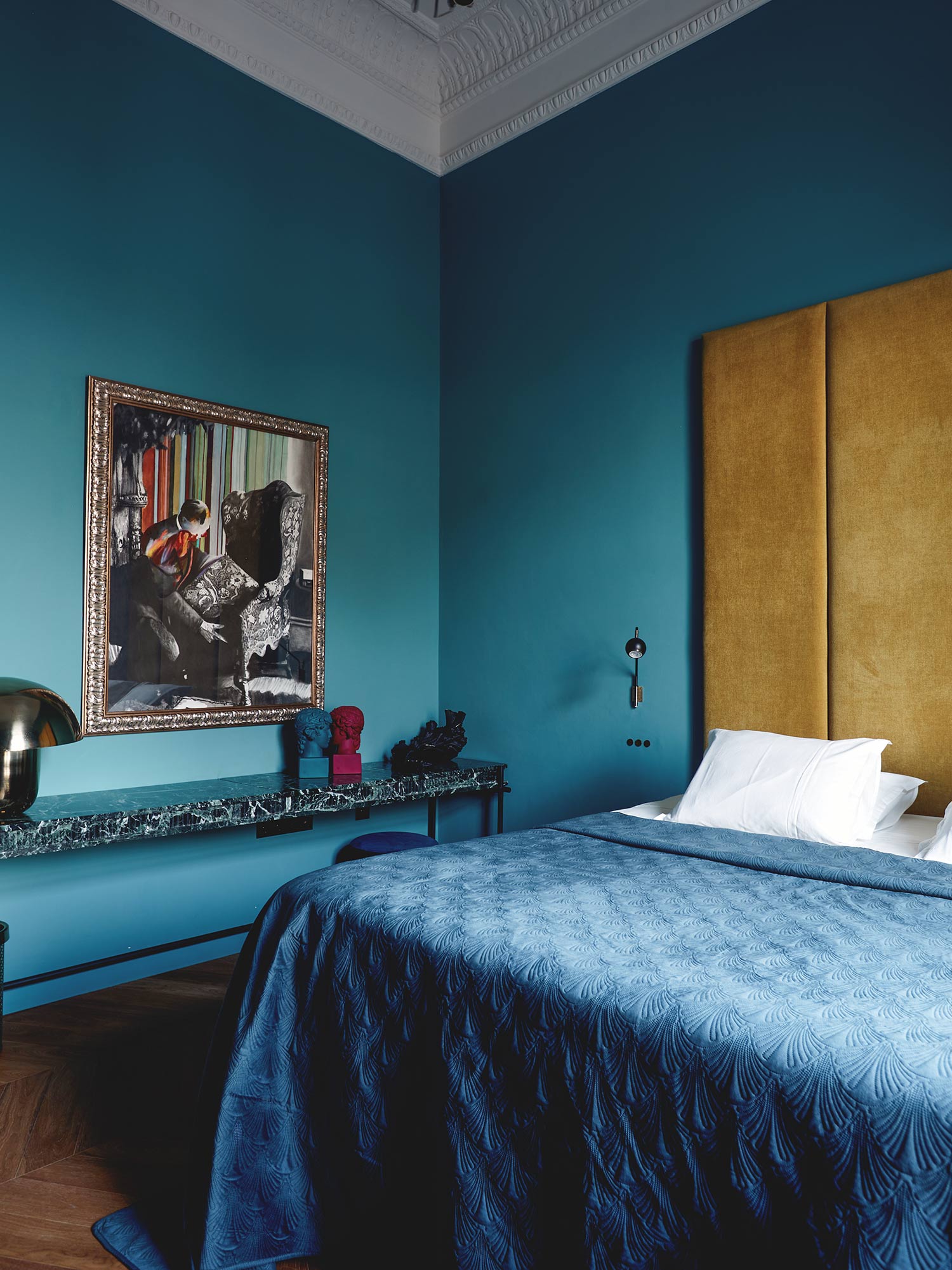 Kapandriti-bath-aristide-syros@2
High ceilings and every room (and especially bathroom) is a special experience. You stay at Aristide Syros and feel like a count.
Its nine rooms are impressive, each in their own right, vivid and spacious, some with plunge pools or sea-view balconies. The beds are immense, yet it is in the bathrooms where you will indulge the most. These come the size of a living room, boasting original tiles, luxury bathtubs and showers you have room to dance in (if you like).
The material protagonist is local marble –  there are nine "types", diverse in colour and patina, depending on the place they originate from. The five meter ceilings give a true sense of grandeur.
Refreshing is also not having to rest sight to a single plastic item – sustainable choices are evident everywhere, from the bamboo toothbrushes to the biodegradable slippers.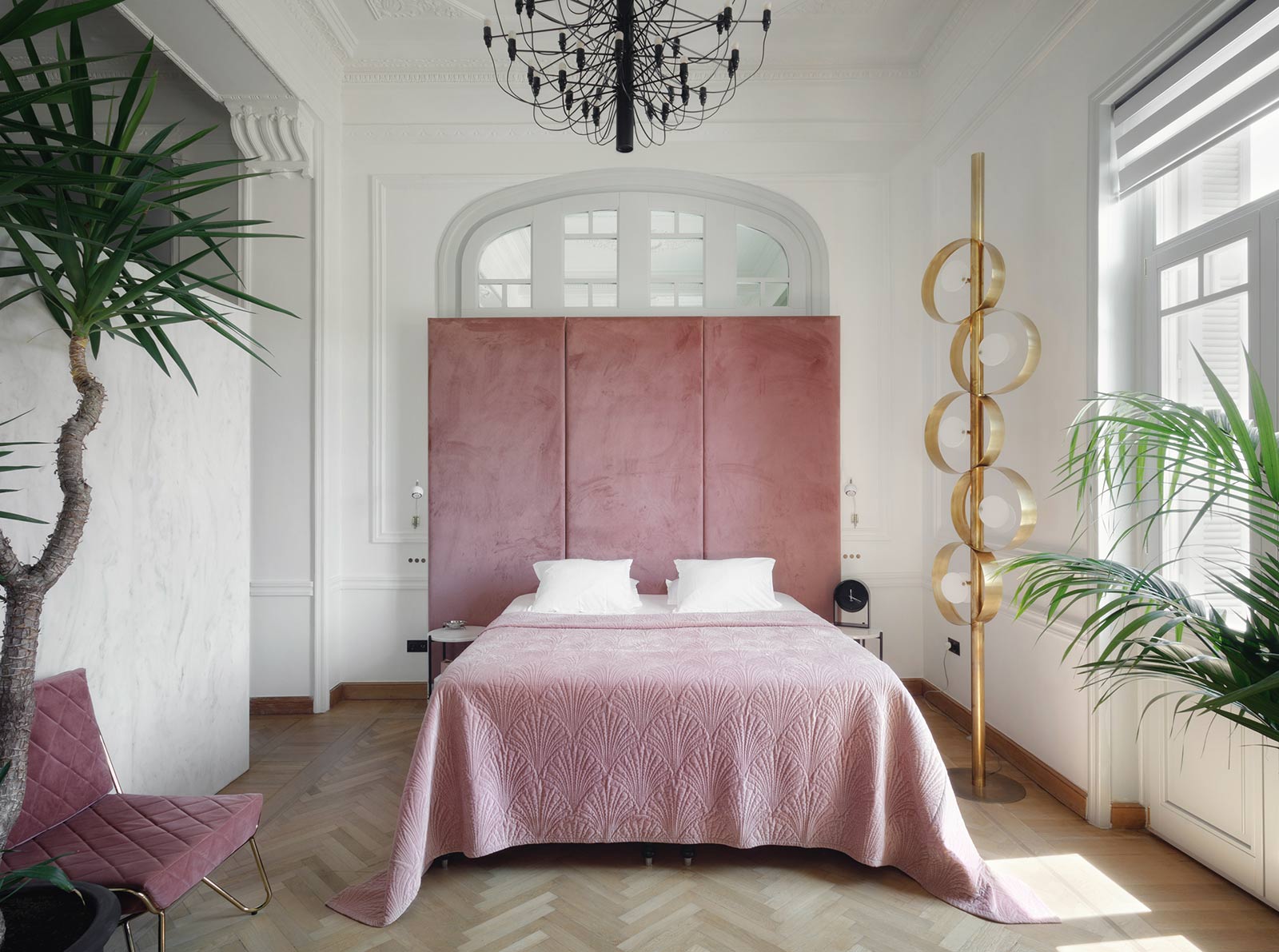 The Aristide family has curated the contemporary art on the walls that surround the common area and the suites. Pictorial and empowering, they make of a very eclectic collection arranged as if it's a private house – a rather quirky one. During the summer they offer artist-in-residence programs and give shelter and excellent food to the artists.
Speaking of culinary delights: Oana grins when explaining how the project of setting up her own smallholding was a necessity, and a natural progression. Organic produce is now serving the very well executed local recipes, which you can indulge in both at breakfast, offered in the shaded garden, and for a special dinner, by the charming rooftop overlooking the bay.
What's cooking? Sea bass ceviche with crispy fried capers, charcoaled aubergine with king oyster mushroom and thyme oil. It does not get any better.
Surroundings
What lies beyond the dusty pink facade of Aristide is Syros itself, an island of historical splendour, that remains unknown to most foreign tourists (giving a sense of relief, from the inside!). Due to its successful maritime commerce, Syros has seen the most wealth in Greece for over seventy years, being a top trading route in the Eastern Mediterranean. They say its rich culture derives from its Asia Minor refugees, whose background in shipping, shipbuilding and textiles transformed the area. You will notice its marble pavements and palatial buildings spreading over the city of Hermoupolis, and its cultural landmarks that host numerous cultural programs. Nothing familiar to the Cycladic stereotype of white and blue to be found here. Instead, there is a feeling of old glory that has been well maintained, of grace that is very particular to Syros. As for the beaches, there are numerous to explore, yet it is easy to get hooked with the simplest thing: a diving platform of crystal blue waters, a mere 5 min walk from Aristide, that provides endless entertainment gazing at locals cooling off, next to the island's graceful architectural landmarks.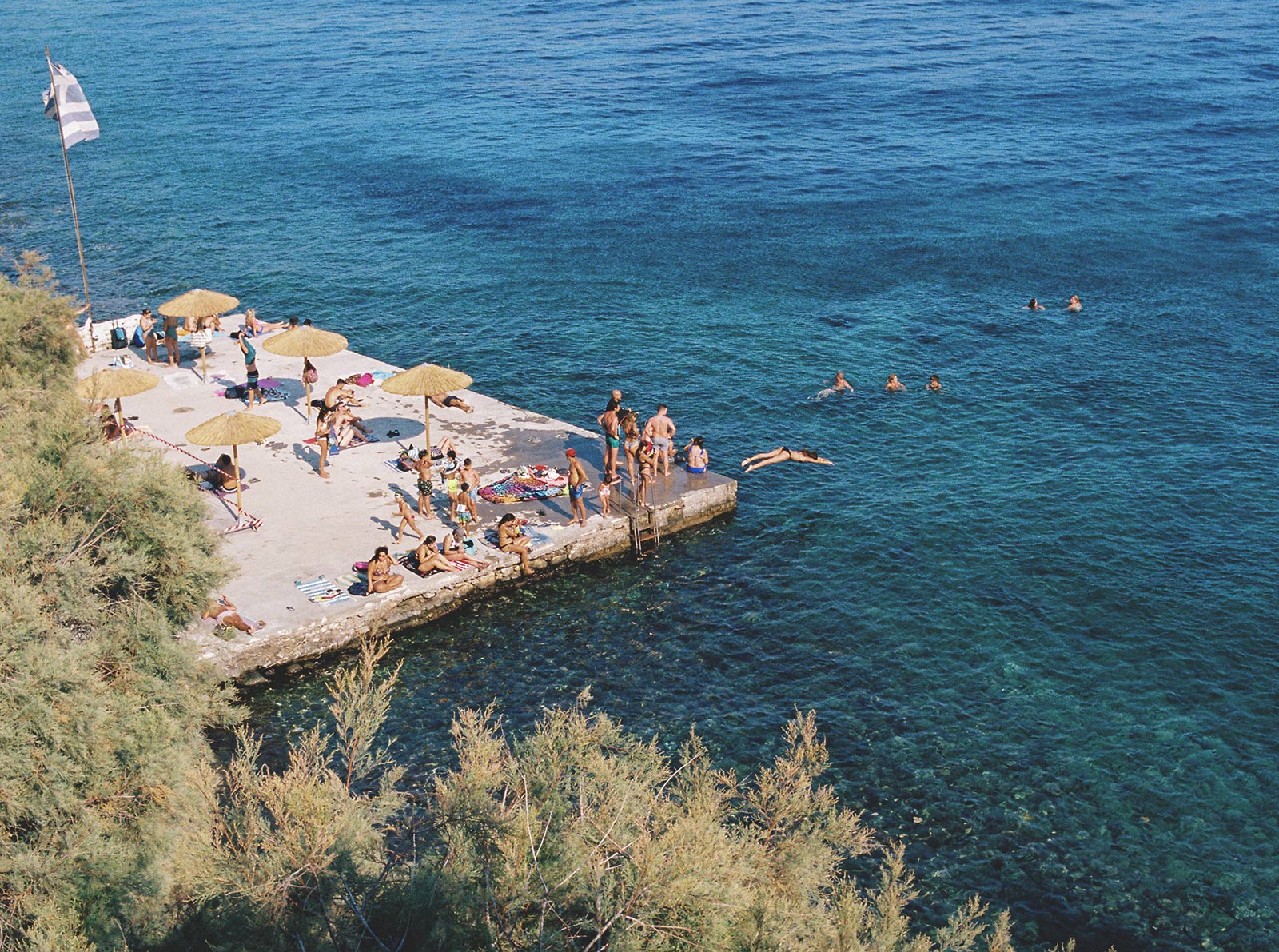 On the night walk back to Aristide, we hover over the thought that Oana's family never planned to make a hotel of five star per se. And as we slip into our bed and take it all in, it feels gratifying to know it so deservedly became one.
Ideal for
Art and design lovers, couples with good taste and holidaymakers who want to indulge in a real Greek island.
Price
Doubles from 280 euro.
Booking & Contacts
Aristide Syros
27 Babagiotou Street
84100 Hermoupolis
Syros
Greece