In the heart of Downtown Athens, by a small alley in Psirri, we find ourselves in front of a tall industrial building of striped marble and metal, all completely symmetrical (#Accidentallywesanderson, anyone?). Right by the front entrance, we spot a red rose graffiti. This is Mona, but you won't really know her wonder from its inconspicuous exterior. Much like her upscale sibling, the alluring hotel particulier, Shila (which is also a member of this club) in Kolonaki, this is the "new kid on the block" that continues an inspired vision from the House of Shila team.
Upon entrance, a new world unfolds. Throughout its 20 stimulating rooms and common areas, the 1950s soul of this ex-textile factory is respectfully carried through, merging the historical past with its urban present. The pale chipped walls are left untouched, as are the old wooden windows, its impressive marble staircase and original terrazzo floors.
Walking up the stairs, art is omnipresent. Setting the tone of a sensual universe, the works focus primarily on photography, with artists from the local and international scene, and prints which are available for purchase. It is a fresh catalogue that celebrates photography as an art form, poking us to re-imagine ways of exhibiting art, its dialogue with architecture, how it evokes feelings, and organically blends with its surroundings.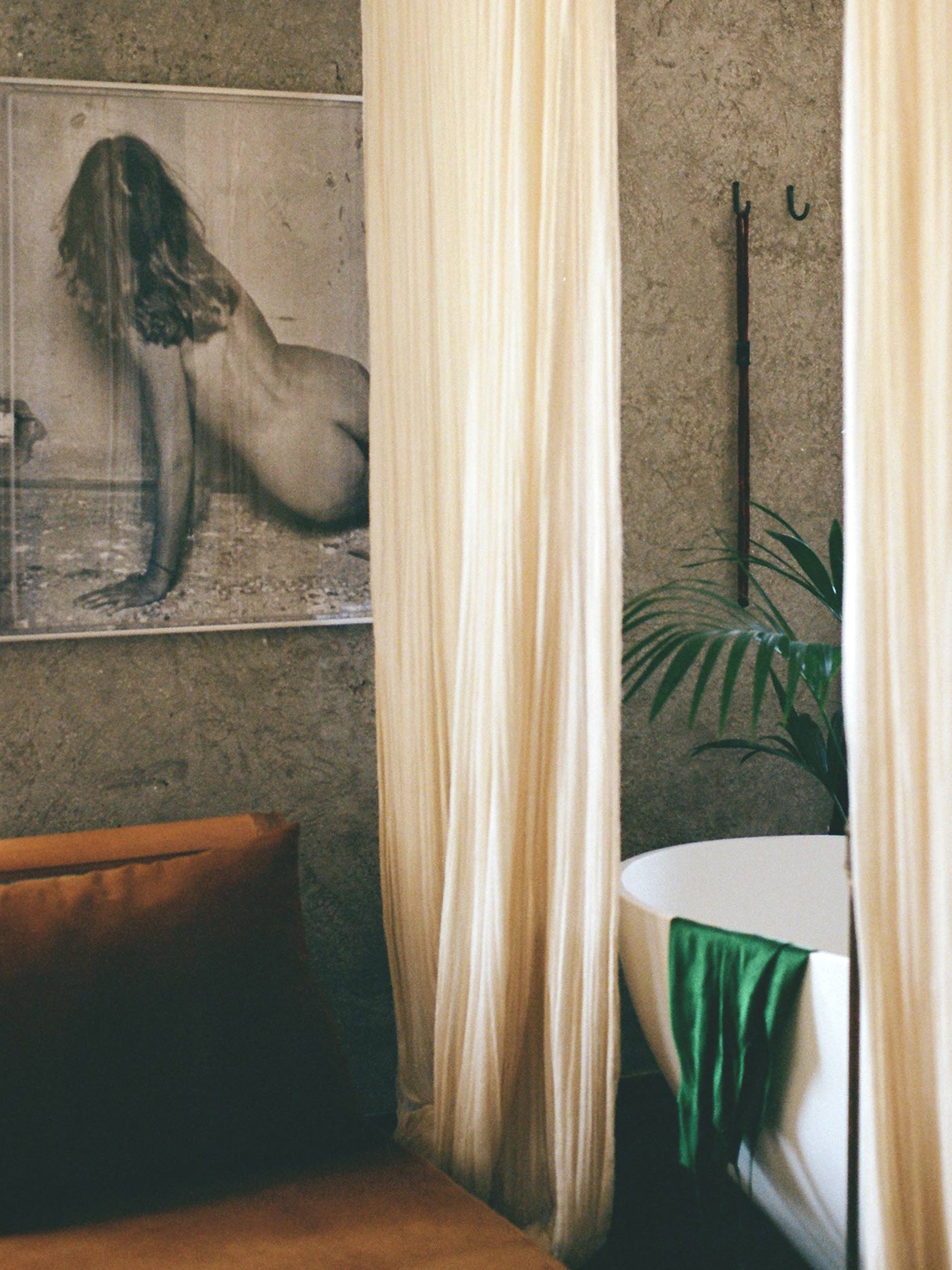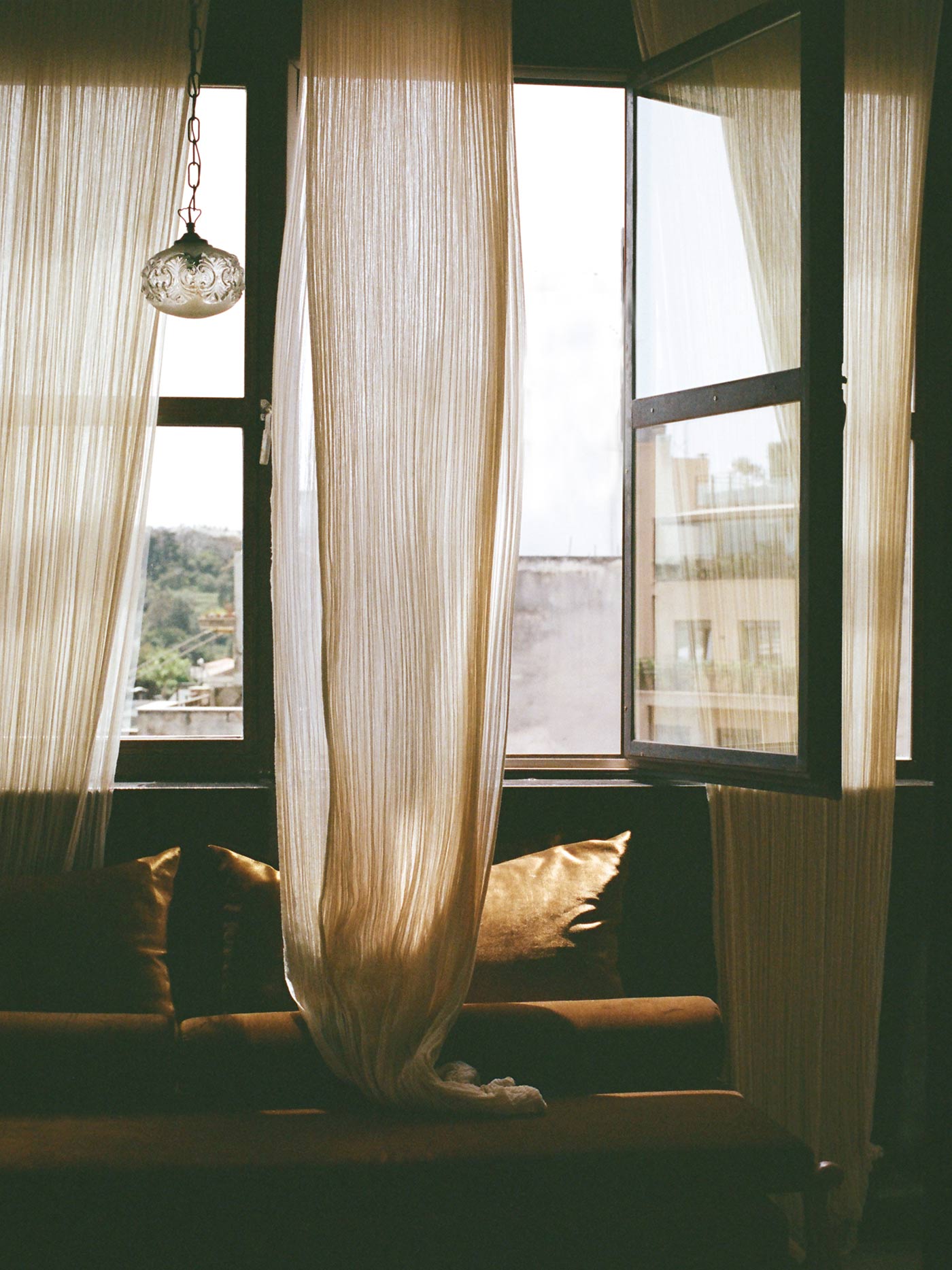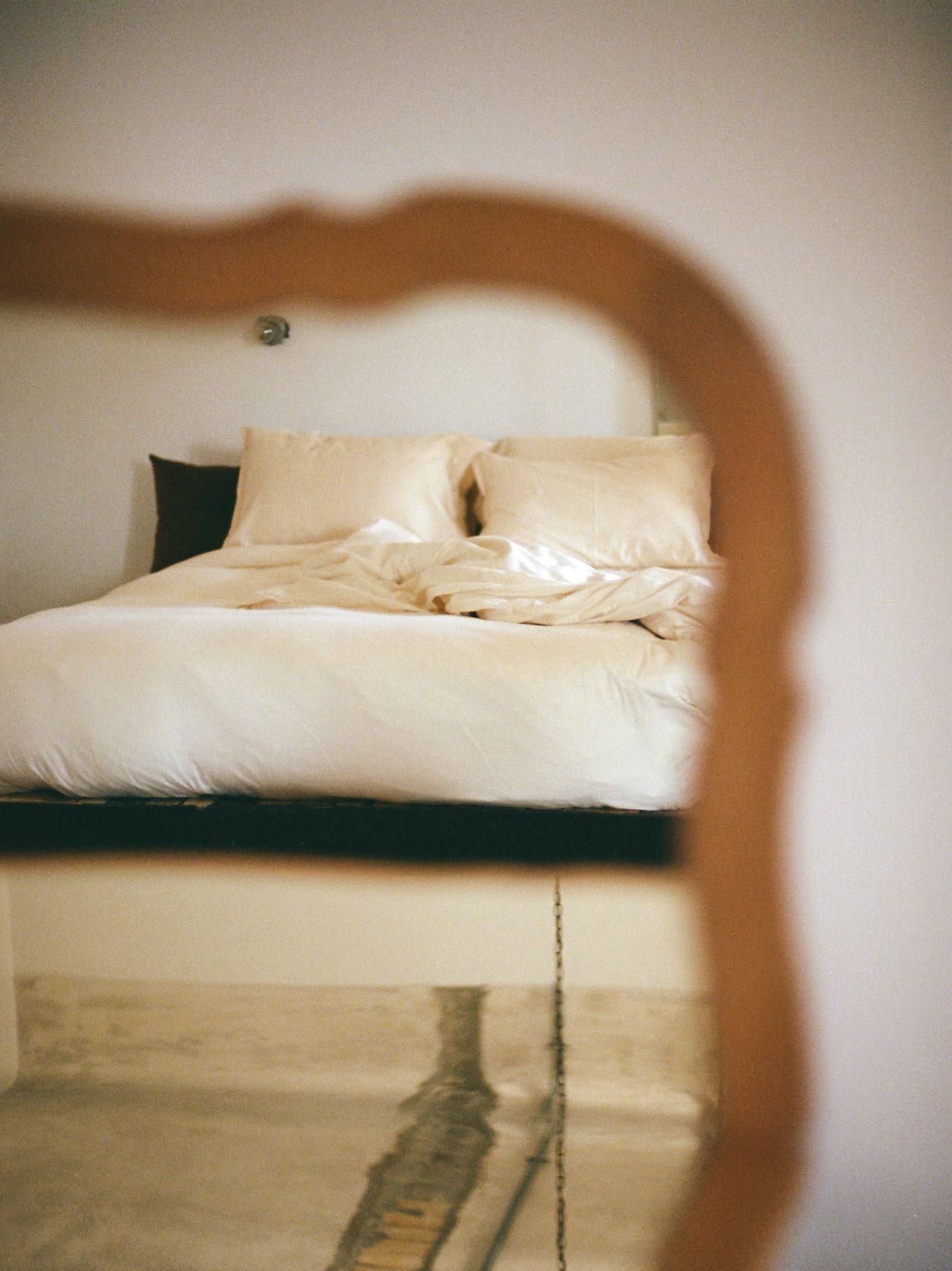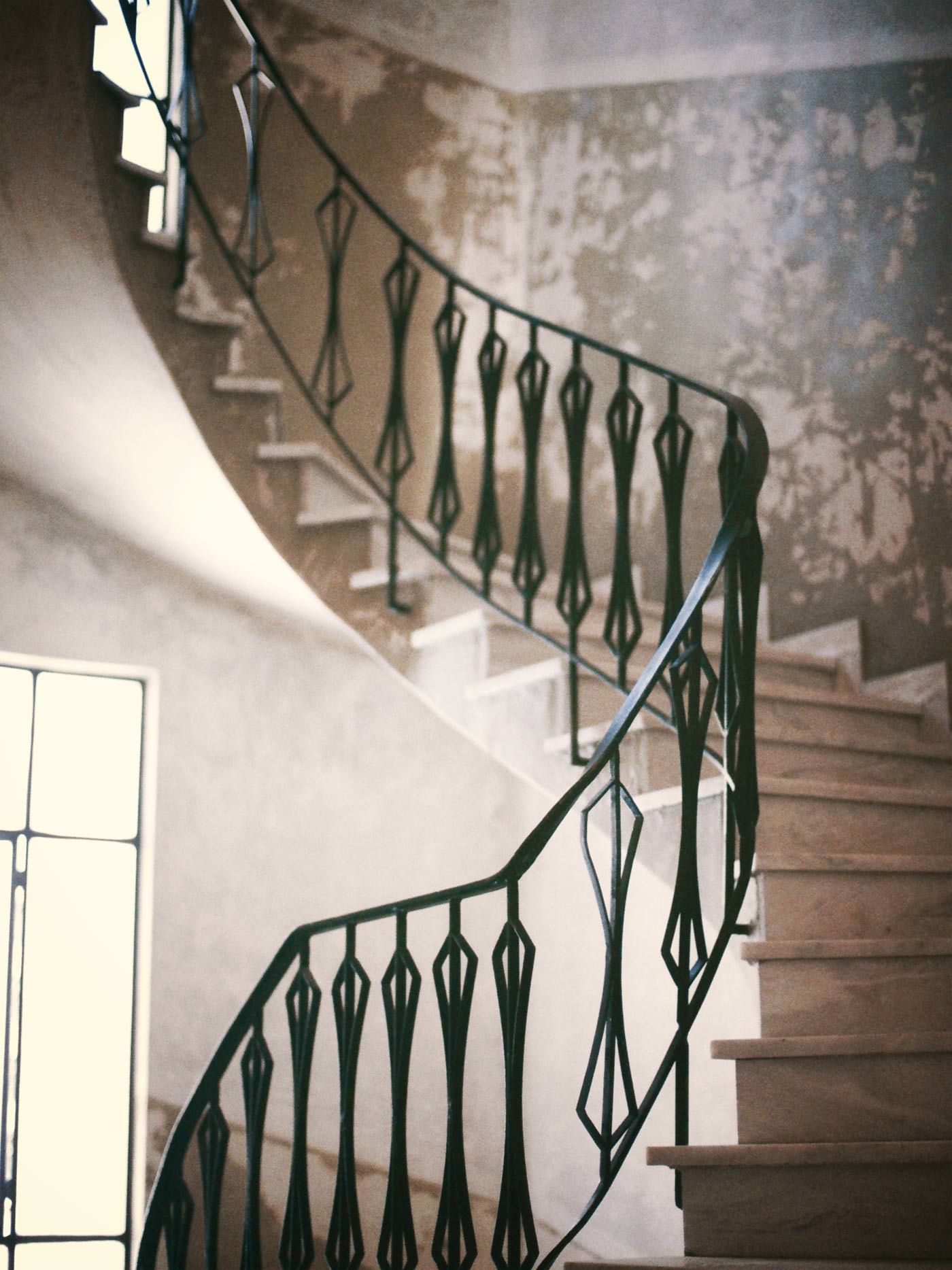 The Shila ambience: muted colors, lots of vintage furniture, subtle art and high ceilings in the guest rooms .
The rooms
The rooms range in size and names: "Intimate", "Velvet", "Patio", "Amour" and the beguiling "Penthouses" and "Mona's Suite" that feature spellbinding dream interiors. Irrespective of scale, all rooms are warm, inviting, with large sunny windows overlooking the gritty and vibrant urbanity of the neighborhood. They feature freestanding white corian bathtubs, one of the most comfortable we've experienced. Some have balconies or an outdoor patio with seating area made from found bricks. The overall design is timeless, the industrial finishes elegant, and the sensual curtain drapes soften the mood.
Perhaps it is due to the sensuous lighting that utterly lulls you, or the very comfortable custom beds dressed in raw cotton sheets, that we felt like never leaving our room. Yes we could also just indulge making excellent coffee (by the award winning single origin beans on offer), or order a meal from the iPad's menu. There is a hand-picked list from the most delicious fare by top restaurants in the area.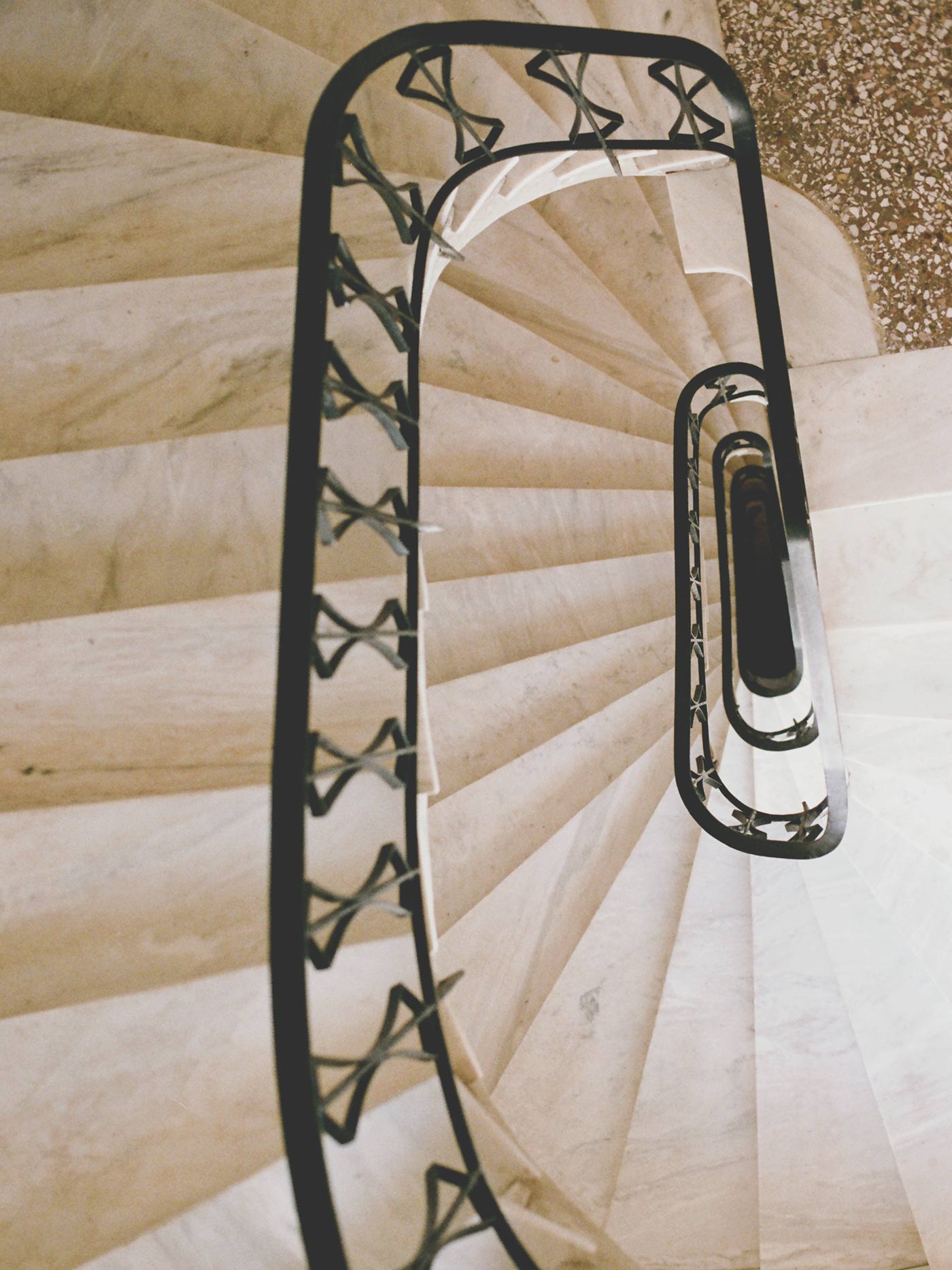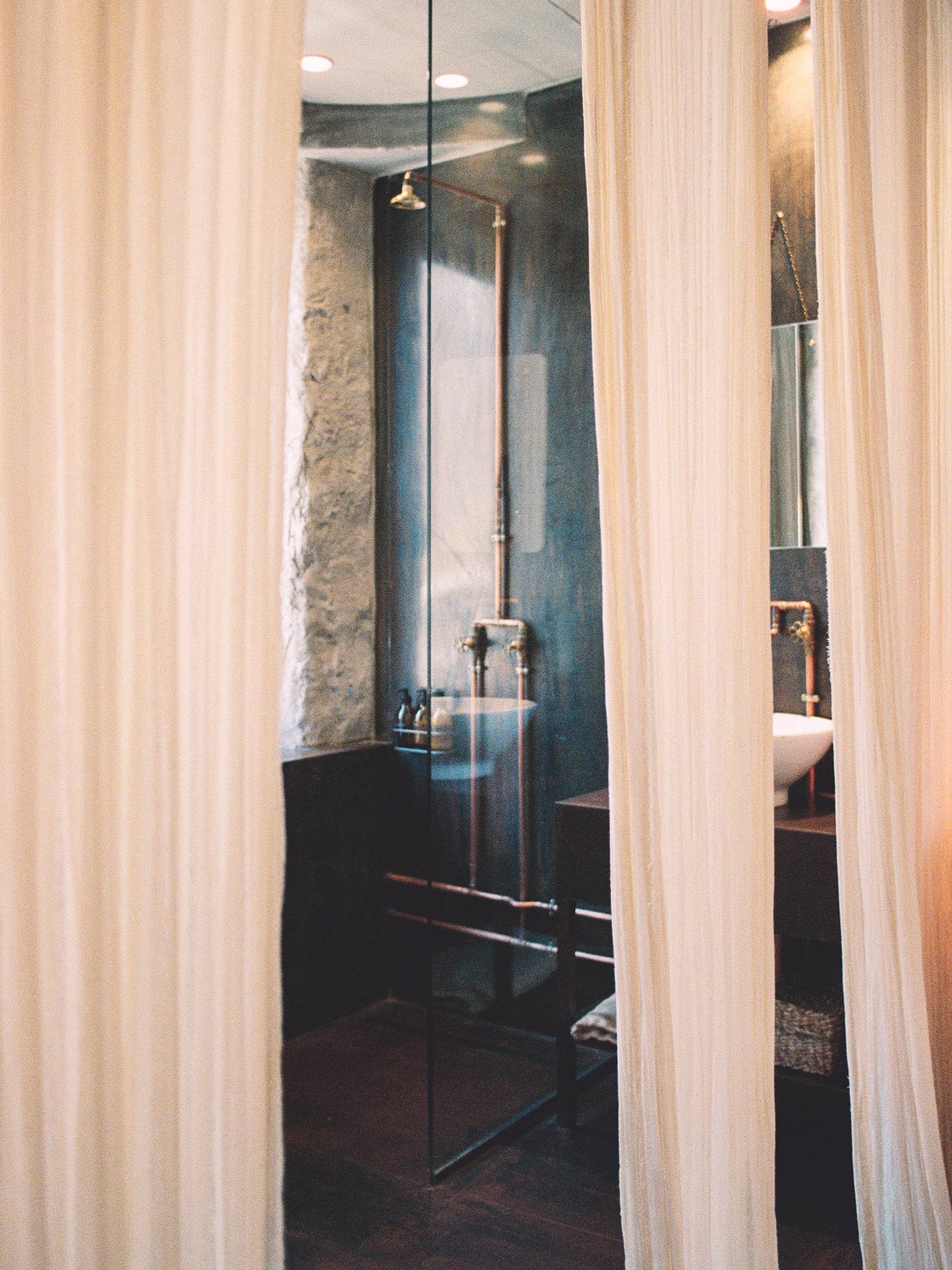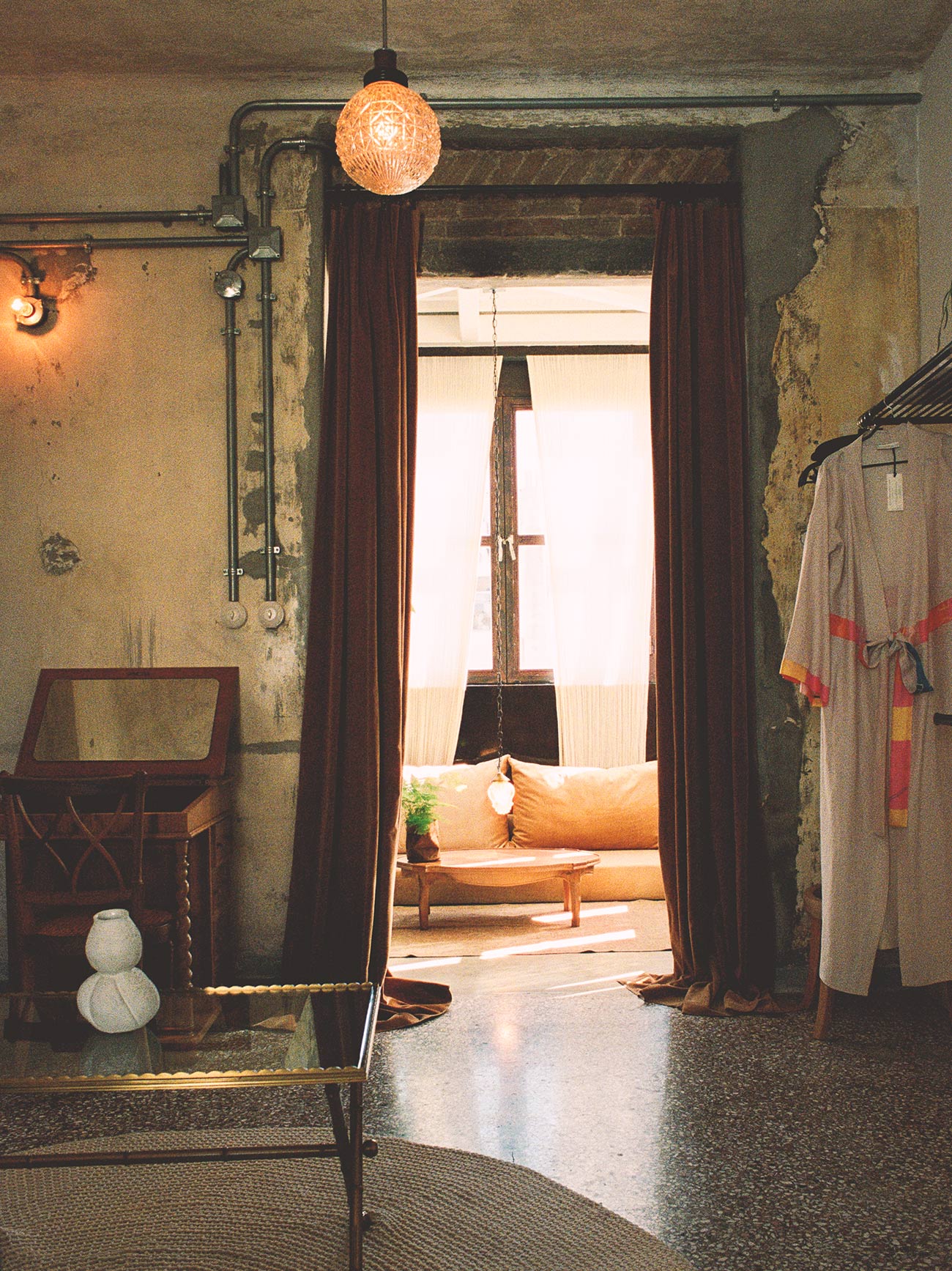 The Shila ambience II: We love the old staircase, the elegant bathrooms and the whole idea of living in an urban oasis.
Yet besides this cocoon there is more to explore at Mona. Its four meter high ceiling Living Room by the street level is one of the most gorgeous spaces to enjoy breakfast, read or work on your laptop, while watching Athenians go about their life. Nice add-on: Everything you see in the lobby you can take home, meaning that along with the exquisite design objects on view, unique furniture pieces are also available to order.
Culinary
The Living Room's open plan kitchen is a rotating station for the hotel's supper clubs, members and private events, where pop-up chefs come together to create. That's also where our breakfast was prepared. We've enjoyed delicious eggs, home-made granola and sourdough bread, paired with the signature heather honey from Kimolos.
Party
House of Shila's social pull of bringing together an interesting mix of cosmopolitans (be it hotel guests or locals) is evident during its sought after events under its CLUB MONAMOUR series. We were lucky enough to attend, enjoying a true multi-cultural community coming together to savor cocktails, music and each-other. There is also an underground space with a speakeasy vibe that acts as a live music venue, periodically doubling as a boutique pilates studio too. The crowning moment though is at the very top  – Mona's rooftop – where the magnificent Acropolis views blend with Athens' unique urban landscape.
The area
Psirri is one of the most spirited and centrally located areas in Athens, minutes away from the historical parts and the Acropolis. It is also home to the characterful antique market of Monastiraki. Our favorite Athens restaurants are only a short walk from Mona, which makes the stay ever more worth it.
Ideal für
Design lovers, aesthetes, solo travelers, couples, digital nomads.
Prices
Doubles from 195 euro.
Bookings & Contact
Mona Athens
4 Kakourgiodikiou
10554 Athen
Greece