Lets get to it with a little trip down memory lane. Because Merano is not a vacation spot like any other: It is the vacation spot. And it always was. Some 150 years ago, Empress Sissi made several trips to Merano. It was the time when Grand Hotels were built, palazzi similar to those in Lucerne, Bad Gastein and Karlovy Vary. Along the riverbanks of the Passer all those Art Nouveau style villas created quite a picture of a town. The elite of the financial aristocracy flocked to Merano turning it into an international destination – for tourism and much more.
The rich were definitely on to something. Because Merano is a phenomenon: this valley has a rather mild climate all year round. While more eastern towns in South Tyrol are still struggling with sleet and snow at the end of March, the people of Merano are already publishing pictures sitting outside at the ice cream parlor – or from the hotel garden lined with palm trees.
We already recommend four beautiful hotels in this area – the Ottmanngut, the 1477 Reichhalter, Schwarzschmied, the Villa Arnica and the Miramonti Boutique Hotel on the top of the mountain! Now we are adding a real guide to help you explore Merano and its surroundings.
Because one thing is for sure: a visit to Merano and its surroundings is worthwhile. Just think of a place, where you can go shopping in the morning, then walk up a mountain, enjoy Kaiserschmarrn at a beautiful hut – and after jumping into your very own hotel pool, head for dinner at a visionary restaurant, where the food and wine ousts any Michelin starred restaurant, you've visited before.
But first, let´s get you settled in the right hotel…
Ottmanngut, Merano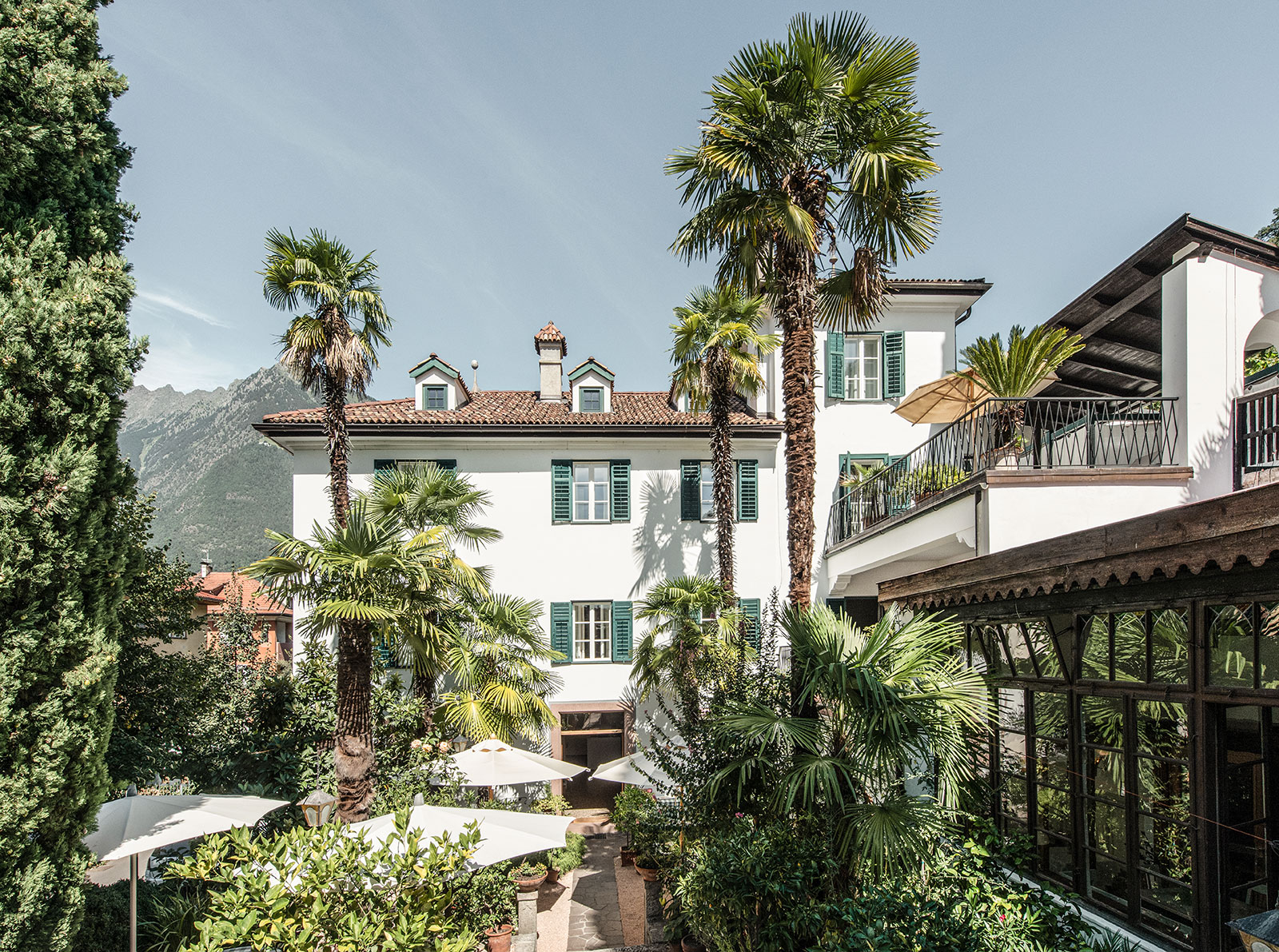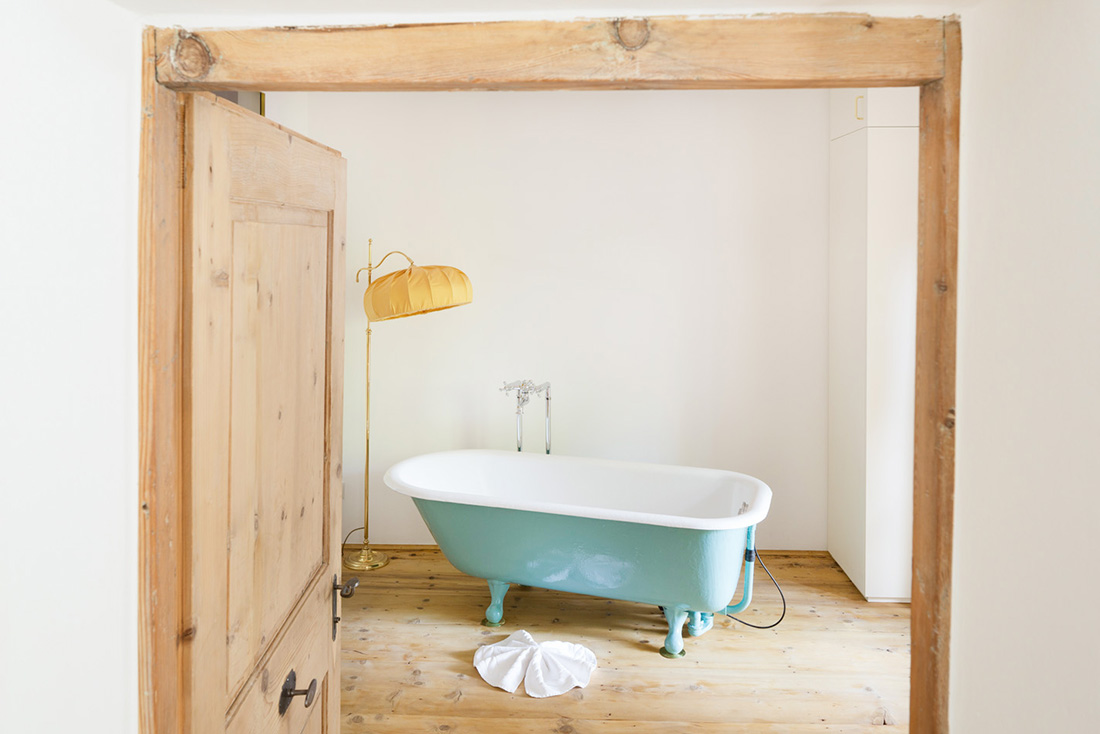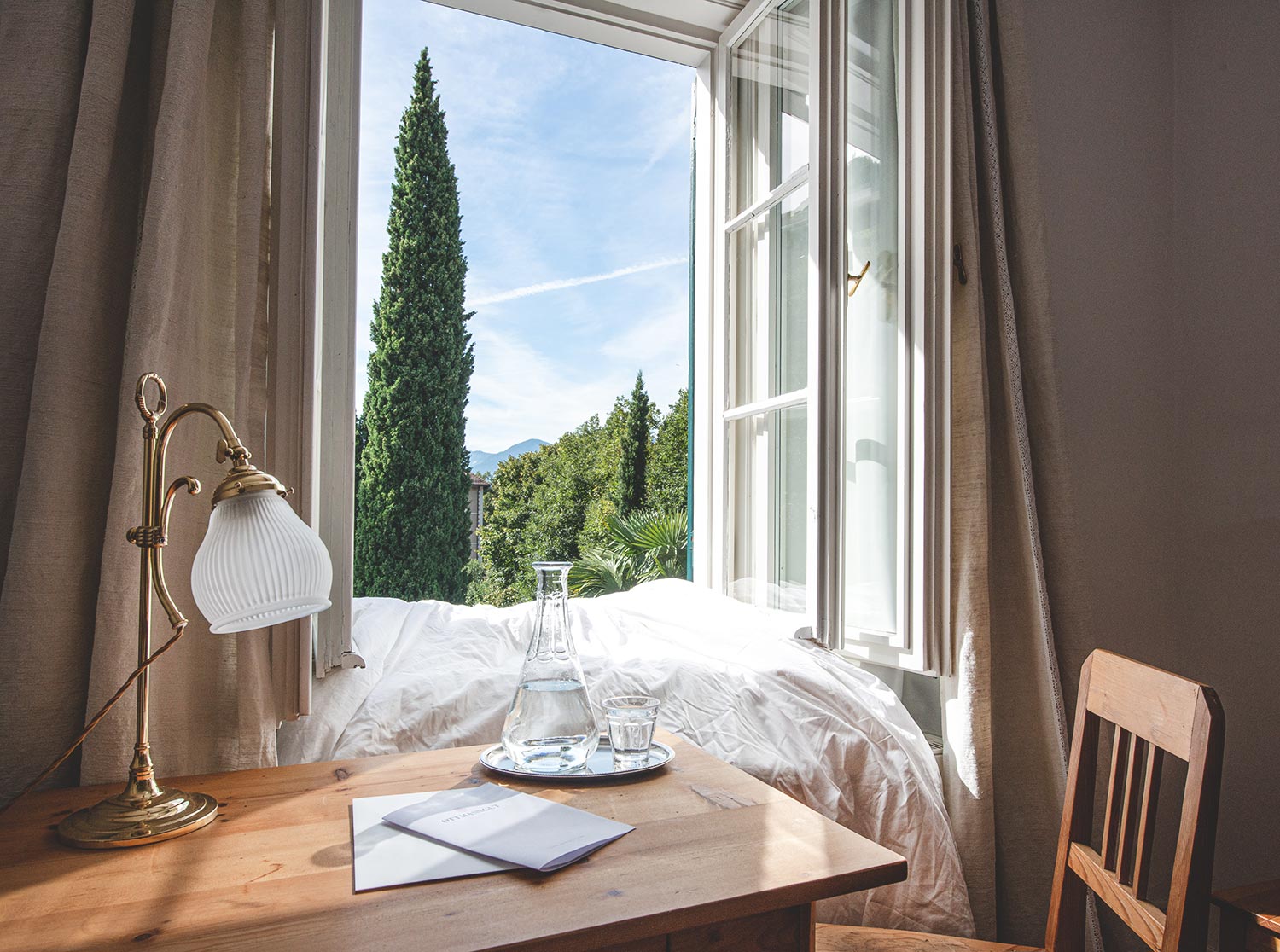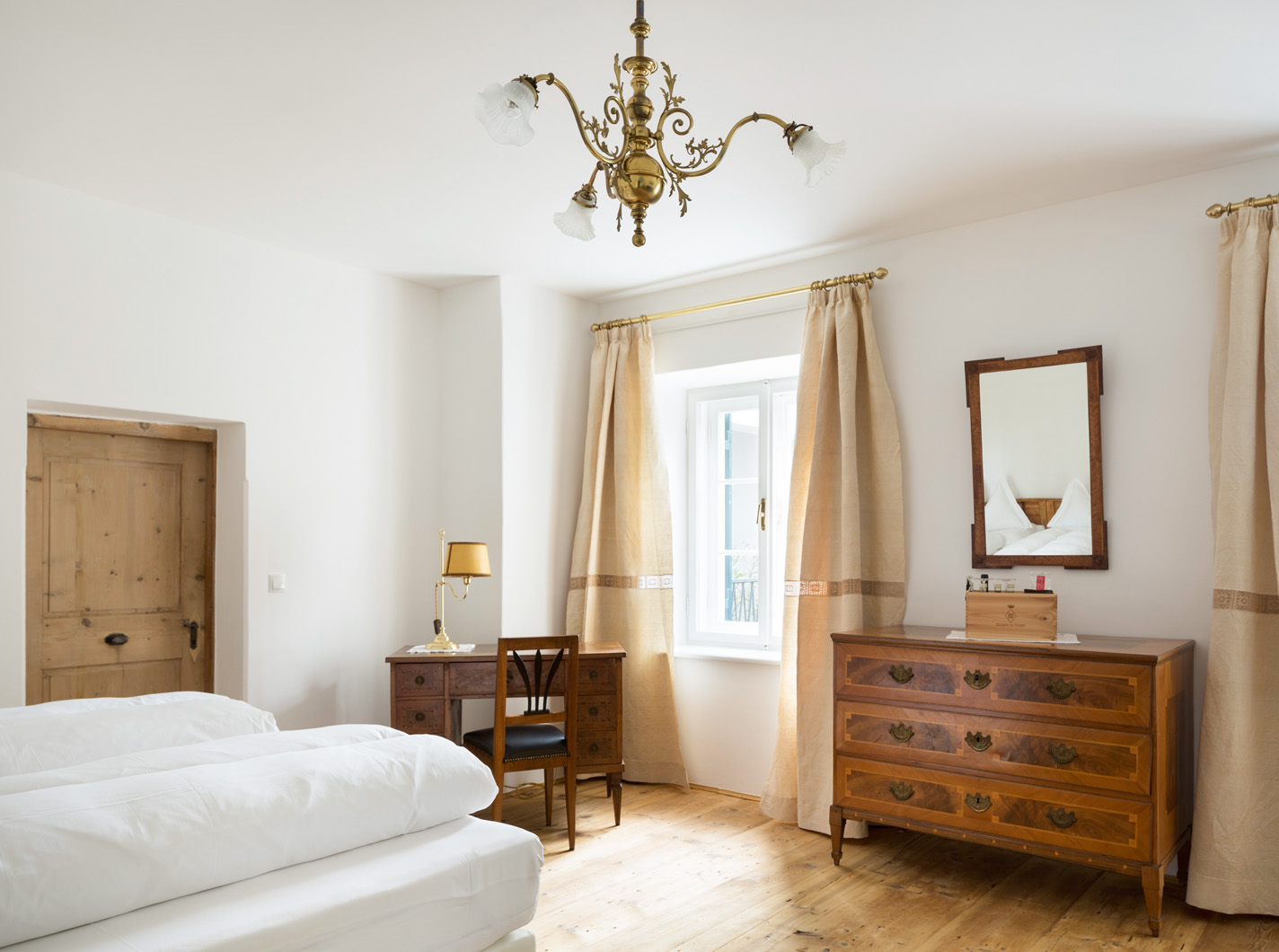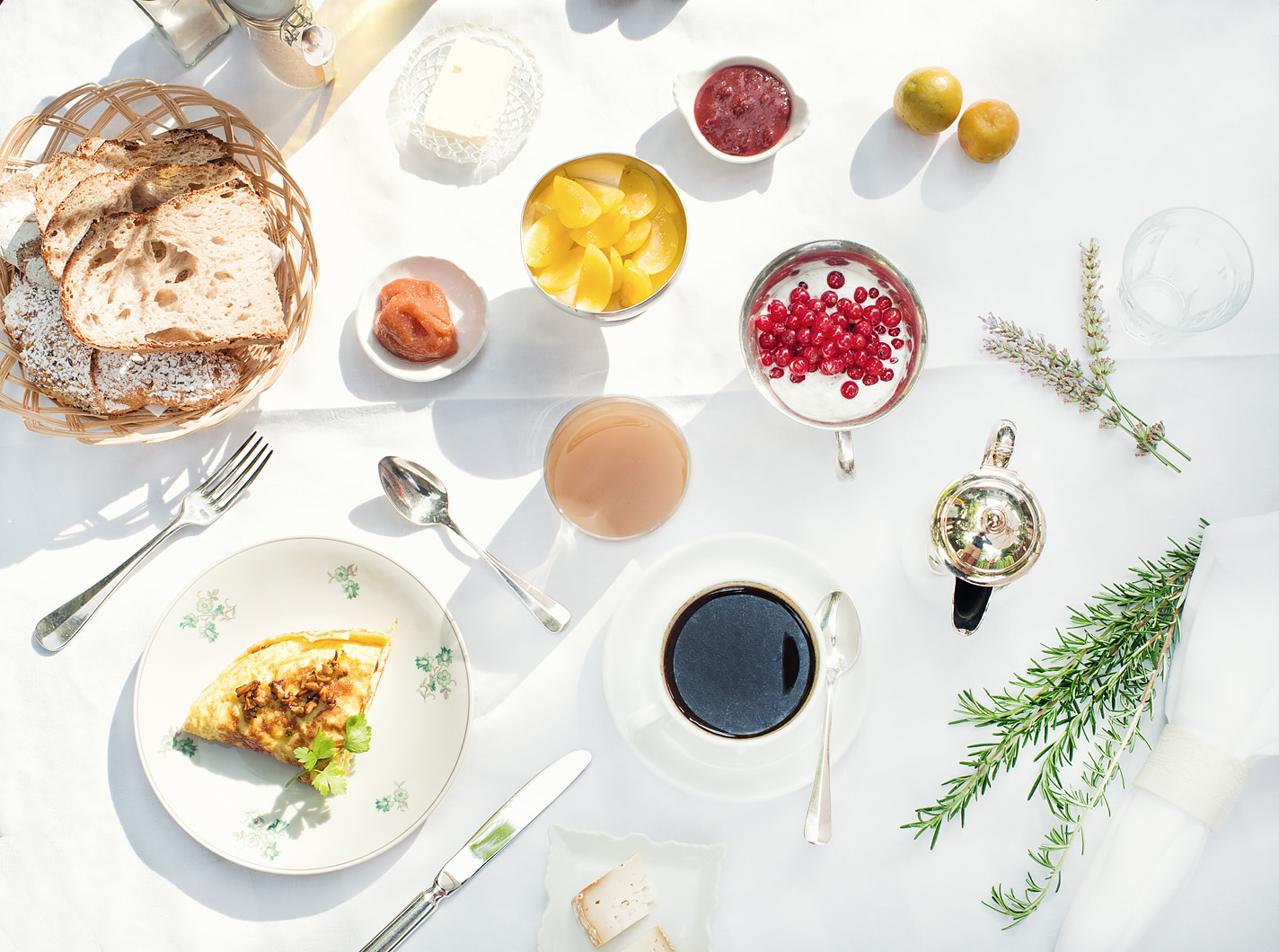 You cannot not love the Ottmanngut. Impossible.  Whether this is because of the lovely hosts Martin and Katharina or the energy this house radiates – you decide! But once you have crossed the cast-iron gate of the entrance, you are in full-on vacation mode. You are staying in bright rooms with antiques and fresh beds and every morning you are served a magnificent 3-course breakfast feast – prepared by the host himself. In the evening you gather in the garden, kick back with a glass of South Tyrolean Red , relax and let your mind wander of in the distance.
Website
Villa Fluggi, Obermais / Merano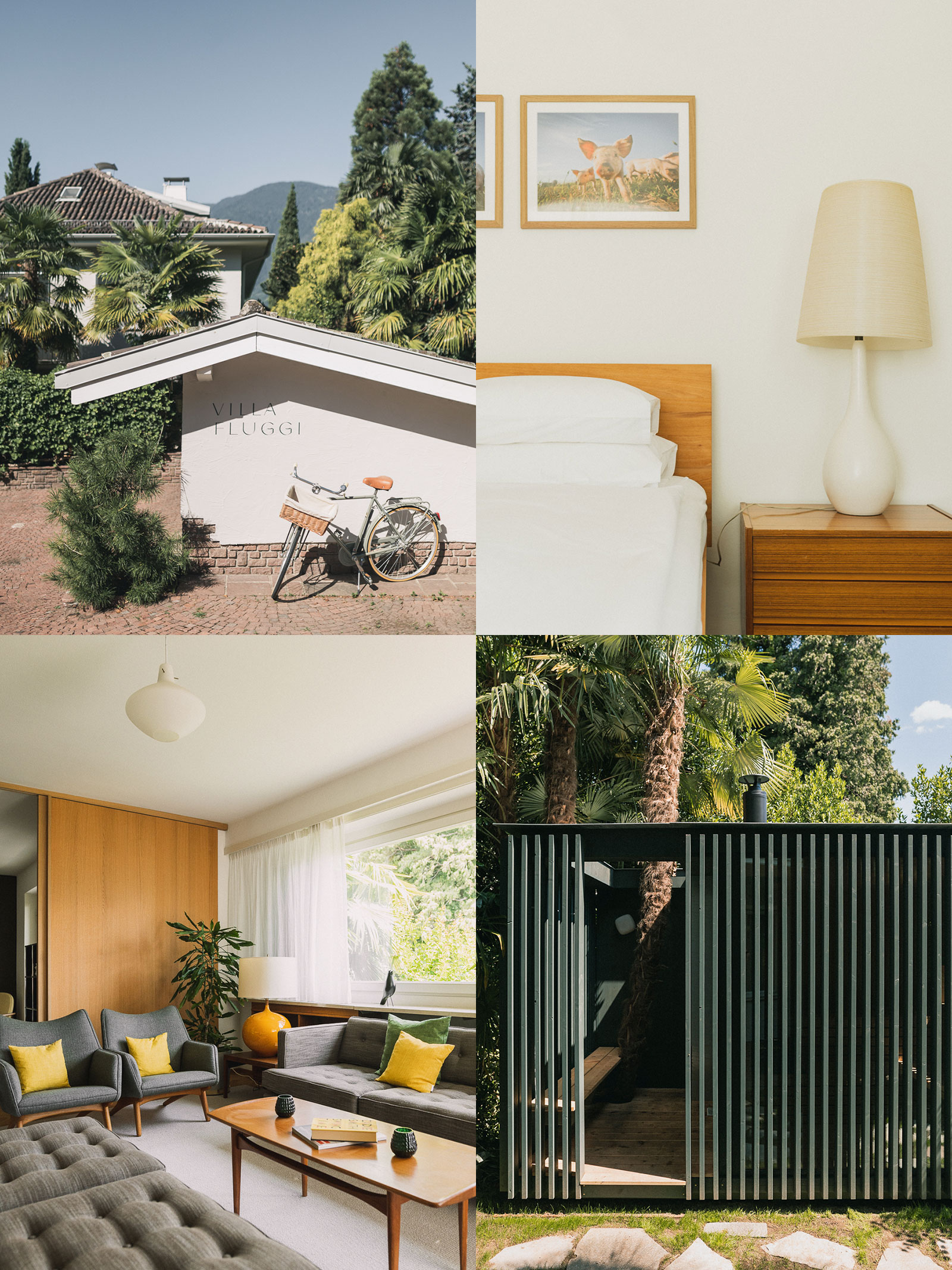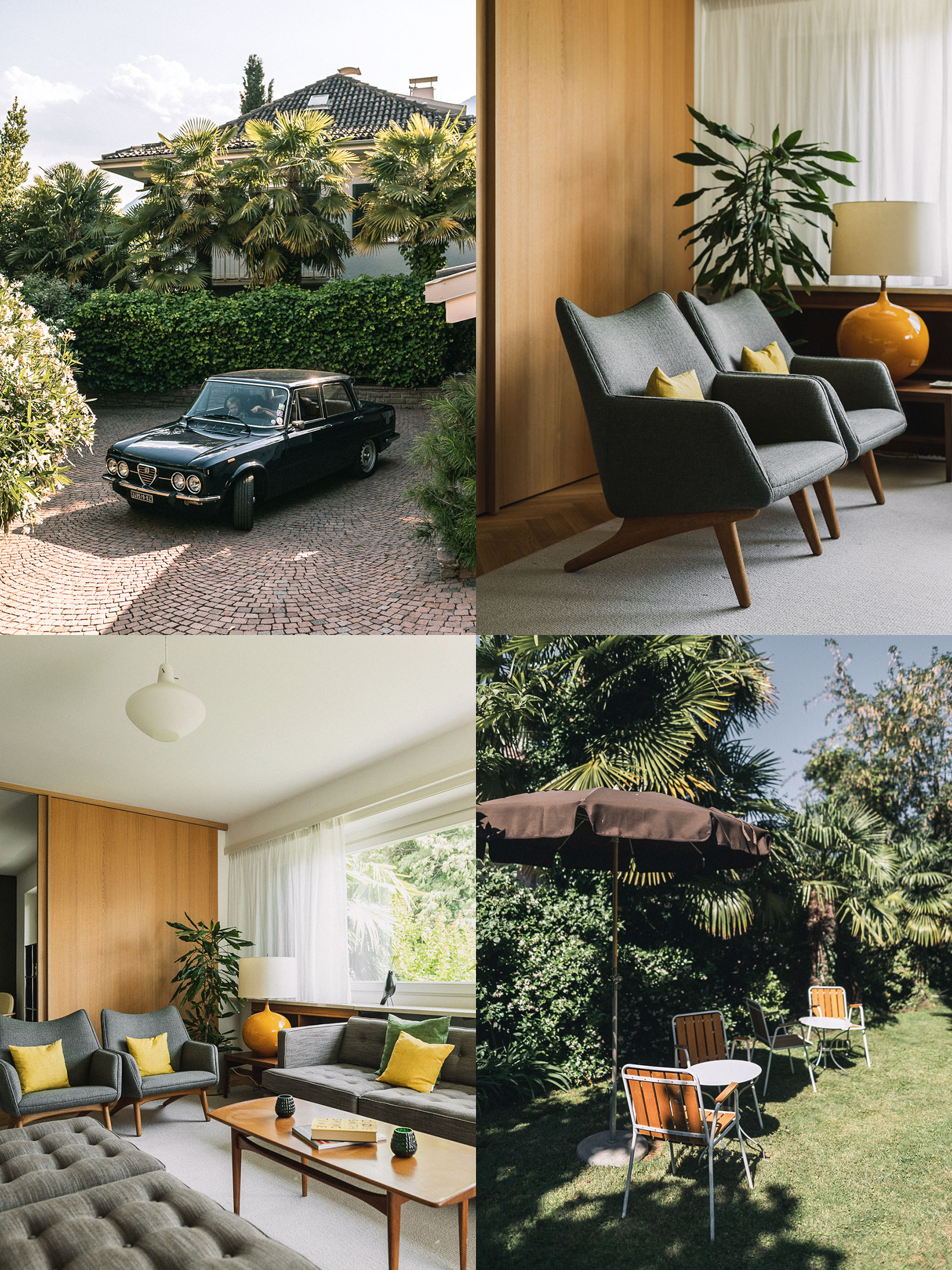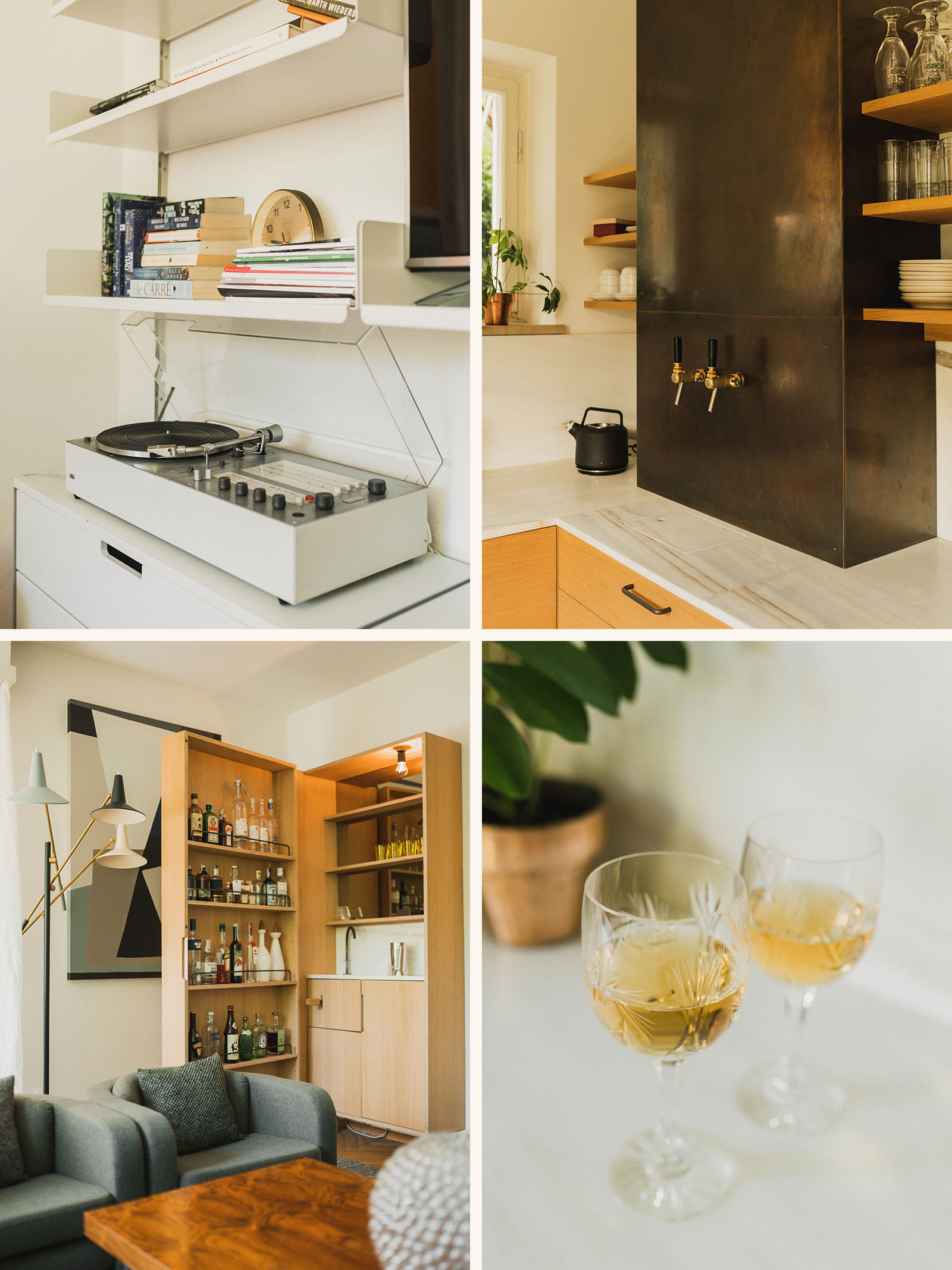 Upping the ante? After having established the Miramonti Boutique Hotel, Klaus and Carmen needed a new project … they quickly found one and it had Tyler Brûlé written all over it. When they bought the former residence of the Monocle founder and self-described devotee of the 60s, they not only received the property but also his personal art collection. Plus the furniture on top. Think staying in a curated art pavilion and you get the idea of the accommodation. But that`s not all. The location is definitely something to write home about: The guesthouse is located in the area where all the old Merano mansions reside, on a hillside with a view and only 5 minutes from the center or the beautiful parks. If your budget allows it consider moving your extended family (and your work, if you can not leave it behind) for a longer stay … you won`t run out of space. the villa is a triplex featuring five bedrooms, three bathrooms and a new sauna in the garden. Maximum occupancy: 10 guests.
Website
Miramonti Boutique Hotel, Avelengo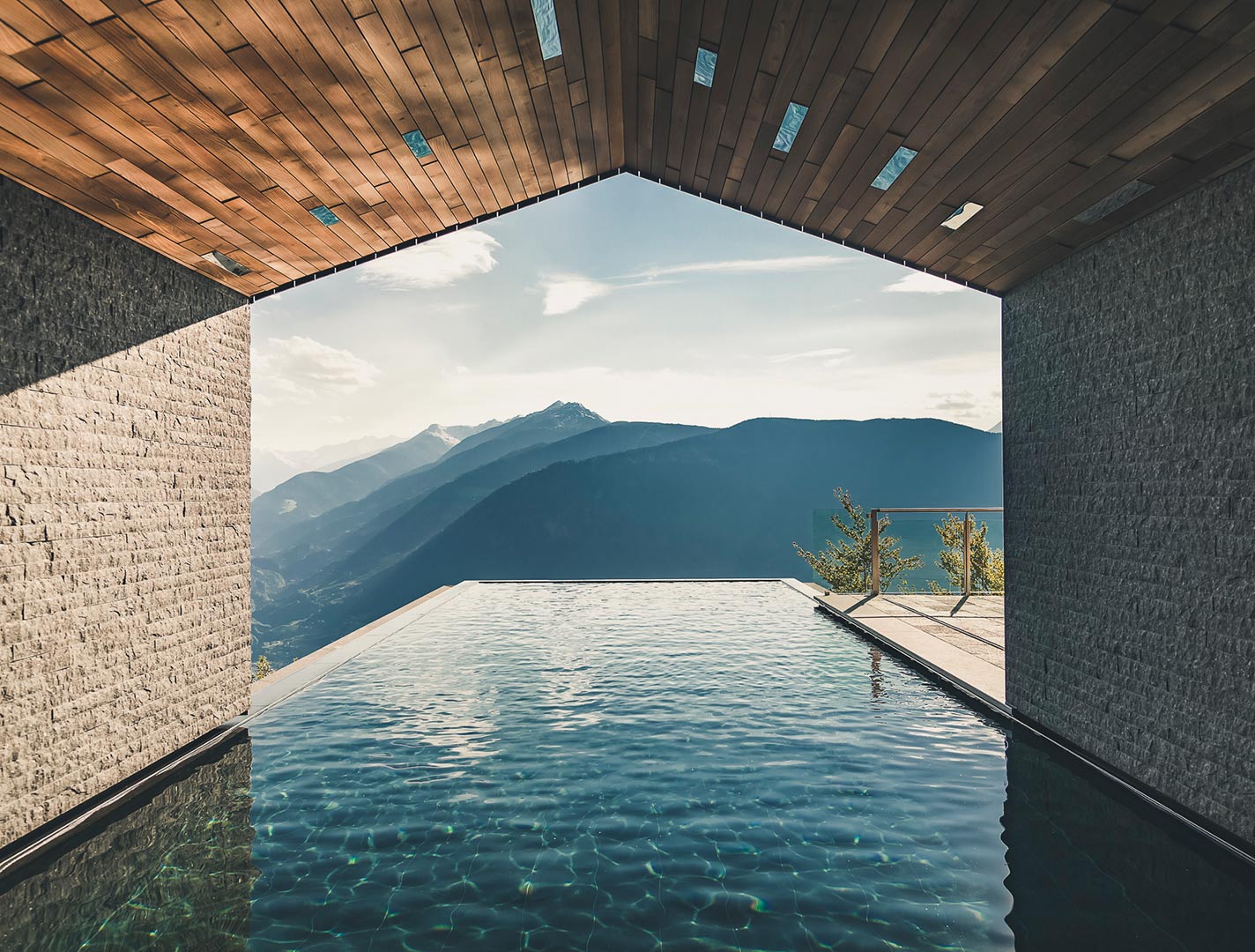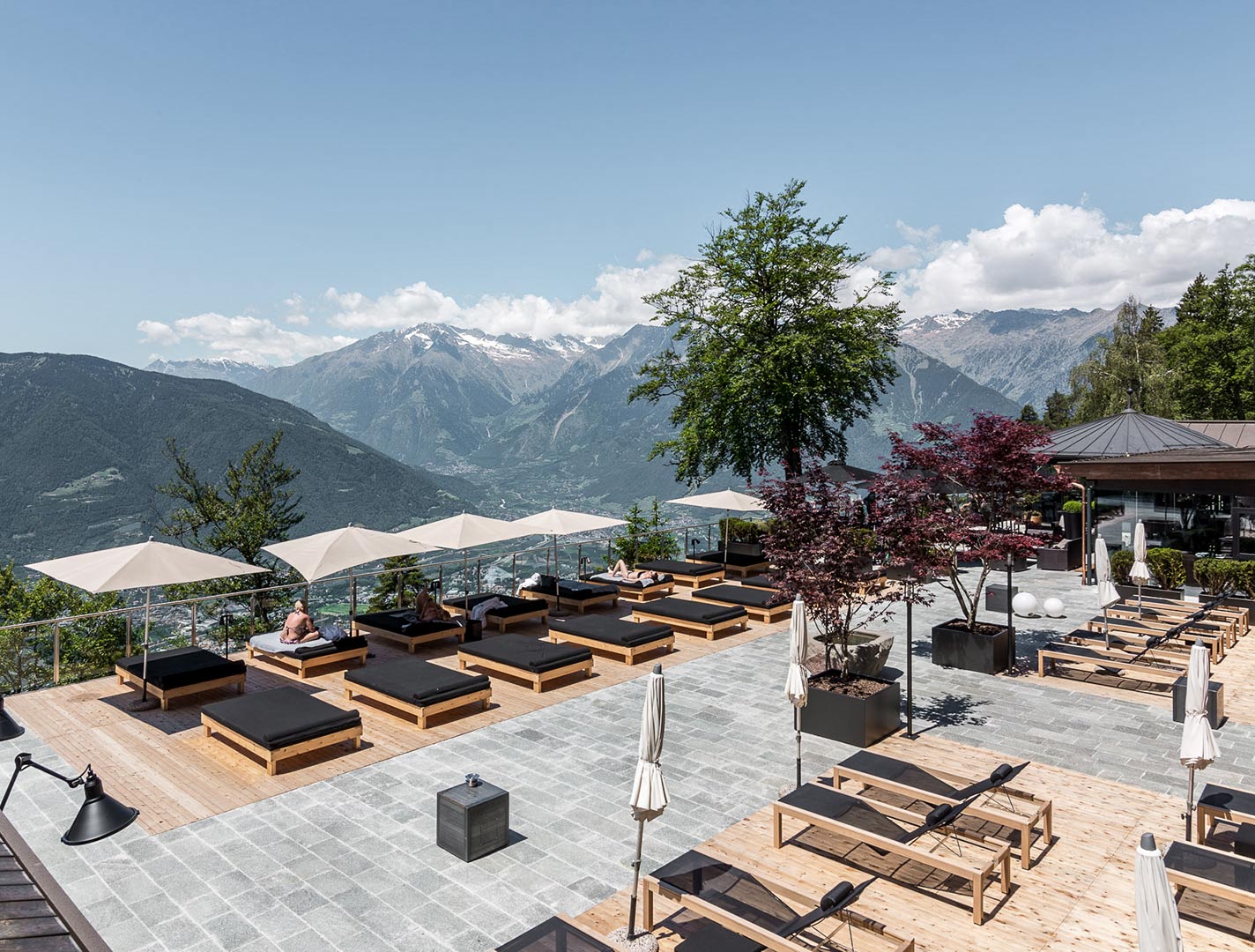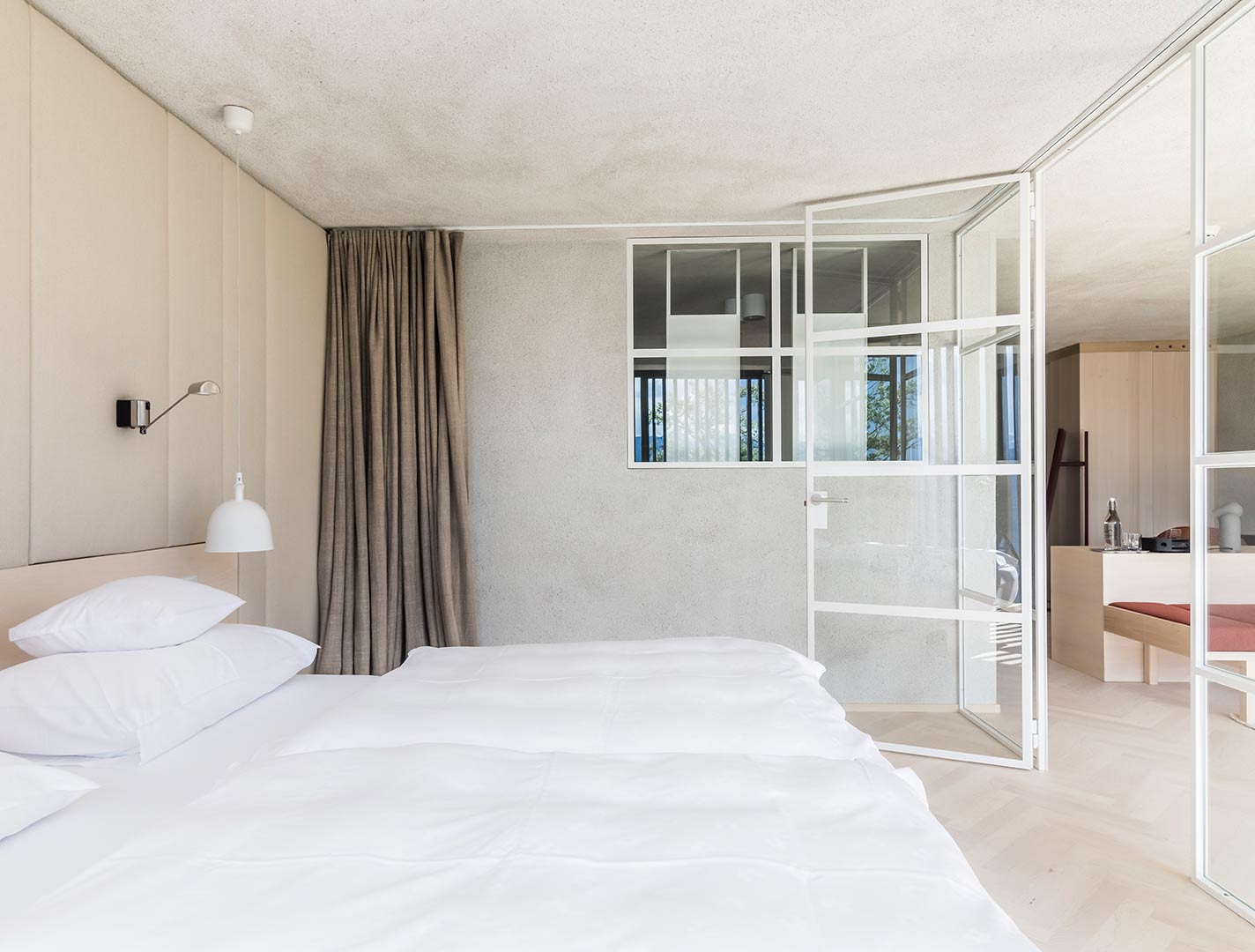 With respect to the Villa Fluggi the Miramonti Boutique Hotel must be called a classic. Yet it is not even 10 years old. But the hideaway Klaus and Carmen created some 1230 meters above Merano is the stuff of legends. To cement this reputation, the two continue to make history, last year the already first-class spa with the world-famous swimming pool overlooking Merano was expanded by a 40 degree hot Japanese Onsen pool, a gym and a sky house. All of which spectacularly hammered into the mountain above the main house. For those with deep pockets allow yourself to stay extensively. Everything including the food is just top notch.
Website
1477 Reichhalter, Lana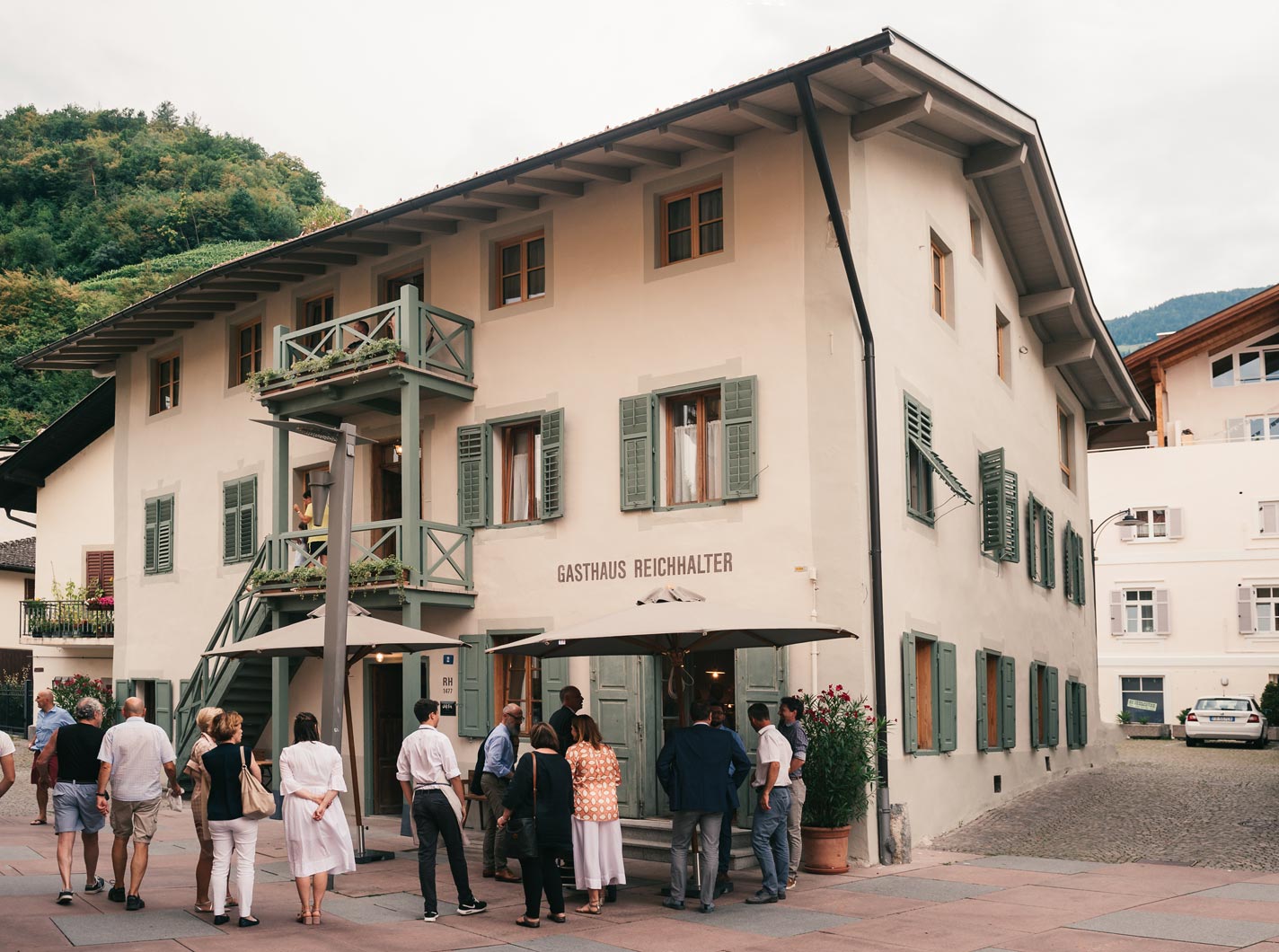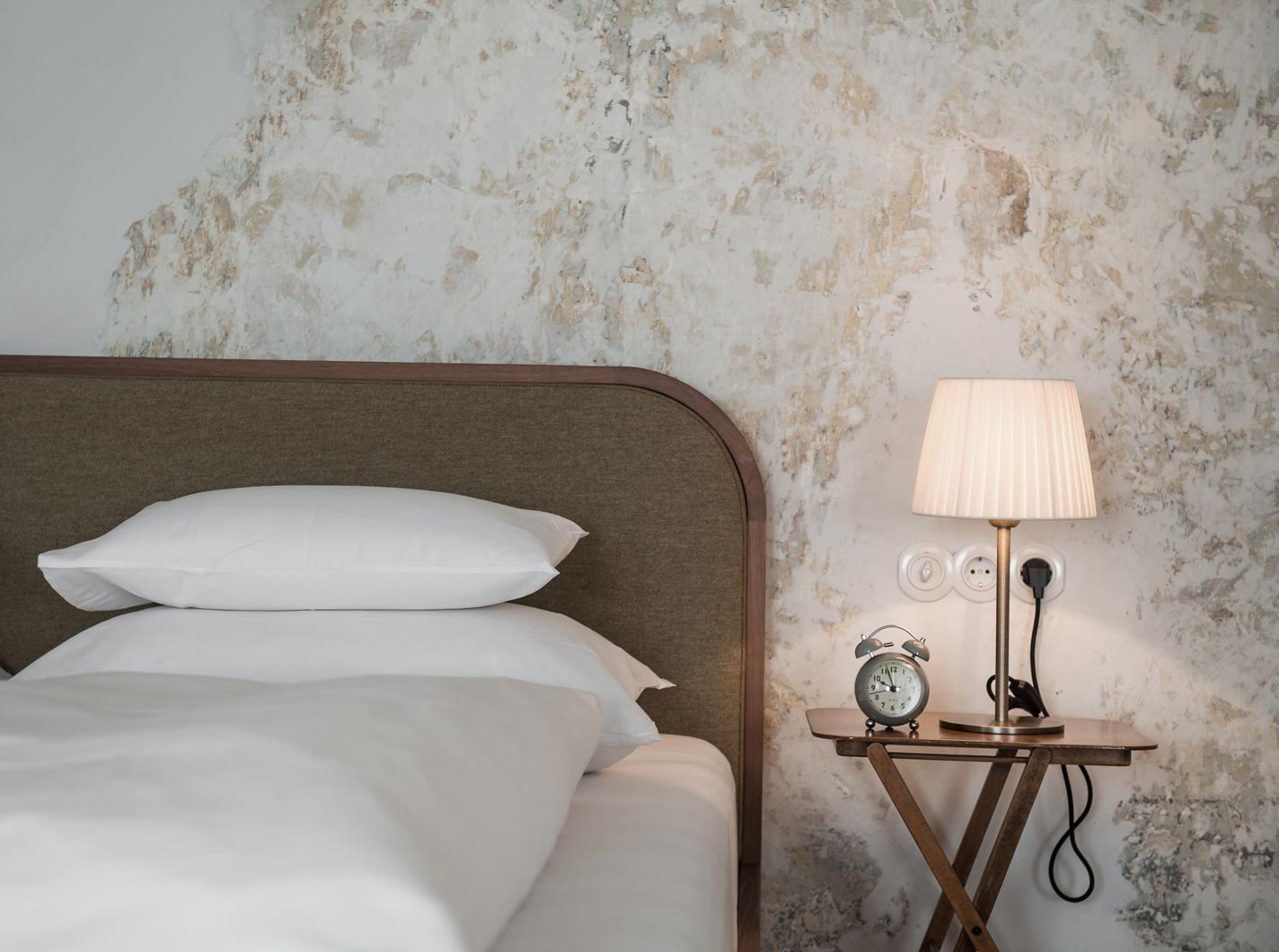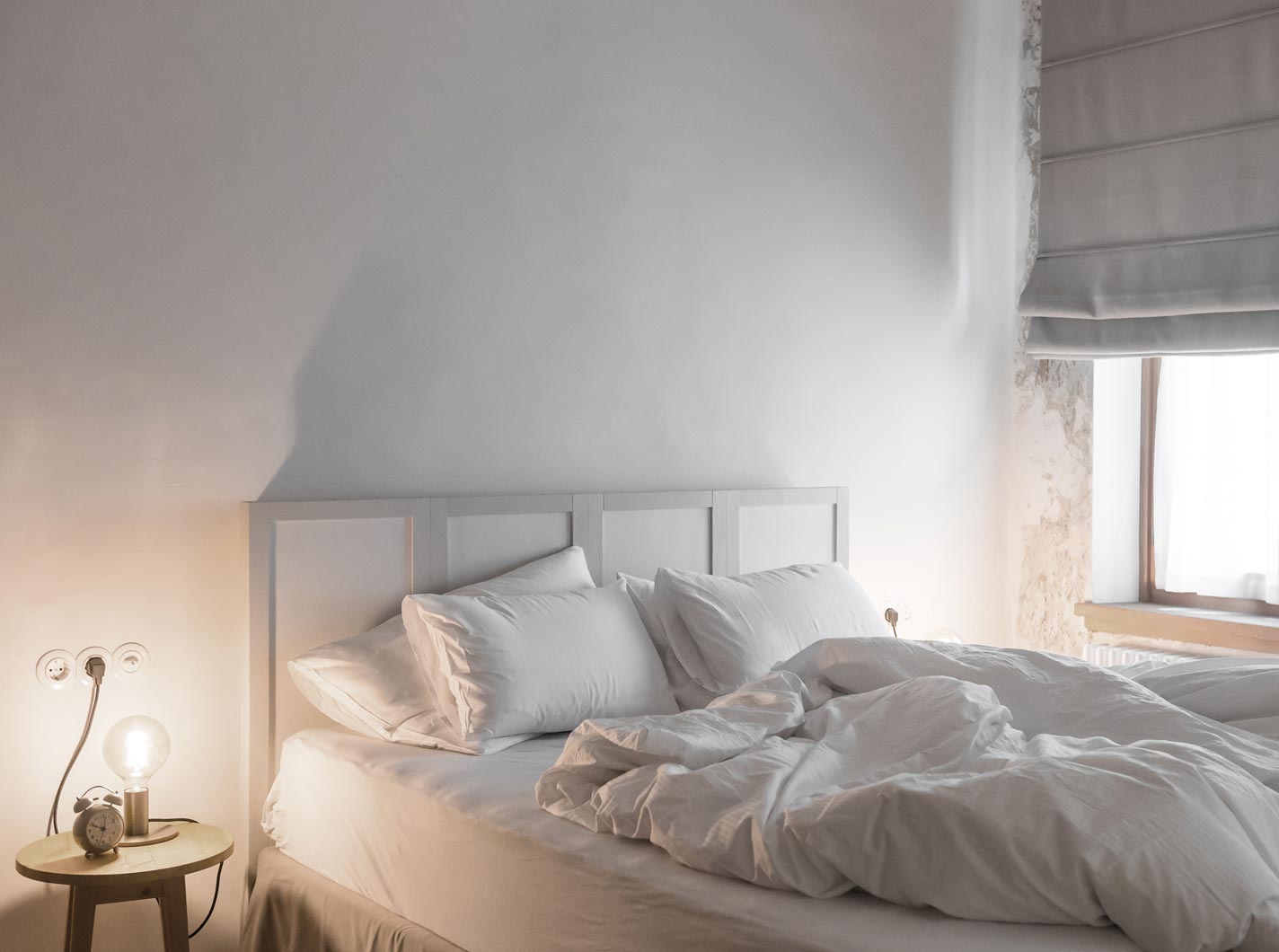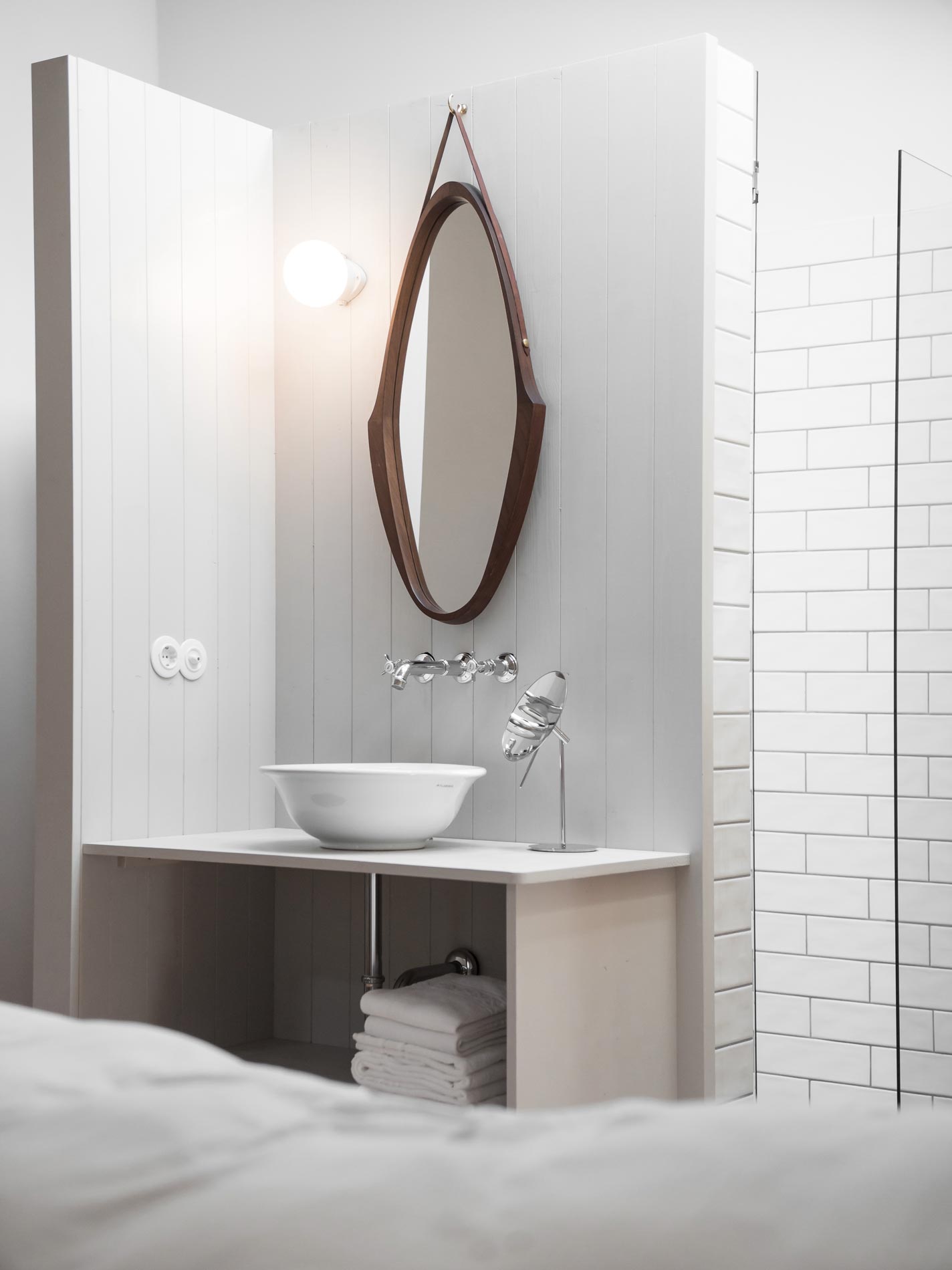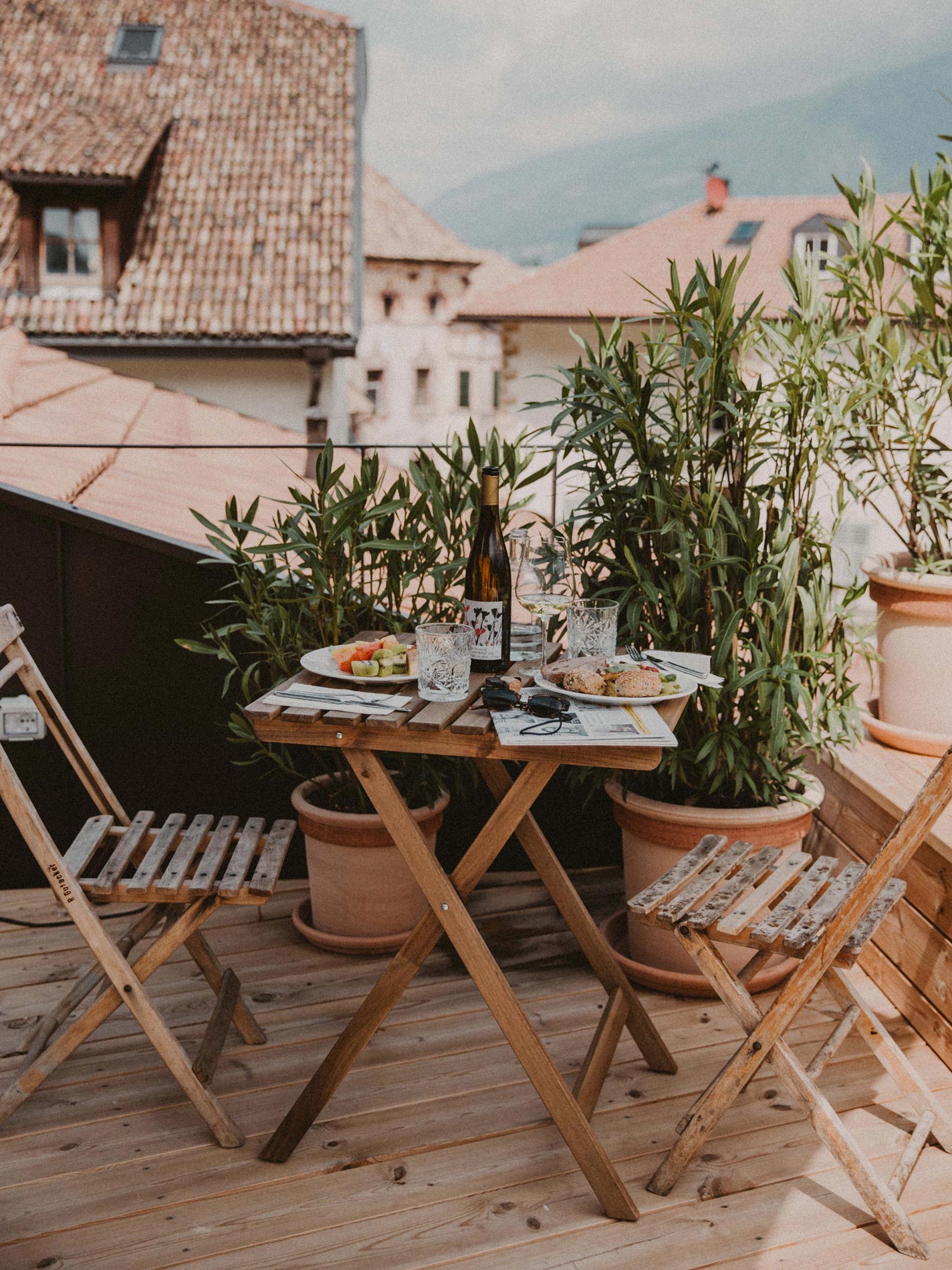 Hotel_1477_Reichhalter_15@2
If the historic district of Lana is your preferred destination, then the Reichhalter is the place to stay. The old building went under the knife in 2018 and when Klaus Dissertori, who also runs the Hotel Schwarzschmied a little further down the street, finished surgery, the result was nothing short of spectacular: Eight beautifully renovated "old-style" rooms plus a magnificent restaurant. In the summer and fall you can sit outside for lunch and dinner and indulge in the creations of chef Andreas Heinisch. He previously cooked up a storm in the trendy restaurant Miil (see below).
Website
Schwarzschmied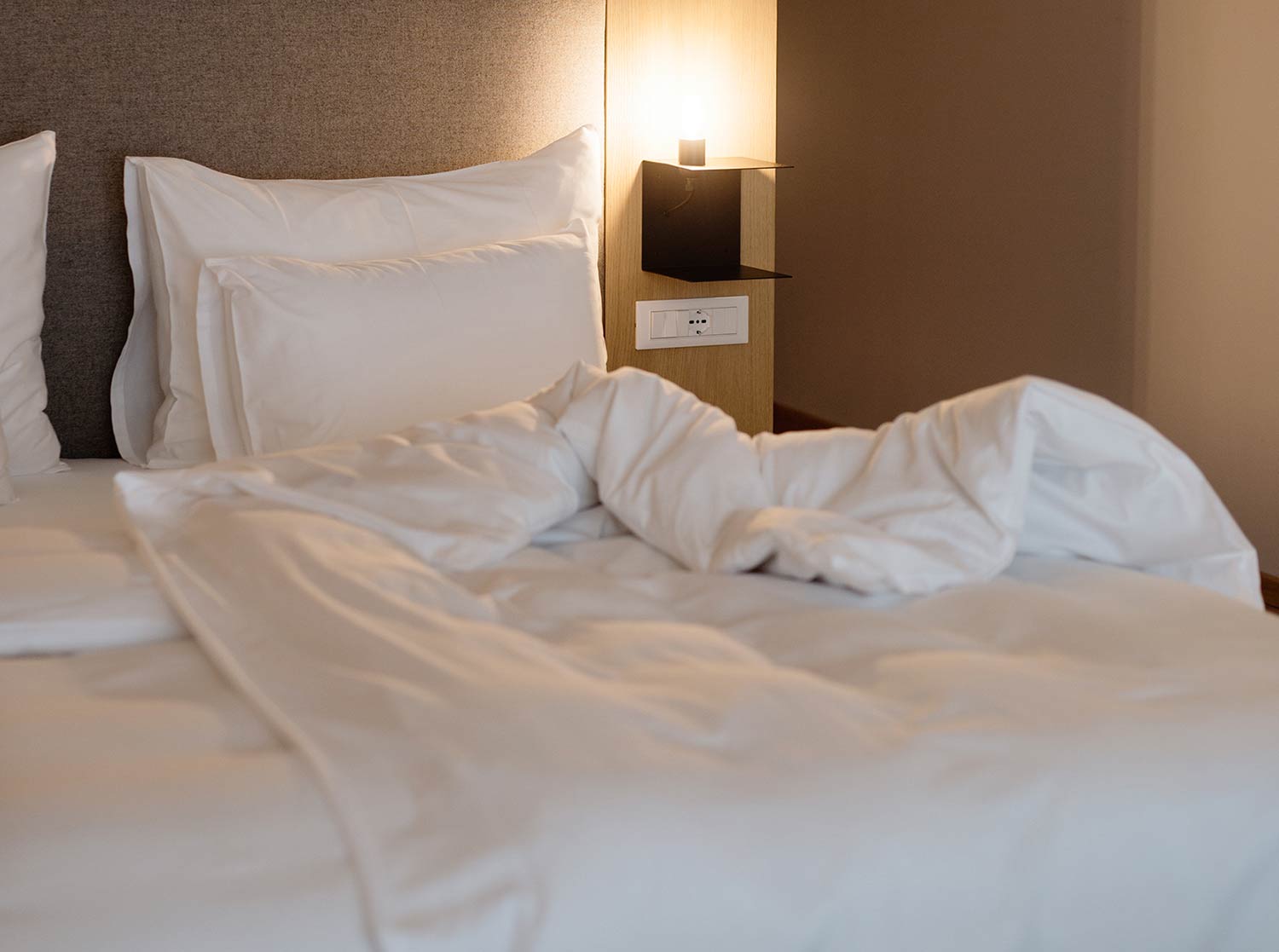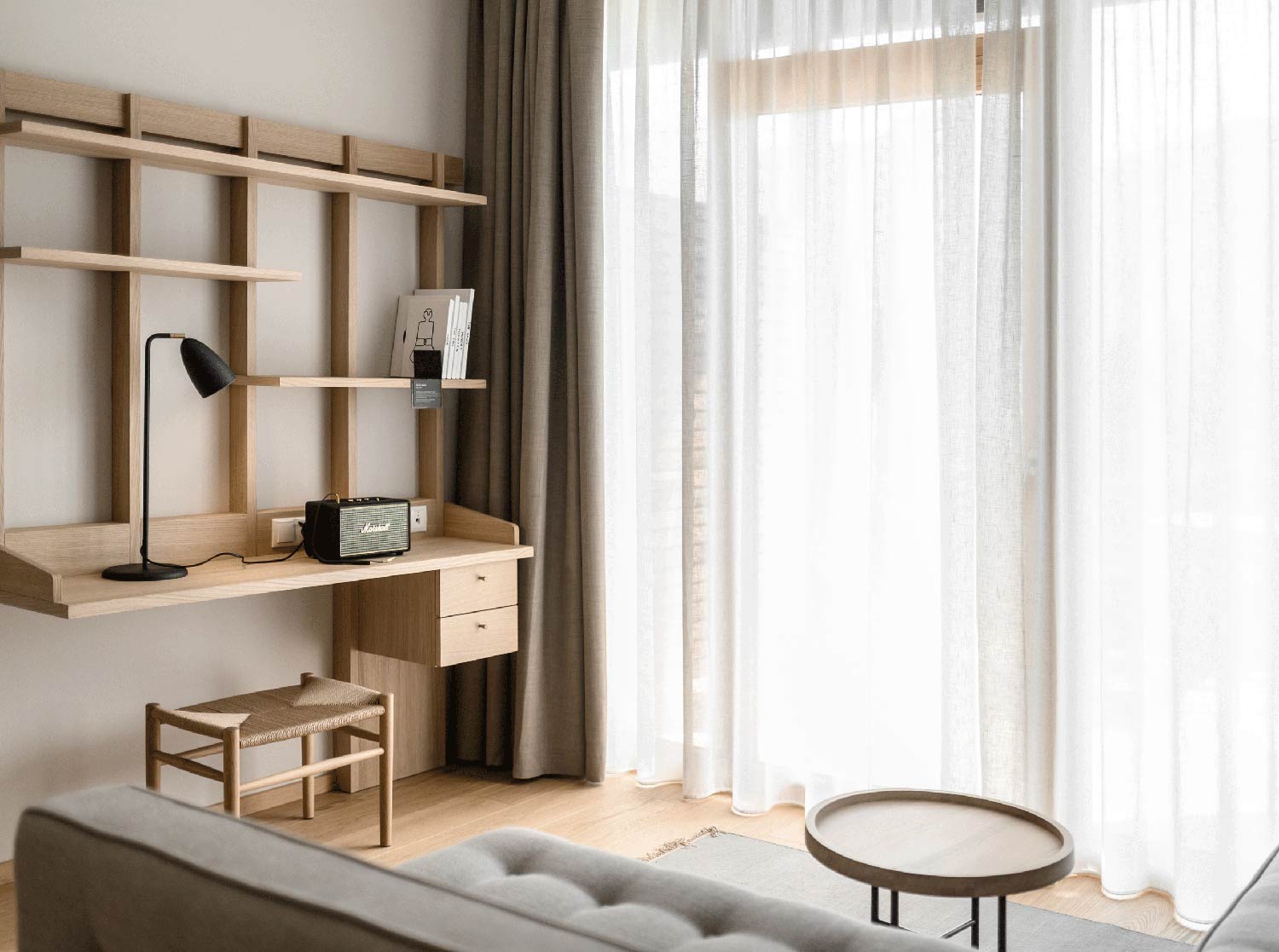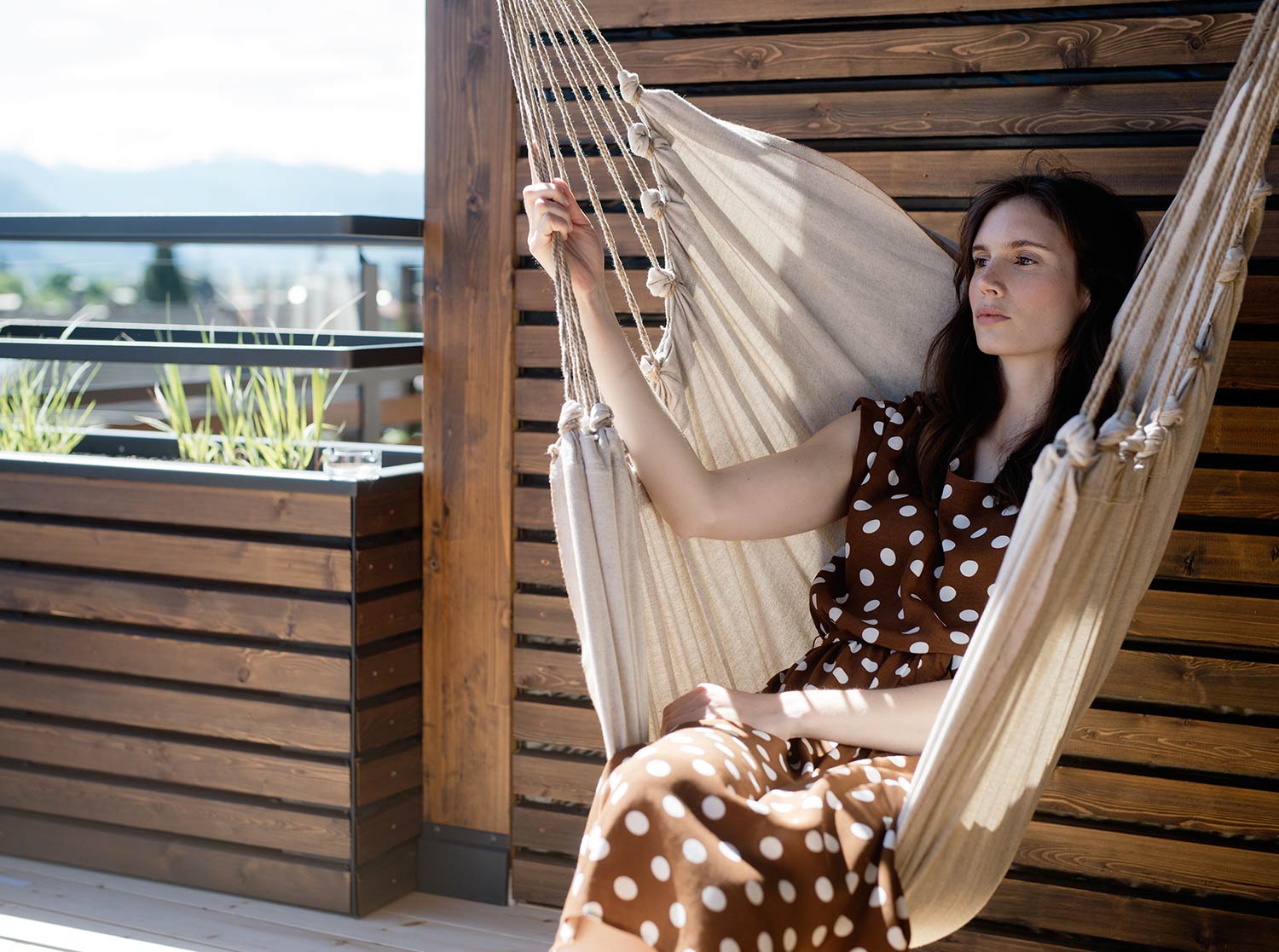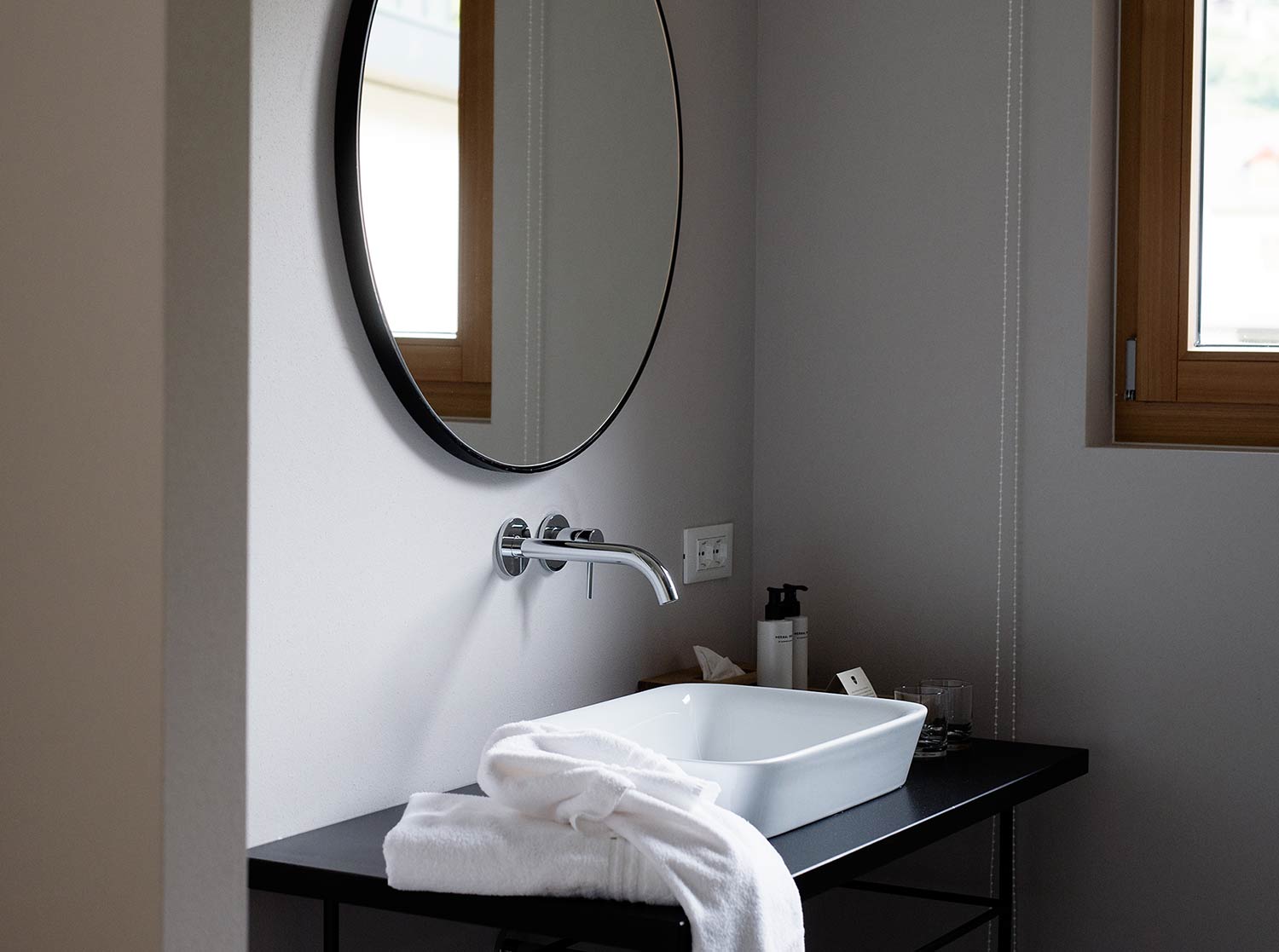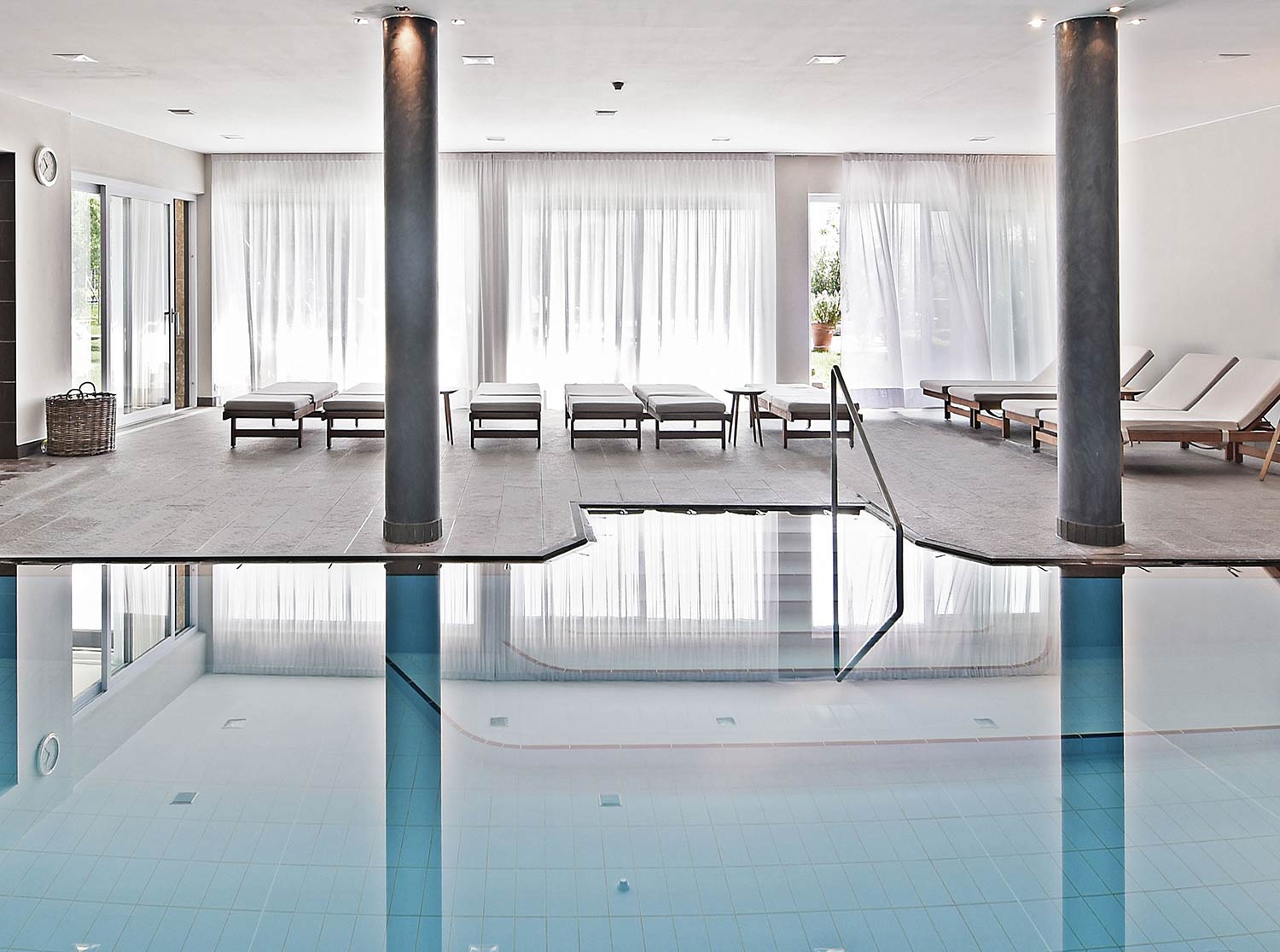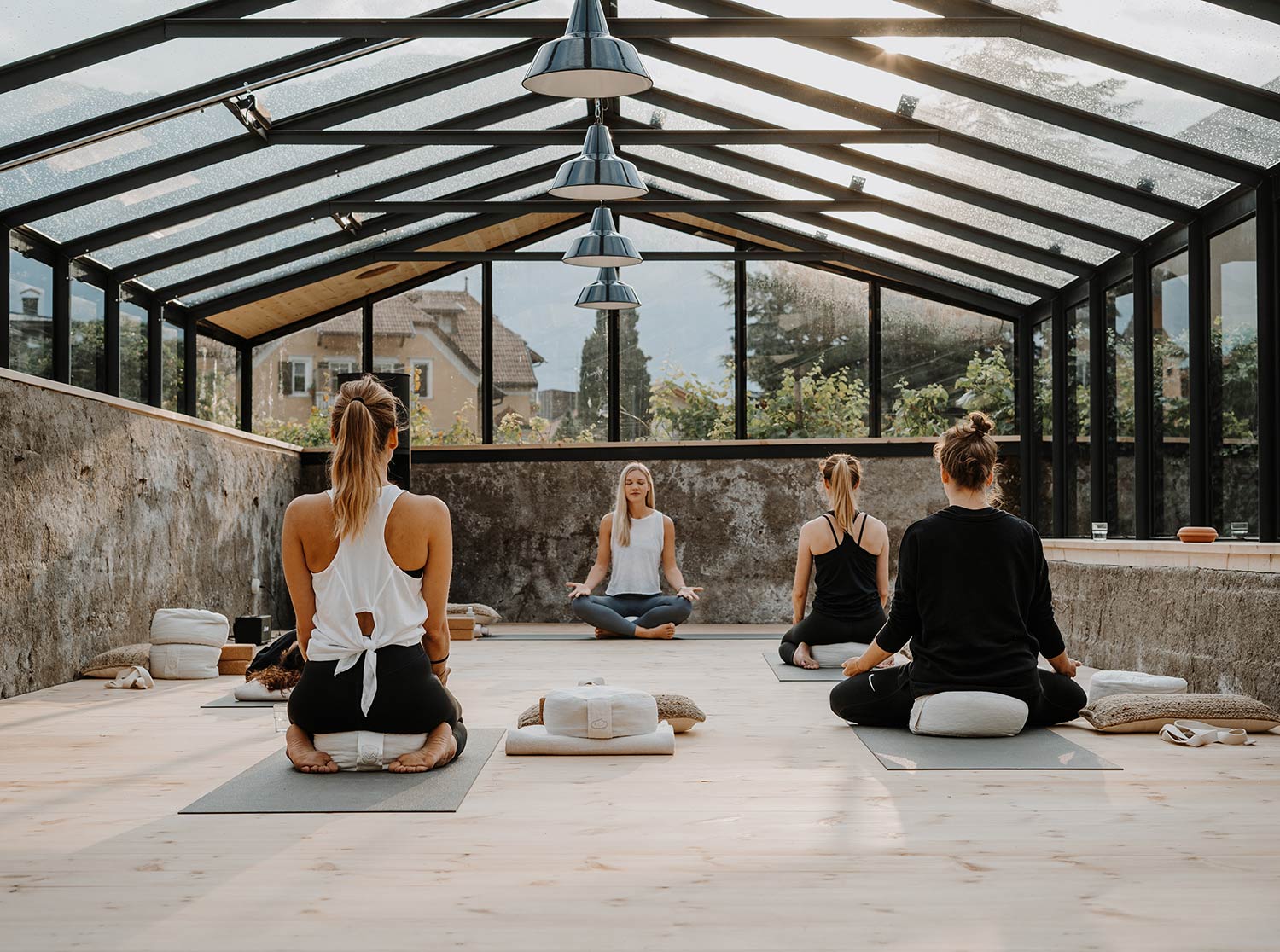 With 68 rooms and suites, the Schwarzschmied is the largest property in the Dissertori hotel family. It is beautifully situated on a vineyard slope with a view of the village church. Only the façade dates back to the time when Dissertori's parents ran the house. All other parts were renovated sensitively and smartly by the brothers. Enjoy lots of glass and wood, plus a gorgeous terrace for late breakfasts and long dinners. We especially like the energy in this house, it's spacious and you can also go for a swim in the indoor pool after a hike. Highly recommended: The slow food cuisine at the in-house restaurant La Fucina.
Website
Villa Arnica, Lana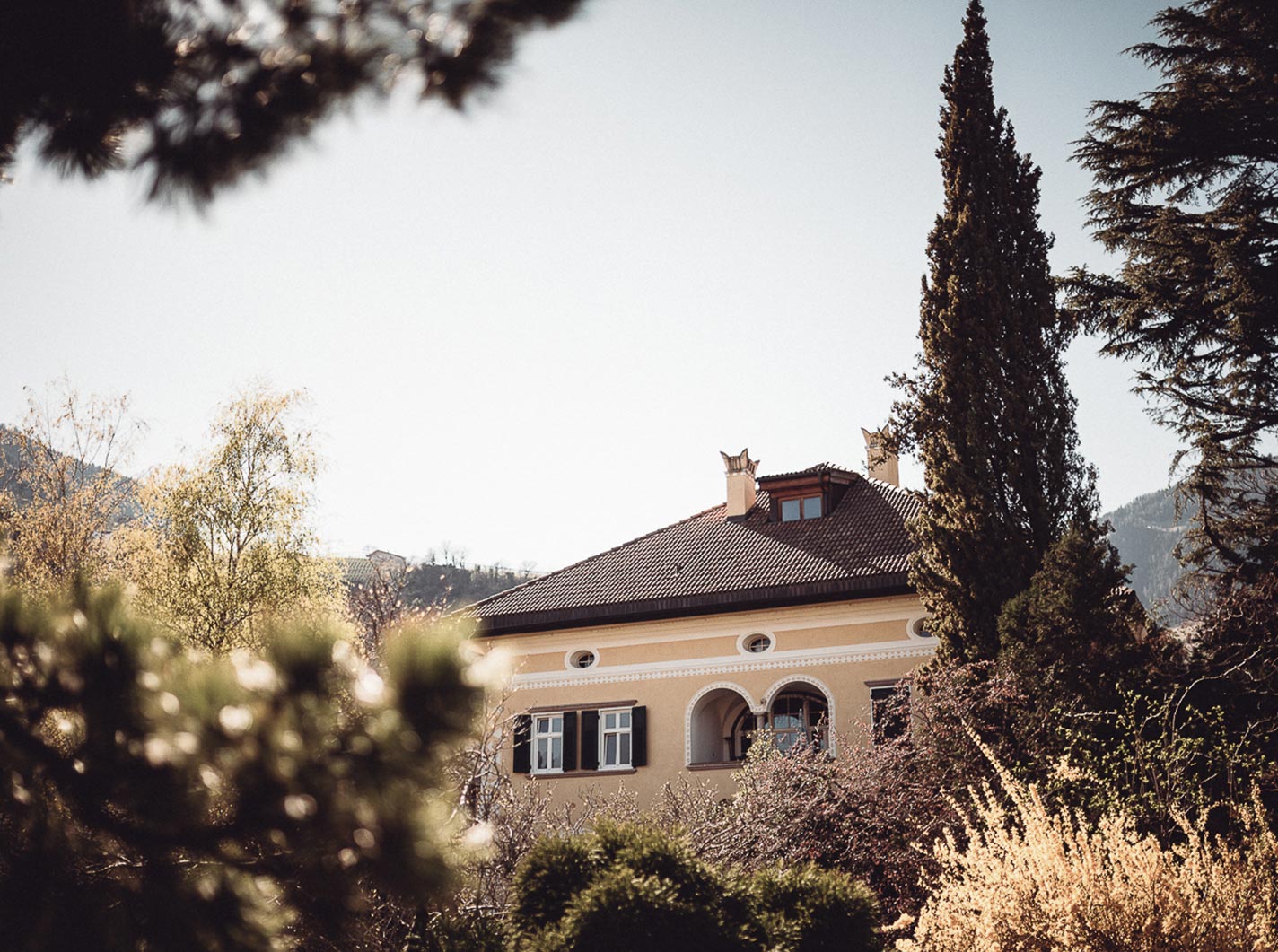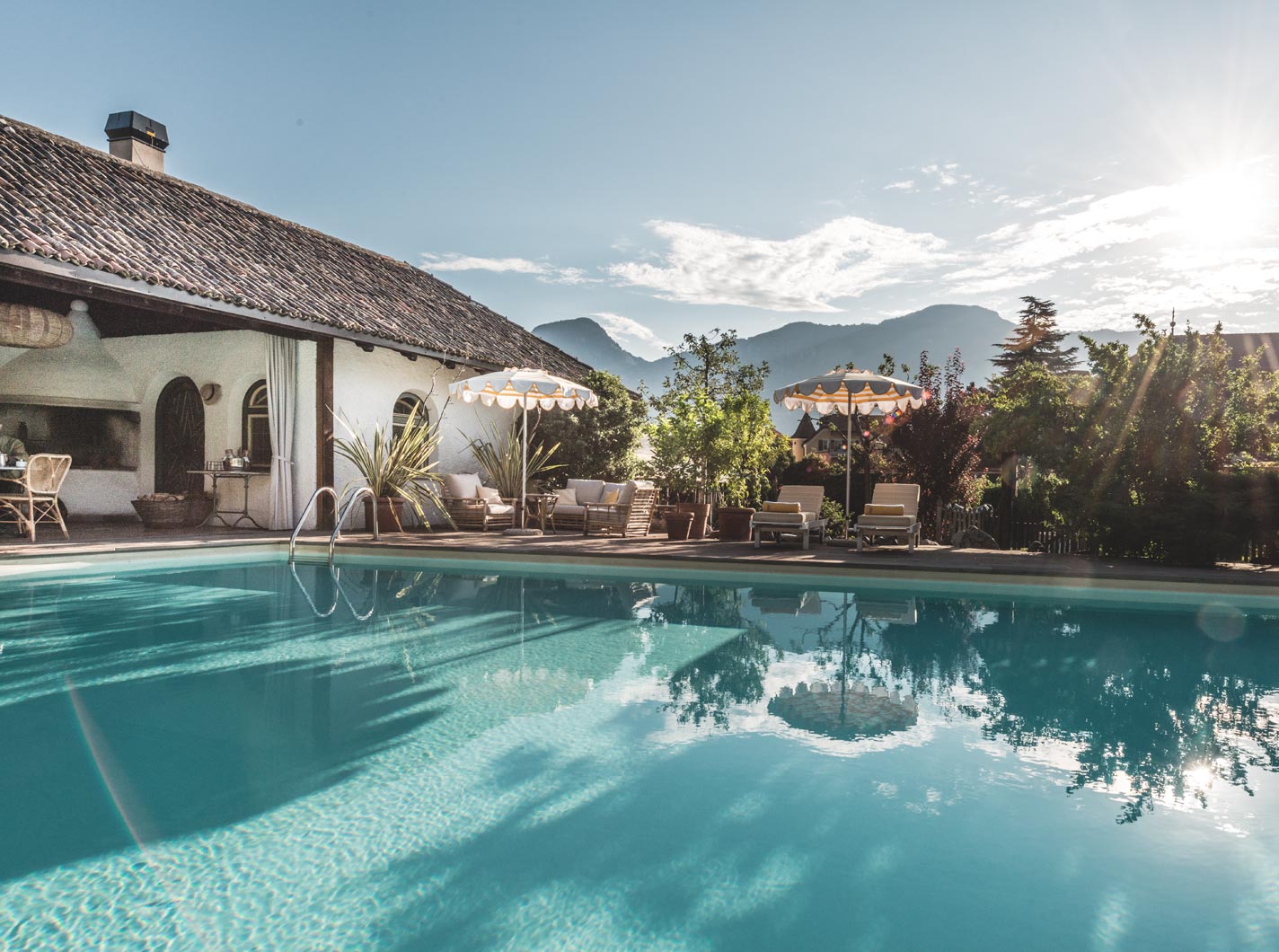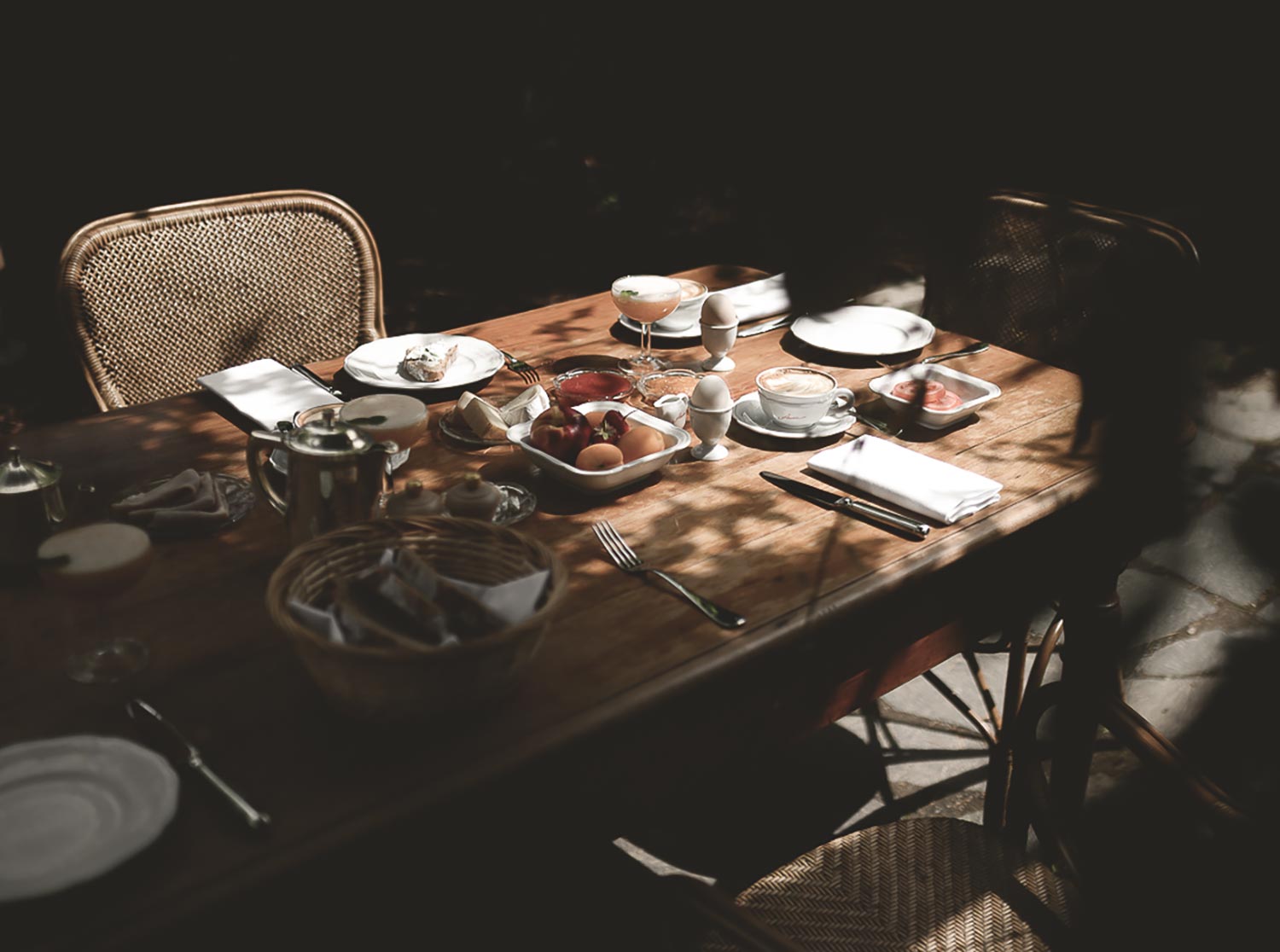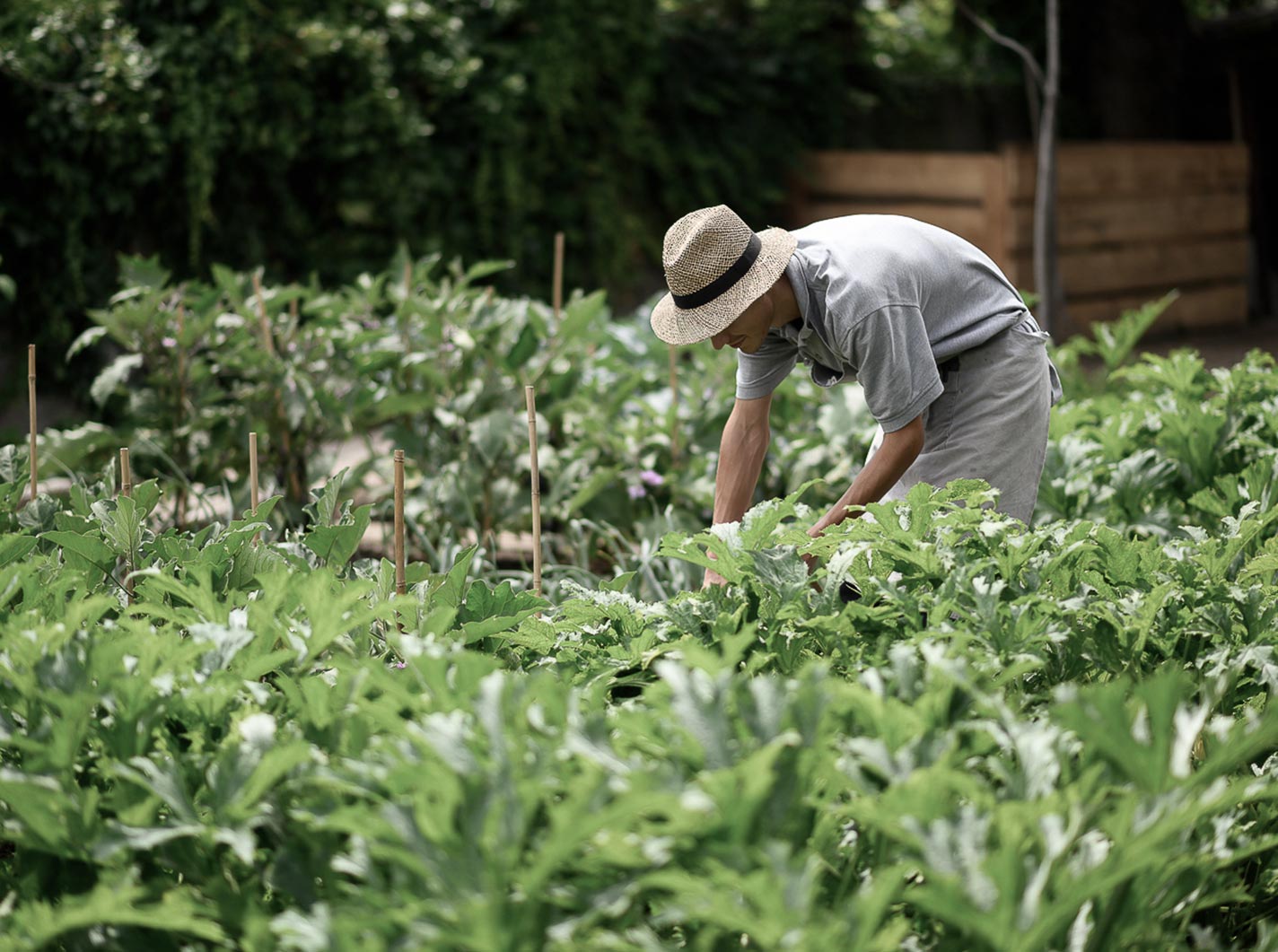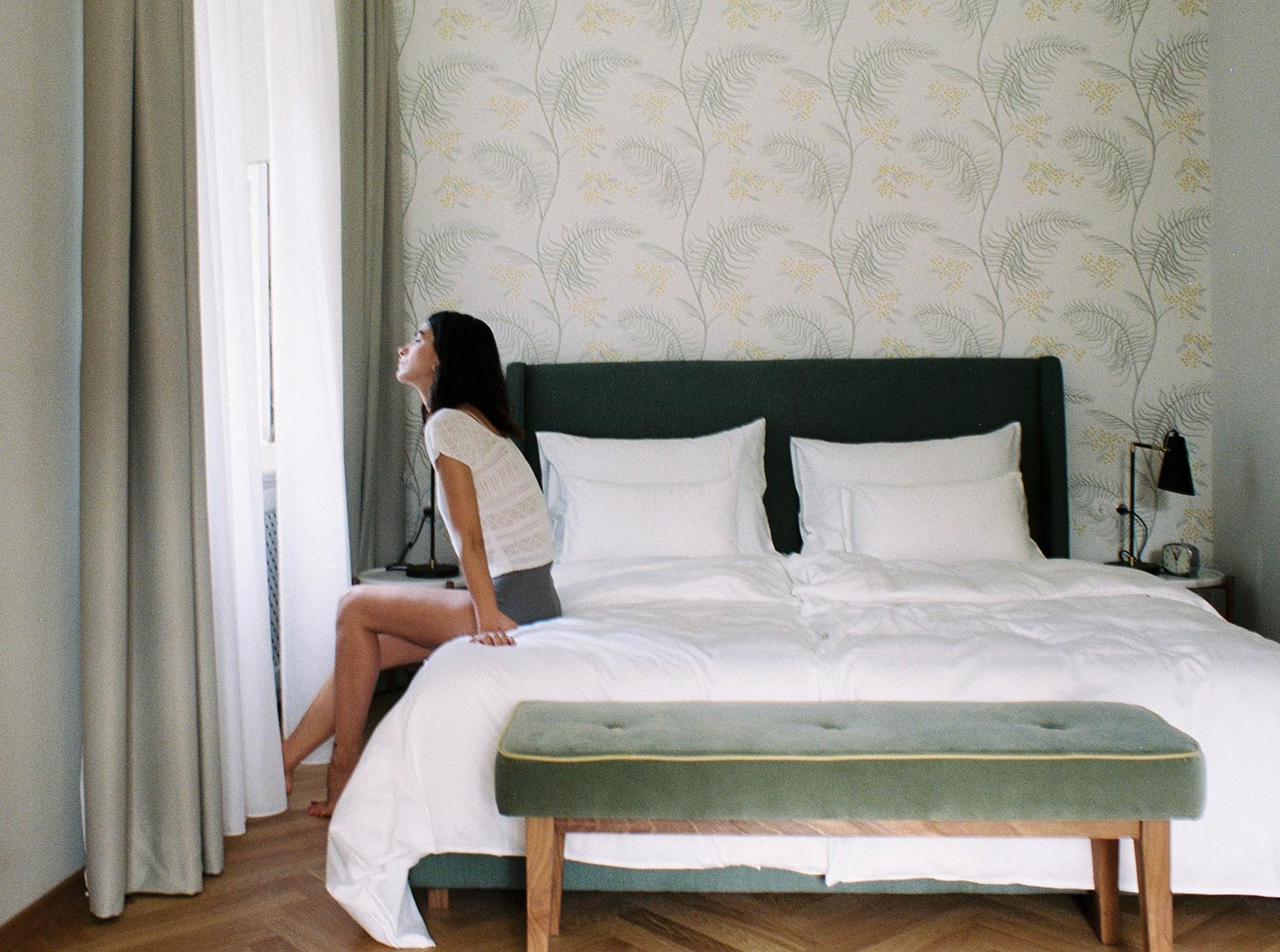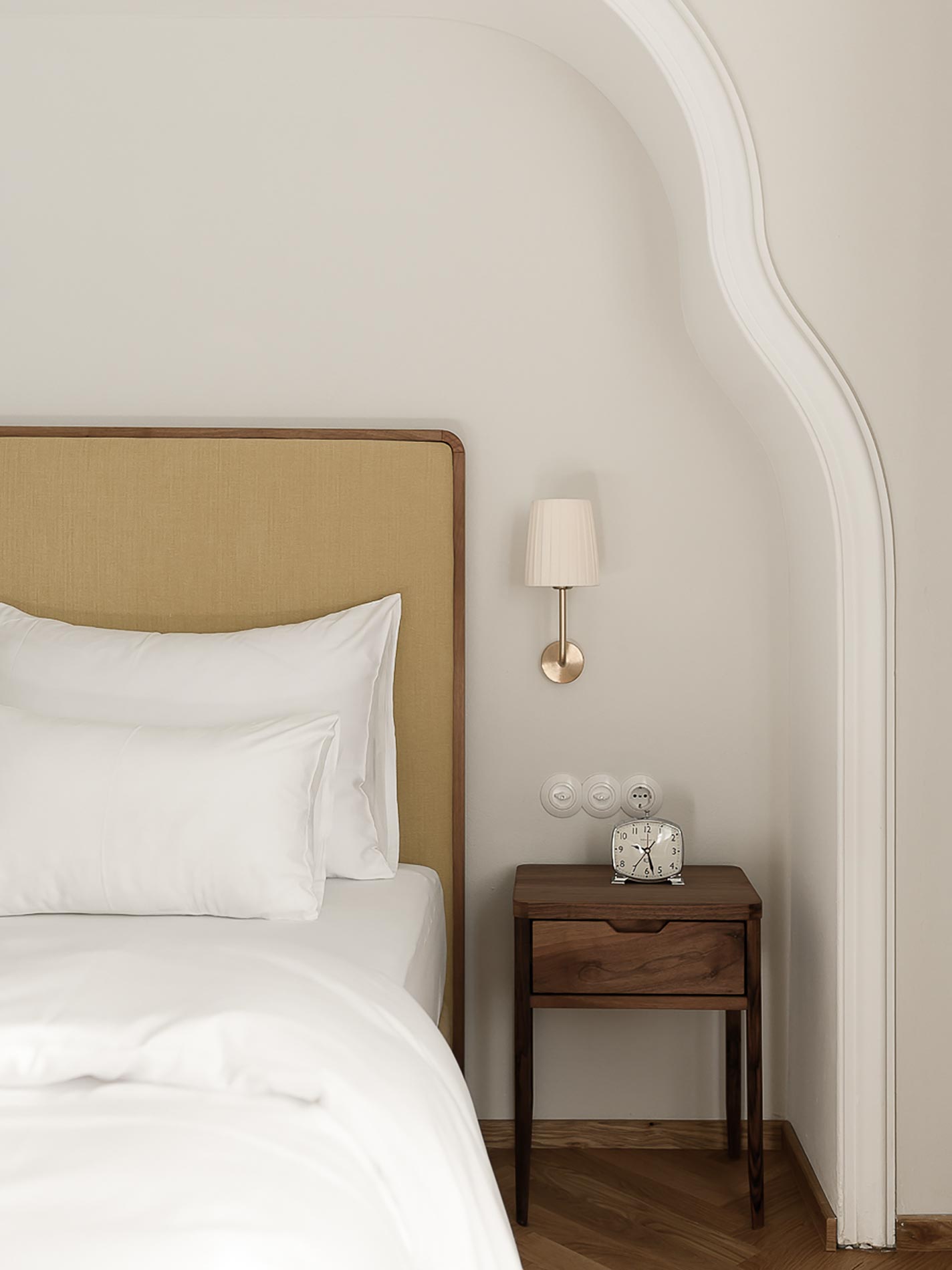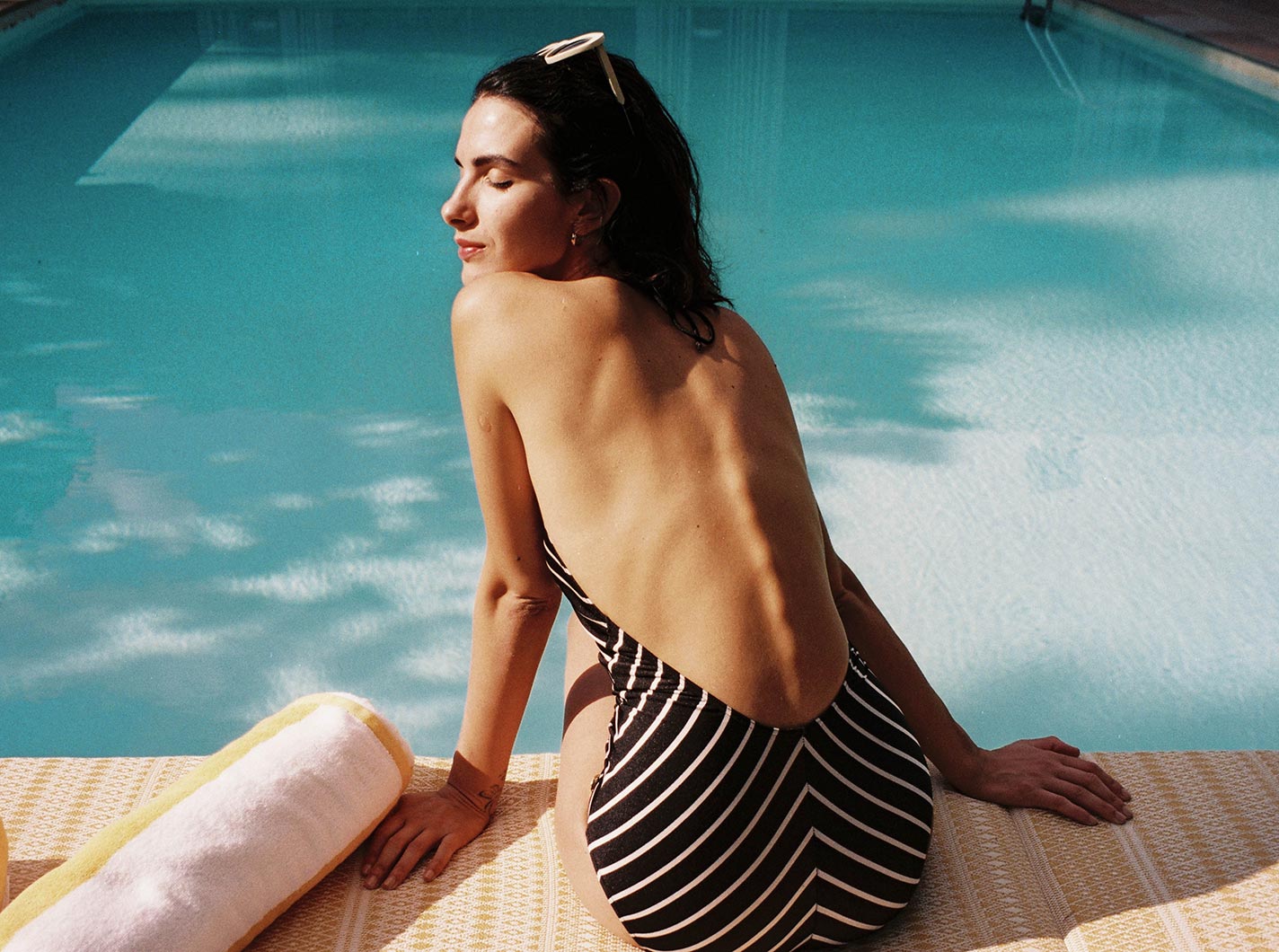 An ongoing love affair between guests and hotel since its inception! Because it has everything you could wish for: beautifully furnished rooms in a large, old villa. A lounge on the first floor, with a library, a bar and lots of great charm. A never ending  garden with a view of the mountains. A pool with  a pool house, where on sunny days not only breakfast is served, but also light lunches and aperitifs. There is a reason why many guests stay in during the day. Just too comfy all around to leave the premises.
Culinary
We would like to highlight three restaurants in particular, not only is each one of them special in their own right but they all meet our standards – they truly have the simplest thing in common: You eat extremely well there.  In Lana these are the 1477 Reichhalter (which is located downstairs in the hotel) and the Miil. In Algund we like the cuisine of Christoph Huber in his Wirthaus Zur blauen Traube. If you like it with less culinary fanfare then the Trattoria Mainardo might be for you.
Restaurant Miil, Lana
Hosted on the Kränzelhof winery grounds, restaurant Miil is located between Merano and Lana. Enter and prepare to be amazed by the special ambiance of this South Tyrolean gem. First, you walk along a river through some dense vegetation only to end up in a park-like patio with a stylish bar, pergola and restaurant garden. There, self-confident waitresses serve great creations. Given the chance you would want to savor them all.
"The menu of the Miil is dictated by the seasons. Seasonal cuisine is not defined by the price of the products, but by their quality".
By the way: Like in all South Tyrolean restaurants there is no formal dress code, however, if you do not mind dressing up for lunch or dinner a little more than usual, then the Miil might be the place.
Website
Tuesday until Saturday 12.00 – 2.00 p.m. and Dinner from 7.00 until 9.30 p.m.
Reservations:  +39 0473 563 733.
Wirtshaus zur blauen Traube, Algund
Barely open one year Wirtshaus zur blauen Traube is already the (gastro-) talk of the town. This is due to the beautiful, historic house in Algund and above all to Chef Christoph Huber. He was trained under legends such as the German three-star Chef Christian Jürgens (Überfahrt Tegernsee) and most recently worked as the sous-chef at the famous Hotel Castell. On the menu you will find his own creations, which he describes as "brutally regional". Christophs idea is also to create dishes according to the season, but the whole thing is very relaxed. So you may come in a cool T-Shirt and shorts (from the Monocle shop in Merano – scroll down for more info ;-)).
Contacts
Wirtshaus zur blauen Traube
Christoph Huber
Alte Landstraße 44
Algund
South Tyrol
Open Tuesday until Saturday. For reservations call  +39 0473 447 103 or info@blauetraube.it.
Gasthaus 1477 Reichhalter, Lana
The success behind Gasthaus 1477 Reichhalter? On the one hand, it comes across as your typical Italian village pub, on the other hand it is a modern gourmet temple. Which makes it exactly what we were always looking for. The latter achieved not with your typical award-winning gastro fare but rather with traditional South Tyrolean dishes. Chef Andreas used to cook at the Miil restaurant and he has simply transferred his concept of "good, regional food" to this traditional inn. In the summer you dine under a pergola in the shade opposite the house, in the winter inside in two beautiful old parlors. Just visit this place and you will recommend it to your best friends.
Contacts
For reservations call +39 0473563028 or send an e-mail at eat@1477reichhalter.com
Shopping
Granted, Merano is not Milano (yes, you might have guessed that!). But if you know your way around this village, you can discover intriguing designs even here.
The Monocle Shop
The best curated selection of course is available at the Monocle Shop in the Obermais district. Just for the record: There are just a few cities, that are blessed to have a Monocle Shop. In fact,, you can only find one in London, Tokyo, Zurich, Toronto, Los Angeles, Hong Kong and, well, Merano.
contacts
Monocle Shop Meran
Dantestraße 25
Obermais / Merano
Glücklich Trachten
Also highly recommended by the locals: The shop of Glücklich Trachten. They make beautiful traditional costume jackets, but a little more modern. But not modern-hip, more bourgeois as the original costume.
contacts
Glücklich
Rennweg 71
Meran Downtown
Mo-Fr 9.3o- 6.00 p.m.
Sa 10-5.30 p.m.
Pur Südtirol
If you are looking for typical South Tyrolean products and gifts, then PUR is the right place to be.
contacts
PUR Meran
Corso della Liberta 35
Merano Downtown
Forno Bakery
Small restriction here. The best bread is available at Ivo de Pellegrins new bakery called FORNO. Ivo was responsible for the culinary side of the Ottmanngut until spring 2020 and opened his own shop in the city in the summer of 2020. He also prepares the bread for the Wirtshaus zur blauen Traube. His sourdough bread is unique.
contacts
FORNO
Rennweg 141a
Merano Downtown
Excursions
Ask the the locals from Merano and they most likely will recommend hikes into the Merano Mountains.One starts in a side valley of the Val Senales (Schnalstal), which can be reached from Merano in about 20 minutes by car.
Eishof Pfossental
You park your car in the village of Karthaus im Pfossental and then walk up to the Eishof for about two hours to one of the most beautiful mountain huts. But that's not all: in 2019 the hut was taken over by a young creative couple (Annemarie and Uli) and now the two of them are serving healthy, organic and above all delicious South Tyrolean snacks. Highly recommended. A family friendly adventure. (You can also go there with your mountain bike or e-mountain bike).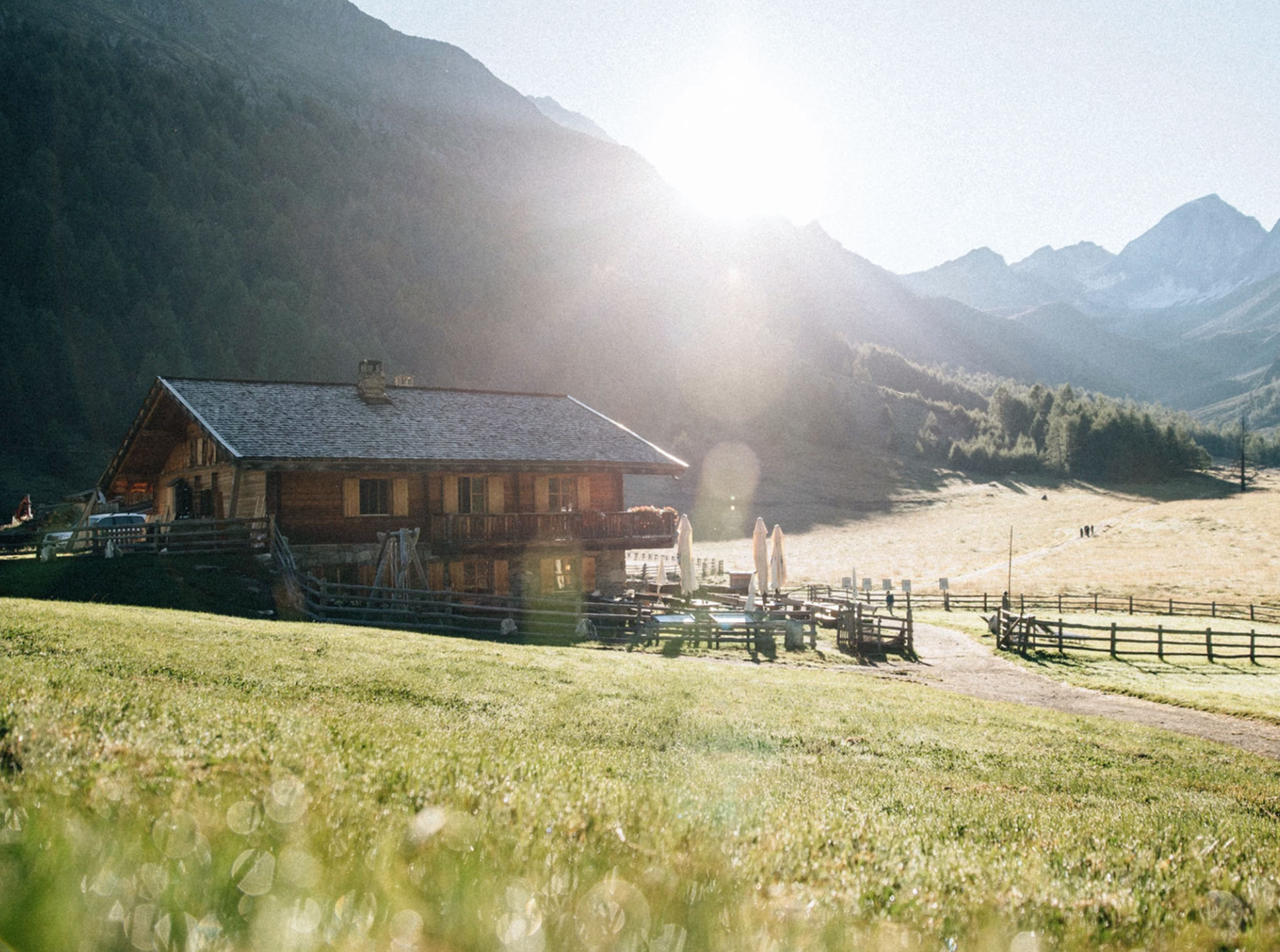 contacts
Eishof
Pfossental im Schnalstal
open daily.
www.eishof.com
info@eishof.com
If you like, you can also stay here (for 31,50 Euro per person) in a shared room.
©Pretty Hotels