After passing gentle hills and crossing through cultivated valleys we arrive at the Corte Campioli Countryhouse already in full holiday mode. This well established inn is a historic farmhouse built in the countryside. It is made of typical local stone – carefully and meticulously restored by Sabine and Christian, the owners. Both truly love this region rich in culture and it shows.
Their affection is reflected by the refurbishment of the old estate, both inside and out. Especially inside, where old meets modern. There is furniture that stems from the region mixed in with paraphernalia from far away countries such as the hand-embroidered cushions — they formerly lived in South Africa.
So what kind of holiday can you expect at Corte Campioli?
Well, the days at the farm usually begin very peacefully. There is an almost poetic silence in this remote landscape. After a long and excellent breakfast, some guests stay at the pool or they commute to the nearby Mediterranean beaches (the Adriatic coast is about 30 minutes by car).
However, a large part of Le Marche visitors love the arts and history, so they take excursions to neighboring towns such as Mondavio and Corinaldo. Or to larger cities rich like Pesaro Urbino and San Marino. They are definitely worth a visit. And later on: Everybody winds down for Aperitivo at the Corte Campioli courtyard and enjoy bella Italia at its best – with Marchegian wine and truly excellent food (see Culinary).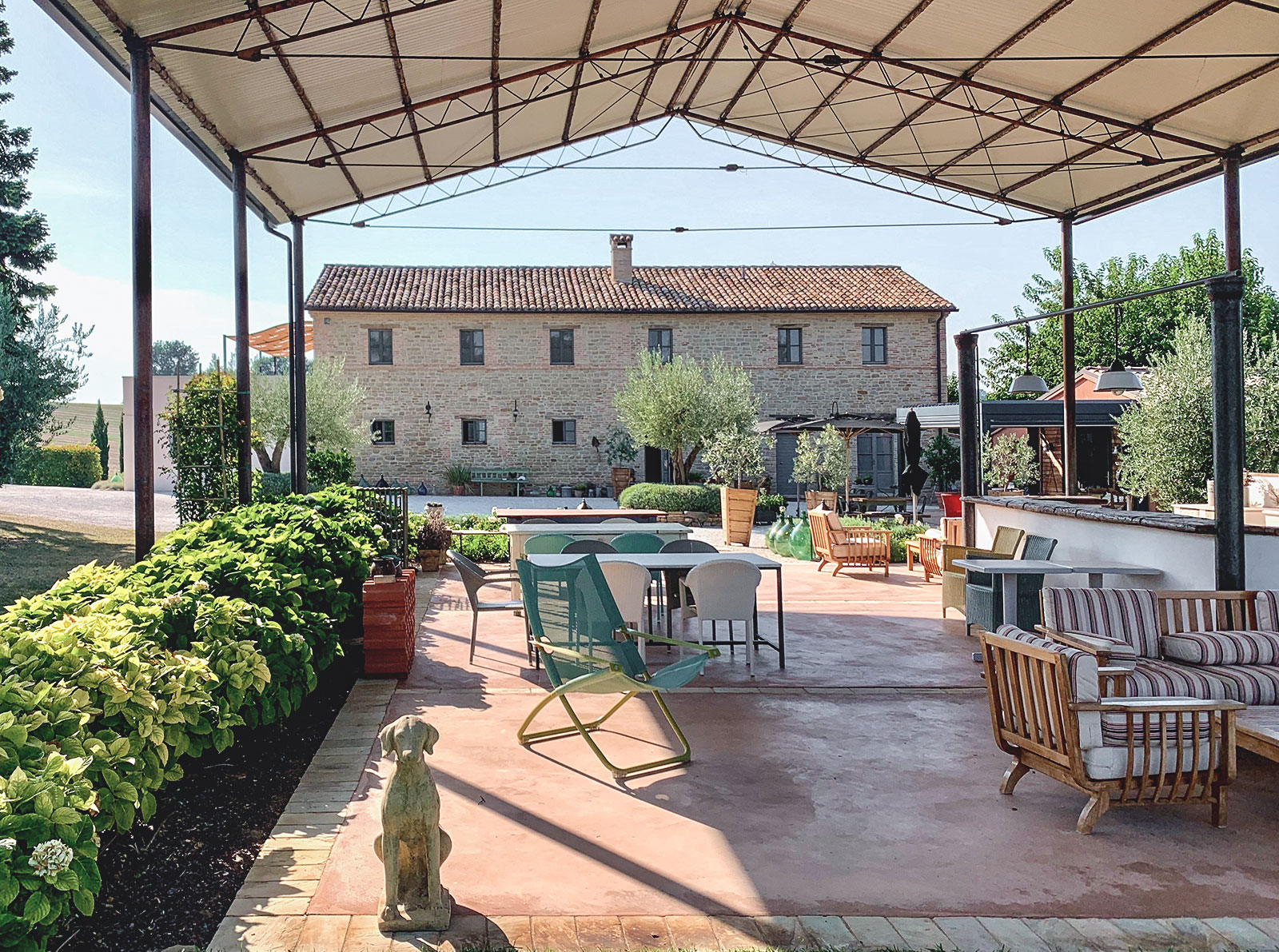 the rooms
Corte Campioli has a total of seven rooms / apartments, each with a small private kitchenette or a shared kitchen. Some of the rooms have a more Loft-style interior, you may check their website for your personal favorite.  Big plus for families: Some rooms can also be connected to each other, making them suitable for larger groups. All rooms are very bright.  We also liked the beds with bed linen from the Pfeiler bed linen factory, for example.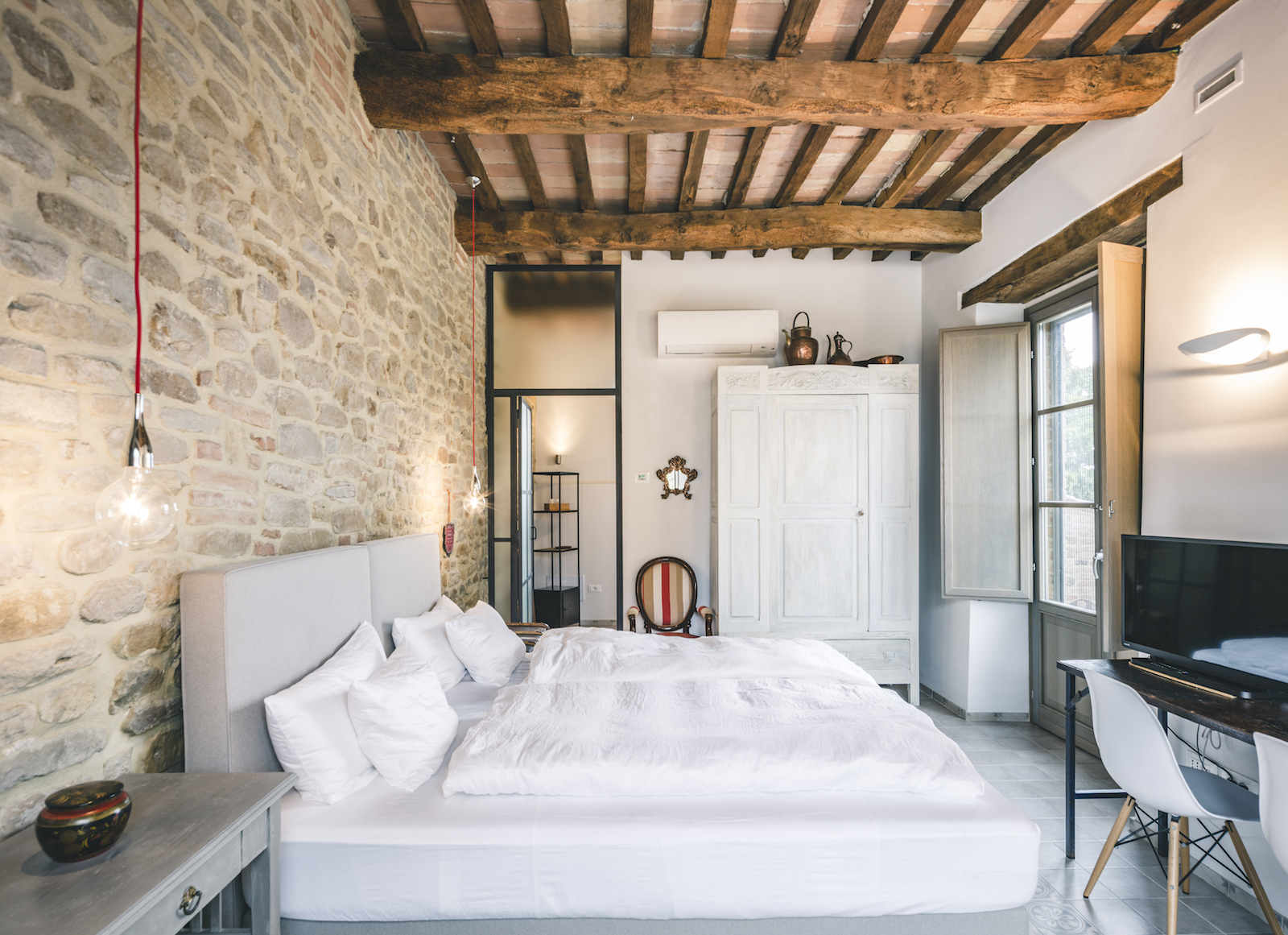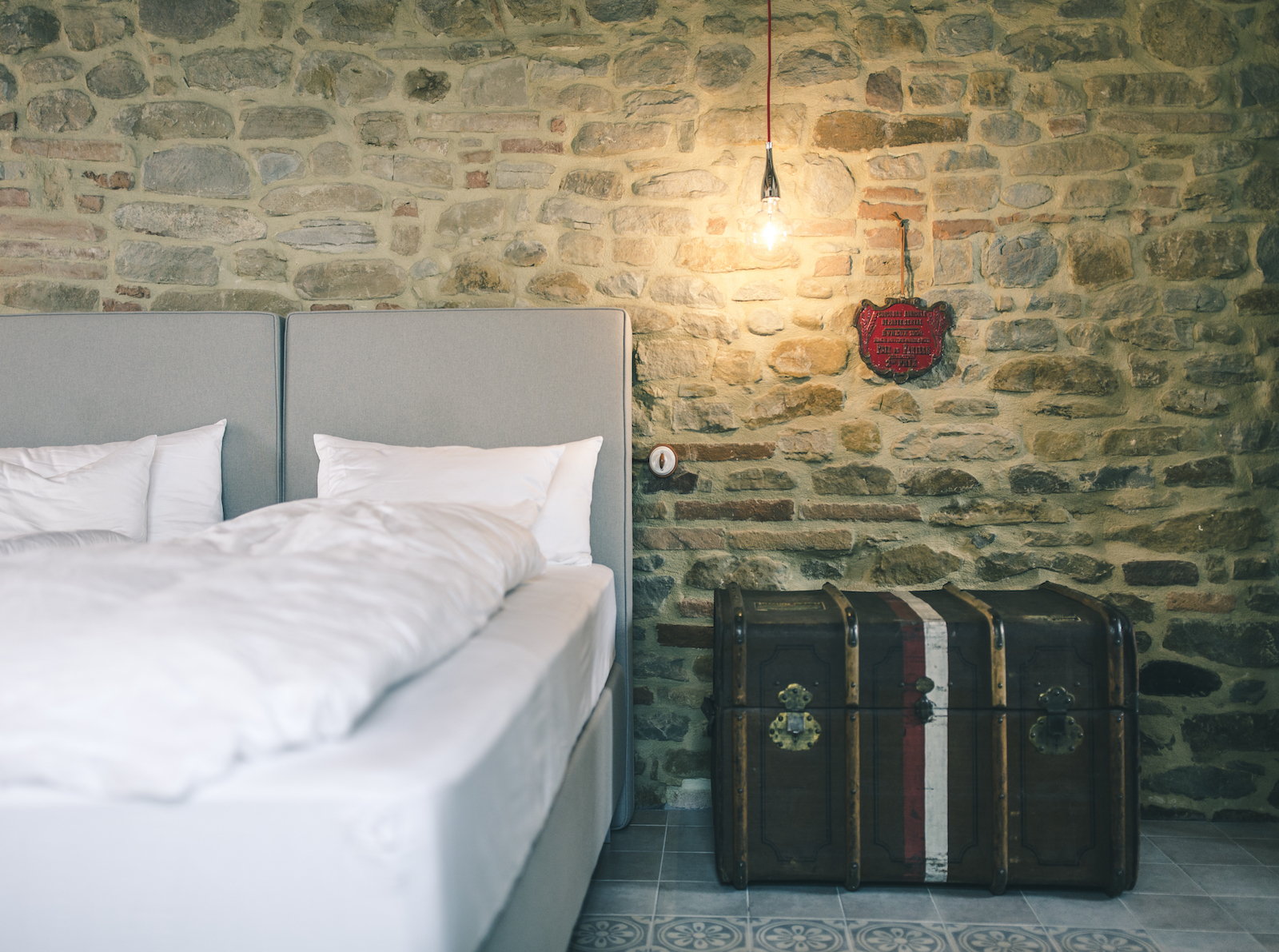 culinary
Co-host Sabine also doubles as the head of the culinary department: She is an experienced cook and her kitchen endeavors are defined by the local cuisine. In addition she always adds new recipes to the fold — mainly from the region. Food plays an important role on the estate, like it has for centuries for those living a farm life. Almost everything is prepared at home, during the day you can catch the owners producing olive oil, extra virgin, of course. Or baking bread. So the evenings are filled with fabulous aperitifs and unforgettable dinners. Sabine also invites local chefs to do cooking classes, so you might get the chance to learn how to prepare the regions famous Pasta All`Uovo.
Like in many of our member hotels, breakfast is nothing short of a culinary journey: There is an endless variety of local products (bread, cold cuts, cheese from small local producers), delicious eggs and homemade desserts. When international flavors clash with typical products of the Marche region, awesome is the verdict. The homemade jam, for example, has a spicy taste to it and the crouton reminded us a bit of the Orient – foodies will love it.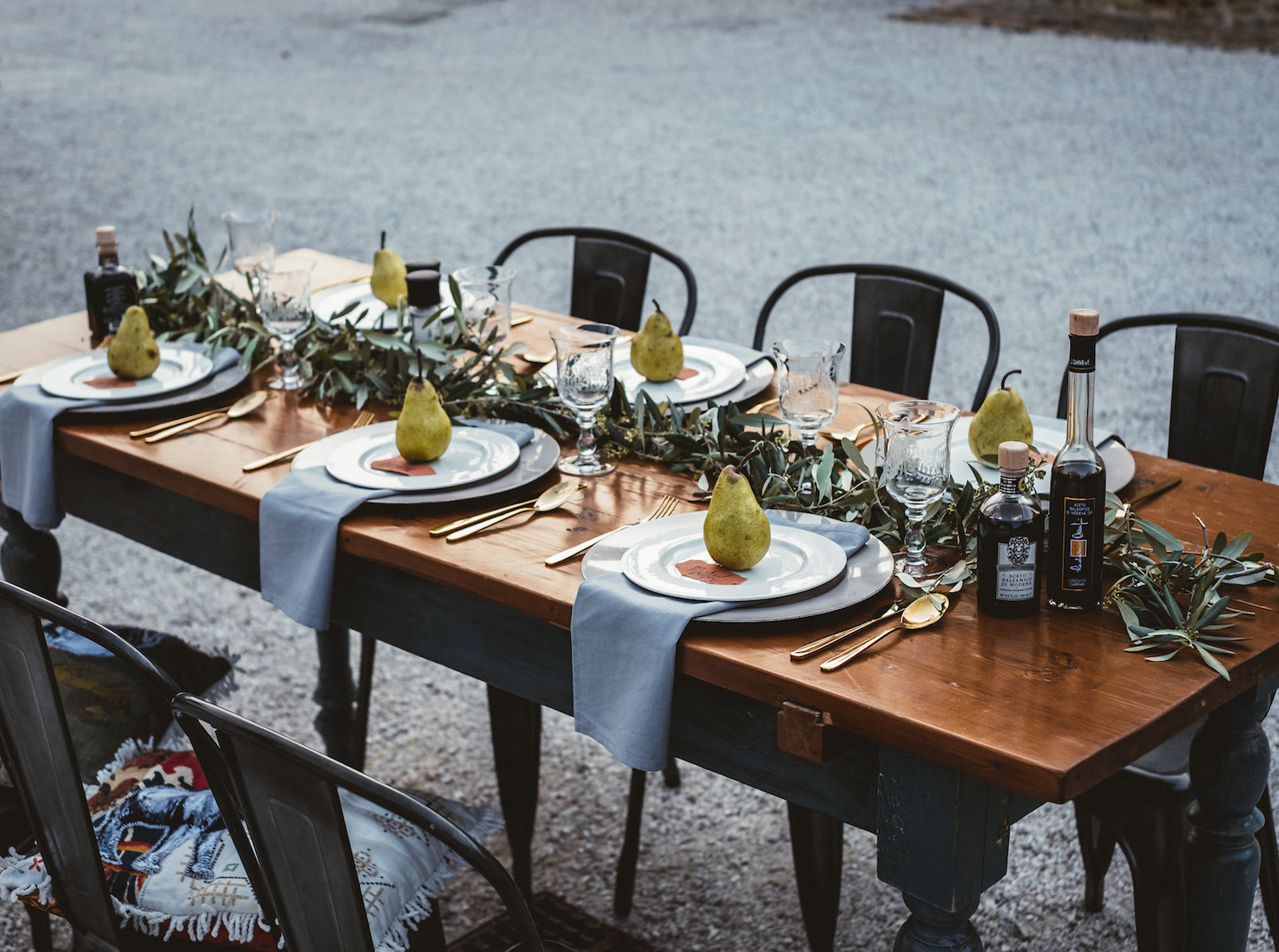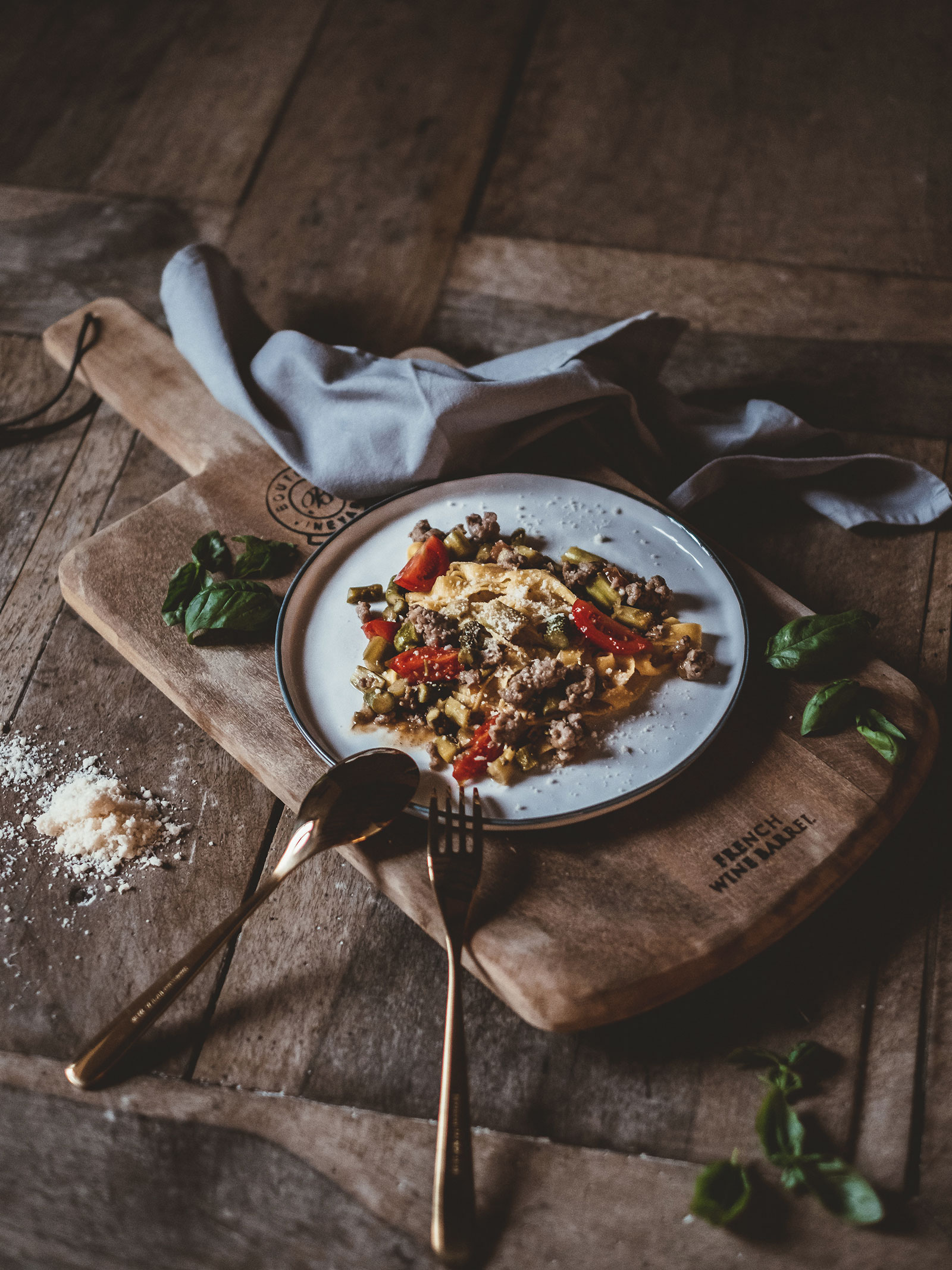 the owners
Corte Campioli is the brainchild of Sabine and Christian, who originally hail from the Bavarian town of Rosenheim. Before moving to Le Marche, both had been working in the medical profession. They always had a great passion for different countries and cultures. Now the countryside of Le Marche is their personal buen retiro in the summer. Well, "retiro" might be the wrong expression as they look after the well-being of each and every guest on a daily basis. And that is what makes a stay here even more special.
Special I
During your stay you can book cooking classes, wine and truffle tastings, bicycle tours and they also organize a tee time at a nearby golf course.
Special II
The owners have developed an app, which is a virtual travel concierge and helps you navigate through the region.
the region
Possible excursions include trips to Terre Roveresche, Pesaro Urbino, San Marino, Monte Conero, the caves of Frasassi, Senigallia, Fano.
Prices
Doubles from 200 Euros for two persons including breakfast.
Booking & contacts
Corte Campioli
Sabine & Christian Blumrath
Via Giardino Campioli 32
Barchi, PU
Italia
www.cortecampioli.com
info@cortecampioli.com
Open from May until mid October.