L' Escale du Ciel is a truly magical place and words can hardly describe how magnificent it is. You really need to discover it yourself. Just one example: Enjoy your first coffee poolside early in the morning and watch the sun slowly rise above the mountains and you will forever cherish this moment.
THE ARRIVAL
L' Escale du Ciel is located in the hinterland of the Provence-Alpes-Cote d' Azur region. Coming from Nice, you take the old mountain road along the river Le Loup via Cagnes-sur-Mer. This may take around 40 minutes by car. And reaching the tiny village Le Bar sur Loup is as picturesque as in a French movie. Trust us.
But before you reach the small mountain village, you turn right into a tiny side street. Park your car at a cast-iron gate and you will be greeted warmly by the charming owner of the house — and her four very friendly dogs.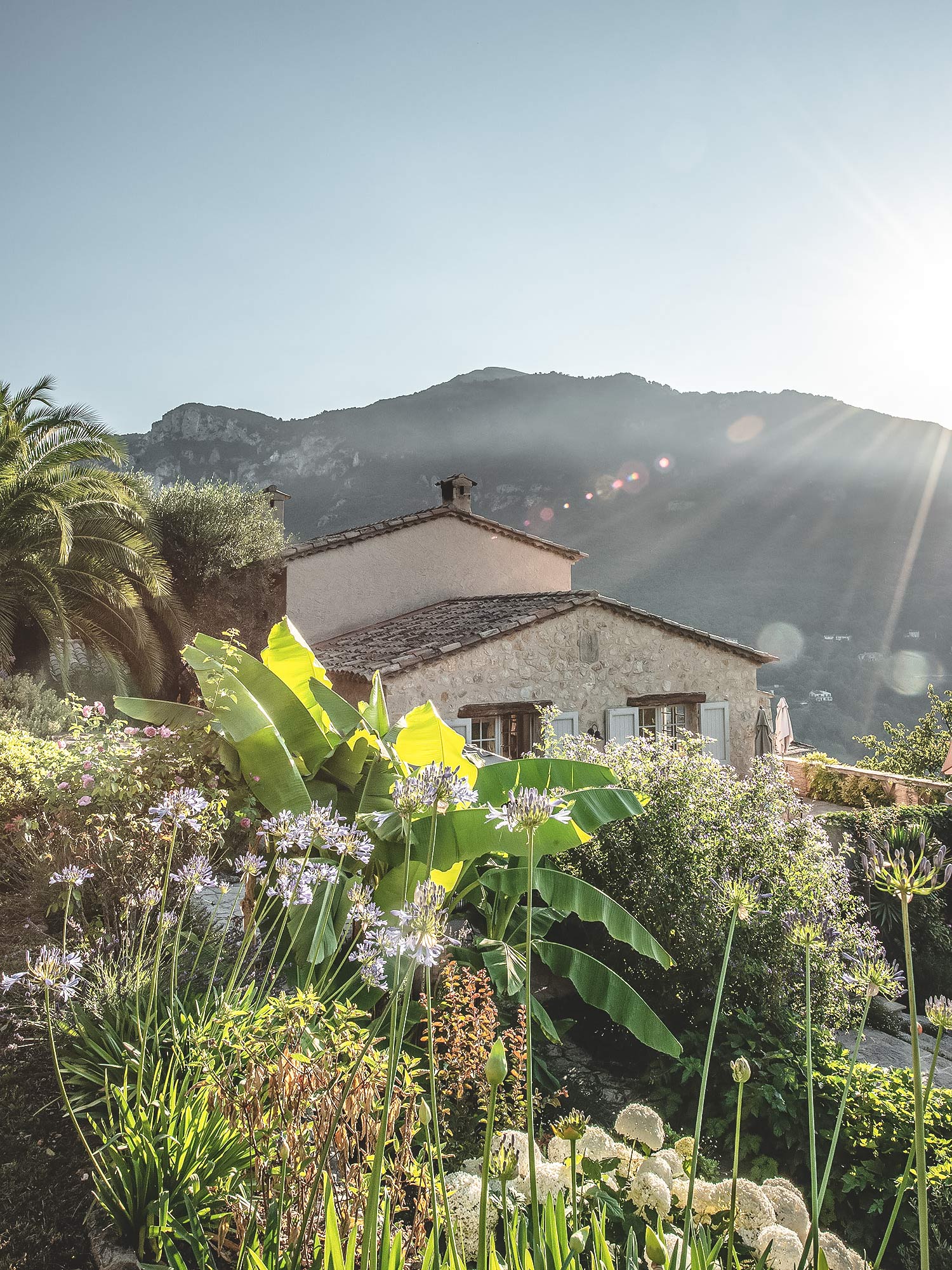 THE INN KEEPER
Judith Thiel originally hails from Hamburg, she studied and lived in Paris for a long time, so her love for her adopted homeland came pretty early. Later she furnished houses near Hamburg and as luck would have it she came across this beautiful property made of stone. That was in 2016. She moved to the South of France and over the past few years, turned it into her personal hideaway with only three beautiful guest rooms. (there may be more in the future…)
We call it "hideaway", because it really is one. We visit a lot of hotels, but we have rarely seen a property that offers its guests so many places to "hide". The entire garden extends over several levels with at least seven different seating areas. Wonderfully fragrant plants and flowers bloom everywhere. And palm trees line the path up to the swimming pool which is a piece of heaven. Not to mention the magical light!
The highlight of the swimming pool is its solitude and silence. You can see the high mountains and rock faces of Provence. Even the village feels far away (but it's only a 5-minute walk). There is also a covered seating area next to the pool for sundowners or morning coffees.
Speaking of mornings, as the sun rises in front of the house in the morning, this part of the day at L' Escale du Ciel is absolutely magical. (We may have mentioned that before, yes….)
THE ROOMS
At the moment, there are only three guest rooms. A slightly smaller one on the first floor, the Coco Chanel, 18 square meters in size, with beautiful views of the mountains and a very well-maintained bathroom. Then the Marguerite Duras suite, 40 square meters, also beautifully furnished. And on the ground floor, a normal double room, the Simone de Beauvoir (25 square meters) with a bathtub instead of a shower and also a view of the mountains. The style: a good mix between German cleanliness and Bo-Ho chic. We really fell in love with the Belgian linens, very soft and even in the summer quite chilly.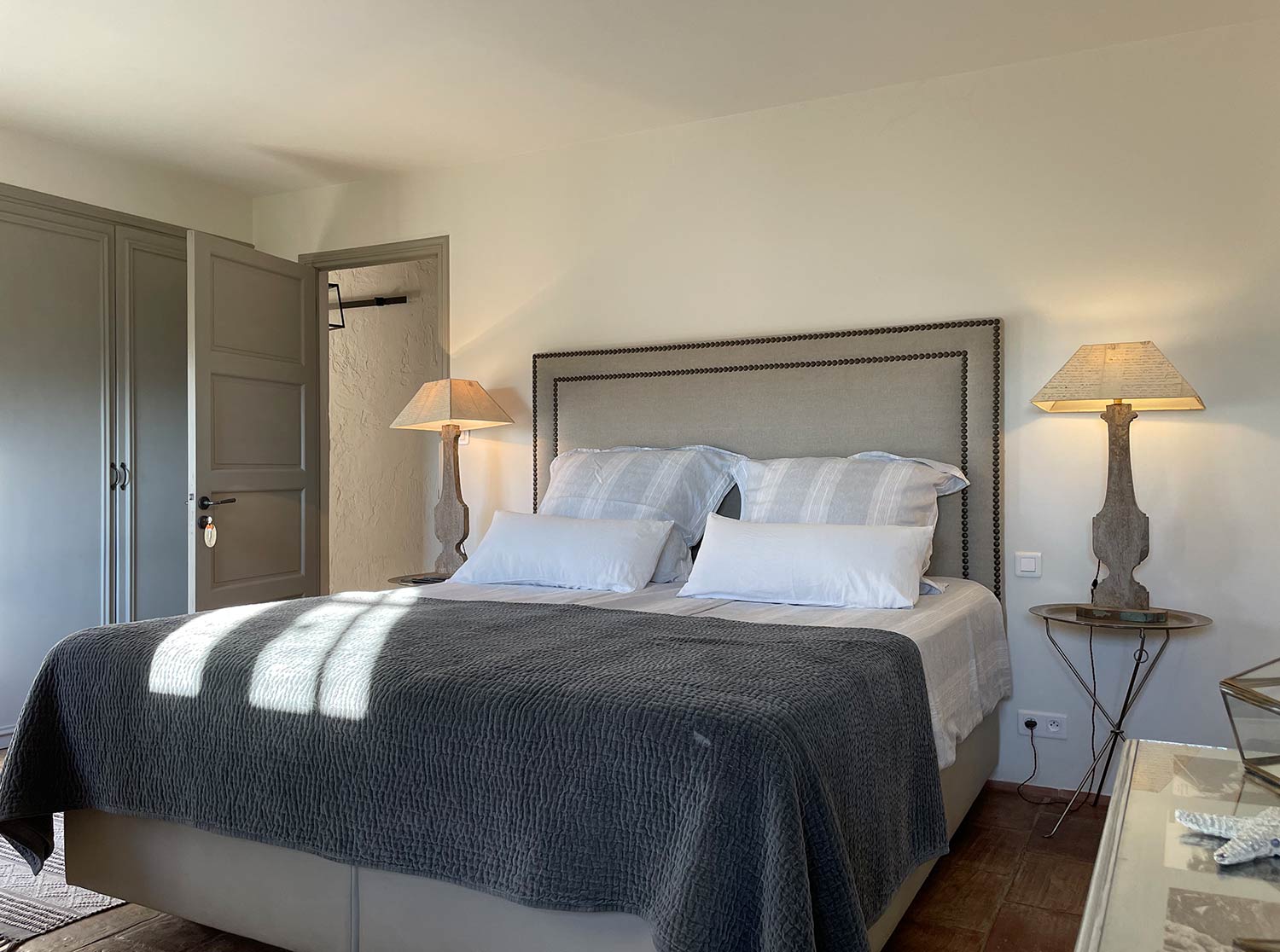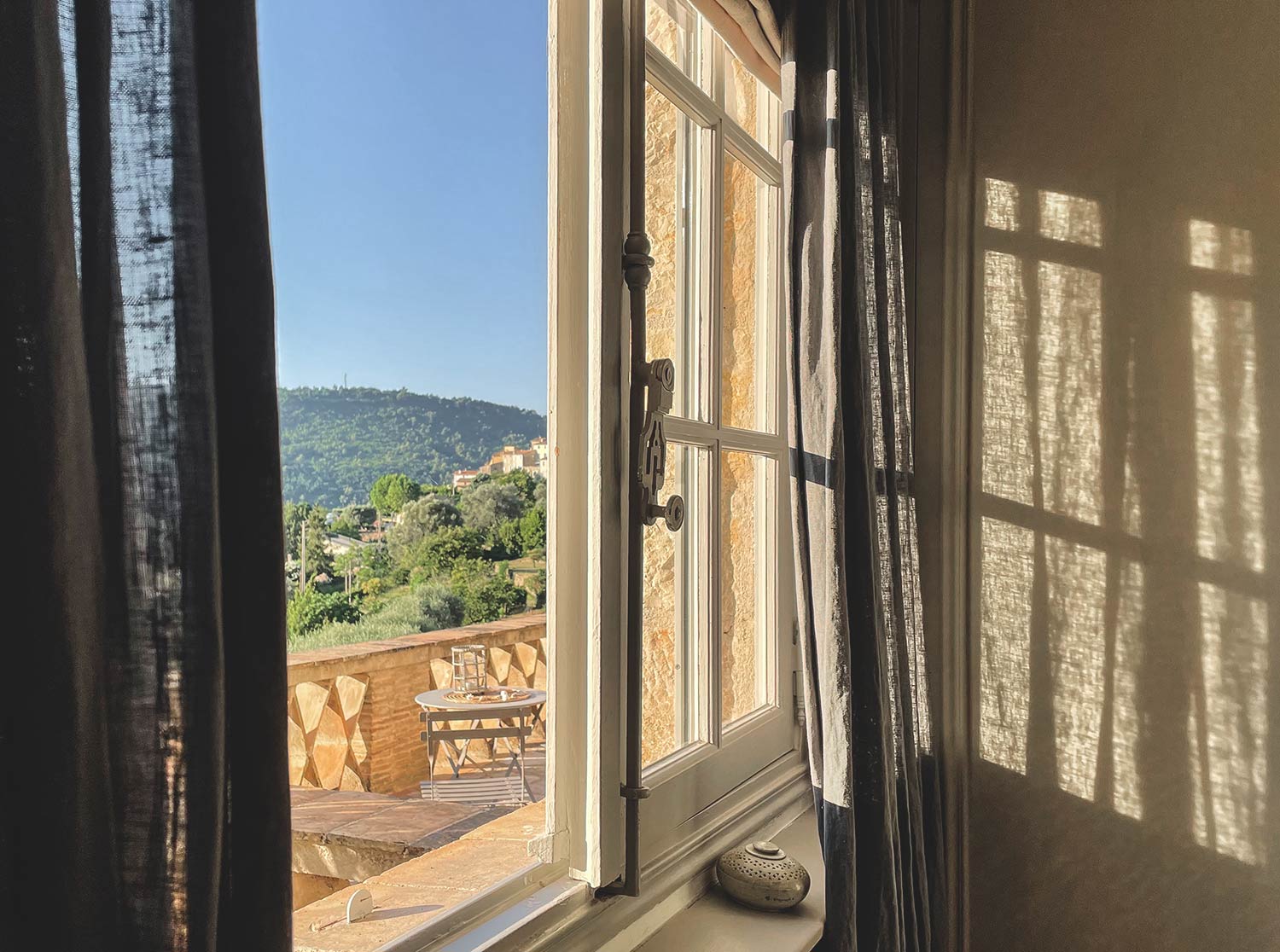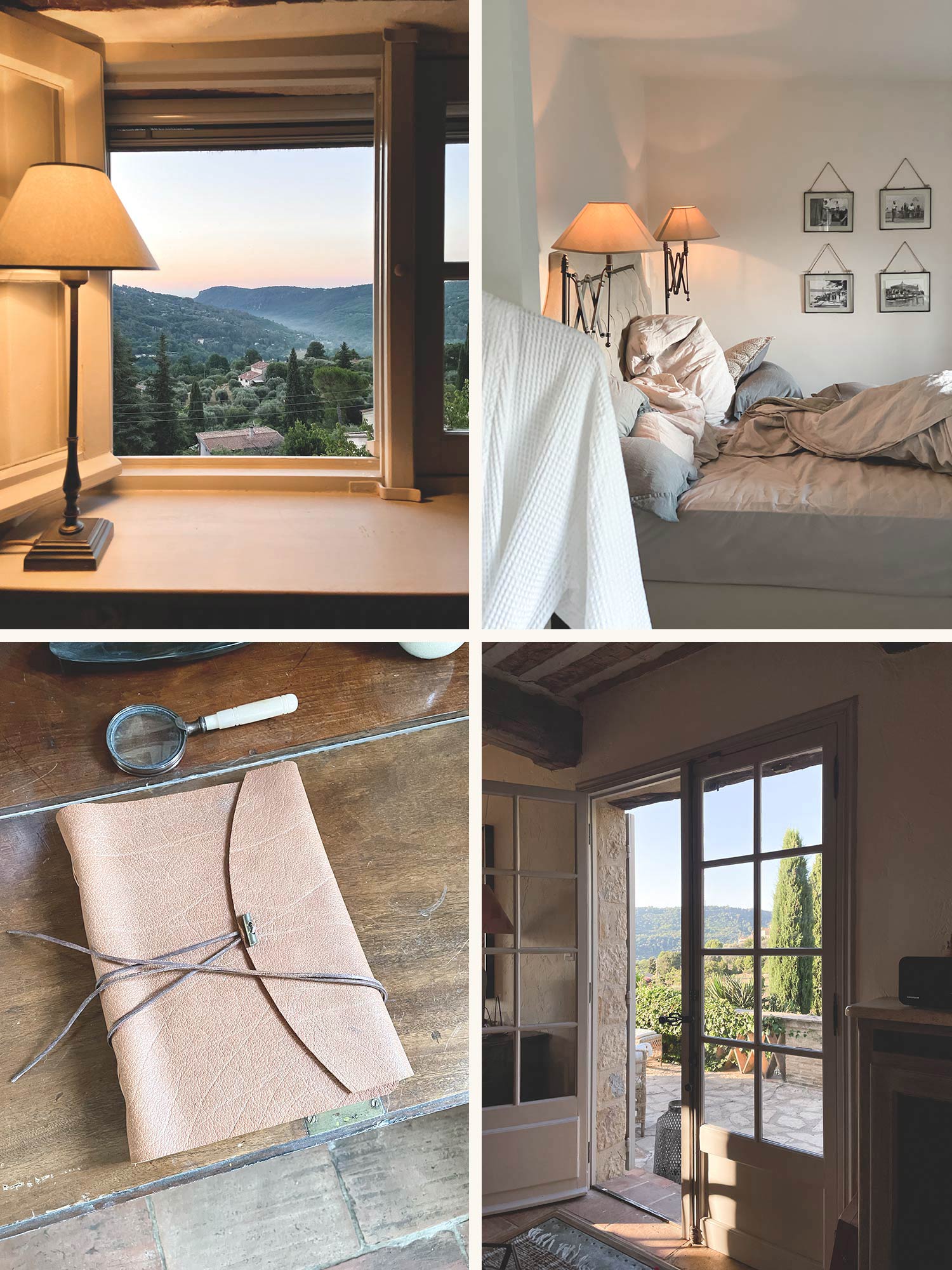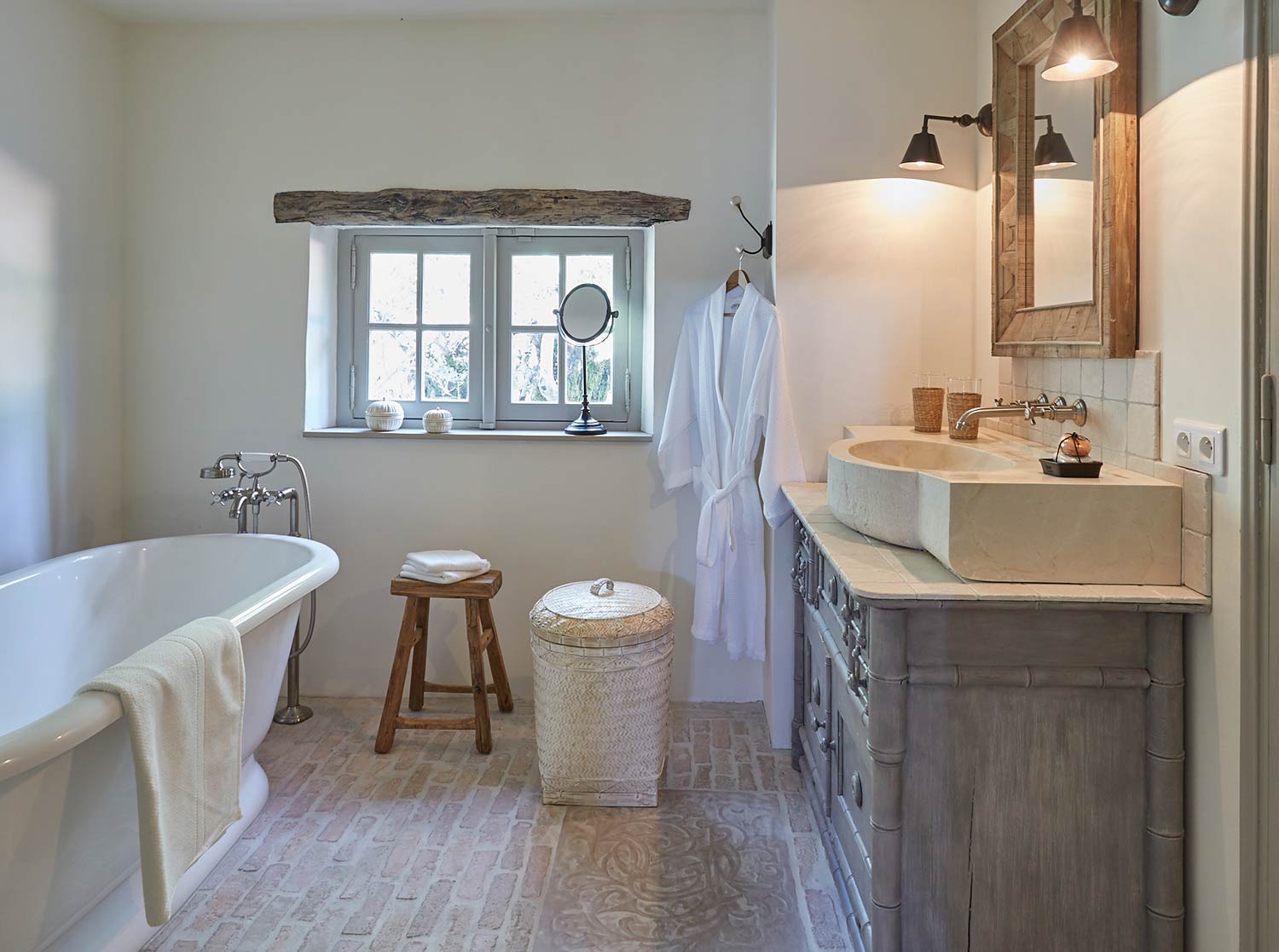 The rooms don't have air-conditioning, but they do have a fan, which we didn't even need during our visit in July (despite the outside temperature reaching 30 degrees that day). The whole house stays very cool. Bonus gift: On arrival, there is a complimentary bottle of rosé from a local winery in the small fridge.
CULINARY
L' Escale du Ciel is actually a B&B, which means … well, breakfast only. But this one is ever so special.  Prepared with a lot of love by Judith herself, fully organic and presented on the terrace. Delicious! Since this is a residential house after all it does not only come with a large living room but also a charming Provencal kitchen. Meaning: Guests are also allowed to prepare some cold dishes here (or even use the barbecue on the terrace). Especially if a party rents the three guest rooms, you can cook up a storm here and spend a wonderful evening amongst your friends on the premises.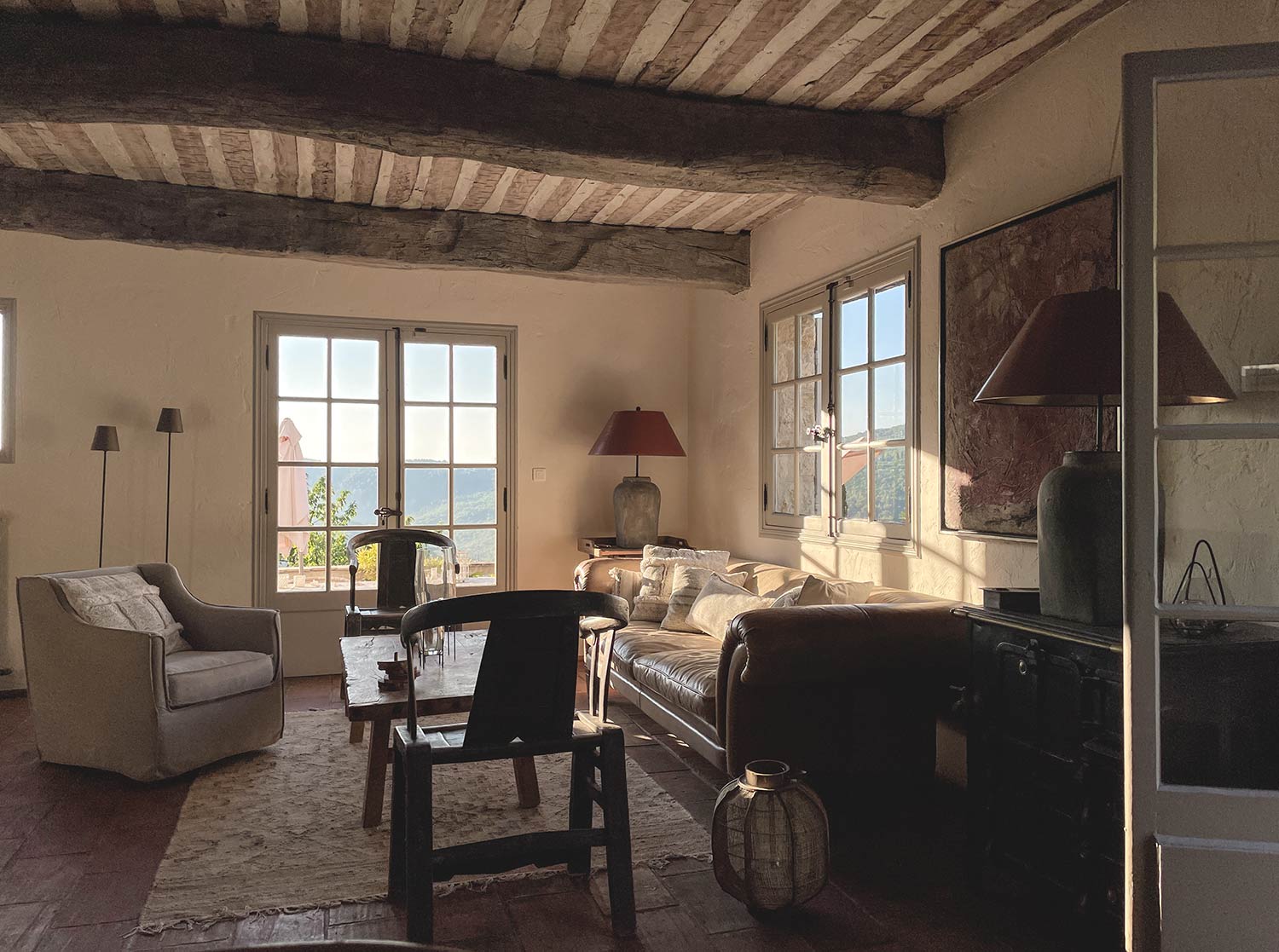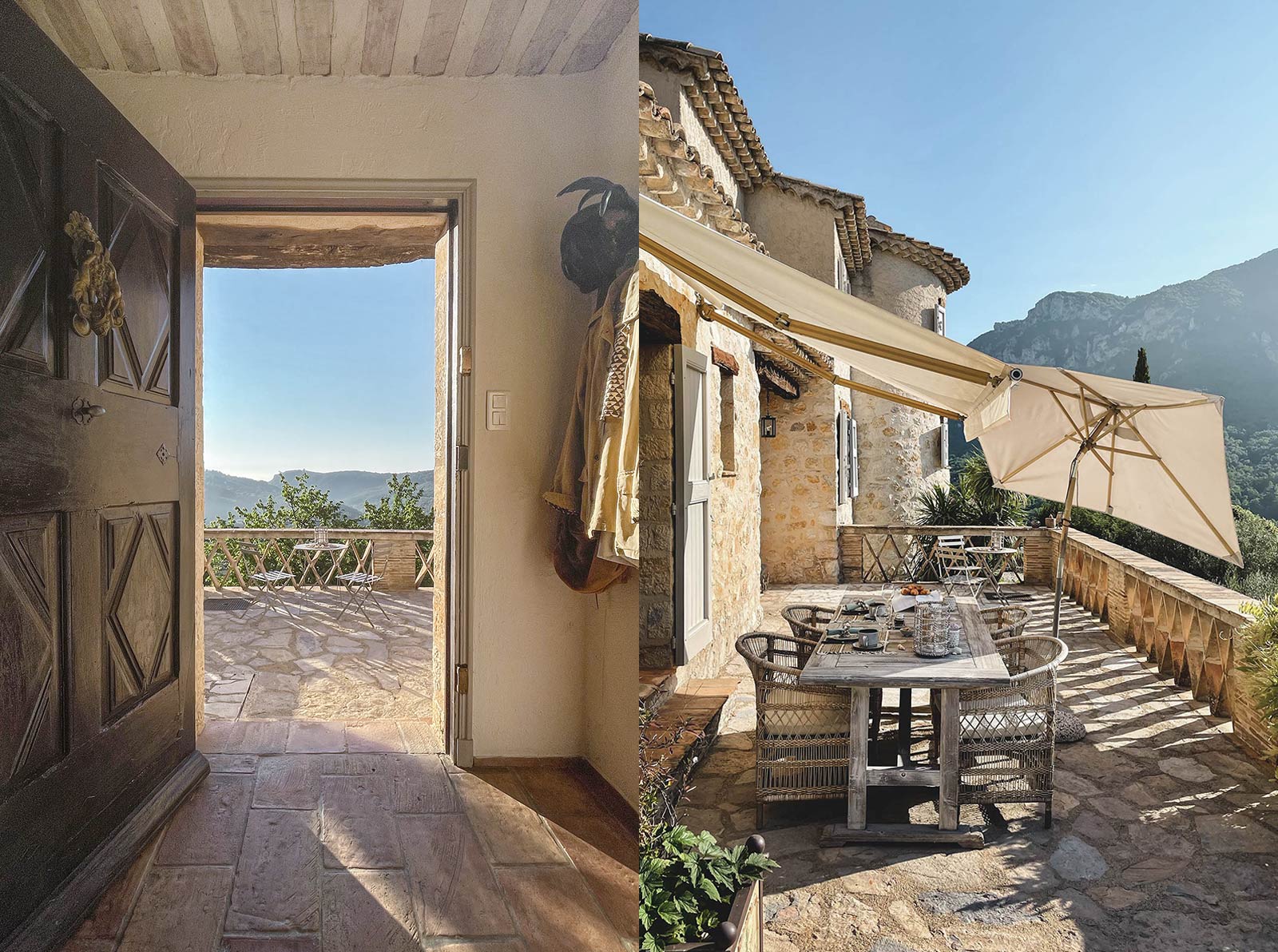 The region
As you might know, the area is one of the most beautiful that the south of France has to offer. There are the perfumeries of Grasse, or the village of Mougins. However, the hostess recommends visits rather to St Paul-de-Vence, Valbonne, Gourdon and Le Gorge du Loup. You may also go paragliding or canyoning nearby. Judith knows all the spots. By the way, the first beach is about 25 minutes away from L' Escale du Ciel. And the first ski resort in 45 minutes (yes, we didn't know this either).
Kids
Due to the pool and steep garden, kids are only allowed from 12 years. During the low season, however, the whole house can also be booked with children.
Prices
Doubles from 190 Euros for two including breakfast and a bottle of Rosé. The suite is 280 Euros per night.
Booking & contacts
L' Escale du Ciel
Judith Thiel
226 Chemin des Fontaites
06620 Le Bar-sur-Loup
France
Additional Info
L' Escale du Ciel is open from April to October. However, if you would like to come in winter, please feel free to enquire – especially if you are a larger family, it is a good idea to rent the whole house.
We would also recommend combining it with a visit to Maison Valvert, Luberon and Maison9 in Cassis (right by the sea). The nearest airport is in Nice.