The all new Palazzo Marconi was created by Michaela (she originally hails from Germany) and her Italian husband Antonio. On one of their numerous trips to Puglia, they discovered the spectacular property, whose walls date back to 1905 and decided to carve out beautiful, authentic vacation apartments inside.
But first, where exactly is this palazzo?
We went to visit in the summer of 2022, driving 20 minutes south from the beautiful city of Lecce to Corigliano d'Otranto. The village is not your typical tourist attraction like the new hotspots Ostuni or Alberobello, but rather a nice southern Italian community with abundant charm. Smack in the middle, we find the Palazzo Marconi. Rough and unplastered from the outside, it's a treasure box of good taste inside – with two beautiful, bright apartments. They are located next to each other on the first floor.
Casa San Michele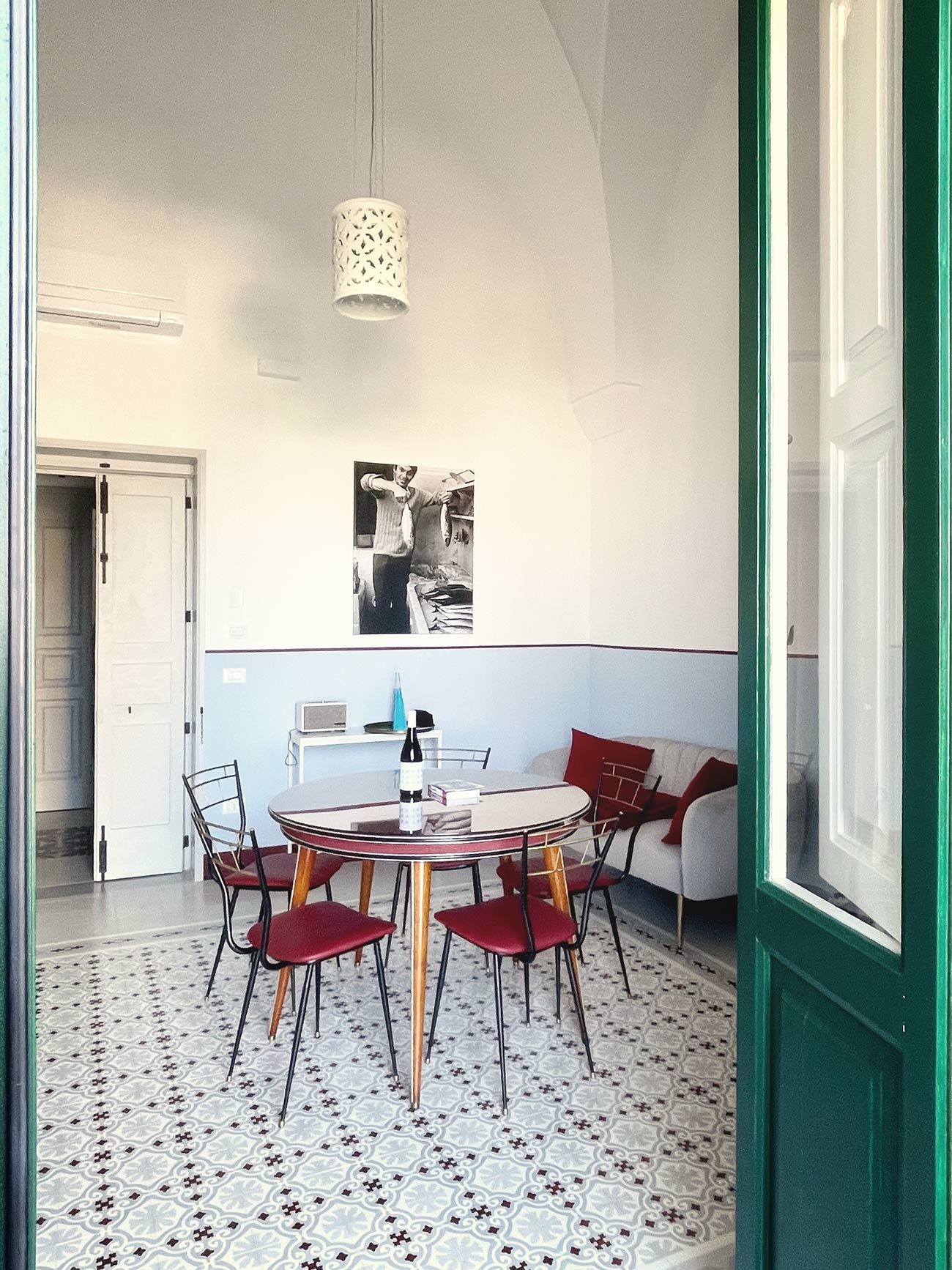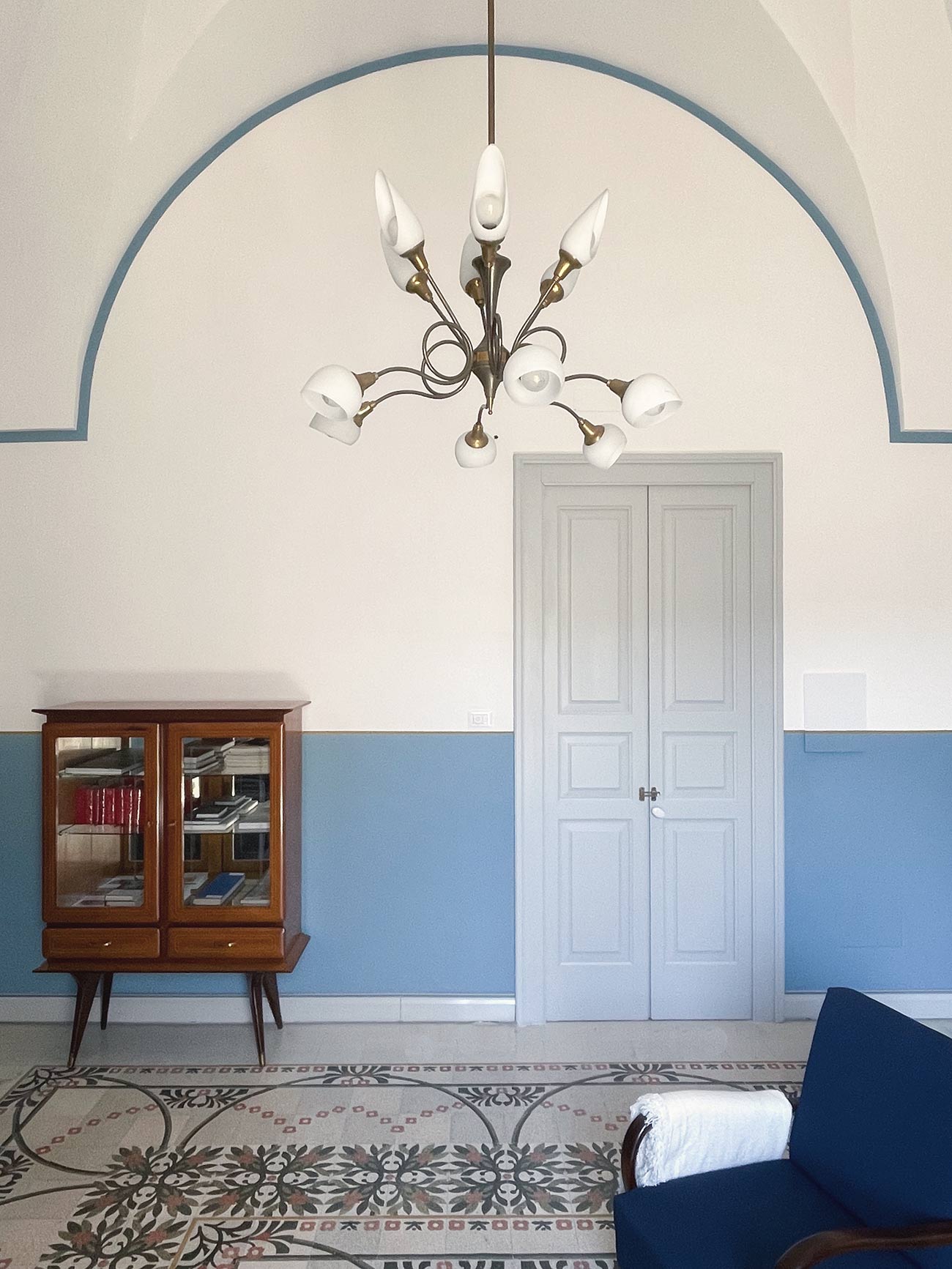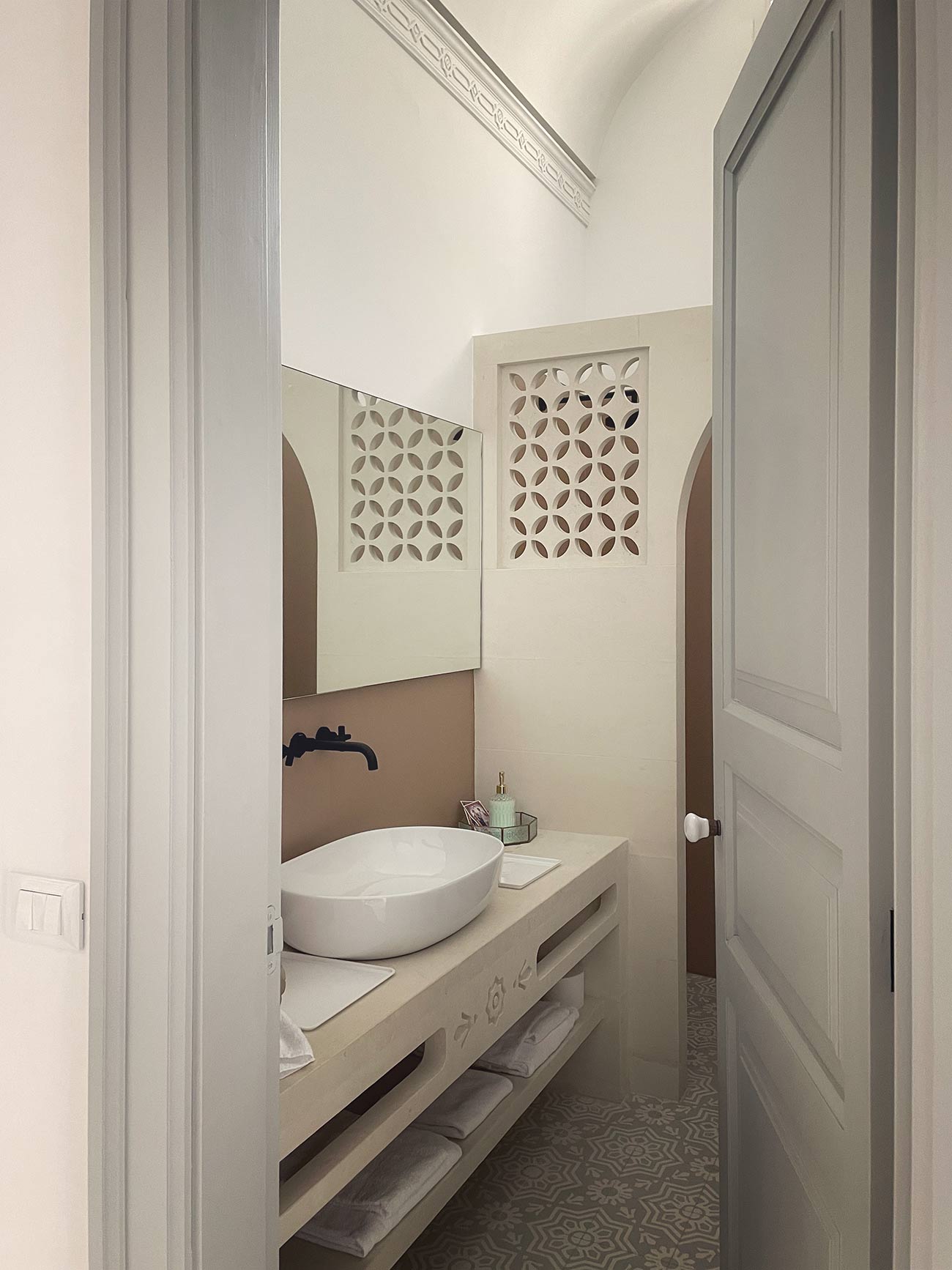 The apartment Casa San Michele is the smaller one of the two apartments. There are high ceilings, beautiful stone floors, an eat-in kitchen and plenty of space.
Because of the six-meter high vaulted ceilings, both apartments feel very spacious. Michaela has a knack for colors and fabrics, so you find yourself in clean, simply furnished rooms with just the right amount of design elements (each piece of furniture is unique), stone floors and 1930s-style kitchens.
We stayed in the smaller apartment Casa San Michele. It is ideal for two people (three on request), has a large living room, a large bedroom, a small bedroom and bathroom and a kitchen with its own terrace. Both the furnishings and the layout of the flat: five stars.
Casa San Antonio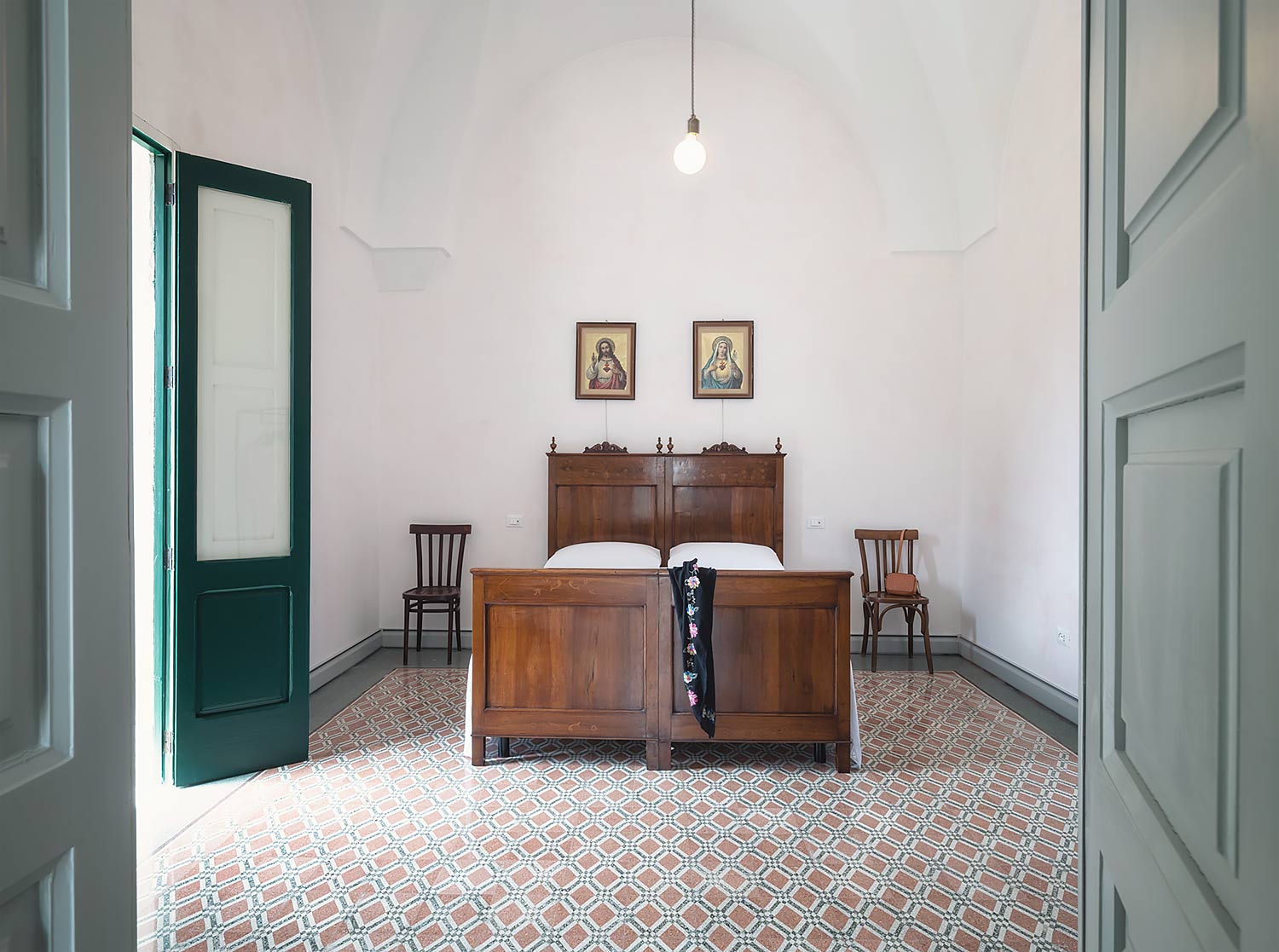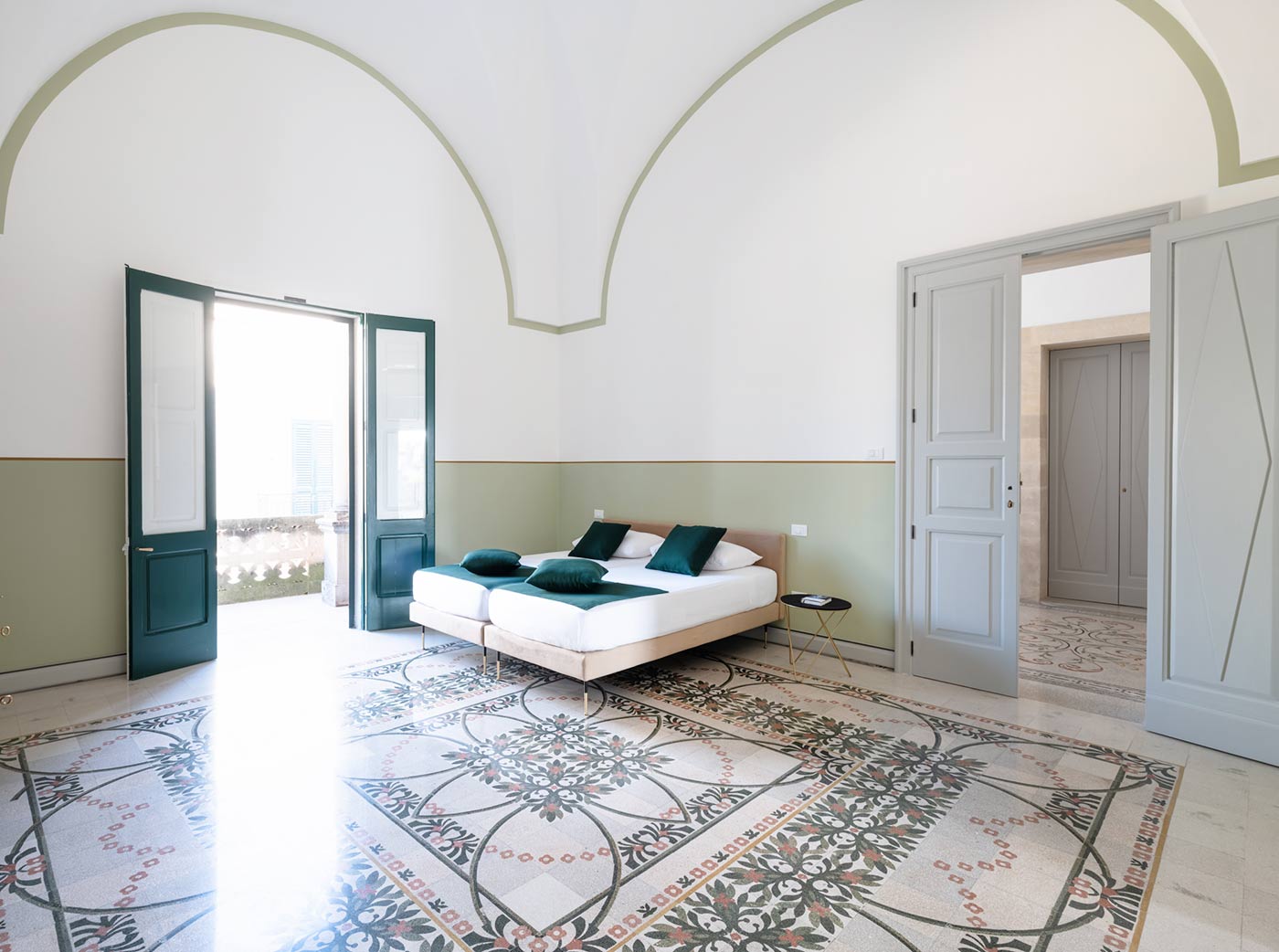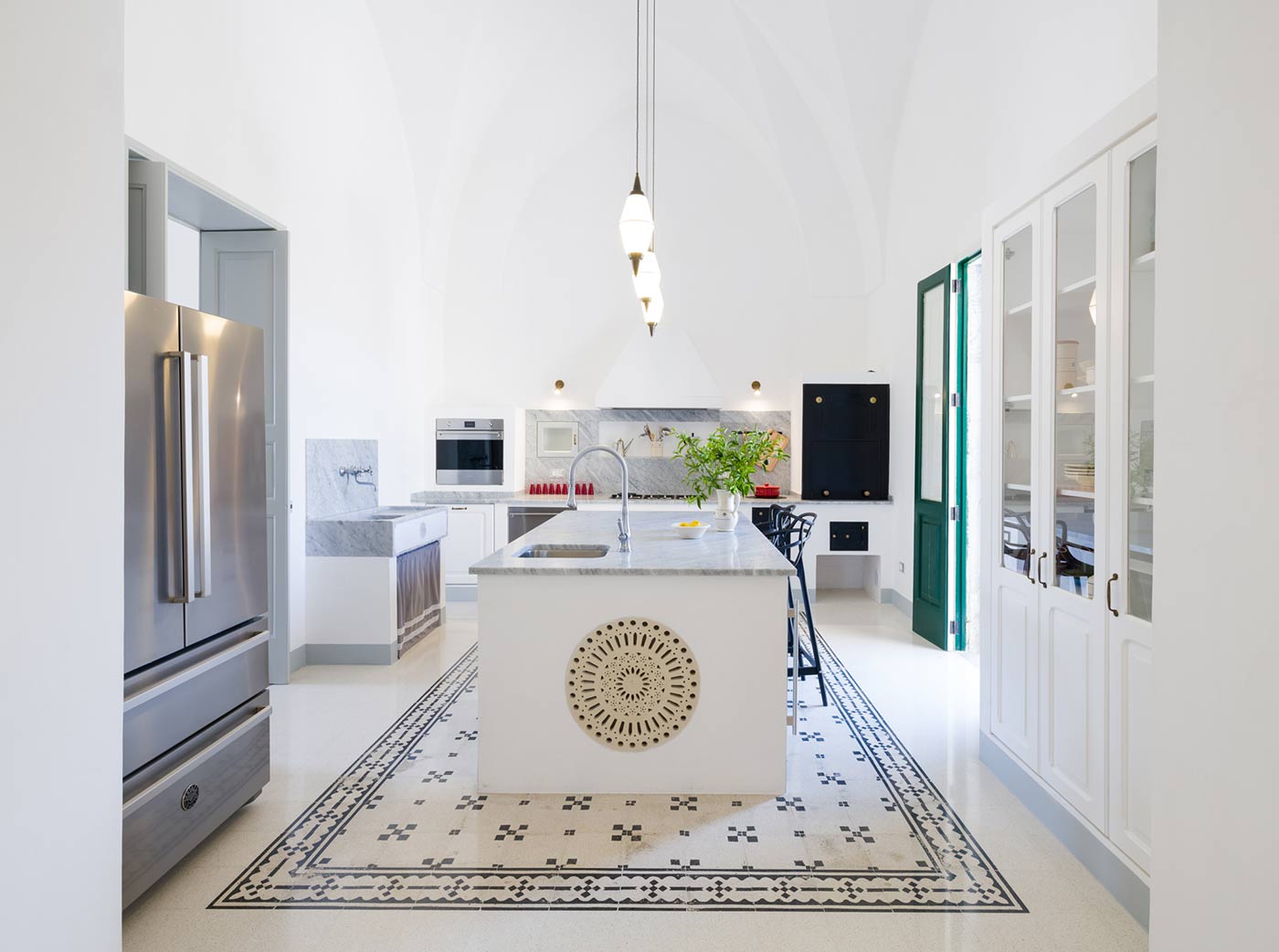 The second apartment is a bit bigger and even more aristocratic with its two bedrooms (with double beds), two bathrooms, a dining room and a living room. It can be rented by four people (possibly five). Here, too, large doors to a terrace  facing the south where you can barbecue and dine. And in Casa San Antonio we found nothing to complain about either.
For details of each apartment just click here.
The surroundings
Corigliano d`Otranto is ideally located to let you discover both sides of the Apulian coast easily.
For two days we drove down to the Ionian Sea, also known as the Gulf of Taranto. The beaches here are even more kitschy than on the other side. Think of Turquoise blue water and small bays with partly undiscovered nature reserves. The city of Gallipoli with its narrow streets and city beach is also worth a longer visit!
A little closer (20 minutes by car) you find the beaches of the Adriatic Sea. Michaela and Antonio recommended Atlantis Beach, which is located right next to the very beautiful coastal town of Otranto. Talk about the perfect Italian beach club: They charge one euro for the best espresso and at from noon till way past sunset two restaurants serve decent food with a view of the bay. Bring the kids!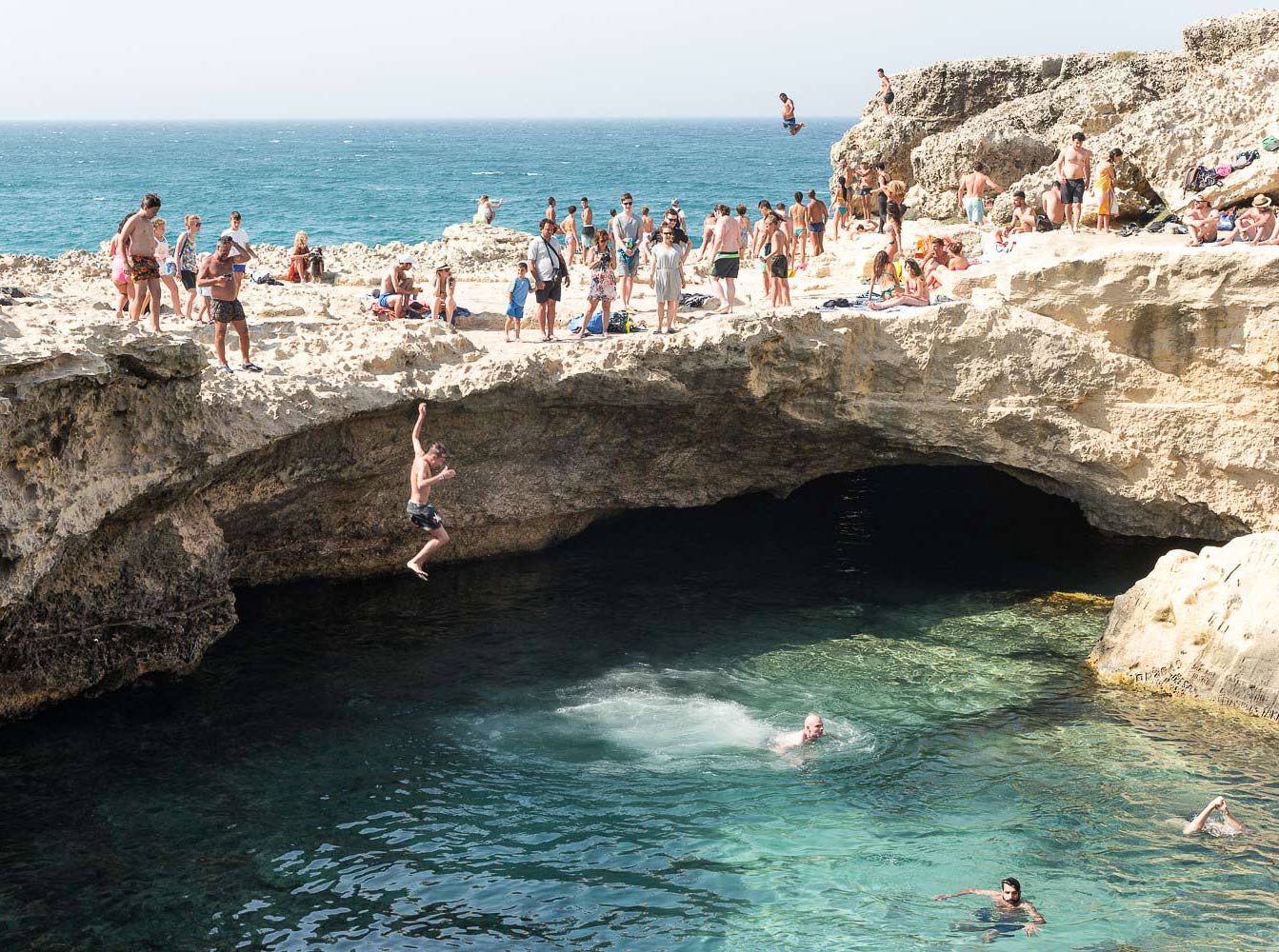 Ideal for
Couples, friends and families who want to discover Puglia from a beautiful base. Palazzo Marconi is an ideal starting point
Prices
Casa San Michele from 220 to 250 euro per night. San Antonio 240 to 330 euro per night. Minimum stay in high season: 7 nights.
Booking & Contacts
Palazzo Marconi
Via Guglielmo Marconi 5
73022 Corigliano d'Otranto
Italy