When looking for a boutique B&B on the Algarve, all roads lead to Casa Ceu. The omnipresent vibe follows you inside as soon as you enter this little gem. Most likely you will run straight into Lara, who – together with her husband Dario – has created this tranquil retreat in the middle of bustling Olhão.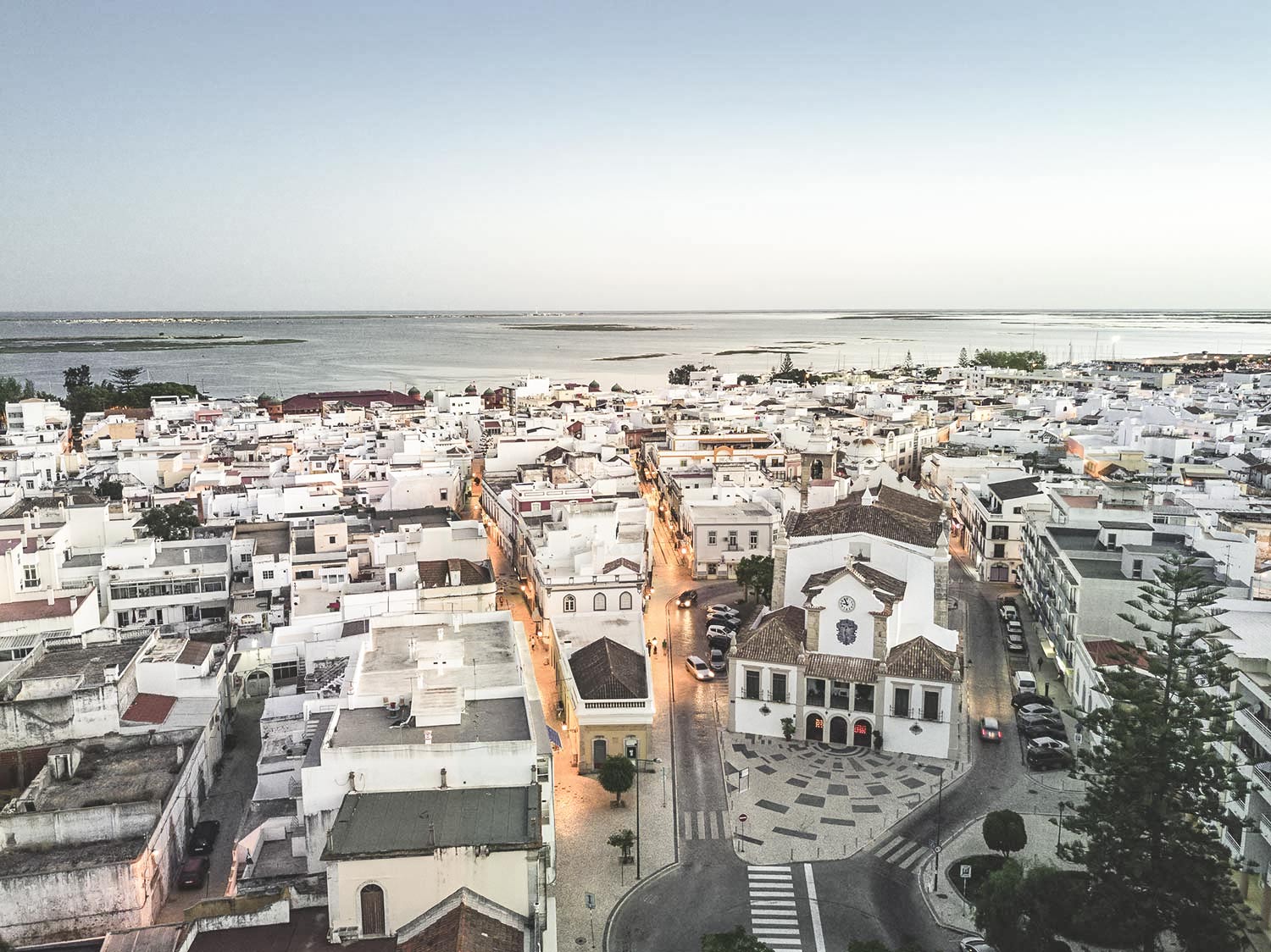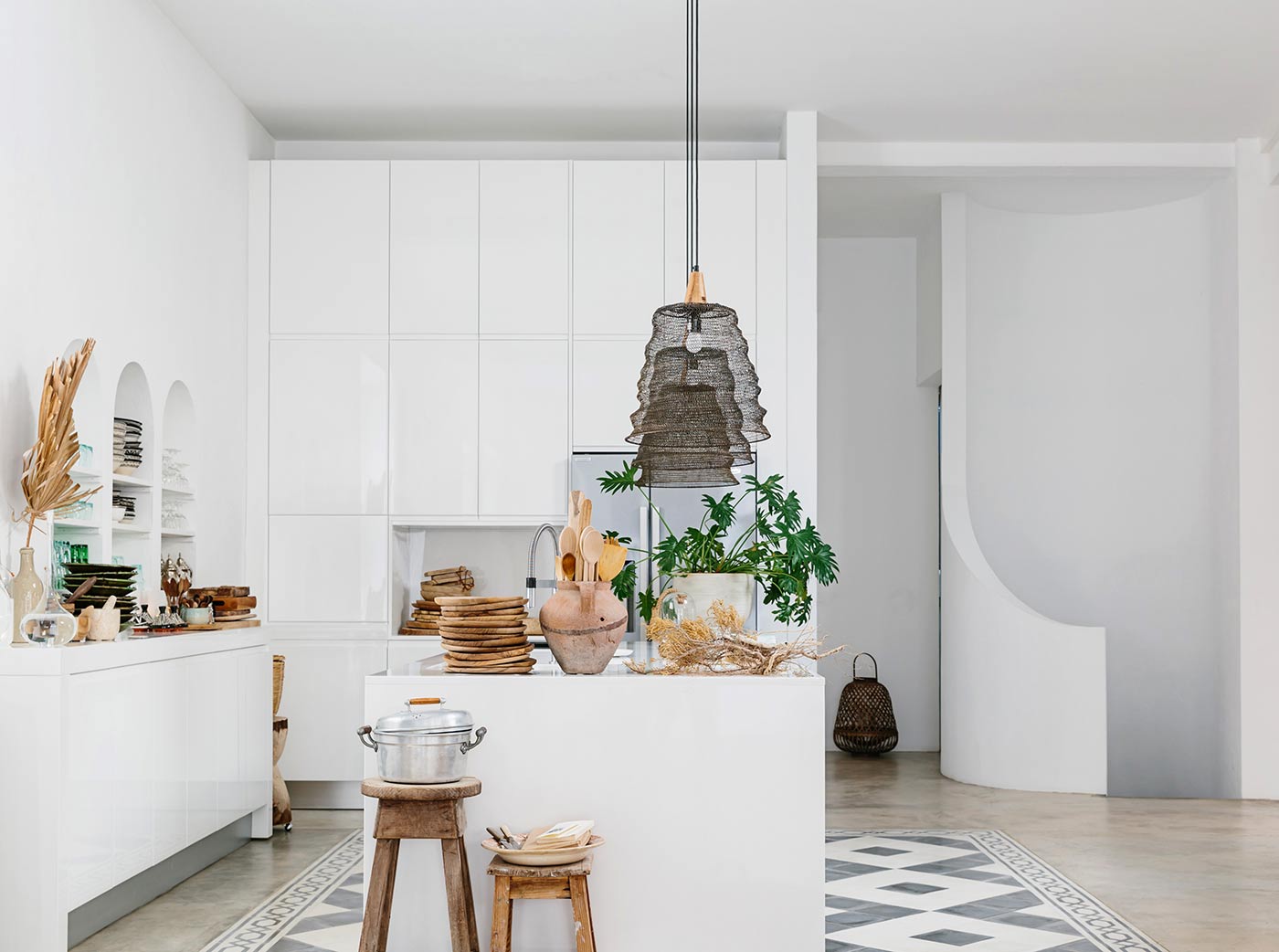 In 2019 the cosmopolitan couple moved their lives from Switzerland to the Algarve and since then they have beautifully renovated the house where fishermen once tied and repaired their nets.
Once inside, you spot a beautiful large, open kitchen and a long table on the ground floor. Everything culinary seems to be a big thing here. So are some handmade artifacts from the region which lay on a wooden table and are sold to guests during their stay.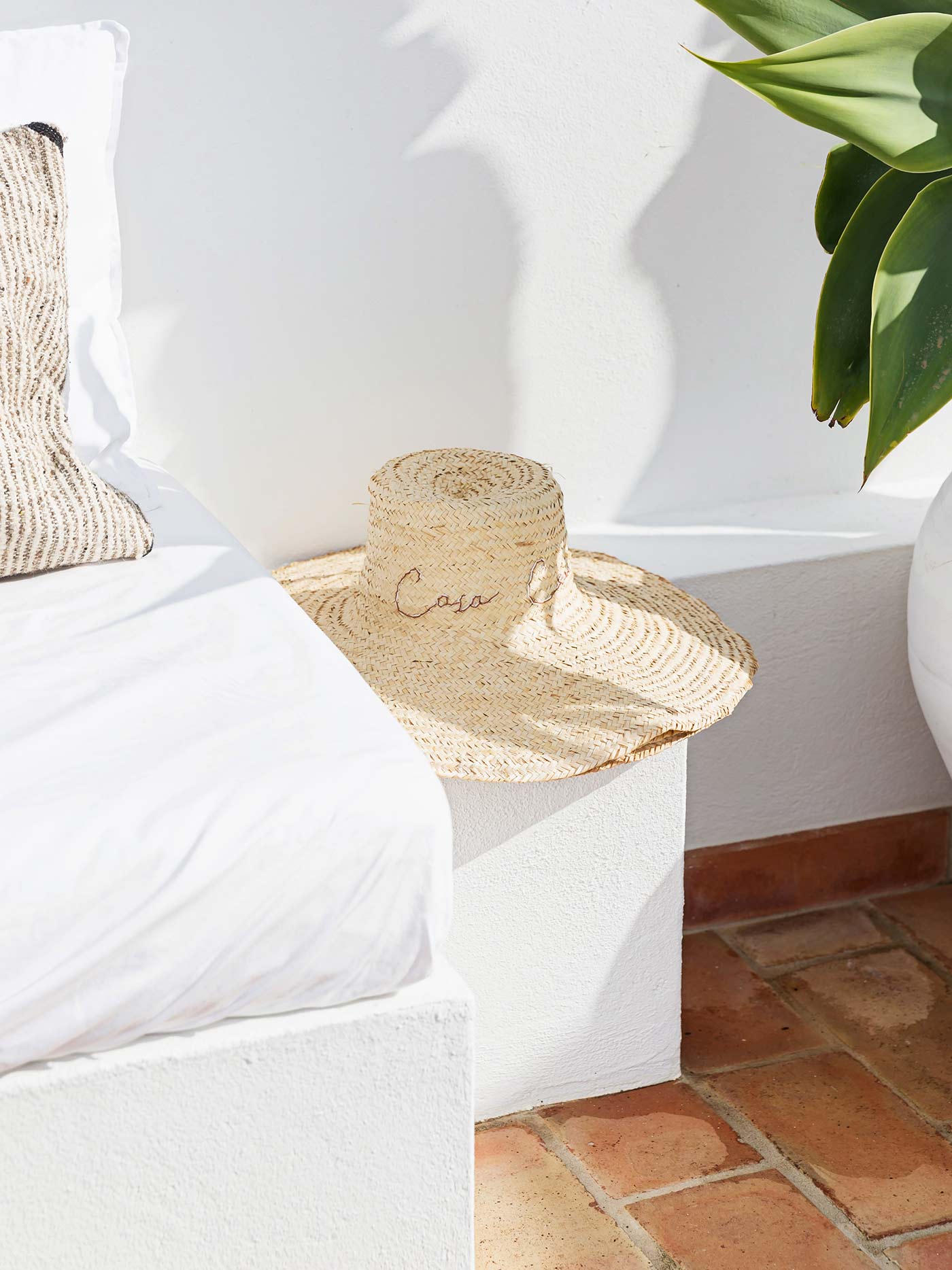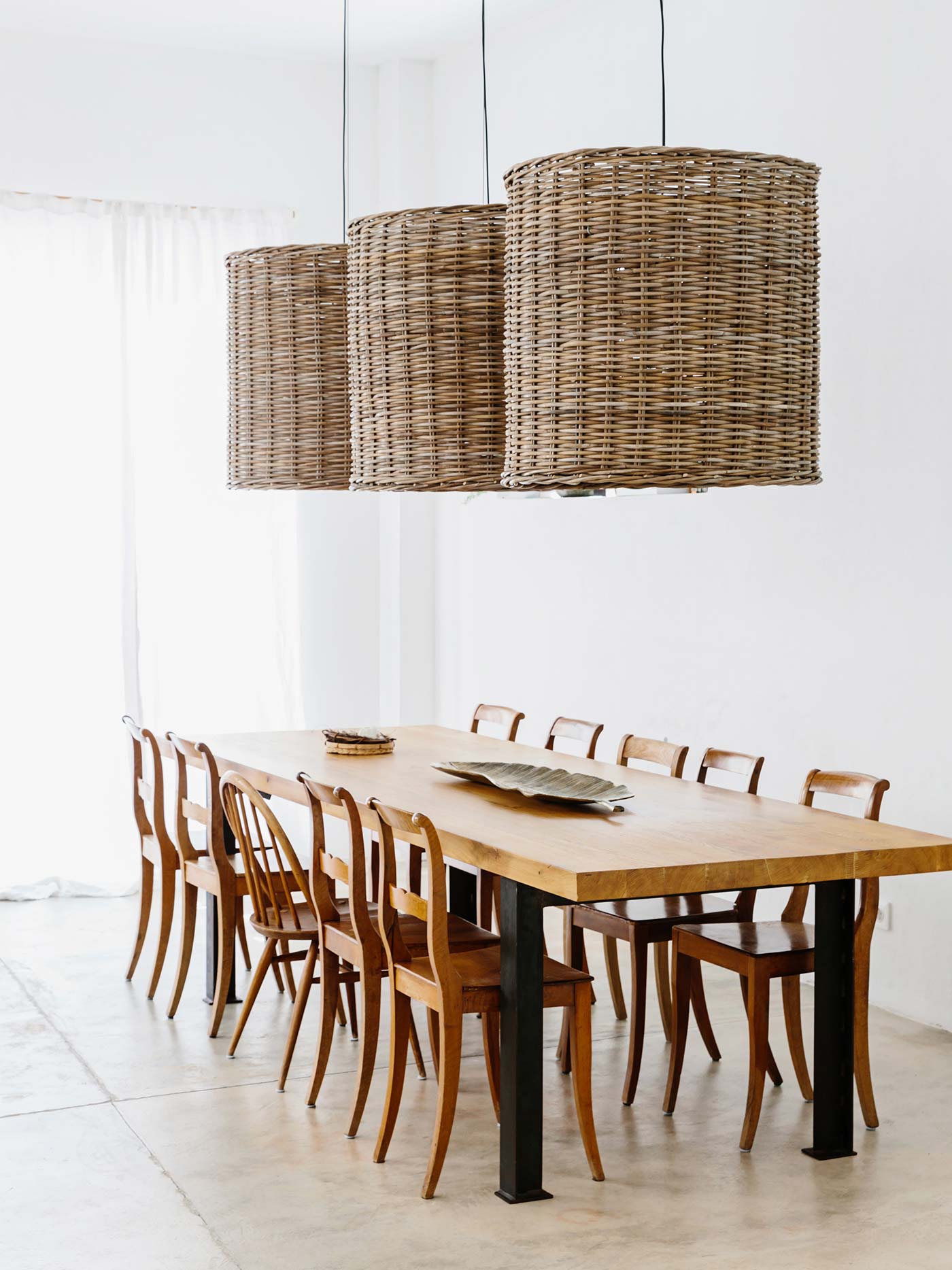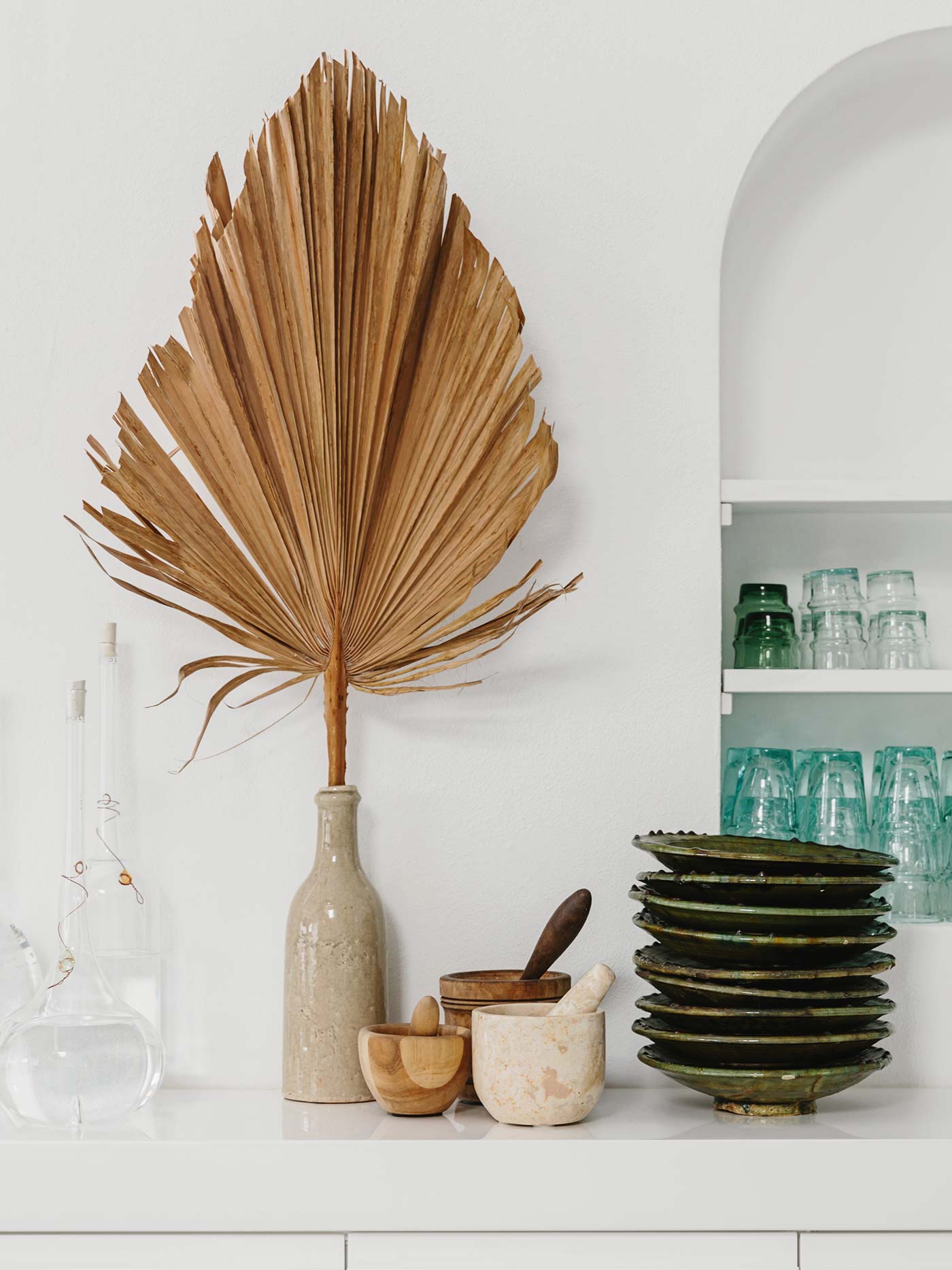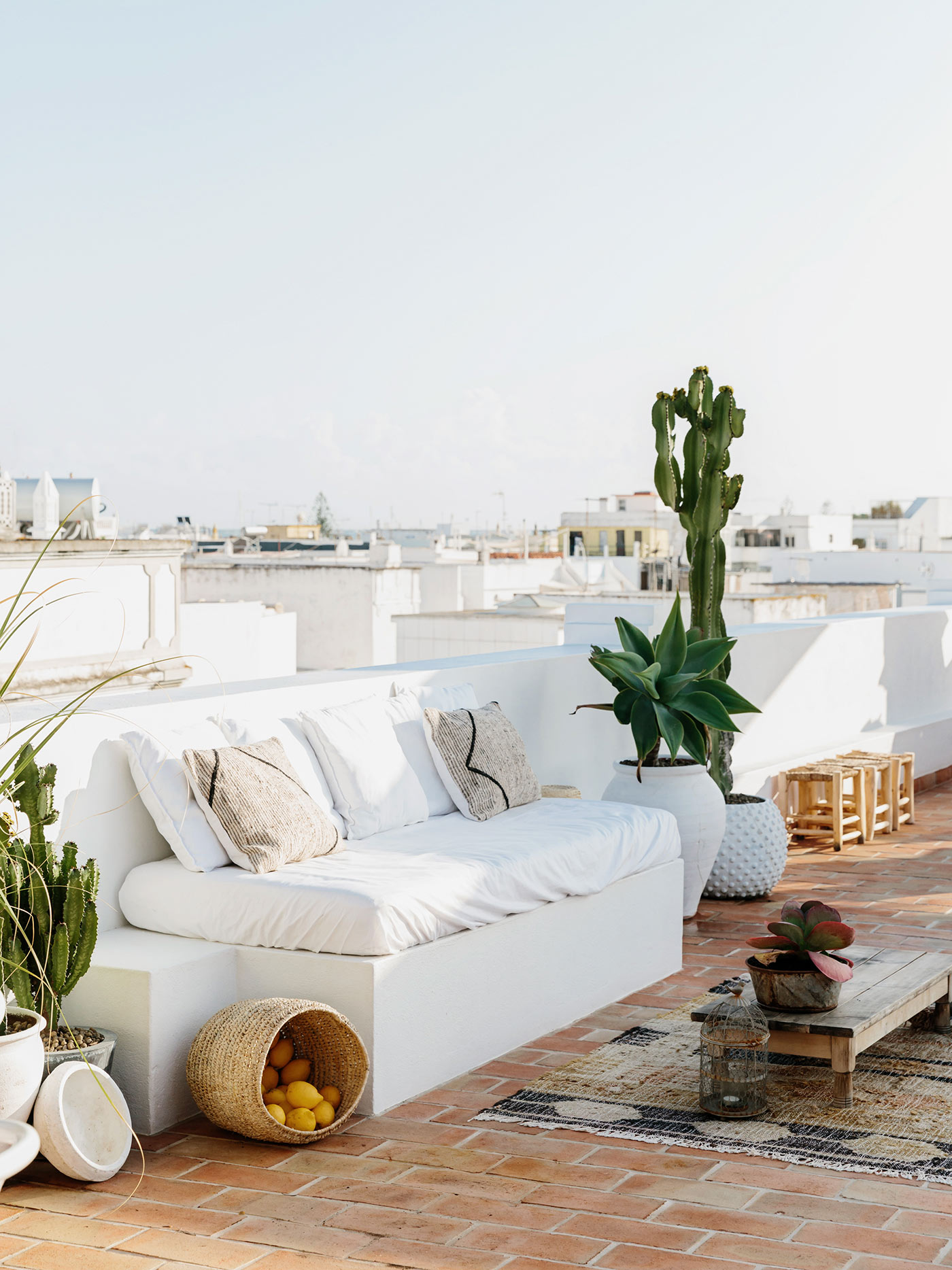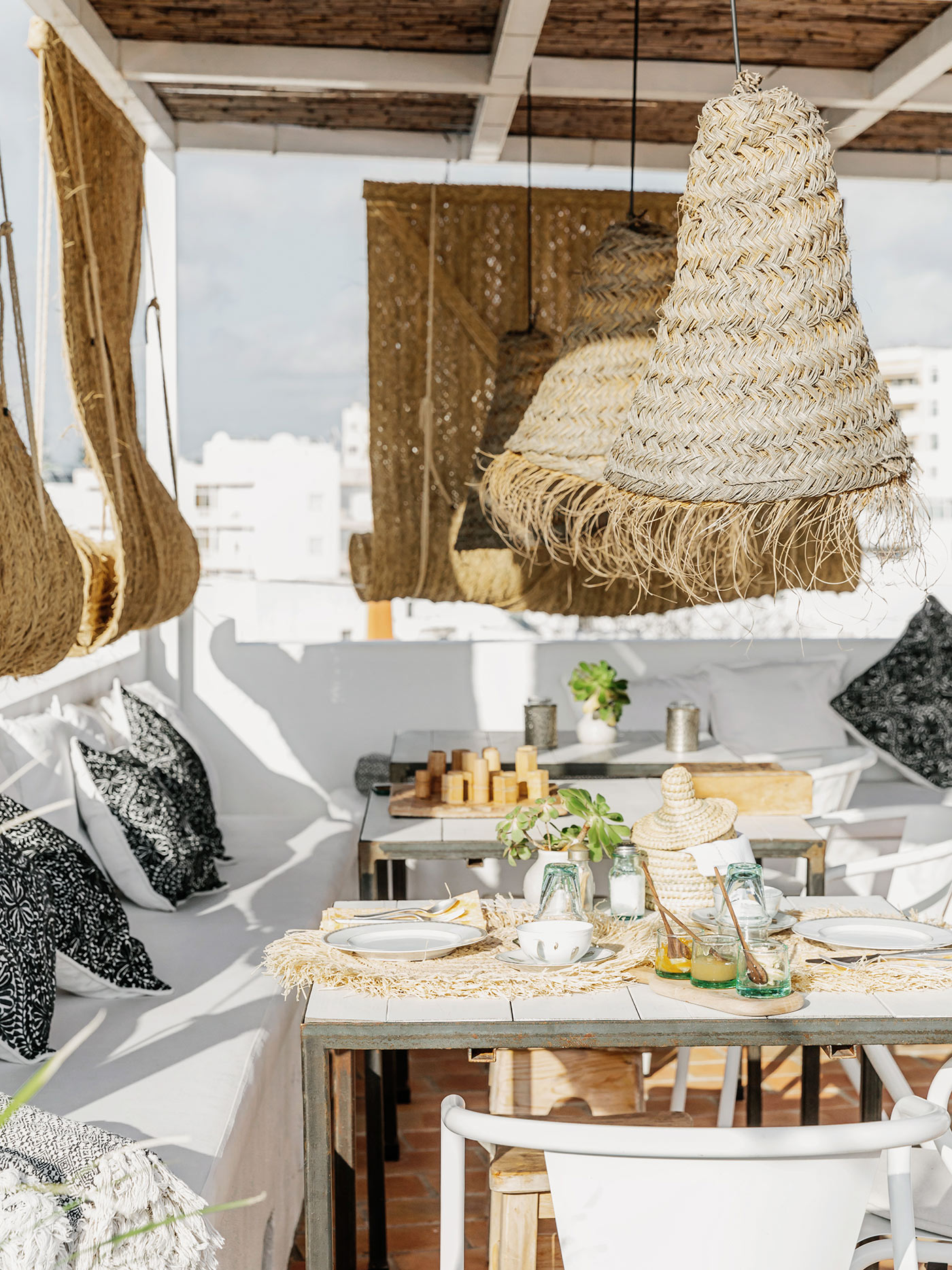 At Casa Céu, guests stay together in a white building with a large rooftop terrace where you may enjoy a drink while watching the sunset.
Another great detail is the narrow spiral staircase to the cellar. Dario is very passionate about his fine selection of wines and if you like, he will show you around and share some great stories about each bottle.
The four guest rooms are located on the second floor. The style? Lara says, they always wanted to create a very relaxing environment for the guests and especially leave room for calm, attention to music, lights, and scents. Whitewashed walls adorned with large-format paintings – some of them by the Belgian artist Meinke Flessemann and Daniel Will, who both happen to live in Olhão. Add to that original colorful floor tiles. By and large, there is a lot of attention to detail – from the linen bedding to the former octopus traps converted into wall lamps. Needless to say, we immediately felt at home in this lovely sanctuary.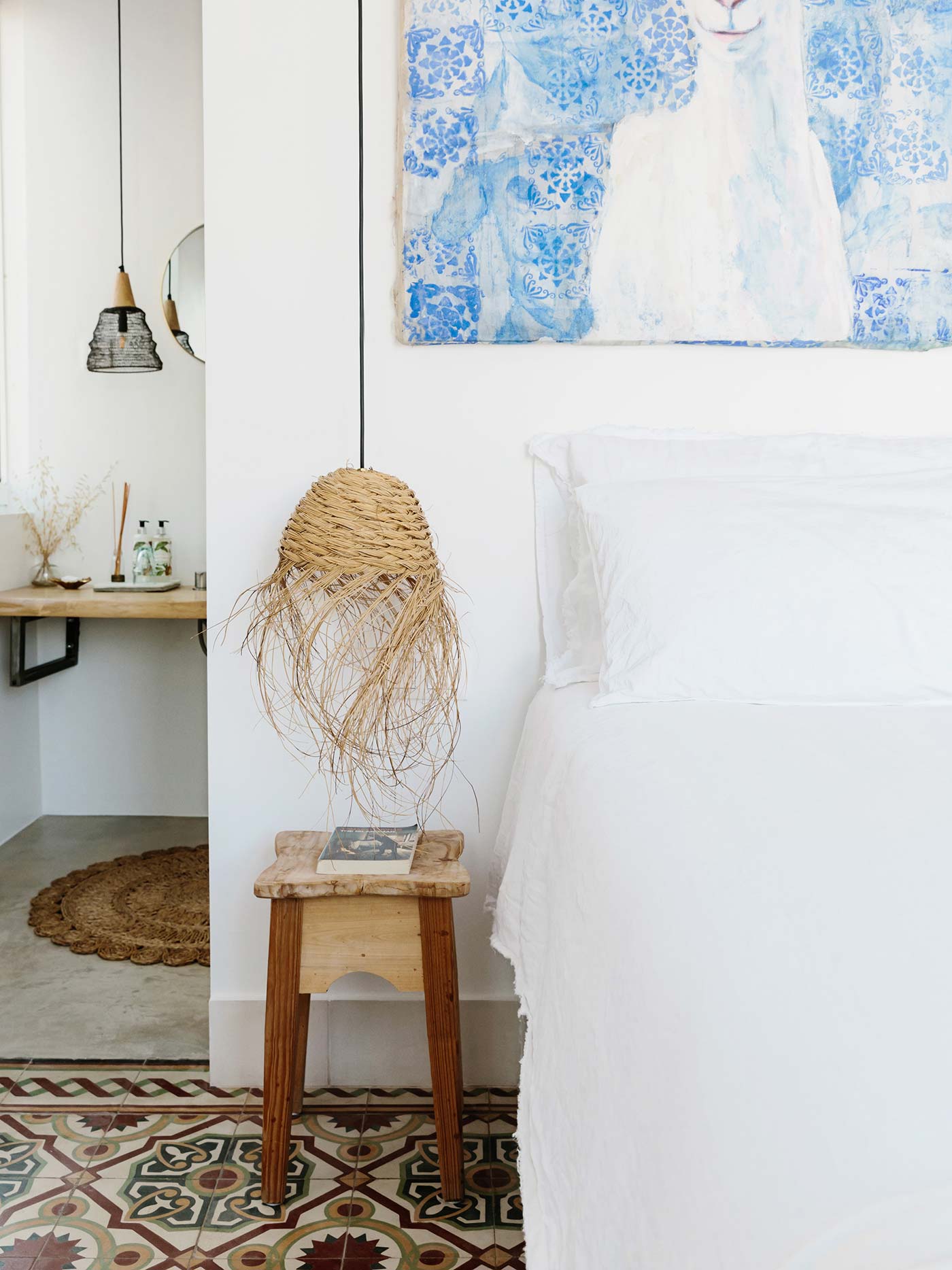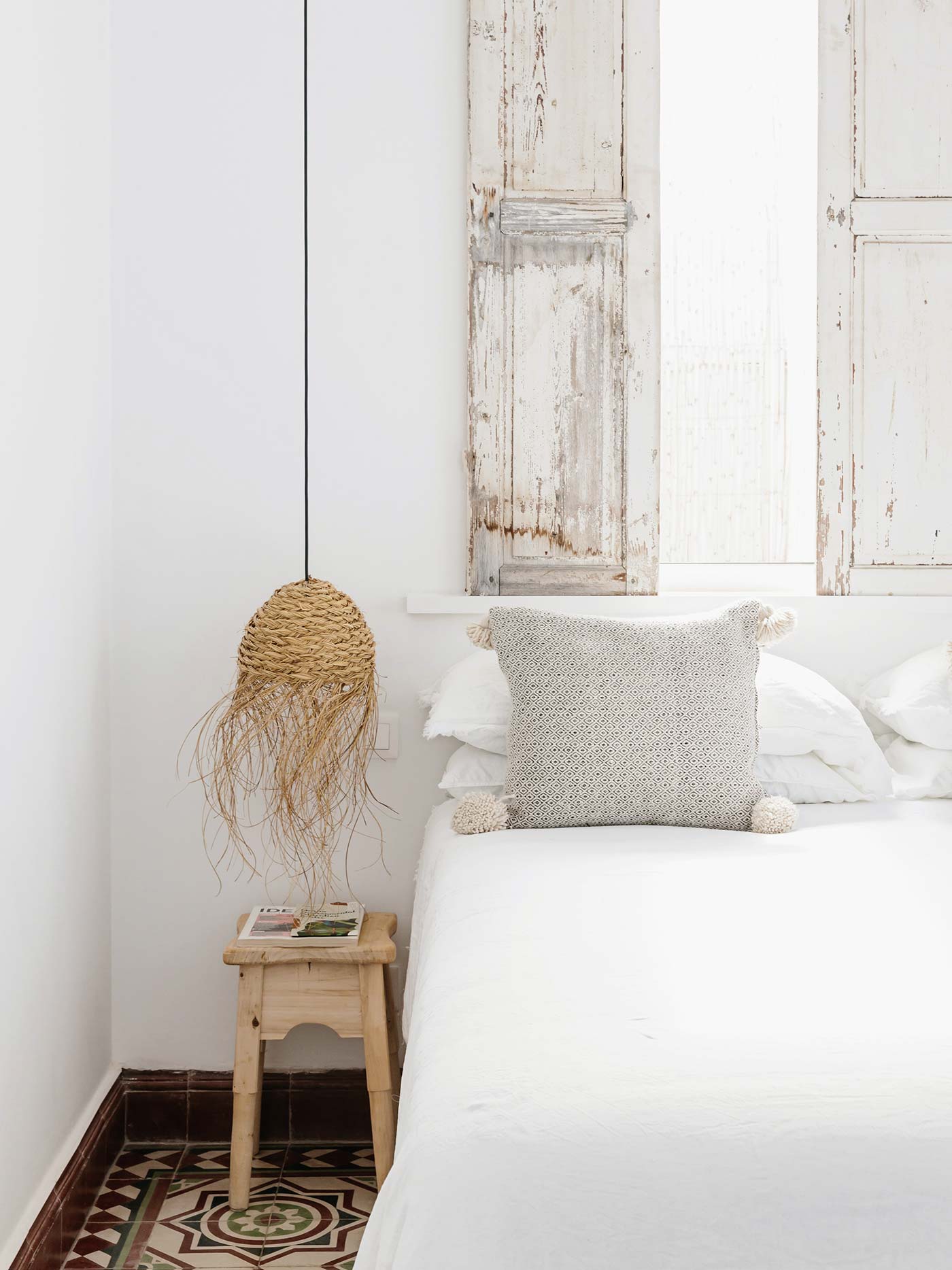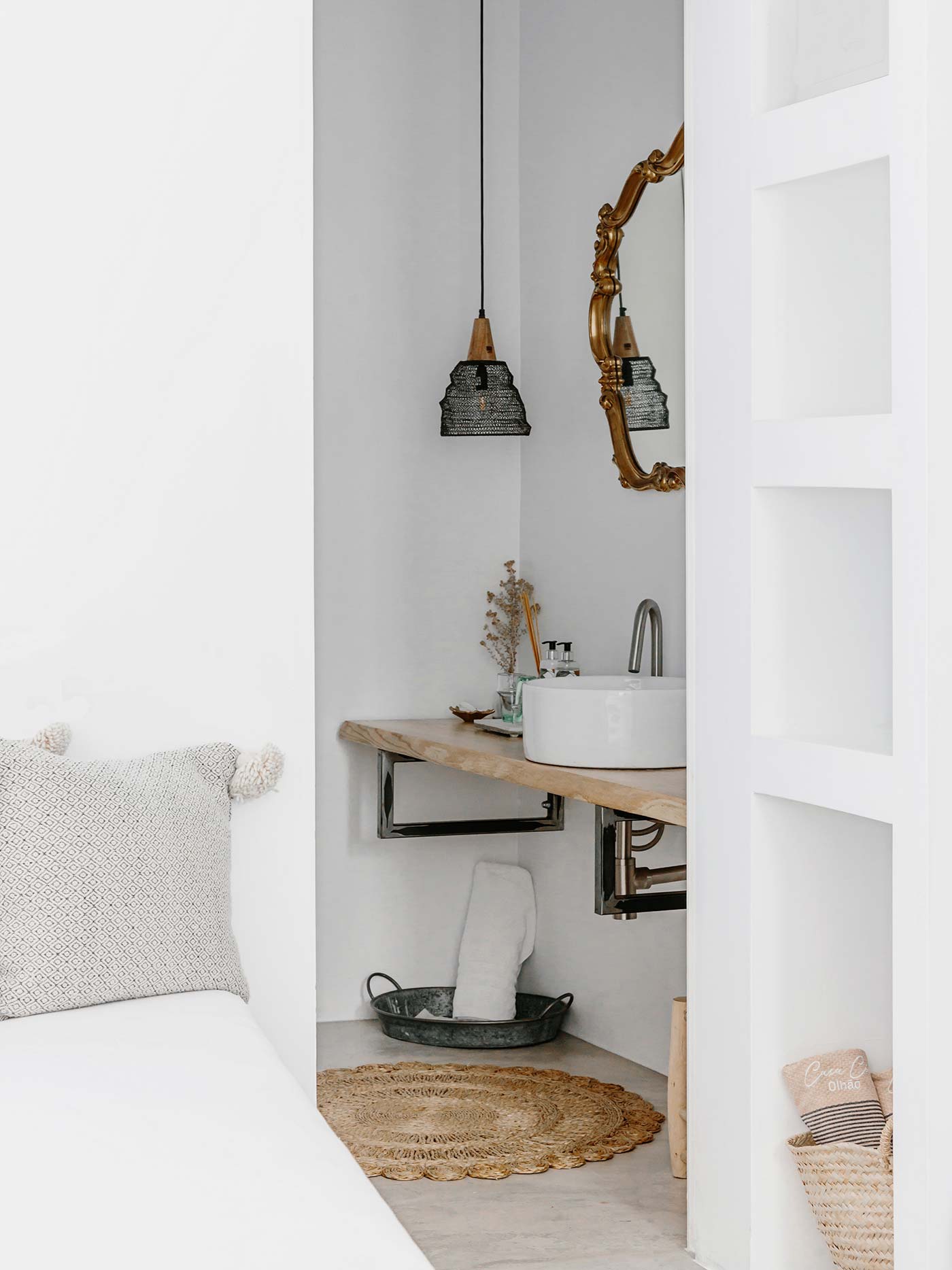 The four rooms at Casa Céu are above all simple, bright and very clean.
But the further up you go, the better it gets: this is by far one of the coolest rooftop terraces we have seen … you feel like being in a Moroccan riad. Simply divine. Between large cacti and lampshades made of woven palm leaves, guests are downing a few drinks and freshly prepared snacks while enjoying the spectacular sunset.
THE SURROUNDINGS
In the last years, Olhão has transformed from a sleepy fishermen's dwelling to a place-to-be for artists, expats and vacationers. Just a 15-minute drive from Faro Airport, Olhão boasts plenty of history, reflected in its Moorish-influenced architecture.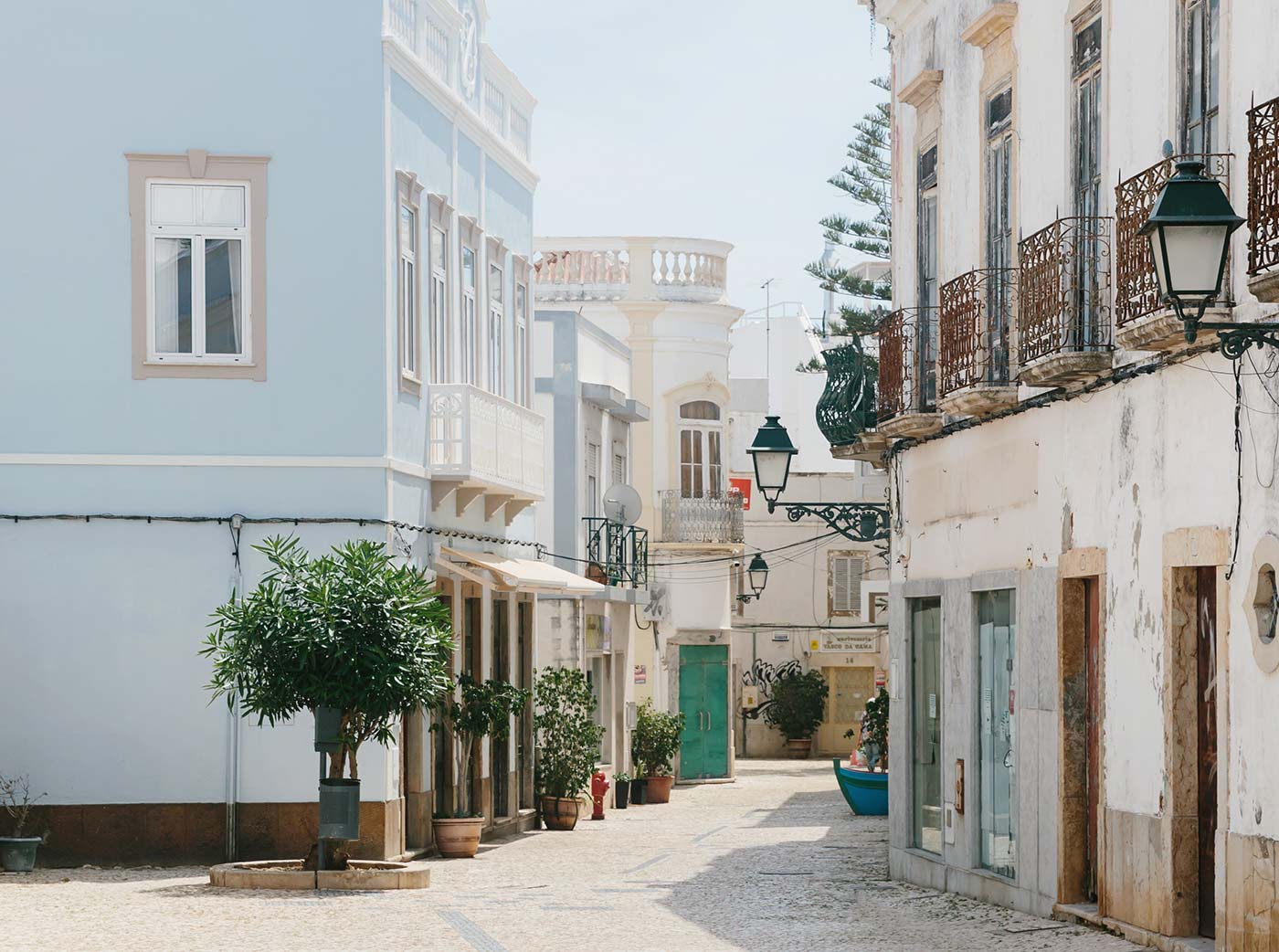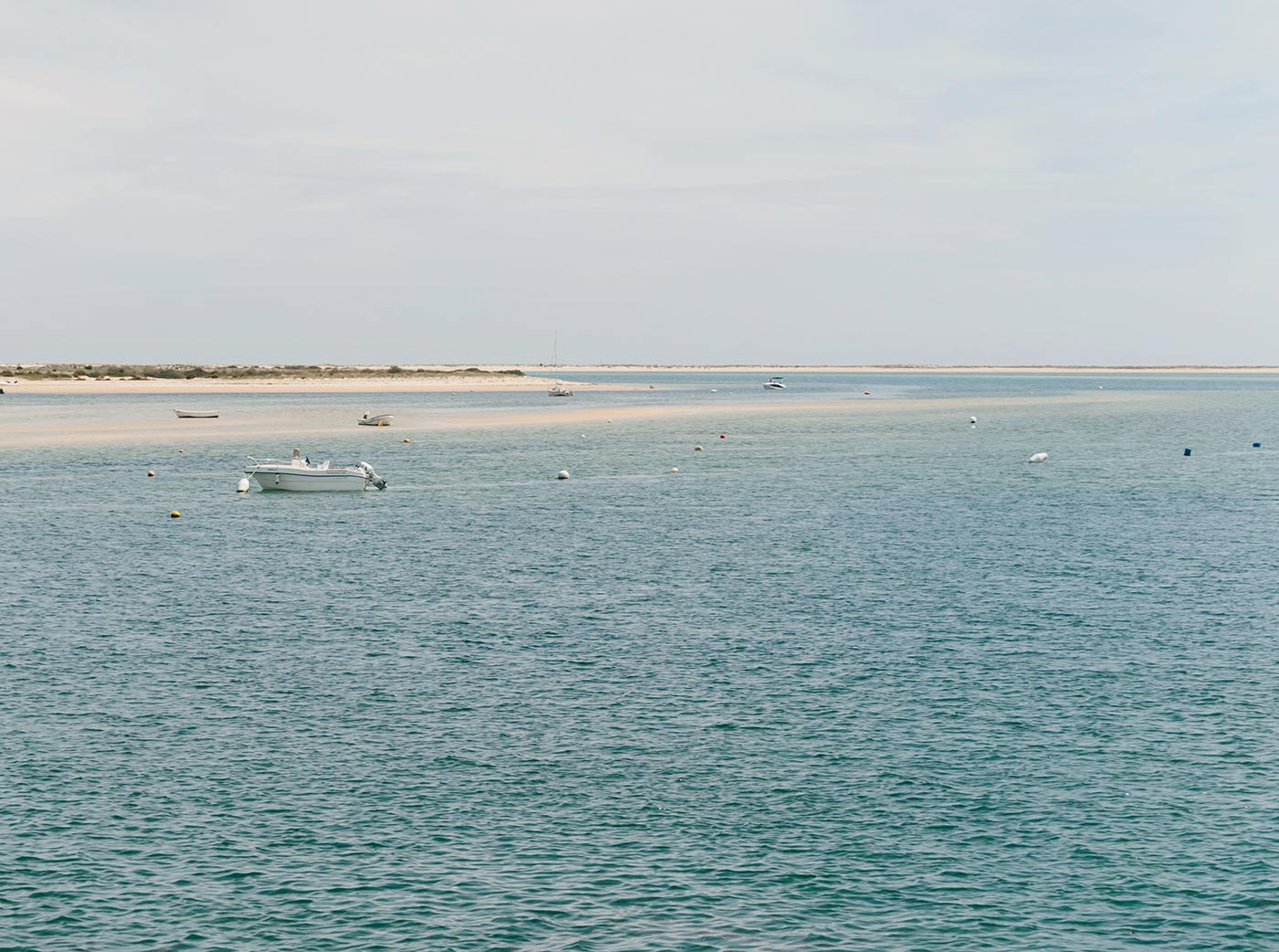 Casa Céu is an ideal launch pad for excursions and experiences around the Ria Formosa Natural Park. The lagoon landscape that separates Olhão from the Atlantic Ocean is home to numerous species of birds and fish. Horseback riding on the beach is offered as well as various boat tours to observe birds and dolphins.
Ferries take you to the offshore islands of Deserta, Culatra and Armona – perfect for a day of swimming, long walks on the beach, impressive sunsets and a visit to one of the typical Portuguese fish restaurants. Prepare for some of the freshest, no-frills fish dishes you ever had!
IDEAL FOR
Couples who want to stay in a stylish hideaway and dive straight into the lifestyle of an up-and-coming Portuguese village not far from the sea. And the swimming season over here already starts in April.
Kids
Due to the size of the house, kids are not allowed at Casa Céu.
Journey
The nearest airport is Faro. From there is's a mere 15 minutes cab drive to Casa Céu.
Prices
Doubles from 125 euros including breakfast.
Booking & Contacts
Casa Céu
Rua da Liberdade 1A
Olhão / Portugal